"Тrauma" Том 18, №4, 2017
Total hip replacement for complications of osteosynthesis of the femoral neck in the regional center of endoprosthesis replacement of large joints based on RHIT in Mariupol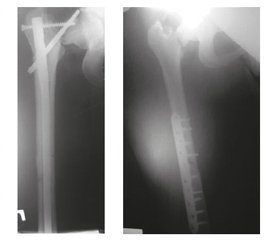 Authors:

Ставицкий А.Б.(1), Лыжин А.В.(1), Пастернак Д.В.(1, 2), Позняк А.С.(1), Ямковой И.А.(1), Абрамович Е.А.(1)
1 - Областная больница интенсивного лечения, г. Мариуполь, Украина
2 - Донецкий национальный медицинский университет, г. Лиман, Украина



Categories:

Traumatology and orthopedics



Sections:

Clinical researches
Summary
Наведено аналіз лікування 10 хворих з ускладненнями остеосинтезу шийки стегнової кістки. Усім пацієнтам був проведений остеосинтез шийки стегнової кістки у терміни від 4 до 20 днів після травми фіксаторами різних конструкцій. У подальшому в зв'язку з незрощенням перелому або розвитком асептичного некрозу голівки стегнової кістки було виконане тотальне ендопротезування кульшового суглоба (ТЕКС). Вибір імплантата здійснювався виходячи з віка пацієнта, ступеня вираженості регіонарного остеопорозу та деструкції вертлюгової западини та проксимального відділу стегна. Використання ТЕКС дозволило у 90 % пацієнтів досягнути добрих результатів за шкалою Харриса та повністю відновити опороздібність кінцівки.
Представлен анализ лечения 10 больных с осложнениями остеосинтеза шейки бедренной кости. Всем пациентам был произведен остеосинтез шейки бедренной кости в сроки от 4 до 20 дней после травмы фиксаторами различных конструкций. В последующем в связи с несращением перелома или развитием асептического некроза головки бедренной кости им было произведено тотальное эндопротезирование тазобедренного сустава (ТЭТС). Выбор имплантата осуществлялся исходя из возраста пациента, степени выраженности регионарного остеопороза и деструкции вертлужной впадины и проксимального отдела бедра. Применение ТЭТС позволило у 90 % пациентов достичь хороших результатов по шкале Харриса и полностью восстановить опороспособность.
The paper presents the analysis of the treatment of 10 patients with complications of osteosynthesis of the femoral neck. All patients were performed osteosynthesis of femural neck in a period of 4 to 20 days after injury by fixator of various constructions. Subsequently due to failure of union in fracture or the development of aseptic necrosis of the femoral head a total hip replacement was performed. The implant was chosen depending on the patient's age, intensity of the regional osteoporosis and destruction of the acetabulum and proximal femur. The use of THRS allowed achieve good results by the Harris' scale and to restore the support ability in 90 % patients.
Keywords
перелом шийки стегнової кістки; остеосинтез; ускладнення; тотальне ендопротезування кульшового суглоба
перелом шейки бедренной кости; остеосинтез; осложнения; тотальное эндопротезирование тазобедренного сустава
subcapital fracture; osteosynthesis; complications; total hip replacement
For the full article you need to subscribe to the magazine.
Bibliography
1. Климовицкий В.Г., Канзюба М.А., Канзюба А.И. Внутрисуставные переломы шейки бедренной кости у пациентов в возрасте до 50 лет (особенности механогенеза и лечения) // Травма. — 2008. — Т. 9, № 3. — С. 27-31.
2. Лоскутов А.Е., Богуславский А.С., Олейник А.Е. Проблемні питання лікування хворих з медіальними переломами шийки стегнової кістки // Травма. — 2003. — Т. 4, № 4. — С. 363-366.
3. Лоскутов А.Е., Дегтярь А.В. Эндопротезирование больных с медиальными переломами шейки бедренной кости и их последствиями // Травма. — 2011. — Т. 12, № 3. — С. 96-98.
4. Канзюба М.А., Канзюба А.И. Ипсилатеральные переломы шейки и диафиза бедренной кости: хирургическая тактика // Травма. — 2014. — Т. 15, № 2. — С. 163-166.
5. Harris W.H. Traumatic arthritis of the hip after dislocation in acetabular fractures: treatment by mould arthroplasty // J. Bone Joint Surg. — 1969. — Vol. 51A, № 4. — P. 737-755.