"Тrauma" Том 18, №4, 2017
Role of interleukin-6 in the diagnosis of infectious complications in patients with polytrauma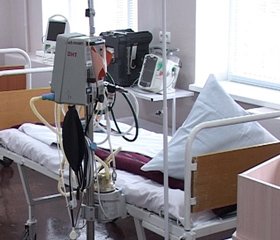 Authors:

Гур'єв С.О.(1), Соловйов О.С.(1), Танасієнко О.М.(2)
1 - ДЗ «Український науково-практичний центр екстреної медичної допомоги та медицини катастроф МОЗ України», м. Київ, Україна
2 - Вінницька обласна лікарня ім. М.І. Пирогова, м. Вінниця, Україна



Categories:

Traumatology and orthopedics



Sections:

Specialist manual
Summary
Проблема сучасної діагностики інфекційних ускладнень у постраждалих із політравмою й ефективного контролю за перебігом захворювання в даний час є досить актуальною. На прикладі 116 постраждалих із політравмою та різними клінічними формами інфекційних ускладнень було висвітлено роль ІЛ-6 у ранній діагностиці розвитку запалення. Було виявлено прямий кореляційний зв'язок між рівнем ІЛ-6 та тяжкістю перебігу інфекційного ускладнення, а також можливість його діагностування без наявної клінічної картини. Рівень ІЛ-6 дозволяє диференціювати розвиток локальної та генералізованої інфекції, що дає можливість призначати лікування та визначати прогноз у постраждалих із політравмою.
Проблема современной диагностики инфекционных осложнений у пострадавших с политравмой и эффективного контроля за течением заболевания в настоящее время является весьма актуальной. На примере 116 пострадавших с политравмой и различными клиническими формами инфекционных осложнений была показана роль ИЛ-6 в ранней диагностике развития воспаления. Была обнаружена прямая корреляционная связь между уровнем ИЛ-6 и тяжестью протекания инфекционного осложнения, а также возможность диагностирования его без имеющейся клинической картины. Уровень ИЛ-6 позволяет дифференцировать развитие локальной и генерализованной инфекции, что дает возможность назначать лечение и определять прогноз у пострадавших с политравмой.
The problem of the day-to-day diagnosis of infectious diseases in affected people is limited to the effective monitoring of disease course, and it is topical at the present time. In the clinical practice, there are two basic problems in the diagnosis of severe infectious diseases. Inflammation that occurs after tissue damage in trauma is accompanied by a production of cytokines and acute phase proteins, determination of which may indicate the presence of inflammation and degree of its severity. In this regard, there is clear interest of researchers and clinicians to interleukin-6 (IL-6), which many authors consider as a specific marker of infection. On the example of 116 victims with polytrauma and various clinical forms of infectious complications, the role of IL-6 in the early diagnosis of inflammation was considered. A direct correlation was found between the level of IL-6 and the severity of infectious complication, as well as the possibility to diagnose it without existing clinical picture. The level of IL-6 allows to differentiate the development of local and generalized infection, to predict treatment and prognosis in victims with polytrauma.
Keywords
постраждалі; політравма; інтерлейкін-6; запалення; травматична хвороба
пострадавшие; политравма; интерлейкин-6; воспаление; травматическая болезнь
victims; polytrauma; interleukin 6; inflammation; traumatic disease
For the full article you need to subscribe to the magazine.
Bibliography
1. Абу Салех Аммар Ибрахим. Роль цитокинов в патогенезе острого периода черепно-мозговой травмы: Автореф. дис… на соискание уч. степени канд. мед. наук: спец. 14.00.13 «Нервные болезни» / Абу Салех Аммар Ибрахим. — М., 2007. — 22 с.
2. Иммунологические маркеры воспаления и сепсиса при сочетанной механической травме / С.Ф. Багненко, Л.П. Пивоварова, М.Е. Малышев [и др.] // Инфекции в хирургии. — 2012. — № 1. — С. 22-27.
3. Кетлинский С.А. Цитокины / С.А. Кетлинский, А.С. Симбирцев. — СПб.: Фолиант, 2008. — 549 с.
4. Donelly T.G. Cytokine, complement and endotoxine profiles associated with the development of the adult respiratory syndrome after severe injury / T.G. Donelly, P. Meade, M. Jag-les // Crit. Care Med. — 2004. — Vol. 22. — P. 768-776.
5. Immunomodulation in polytrauma and polymicrobial sepsis — where do we stand? / C. Neunaber, C. Zeckey, H. Andruszkow et al. // Recent Pat Inflamm Allergy Drug Discov. — 2011. — Vol. 5, № 1. — P.17-25.
6. Menges P. Surgical trauma and postoperative immune dysfunction / P. Menges, W. Kessler, C. Kloecker // Eur. Surg. Res. — 2012. — 48(4). — 180-6.
7. Mira J.-P. Sepsis. Mechanismes immunitaires / J.-P. Mira, B. Vallet. — Paris, 2004. — P. 334.
Similar articles

Authors:
Гур'єв С.О.1, Танасієнко П.В. - Український науково-практичний центр екстреної медичної допомоги та медицини катастроф МОЗ України, м. Київ; Танасієнко О.М. - Вінницька обласна лікарня ім. М.І. Пирогова; Цвях А.І. - Український науково-практичний центр екстреної медичної допомоги та медицини катастроф МОЗ України, м. Київ


"Тrauma" Том 15, №3, 2014
Date: 2014.07.03
Categories: Traumatology and orthopedics
Sections: Clinical researches


Authors:
Гур'єв С.О., Соловйов О.С., Танасієнко О.М. - ДЗ «Український науково-практичний центр екстреної медичної допомоги та медицини катастроф МОЗ України», м. Київ


"Тrauma" Том 16, №5, 2015
Date: 2015.12.16
Categories: Traumatology and orthopedics
Sections: Specialist manual


Authors:
Гур'єв С.О., Танасієнко П.В., Соловйов О.С. - ДЗ «Український науково-практичний центр екстреної медичної допомоги та медицини катастроф МОЗ України», м. Київ


"Тrauma" Том 15, №4, 2014
Date: 2014.12.04
Categories: Traumatology and orthopedics
Sections: Specialist manual