"Gastroenterology" Том 51, №3, 2017
Katerynoslav doctors with German origin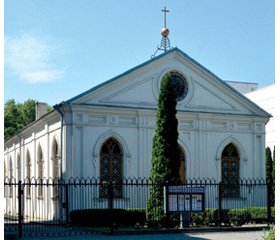 Authors:

Чабан М.П.(1), Шевцова З.І.(2), Гапонов В.В.(3)
(1) — Редакція обласної газети «Зоря», м. Дніпро, Україна
(2) — ДУ «Інститут гастроентерології НАМН України», м. Дніпро, Україна
(3) — ДЗ «Дніпропетровська медична академія МОЗ України», м. Дніпро, Україна



Categories:

Gastroenterology



Sections:

Нistory of medicine
Summary
Вивчено життєвий шлях і професійну діяльність медиків німецького походження на Катеринославщині в ХVІІІ–ХІХ століттях. Серед них Карл Роде, Іван Зегер, Іван Зоммер, Олександр Грунау, Яків Езау, Роберт Вебер. Розглянуто їх внесок у розвиток науки, надання медичної допомоги населенню.
Изучены жизненный путь и профессиональная деятельность медиков немецкого происхождения на Екатеринославщине в ХVІІІ–ХІХ столетиях. Среди них Карл Роде, Иван Зегер, Иван Зоммер, Александр Грунау, Яков Эзау, Роберт Вебер. Рассмотрен их вклад в развитие науки, оказание медицинской помощи населению.
Walk of life and professional activity of doctors with German origin in Katerynoslav region in the 18–19th centuries have been studied. Among them are Karl Rhode, Ivan Zeger, Ivan Sommer, Alexander Grunau, Jacob Esau, Robert Weber. Their contribution into the development of science, medical help to people has been represented.
Keywords
лікарі; етнічні німці; Катеринославська губернія; медична допомога
врачи; этнические немцы; Екатеринославская губерния; медицинская помощь
doctors; ethnic Germans; Katerynoslav region; medical care
For the full article you need to subscribe to the magazine.
Bibliography
1. Rajnberg VA, Gessen JeJe, Zabuga MS, Katichev OM. Germans of the Dnipropetrovs'k region: History and Present. Dnipropetrovs'k: ART-PRESS; 2012. 112 p. (in Ukrainian).
2. Starostin VS. Three estates of Karl Rhode. Apelsin. 2002 March;1:21-4. (in Russian).
3. Fomenko АК, Chaban МP, Lazebnyk VІ, Lizavenko HV, Holub ІS. Dnipropetrovs'k: past and present. Dnipropetrovs'k: Dniprokniga; 2001. 584 p. (in Ukrainian).
4. Makarevs'kyj Feodosij. Materials for historical and statistical description of Katerynoslav eparchy. Churches and parishes of the past 18th century. Dnipropetrovs'k: Dniprokniga; 2000. p.341–346. (in Ukrainian).
5. Chaban MP. Birds from the Prydniprov'je nest. Dnipropetrovs'k: Dniprokniga; 2005. 456 p. (in Ukrainian).
6. Personnel of employees in the spiritual and educational institutions of the Ekaterinoslav eparchy. 1899. (in Russian).
7. Ekaterinoslavskie eparkhial'nye vedomosti. 1900;11-12:136. (in Russian).
8. Starodubov AF. Notes of an eyewitness (a diary in two books). Gaudeamus; 2001. 567 р. (in Russian).
9. Miasoed IuP, Tikhomirova MIu. Pages of the history of the Adamovka district hospital. Asclepiі. 2009;1:27-7. (in Russian).
Similar articles

Authors: Чабан М.П.(1), Шевцова З.І.(2), Гапонов В.В.(3)
(1) — Редакція обласної газети «Зоря», м. Дніпро, Україна
(2) — ДУ «Інститут гастроентерології НАМН України», м. Дніпро, Україна
(3) — ДЗ «Дніпропетровська медична академія МОЗ України», м. Дніпро, Україна
"Gastroenterology" Том 51, №2, 2017
Date: 2017.05.30
Categories: Gastroenterology
Sections: Нistory of medicine


Authors: Чабан М.П.(1), Шевцова З.І.(2), Гапонов В.В.(3)
(1) — Редакція обласної газети «Зоря», м. Дніпро, Україна
(2) — ДУ «Інститут гастроентерології НАМН України», м. Дніпро, Україна
(3) — ДУ «Дніпропетровська медична академія МОЗ України», м. Дніпро, Україна
"Gastroenterology" Том 52, №4, 2018
Date: 2019.01.24
Categories: Gastroenterology
Sections: Нistory of medicine


Authors: Чабан М.П.(1), Шевцова З.І.(2), Гапонов В.В.(3)
(1) — Редакція обласної газети «Зоря», м. Дніпро, Україна
(2) — ДУ «Інститут гастроентерології НАМН України», м. Дніпро, Україна
(3) — ДУ «Дніпропетровська медична академія МОЗ України», м. Дніпро, Україна
"Gastroenterology" Том 53, №1, 2019
Date: 2019.05.06
Categories: Gastroenterology
Sections: Нistory of medicine


Authors: Чабан М.П.(1), Шевцова З.І.(2), Гапонов В.В.(3)
(1) — Редакція обласної газети «Зоря», м. Дніпро, Україна
(2) — ДУ «Інститут гастроентерології НАМН України», м. Дніпро, Україна
(3) — ДЗ «Дніпропетровська медична академія МОЗ України», м. Дніпро, Україна
"Gastroenterology" Том 51, №4, 2017
Date: 2018.01.22
Categories: Gastroenterology
Sections: Нistory of medicine