"Emergency medicine" 7 (86) 2017
Features of respiratory therapy in intra-abdominal hypertension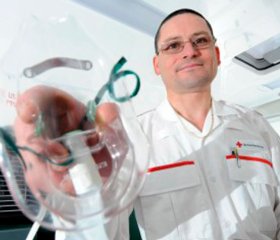 Authors:

Туркевич О.М., Підгірний Я.М., Закотянський О.П.
Львівський національний медичний університет імені Данила Галицького, м. Львів, Україна



Categories:

Medicine of emergency



Sections:

Clinical researches
Summary
Актуальність. В даній статті на основі аналізу даних клінічної групи описано причини та розвиток дихальної недостатності у пацієнтів із тяжким гострим панкреатитом (ТГП), обґрунтовано причини складності та час початку штучної вентиляції легень (ШВЛ), запропоновано шляхи її оптимізації. Матеріали та методи. Нами була проаналізована група пацієнтів (n = 10), які страждали від ТГП, ускладненого дихальною недостатністю. Усім пацієнтам виміряно внутрішньочеревний тиск при надходженні у відділення, до та після інтубації і початку ШВЛ. Для вимірювання внутрішньочеревного тиску був обраний непрямий метод (Kron та Iberti). Результати. Семеро пацієнтів вимагали початку ШВЛ протягом перших 2–3 діб перебування у відділенні анестезіології, реанімації та інтенсивної терапії. У всіх виявлено внутрішньочеревну гіпертензію (ВЧГ) 2–4-го ступеня (WSACS). При дослідженні ВЧГ виявили підвищення її рівня від 5 до 22 % після переведення хворих на ШВЛ, при повній нейроміоплегії. Висновки. Розвиток дихальної недостатності у хворих із ТГП корелює з наростанням ВЧГ. Наявність у хворих ВЧГ 2–4-го ступеня є патофізіологічним компонентом розвитку гострої дихальної недостатності та може бути одним із критеріїв планового початку респіраторної підтримки. Інвазивна ШВЛ підвищує ВЧГ, однак питання про те, який параметр має найбільш вагомий вплив на дані зміни, потребує подальших досліджень. Вчасність початку респіраторної терапії у хворих із ТГП є, без сумніву, одним з основних пріоритетів боротьби з летальністю. Проте наявність ВЧГ суттєво ускладнює проведення респіраторної терапії та однозначно потребує подальшого дослідження та пошуку шляхів оптимізації.
Актуальность. В данной статье на основе анализа данных клинической группы описаны причины и развитие дыхательной недостаточности в группе пациентов с тяжелым острым панкреатитом (ТОП), а также обоснованы причины сложности, время начала искусственной вентиляции легких (ИВЛ), предложены пути ее оптимизации. Материалы и методы. Нами была проанализирована группа пациентов (n = 10), страдающих ТОП, осложненного дыхательной недостаточностью. Всем пациентам измерялось внутрибрюшное давление при поступлении в отделение, до и после интубации и начала ИВЛ. Для измерения внутрибрюшного давления был избран непрямой метод (Kron и Iberti). Результаты. Семерым пациентам требовалось начало ИВЛ в течение первых 2–3 суток пребывания в отделении анестезиологии, реанимации и интенсивной терапии. У всех обнаружена внутрибрюшная гипертензия (ВБГ) 2–4-й степени (WSACS). При исследовании ВБГ обнаружено повышение ее уровня от 5 до 22 % после перевода больных на ИВЛ при полной нейромиоплегии. Выводы. Развитие дыхательной недостаточности у больных ТОП коррелирует с нарастанием ВБГ. Наличие у больных ВБГ 2–4-й степени является патофизиологическим компонентом развития острой дыхательной недостаточности и может быть одним из критериев планового начала респираторной поддержки. Инвазивная ИВЛ повышает ВБГ, однако вопрос о том, какой параметр имеет наиболее весомое влияние на данные изменения, требует дальнейших исследований. Своевременность начала респираторной терапии у больных ТОП, без сомнения, является одним из основных приоритетов борьбы с летальностью. Однако наличие ВБГ существенно усложняет проведения ИВЛ и однозначно требует дальнейших исследований и поиска путей оптимизации.
Background. In recent decades, respiratory therapy radically changed and continues to change approaches to the treatment of many diseases that are accompanied by the deve­lopment of respiratory failure. An important issue of intensive care is timeliness of early respiratory support. In this article, we have tried to describe the causes of respiratory failure, the beginning and features of mechanical ventilation in group of patients with intra-abdominal hypertension caused by acute severe pancreatitis. Materials and methods. In this study, we have analyzed the group of 10 patients who had been suffering from acute severe pancreatitis complicated by the acute respiratory failure. Intra-abdominal pressure was measured to all patients using intra-vesical route. The measurement of intra-abdominal pressure (IAP) was performed when patients entered intensive care unit (ICU), before and after intubation (Kron, Iberti technique). Results. Seven patients needed artificial lung ventilation within first 2–3 days of staying in the ICU. They all had intra-abdominal hypertension (World Society of the Abdominal Compartment Syndrome grades 2–4). IAP increased from 5 to 22 % after the beginning of artificial lung ventilation. Conclusions. The development of respiratory failure in patients with severe acute pancreatitis correlates with the increase of intra-abdominal hypertension. The presence of intra-abdominal hypertension is a pathophysiological component of acute respiratory failure and can be one of the criteria of early respiratory support. Invasive mechanical ventilation increases IAP, but which parameter has got the most significant influence on these changes requires further research. Timeliness of early respiratory therapy in patients with acute severe pancreatitis is without doubt one of the main priorities of fighting mortality, but the presence of intra-abdominal hypertension greatly complicates its implementation and definitely requires further researches of ways of optimization.
Keywords
респіраторна терапія; внутрішньочеревна гіпертензія; штучна вентиляція легень; тяжкий гострий панкреатит; гострий респіраторний дистрес-синдром
респираторная терапия; внутрибрюшная гипертензия; искусственная вентиляция легких; тяжелый острый панкреатит, острый респираторный ди­стресс-синдром
respiratory therapy; intra-abdominal hypertension; mechanical ventilation; acute severe pancreatitis; acute respiratory distress syndrome
For the full article you need to subscribe to the magazine.
Bibliography
1. Pelosi P., Vargas M. Mechanical ventilation and intra-abdominal hypertension: Beyond Good and Evil // Critical Care. — 2012. — 16. — 187. doi: 10.1186/cc11874.
2. Maltseva L.O., Mosentsev M.F., Bazylenko D.V., Bilan O.M., Kunik L.V. Respiratory Distress Syndrome: Current Issues of Definitions, Clinical Presentation, Diagnostic Algorithm // Emergency Medicine. — 2016. — № 4(75). — P. 108-110. doi: 10.22141/2224-0586.4.75.2016.75827.
3. Raniery V.M., Rubenfeld D. еt al. Acute respiratory distress-syndrome: Berlin definition // JAMA. — 2012. — № 307(23). — P. 2526-2533. doi: 10.1001/jama.2012.5669.
4. Santos C.L., Moraes L., Santos R.S., Oliveira M.G., Silva J.D., Maron-Gutierrez T., Ornellas D.S., Morales M.M., Capelozzi V.L., Jamel N., Pelosi P., Rocco P.R., Garcia C.S. Effects of different tidal volume in pulmonary and extrapulmonary lung injury with or without intrabdominal hypertension // Intensive Care Med. — 2012. — 38. — 499-508. 10.1007/s00134-011-2451-6.
5. Dean R., Hess Ph.D. RRT FAARC. Respiratory Mechanics in Mechanically Ventilated Patients // Respir. Care. — 2014. — 59(11). — 1773-1794. doi: 10.4187/respcare.03410.
6. Satishur O. Mechanical lung ventilation. — Minsk, 2006.
7. Goriachev A., Savin I. Essentials of artificial lung ventilation. — Moscow, 2009.
Similar articles

Authors: Туркевич О.М., Підгірний Я.М., Закотянський О.П.
Львівський національний медичний університет імені Данила Галицького, м. Львів, Україна
"Emergency medicine" №3(90), 2018
Date: 2018.05.03
Categories: Medicine of emergency
Sections: Clinical researches


Authors: Підгірний Я.М., Туркевич О.М., Закотянський О.П.
Львівський національний медичний університет імені Данила Галицького, м. Львів, Україна
"Emergency medicine" 8 (79) 2016
Date: 2017.01.27
Categories: Medicine of emergency
Sections: Clinical researches


Authors: Туркевич О.М.
Львівський національний медичний університет імені Данила Галицького, м. Львів, Україна
"Emergency medicine" №1(96), 2019
Date: 2019.03.20
Categories: Medicine of emergency
Sections: Clinical researches


Authors: Туркевич О.М.
Львівський національний медичний університет імені Данила Галицького, м. Львів, Україна
"Emergency medicine" №4(99), 2019
Date: 2019.08.07
Categories: Medicine of emergency
Sections: Clinical researches