"Emergency medicine" 7 (86) 2017
Multidisciplinary approach in intensive care of massive obstetric blood loss: a clinical case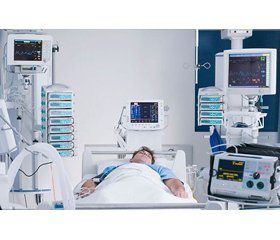 Authors:

Сединкин В.А.(1), Докунина А.М.(2), Дроздова В.О.(2), Максимова Е.В.(2), Палега М.Н.(2), Кизуб Э.А.(2)
(1) — Государственное учреждение «Днепропетровская медицинская академия МЗ Украины», г. Днепр, Украина
(2) — Коммунальное учреждение «Днепропетровский областной перинатальный центр со стационаром» ДОС», г. Днепр, Украина



Categories:

Medicine of emergency



Sections:

Specialist manual
Summary
У статті наведено клінічний опис випадку терапії масивної акушерської кровотечі на основі мультидисциплінарного підходу. Розглянуто питання клінічного перебігу та тактика лікування. Мультидисциплінарна взаємодія забезпечує чітку узгодженість і координованість дій усіх фахівців у критичній ситуації і в результаті сприяє виробленню оптимальної тактики терапії при гострій масивній крововтраті в акушерській практиці. Умови для успішного мультидисциплінарного підходу при лікуванні гострої акушерської крововтрати: постійна взаємодія з усіма співробітниками лікарні, які є частиною команди, що бере участь в лікуванні; безперервне навчання персоналу ключовим елементам локального протоколу; навчання оцінці крововтрати; постійна готовність до забезпечення компонентами крові.
В статье представлено клиническое описание случая терапии массивного акушерского кровотечения на основе мультидисциплинарного подхода. Рассмотрены вопросы клинического течения и тактика лечения. Мультидисциплинарное взаимодействие обеспечивает четкую согласованность и координированность действий всех специалистов в критической ситуации и в результате способствует выработке оптимальной тактики терапии при острой массивной кровопотере в акушерской практике. Условия для успешного мультидисциплинарного подхода при лечении острой акушерской кровопотери: постоянное взаимодействие со всеми сотрудниками больницы, которые являются частью команды, принимающей участие в лечении; непрерывное обучение персонала ключевым элементам локального протокола; обучение оценке кровопотери; постоянная готовность к обеспечению компонентами крови.
The article presents a clinical description of the treatment for massive obstetric hemorrhage based on a multidisciplinary approach. Questions of the clinical course and treatment mode are considered. Multidisciplinary interaction ensures clear consistency and coordination of actions of all specialists in a critical situation and, as a result, contributes to the development of optimal treatment mode in acute massive blood loss in obstetric practice. The conditions for a successful multidisciplinary approach in the treatment of acute obstetric blood loss are: constant interaction with all hospital staff who are the part of the team participating in the treatment; continuous training of personnel for key elements of the local protocol; training in assessing blood loss; constant availability to provide blood components.
Keywords
інтенсивна терапія; акушерська кровотеча; гостра крововтрата; мультидисциплінарний підхід
интенсивная терапия; акушерское кровотечение; острая кровопотеря; мультидисциплинарный подход
intensive care; obstetric hemorrhage; acute blood loss; multidisciplinary approach
For the full article you need to subscribe to the magazine.
Bibliography
1. World Health Organization. Maternal Mortality/World Health Organization. — Geneva, 2012. — Fact Sheet 348. — http://www.who.int/mediacentre/factsheets/fs348/en/.
2. Say L. Global causes of maternal death: a WHO systematic analysis / L. Say, D. Chou, А. Gemmill [et al.] // Lancet Global Health. — 2014. — Vol. 2. — P. 323-333. — doi: 10.1016/S2214-109X(14)70227-X.
3. Kramer M.S. Incidence, risk factors, and temporal trends in severe postpartum hemorrhage / M.S. Kramer, C. Berg, H. Abenhaim [et al.] // American Journal of Obstetrics and Gynecology. — 2013. — Vol. 209(5). — P. 449. — doi: 10.1016/j.ajog.2013.07.007.
4. RCOG. Green-top Guideline No. 52 [Internet]. — http://www.rcog.org.uk/files/rcog-corp/GT52PostpartumHaemorrhage0411.pdf.
5. Wilkinson H. Saving mothers' lives. Reviewing maternal deaths to make motherhood safer: 2006 — 2008 / H. Wilkinson // British Journal of Obstetrics and Gynaecology. — 2011. — Vol. 118. — P. 1402-1403.
6. Наказ МОЗ України від 24.03.2014 № 205 «Про внесення змін до наказів МОЗ України від 29 грудня 2005 року № 782 та від 31 грудня 2004 року № 676». Клінічний протокол «Акушерські кровотечі». — http://www.moz.gov.ua/ua/portal/dn_20140324_0205.html.
7. Haeri S. Maternal mortality from hemorrhage / S. Haeri, G.A. Dildy // Semin. Perinatol. — 2012. — Vol. 36. — P. 48-55.
8. Driessen M. Postpartum hemorrhage resulting from uteri–ne atony after vaginal delivery: factors associated with severity / M. Driessen, M.-H. Bouvier-Colle, C. Dupont [et al.] // Obstet. Gynecol. — 2011. — Vol. 117. — P. 21-31.
9. Snegovskikh D. Anesthetic management of patients with placenta accreta and resuscitation strategies for associated massive hemorrhage / D. Snegovskikh, A. Clebone, E. Norwitz // Curr. Opin. Anaesthesiol. — 2011. — Vol. 24. — P. 274-281.
10. Rizvi F. Successful reduction of massive postpartum haemorrhage by use of guidelines and staff education / F. Rizvi, R. Mackey, T. Barrett [et al.] // BJOG. — 2004. — Vol. 111. — P. 495-498.
11. Cameron C.A. Getting an evidence-based post-partum haemorrhage policy into practice / C.A. Cameron, C.L. Roberts, J. Bell, W. Fischer // Aust. N. Z. J. Obstet. Gynaecol. — 2007. — Vol. 47. — P. 169-175.
12. Crofts J.F. Change in knowledge of midwives and obstetricians following obstetric emergency training: a randomised controlled trial of local hospital, simulation centre and teamwork training / J.F. Crofts, D. Ellis, T.J. Draycott [et al.] // BJOG. — 2007. — Vol. 114. — P. 1534-1541.
Similar articles

Authors: Сединкин В.А., Клигуненко Е.Н.
ГУ «Днепропетровская медицинская академия МЗ Украины», г. Днепр, Украина
"Emergency medicine" 5 (84) 2017
Date: 2017.09.14
Categories: Medicine of emergency
Sections: Specialist manual


Authors: Сединкин В.А., Клигуненко Е.Н.
Государственное учреждение «Днепропетровская медицинская академия МЗ Украины», г. Днепр, Украина
"Emergency medicine" №6(93), 2018
Date: 2018.12.03
Categories: Medicine of emergency
Sections: Specialist manual


Authors:
Клигуненко Е.Н., Сединкин В.А. - ГУ «Днепропетровская медицинская академия» МЗ Украины, кафедра анестезиологии, интенсивной терапии и медицины неотложных состояний факультета последипломного образования


"Emergency medicine" 4 (43) 2012
Date: 2013.03.18
Categories: Family medicine/Therapy, Medicine of emergency
Sections: Specialist manual