"Pain. Joints. Spine." Том 7, №3, 2017
Дефіцит вітаміну D3 та його роль у розвитку метаболічних порушень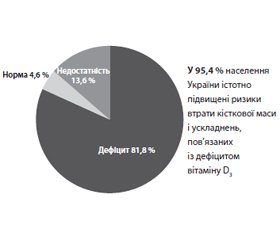 Authors:

Комісаренко Ю.І.(1), Великий М.М.(2), Апуховська Л.І.(2) (1) — Національний медичний університет ім. О.О. Богомольця, м. Київ, Україна (2) — Інститут біохімії ім. О.В. Палладіна НАН України, м. Київ, Україна



Categories:

Rheumatology, Traumatology and orthopedics



Sections:

Clinical researches
Summary
Подано дані про вплив вітаміну D3 на кальцій-фосфорний і вуглеводний обміни, а також на функціональну активність β-клітин підшлункової залози на тлі D-гіповітамінозу та при експериментальному діабеті в мишей. Описано деякі механізми порушення обміну вітаміну D3 і результати його клінічного застосування в пацієнтів із цукровим діабетом 1-го і 2-го типу.

Представлены данные о влиянии витамина D3 на кальций-фосфорный и углеводный обмены, а также на функциональную активность β-клеток поджелудочной железы на фоне D-гиповитаминоза и при экспериментальном диабете у мышей. Описаны некоторые механизмы нарушения обмена витамина D3 и результаты его клинического применения у пациентов с сахарным диабетом 1-го и 2-го типа.

Data are presented on the effect of vitamin D3 on calcium-phosphorus and carbohydrate metabolism, as well as on the functional activity of pancreatic β cells against the background of hypovitaminosis D and in experimental diabetes in mice. Some mechanisms of disturbance of vitamin D3 metabolism and the results of its clinical use in patients with type 1 and type 2 diabetes mellitus are described.

Keywords
D-гіповітаміноз; вуглеводний обмін; експериментальний діабет; D-дефіцит при цукровому діабеті 1-го і 2-го типу

D-гиповитаминоз; углеводный обмен; экспериментальный диабет; D-дефицит при сахарном диабете 1-го и 2-го типа

hypovitaminosis D; carbohydrate metabolism; experimental diabetes; D deficiency in type 1 and type 2 diabetes mellitus
For the full article you need to subscribe to the magazine.
Bibliography
1. Bikle D. Nonclassic Actions of Vitamin D. J Clin Endocrinol Metab. 2009 Jan;94(1):26-34. doi: 10.1210/jc.2008-1454.
2. Rojas-Rivera J, De La Piedra C, Ramos A, Ortiz A, Egido J. The expanding spectrum of biological actions of vitamin D. Nephrol Dial Transplant. 2010 Sep;25(9):2850-65. doi: 10.1093/ndt/gfq313.
3. Yamamoto H, Miyamoto K, Li B, et al. The caudal-related homeo-domain protein Cdx-2 regulates vitamin D receptor gene expression in the small intestine. J Bone Miner Res. 1999 Feb;14(2):240-7. doi: 10.1359/jbmr.1999.14.2.240.
4. Maiyar AC. Vitamin D. In: Maiyar AC, Norman AW. Enciclopedia of human biology. London: Academic Press;1991. 8:859-871.
5. Clarks M, Stumpf WE, Sar M, DeLuca HF. 1,25-dihydroxyvitamin D3 target cells in immature pancreatic islets. Am J Physiol. 1987 Jul;253(1Pt1):E99-105. PMID: 3300366.
6. Haussler MR. Vitamin D receptors: nature and functuion. Annu Rev Nutr. 1986;6:527-62. doi: 10.1146/annurev.nu.06.070186.002523.