"Pain. Joints. Spine." Том 7, №3, 2017
Вплив додаткового призначення холекальциферолу на рівень антитіл до тиреоїдної пероксидази у хворих на первинний гіпотиреоз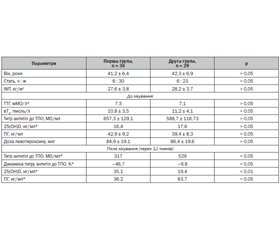 Summary
Актуальність. Результати численних наукових досліджень свідчать про багатогранний вплив вітаміну D на різні органи й системи організму людини. Мета дослідження — вивчити ефективність додаткового призначення холекальциферолу на показники титру антитіл до тиреоїдної пероксидази (ТПО) у хворих на гіпотиреоз автоімунного генезу. Матеріали та методи. Під спостереженням перебували 65 пацієнтів віком від 27 до 59 років з первинним гіпотиреозом, які були рандомізовані на дві групи. Пацієнтам першої групи (n = 36) додатково призначено холекальциферол у дозі 4000 МО/д (28000 МО/тиждень) протягом трьох місяців на тлі замісної терапії левотироксином. Пацієнти другої групи (n = 29) отримували лише замісну терапію. Результати. Серед обстежених пацієнтів з гіпотиреозом у 61 (93,9 %) відзначалися дефіцит і недостатність вітаміну D. У хворих на гіпотиреоз встановлена вірогідна негативна кореляція між рівнем 25(ОН)D і титром антитіл до ТПО (r = –0,17; р = 0,046). Додаткове призначення вітаміну D призвело до вірогідного зниження рівня антитіл до ТПО (–46,7 %) у хворих на гіпотиреоз. Загалом зменшення рівня антитіл до ТПО на 25 % і більше досягнуто у 80,6 % хворих. Висновки. Призначення препарату вітаміну D приводить до вірогідного підвищення вмісту 25(OH)D у сироватці крові з відповідним зниженням концентрації паратгормону, зниження рівня антитіл до тиреоїдної пероксидази.
Актуальность. Результаты существующих научных исследований свидетельствуют о многогранном влиянии витамина D на органы и системы организма человека. Цель исследования — установить эффективность дополнительного назначения холекальциферола на показатели титра антител к тиреоидной пероксидазе (ТПО) у больных гипотиреозом аутоиммунного генеза. Материалы и методы. Под наблюдением находились 65 пациентов в возрасте от 27 до 59 лет с первичным гипотиреозом, которые были рандомизированы на две группы. Пациентам первой группы (n = 36) дополнительно назначен холекальциферол в дозе 4000 МЕ/сутки (28000 МЕ/неделю) в течение трех месяцев на фоне заместительной терапии левотироксином. Пациенты второй группы (n = 29) получали лишь заместительную терапию. Результаты. Среди обследованных пациентов с гипотиреозом у 61 (93,9 %) отмечали дефицит и недостаточность витамина D. У больных гипотиреозом установлена достоверная отрицательная корреляция между уровнем 25(ОН)D и титром антител к ТПО (r = –0,17; р = 0,046). Дополнительное назначение витамина D привело к достоверному снижению уровня антител к ТПО (–46,7 %) у больных гипотиреозом. В целом уменьшение уровня антител к ТПО на 25 % и более достигнуто у 80,6 % больных. Выводы. Назначение препарата витамина D привело к достоверному повышению содержания 25(OH)D в сыворотке крови с соответствующим снижением концентрации паратгормона, снижению уровня титра антител к тиреоидной пероксидазе.
Background. The results of current numerous scientific researches testify to many-sided influence of vitamin D on different organs and systems of human organism. Purpose of the study — to study the effects of the additional cholecalciferol supplementation on the indexes of thyroid peroxidase (TPO) antibodies in patients with autoimmune hypothyroidism. Materials and methods. There were 65 patients with primary hypothyroidism aged 27–59 years, randomized into 2 groups. Cholecalciferol was additionally prescribed to the patients of the first group (n = 36) in a dose of 4000 IU/day (28000 IU/week) during three months on a background of levothyroxine therapy. The patients of the second group (n = 29) received only levothyroxine therapy. Results. Among inspected patients with hypothyroidism, 61 (93.9 %) had deficiency and insufficiency of vitamin D. As for patients with hypothyroidism, a significant negative correlation was detected between the levels of 25(ОН)D and TPO antibodies (r = –0.17; р = 0.046). The additional administration of vitamin of D results in a significant decline in the level of TPO antibodies (–46.7 %) in patients with hypothyroidism. On the whole, a decrease in TPO antibody level by 25 % or more was achieved in 80.6 % of patients. Conclusions. Use of vitamin of D resulted in a significant increase of 25(OH)D content in the blood serum with the corresponding reduction of parathyroid hormone concentration, decrease of thyroid peroxidase antibodies level.
Keywords
гіпотиреоз; антитіла до тиреоїдної пероксидази; вітамін D
гипотиреоз; антитела к тиреоидной пероксидазе; витамин D

hypothyroidism; thyroid peroxidase antibodies; vitamin D
For the full article you need to subscribe to the magazine.
Bibliography
1. Reichrath J, Zouboulis C, Vogt T, Holick M. Targeting the vitamin D endocrine system (VDES) for the management of inflammatory and malignant skin diseases: An historical view and outlook. Rev Endocr Metab Disord. 2016;Vol.17. Epub ahead of print.
2. Muscogiuri G, Mitri J, Mathieu C, et al. Mechanisms in endocrinology: vitamin D as a potential contributor in endocrine health and disease. Eur J Endocrinol. 2014;171:101-110.
3. Rosen CJ, Adams JS, Bikle DD, et al. The nonskeletal effects of vitamin D: an Endocrine Society scientific statement. Endocr Rev. 2012;33:456-492.
4. Dutta D, Mondal SA, Choudhuri S, et al. Vitamin-D supplementation in prediabetes reduced progression to type 2 diabetes and was associated with decreased insulin resistance and systemic inflammation: An open label randomized prospective study from Eastern India. Diabetes Res Clin Pract. 2014;103:18-23.
5. D'Aurizio F, Villalta D, Metus P, et al. Is vitamin D a player or not in the pathophysiology of autoimmune thyroid diseases? Autoimmun Rev. 2015;14(5):363-369.
6. Tamer G, Arik S, Tamer I, Coksert D. Relative Vitamin D insufficiency in Hashimoto's thyroiditis. Thyroid. 2011;21:891-896.
7. Kivity S, Agmon-Levin N, Zisappl M, et al. Vitamin D and autoimmune thyroid diseases. Cell Mol Immunol. 2011;8:243-247.
8. Ma J, Wu D, Li C, et al. Lower serum 25-hydroxyvitamin D level is associated with 3 types of autoimmune thyroid diseases. Medicine (Baltimore). 2015;94(39):1639.
9. Caturegli P, De Remigis A, Rose NR. Hashimoto thyroiditis: clinical and diagnostic criteria. Autoimmun Rev. 2014;13(4-5):391-397.
10. Kienreich K, Tomaschitz A, Verheyen N, et al. Vitamin D and cardiovascular disease. Nutrients. 2013;5(8):3005-3021.
11. Wang J, Li S, Chen G, et al. Meta-analysis of the association between vitamin D and autoimmune thyroid disease. Nutrients. 2015;7:2485-2498.
12. Choi YM, Kim WG, Kim TY, et al. Low levels of serum Vitamin D3 are associated with autoimmune thyroid disease in pre-menopausal women. Thyroid. 2014;24:655-661.
13. Chailurkit LO, Aekplakorn W, Ongphiphadhanakul B. High Vitamin D status in younger individuals is associated with low circulating thyrotropin. Thyroid. 2013;23:25-30.
14. Zhang Q, Wang Z, Sun M, et al. Association of high Vitamin D status with low circulating thyroid-stimulating hormone independent of thyroid hormone levels in middle-aged and elderly males. Int J Endocrinol. 2014;631819.
15. Effraimidis G, Badenhoop K, Tijssen JG, Wiersinga WM. Vitamin D deficiency is not associated with early stages of thyroid autoimmunity. Eur J Endocrinol. 2012;167:43-48.
16. Zhang H, Liang L, Xie Z. Low Vitamin D status is associated with increased thyrotropin-receptor antibody titer in Graves disease. Endocr Pract. 2015;21:258-263.
17. Goswami R, Marwaha RK, Gupta N, et al. Prevalence of Vitamin D deficiency and its relationship with thyroid autoimmunity in Asian Indians: A community-based survey. Br J Nutr. 2009;102:382-386.
Similar articles