"Pain. Joints. Spine." Том 7, №3, 2017
Епідеміологія та фактори ризику переломів кісток нижньої кінцівки (огляд літератури)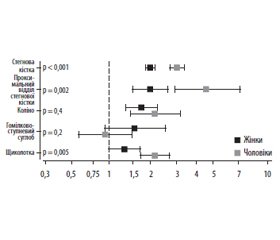 Authors:

Григор'єва Н.В.(1), Власенко Р.О.(2) (1) — ДУ «Інститут геронтології імені Д.Ф. Чеботарьова НАМН України», м. Київ, Україна (2) — Вінницький національний медичний університет імені М.І. Пирогова МОЗ України, м. Вінниця, Україна



Categories:

Rheumatology, Traumatology and orthopedics



Sections:

Specialist manual
Summary
У статті наведені сучасні уявлення про фактори ризику основних переломів кісток нижньої кінцівки (ПКНК) різної локалізації (стегнової кістки, кісток гомілки та ступні). Показано, що найбільша кількість наукових досліджень присвячена вивченню епідеміології та факторів ризику переломів стегнової кістки, а інформація щодо чинників ризику ПКНК іншої локалізації недостатня та суперечлива. Продемонстровано, що крім факторів віку та статі важливу роль у розвитку ПКНК відіграють дорожньо-транспортні пригоди, заняття спортом, неадекватна фізична активність, травми, падіння та попередні переломи, а серед супутніх захворювань — системний остеопороз, остеоартроз великих суглобів, ревматоїдний артрит, деменція, епілепсія, алкоголізм, паркінсонізм, онкологічні захворювання, ожиріння й катаракта. Серед факторів ризику ПКНК виокремлюють прийом лікарських засобів, зокрема гіпнотичних і седативних, а також антидепресантів, антипсихотичних ліків та глюкокортикоїдів. Майже всі типи переломів у жінок асоційовані з низькими показниками мінеральної щільності кісткової тканини, більшою мірою визначеною на рівні стегнової кістки, ніж на рівні хребта чи периферичного скелета, проте частка переломів, пов'язаних з остеопорозом, є невеликою та коливається від 10 до 44 %. Оцінка факторів ризику повинна обов'язково проводитись у рутинній клінічній практиці у хворих із ПКНК, оскільки це впливає не тільки на їх частоту, але й на прогноз лікування хворих даної категорії.
В статье представлены современные данные литературы о факторах риска основных переломов костей нижней конечности (ПКНК) различной локализации (бедренной кости, костей голени и ступни). Показано, что наибольшее количество исследований посвящено изучению эпидемиологии и факторов риска переломов бедренной кости, а информация относительно факторов риска ПКНК другой локализации недостаточна и противоречива. Продемонстрировано, что кроме факторов возраста и пола важную роль в возникновении ПКНК играют дорожно-транспортные происшествия, занятия спортом, неадекватная физическая активность, травмы, падения и предшествующие переломы, а среди сопутствующих заболеваний — системный остеопороз, остеоартроз крупных суставов, ревматоидный артрит, деменция, эпилепсия, алкоголизм, паркинсонизм, онкологические заболевания, ожирение и катаракта. Среди факторов риска ПКНК выделяют прием некоторых лекарственных средств, в частности гипнотических и седативных, а также антидепрессантов, антипсихотических средств и глюкокортикоидов. Почти все типы переломов у женщин ассоциированы с низкими показателями минеральной плотности костной ткани, в большей степени определяемой на уровне бедренной кости, нежели на уровне позвоночника или периферического скелета, однако доля переломов, связанных с остеопорозом, невелика и колеблется от 10 до 44 %. Оценка факторов риска должна обязательно проводиться в рутинной клинической практике у лиц с ПКНК, поскольку это влияет не только на их частоту, но и на прогноз лечения больных данной категории.
The article presents current data about the risk factors of main lower limb fractures (LLFs) of different localization (femur, tibia and foot). It has been shown that the most studies examine epidemiology and risk factors for hip fractures, but information about the risk factors for other LLFs is insufficient and controversial. It has been demonstrated that in addition to factors of age and sex, the road traffic accidents, sports, inadequate physical activity, injuries, falls and previous fractures play the important role in the development of LLFs. Also some diseases (systemic osteoporosis, large joints osteoarthritis, rheumatoid arthritis, dementia, epilepsy, alcoholism, parkinsonism, cancer, obesity and cataract) can influence the LLFs risk. Administration of some drugs, in particular, hypnotic and sedative, as well as antidepressants, antipsychotic drugs and glucocorticoids, is the additional risk factor for LLFs. Almost all types of fractures in women are associated with low bone mineral density, which is more defined at femoral neck than at spine or peripheral skeleton, but part of fractures associated with osteoporosis is small and ranges from 10 to 44 %. The assessment of risk factors should necessarily be carried out in routine clinical practice in patients with LLFs, since it affects not only their incidence, but also the prognosis of treatment of these patients.
Keywords
фактори ризику; перелом кісток нижньої кінцівки; перелом стегнової кістки; перелом кісток гомілки; перелом кісток ступні; мінеральна щільність кісткової тканини
факторы риска, перелом костей нижней конечности; перелом бедренной кости; перелом костей голени; перелом костей ступни; минеральная плотность костной ткани

risk factors; lower limb fracture; femoral fracture; tibial fracture; foot fracture; bone mineral density
For the full article you need to subscribe to the magazine.
Bibliography
1. Clift B. Fractures of the Lower Limb (includes foot). 2008; 31. https://www.researchgate.net/publication/254506497_Fractures_of_the_Lower_Limb_includes_foot
2. Liporace FA, Egol KA, Tejwani N, et al. What's new in hip fractures? Current concepts. Am J Orthop. 2005;34(2):66-74.
3. Povoroznjuk VV, Grygorieva NV, Orlik TV, Nishkumaj OI, Dzerovich NI., Balackaja NI. Osteoporoz v praktike vracha-internista [Osteoporosis in the practice of an internist doctor]. — Kiїv: Ekspres, 2014. 198 р. (in Russian).
4. Dhanwal DK, Dennison EM, Harvey NC, Cooper C. Epidemiology of hip fracture: worldwide geographic variation. Indian J Orthop Jan. 2011;45(1):15-22. doi:10.4103/0019-5413.7365
5. Filipov O. Epidemiology and social burden of the femoral neck fractures. Journal of IMAB. Annual Proceeding (Scientific Papers). 2014;20(4):516-518.
6. Ryg J, Rejnmark L, Overgaard S, et al. Hip fracture patients at risk of second hip fracture: a nationwide population-based cohort study of 169,145 cases during 1977–2001. Journal of bone and mineral research. 2009; 24(7):1299-1307. doi: 10.1359/jbmr.090207
7. Tucker A, Donnelly KJ, McDonald S, et al. The changing face of fractures of the hip in Northern Ireland: a 15-year review. Bone Joint J. 2017 Sep;99-B(9):1223-1231. doi: 10.1302/0301-620X.99B9.BJJ-2016-1284.R1.
8. Beerekamp MSH, de Muinck Keizer RJO, Schep NWL, Ubbink DT, Panneman MJM, Goslings JC. Epidemiology of extremity fractures in the Netherlands. Injury. 2017 Jul;48(7):1355-1362. doi: 10.1016/j.injury.2017.04.047. Epub 2017 Apr 24.
9. Berecki-Gisolf J, McClure R, Seubsman SA, Sleigh A. Thai cohort study team. Reporting of lifetime fractures: methodological considerations and results from the Thai Cohort Study. BMJ Open. 2012;2:e001000. doi:10.1136/bmjopen-2012-001000
10. Clelland SJ, Chauhan P, Mandari FN. The epidemiology and management of tibia and fibula fractures at Kilimanjaro Christian Medical Centre (KCMC) in Northern Tanzania. Pan Afr Med J. 2016; 25:51. doi: 10.11604/pamj.2016.25.51.10612
11. Donaldson LJ, Reckless IP, Scholes S, Mindell JS, Shelton NJ. The epidemiology of fractures in England. J Epidemiol Community Health. 2008;62:174-80.
12. Kay MC, Register-Mihalik JK, Gray AD, et al. The Epidemiology of Severe Injuries Sustained by National Collegiate Athletic Association Student-Athletes, 2009–2010 Through 2014–2015. J Athl Train. 2017 Feb;52(2):117-128. doi: 10.4085/1062-6050-52.1.01
13. Pasco JA, Brennan SL, Henry MJ, et al. Changes in hip fracture rates in southeastern Australia spanning the period 1994–2007. J Bone Miner Res. 2011; 26:1648-1654.
14. Somersalo A, Paloneva J, Kautiainen H, et al. Incidence of fractures requiring inpatient care. Acta Orthop 2014;85(5):525-30.
15. Jean S, O'Donnell S, Lagace C, et al. Trends in hip fracture rates in Canada: an age-period-cohort analysis. J Bone Miner Res. 2013; 28:1283-1289.
16. Ershova OB, Semenova OV. Analysis of factors influencing the development of hip fractures. Scientific-practical rheumatology. 2000;3:23-27. (In Russian).
17. Povoroznyuk VV, Forosenko VS. Еpidemiology of osteoporotic fracture of femoral neck. Problem of osteology.2004;7(3-4):14-22. (In Ukrainian).
18. Elmajee M, Rafee A, Williams T. Ankle Fracture Associated With Rupture of the Achilles Tendon: Case Report and Review of the Literature. J Foot Ankle Surg. 2017 Nov-Dec;56(6):1320-1322. doi: 10.1053/j.jfas.2017.05.043
19. Ferguson KB, McGlynn J, Jenkins P, et al. Fifth metatarsal fractures — Is routine follow-up necessary? Injury. 2015;46(8):1664-1668 doi:10.1016/j.injury.2015.05.041
20. Kaye JA, Jick H. Epidemiology of lower limb fractures in general practice in the United Kingdom. Injury Prevention. 2004;10:368-374.
21. Perruccio AV, Gandhi R, Rampersaud YR, on behalf of The Arthritis Program, University Health Network Heterogeneity in health status and the influence of patient characteristics across patients seeking musculoskeletal orthopaedic care — a cross-sectional study. BMC Musculoskelet Disord. 2013;14:83. doi: 10.1186/1471-2474-14-83
22. Ivers RQ, Cumming RG, Mitchell P, Peduto AJ. The accuracy of self-reported fractures in older people. J Clin Epidemiol. 2002;55:452-7.
23. Kelsey JL, Keegan TH, Prill MM, et al. Risk factors for fracture of the shafts of the tibia and fibula in older individuals. Osteoporos Int. 2006 Jan;17(1):143-9.
24. Tufescu TV, Buckley R. Age, gender, work capability, and worker's compensation in patients with displaced intraarticular calcaneal fractures. J Orthop Trauma. 2001;15(4):275-279.
25. Scholes S, Panesar S, Shelton NJ, et al. Epidemiology of lifetime fracture prevalence in England: a population study of adults aged 55 years and over. Age and Ageing. 2014;43(2):234-240. doi:10.1093/ageing/aft167.
26. Pasco JA, Lane SE, Brennan-Olsen SL, et al. The Epidemiology of Incident Fracture from Cradle to Senescence. Calcified Tissue International. 2015;97(6):568-576.
27. Baron JA, Karagas M, Barrett J, et al. Basic Epidemiology of Fractures of the Upper and Lower Limb among Americans over 65 Years of Age. Epidemiology. 1996;Nov:612-618.
28. Kelsey JL, Samelson EJ. Variation in risk factors for fractures at different sites. Curr Osteoporos Rep. 2009 Dec;7(4):127-33.
29. Armstrong MEG, Cairns BJ, Banks E, et al. Different effects of age, adiposity and physical activity on the risk of ankle, wrist and hip fractures in postmenopausal women. Bone. 2012;50:1394-400.
30. Grygorieva NV, Zubach OB. Risk factors for fractures of the proximal femur in patients of older age groups. Trauma. 2016;17(6):53-61. (In Ukrainian).
31. Menz HB, Jordan KP, Roddy E, Croft PR. Characteristics of primary care consultations for musculoskeletal foot and ankle problems in the UK. Rheumatology (Oxford). 2010 Jul;49(7):1391-8. doi: 10.1093/rheumatology/keq092
32. Shue WMV, Boulton C, Batt ME, Moran C. Metatarsal fractures and sports. The Surgeon. 2009;7(2):86-88. doi.org/10.1016/S1479-666X(09)80022-X
33. Francis RM. Falls and fractures. Age Ageing. 2001;30(Suppl. 4):24-8.
34. Lacombe J, Cairns BJ, Green J, et al. Million Women Study collaborators. The Effects of Age, Adiposity, and Physical Activity on the Risk of Seven Site-Specific Fractures in Postmenopausal Women. J Bone Miner Res. 2016 Aug;31(8):1559-68. doi: 10.1002/jbmr.2826.
35. Keegan TH, Kelsey JL, King AC, et al. Characteristics of fallers who fracture at the foot, distal forearm, proximal humerus, pelvis, and shaft of the tibia/fibula compared with fallers who do not fracture. Am J Epidemiol. 2004 Jan 15;159(2):192-203.
36. van Staa TP, Leufkens HGM, Cooper C. Does a fracture at one site predict later fractures at other sites? A British cohort study. Osteoporosis Int. 2002;13:624-9.
37. Moayeri A, Mohamadpour M, Mousavi SF, et. al. Fracture risk in patients with type 2 diabetes mellitus and possible risk factors: a systematic review and meta-analysis. Ther Clin Risk Manag. 2017 Apr 11;13:455-468. doi: 10.2147/TCRM.S131945
38. Rabenda V, Nicolet D, Beaudart C, et al. Relationship between use of antidepressants and risk of fractures: a meta-analysis. Osteoporosis International. 2013;24(1):121-137.
39. Bremmer D, Bookstaver B, Cairns M, et al. Impact of Body Mass Index and Bacterial Resistance in Osteomyelitis after Antibiotic Prophylaxis of Open Lower-Extremity Fractures. Surg Infect (Larchmt). 2017 Apr;18(3):368-373. doi: 10.1089/sur.2016.219
40. Nielson CM, Srikanth P, Orwoll ES. Obesity and fracture in men and women: an epidemiologic perspective. J Bone Miner Res. 2012; 27:1-10.
41. Stavem K, Naumann MG, Sigurdsen U, Utvåg SE.The association of body mass index with complications and functional outcomes after surgery for closed ankle fractures. Bone Joint J. 2017 Oct;99-B(10):1389-1398. doi: 10.1302/0301-620X.99B10.BJJ-2016-1038.R1
42. Holloway KL, Yousif D, Bucki-Smith G, et al. Lower limb fracture presentations at a regional hospital. Arch Osteoporos. 2017 Aug 28;12(1):75. doi: 10.1007/s11657-017-0369-5
43. Holloway KL, Moloney DM, Brennan SL, et al. Foot and ankle fracture incidence in south-eastern Australia: an epidemiological study. Clin Res Foot Ankle. 2014;2:148-152.
44. Orlyk TV, Grygorieva NV, Povoroznyuk VV. Patterns of Vertebral Pain Syndromes in Women of Senior Age Groups Depending on Years of Postmenopause Duration and Bone Mineral Density Score. Advances in Gerontology. 2017:7:4:329-336.
45. Kaze AD, Rosen HN, Paik JM. A meta-analysis of the association between body mass index and risk of vertebral fracture. Osteoporos Int. 2017 Nov 3. doi: 10.1007/s00198-017-4294-7
46. Lee JE, Kim KM, Kim LK, Kim KY, Oh TJ, Moon JH, Choi SH, Lim S, Kim SW, Shin CS, Jang HC. Comparisons of TBS and lumbar spine BMD in the associations with vertebral fractures according to the T-scores: A cross-sectional observation. Bone. 2017 Dec;105:269-275. doi: 10.1016/j.bone.2017.09.017
47. Jaglal SB, Weller I, Mamdani M, et al. Population trends in BMD testing, treatment, and hip and wrist fracture rates: are the hip fracture projections wrong? J Bone Miner Res. 2005;20:898-905.
48. Mazidi M, Shivappa N, Wirth MD, et al. The association between dietary inflammatory properties and bone mineral density and risk of fracture in US adults. Eur J Clin Nutr. 2017 Nov;71(11):1273-1277. doi: 10.1038/ejcn.2017.133
49. Oyen J, Brudvik C, Gjesdal CG, et al. Osteoporosis as a risk factor for distal radial fractures: a case-control study. J Bone Joint Surg Am. 2011;93(4):348-356.
50. Rozental TD, Johannesdottir F, Kempland KC, Bouxsein ML. Characterization of trabecular bone microstructure in premenopausal women with distal radius fractures. Osteoporos Int. 2017 Nov 3. doi: 10.1007/s00198-017-4293-8
51. Stone KL, Seeley DG, Lui LY, et al. BMD at Multiple Sites and Risk of Fracture of Multiple Types: Long-Term Results From the Study of Osteoporotic Fractures. J Bone Miner Res. 2003 Nov;18(11):1947-54.
52. Sontag A, Krege JH. First fractures among postmenopausal women with osteoporosis. J Bone Miner Metab. 2010;28(4):485-488.
53. Honkanen R, Kröger H, Tuppurainen M, Alhava E, Saarikoski S. Fractures and low axial bone density in perimenopausal women. J Clin Epidemiol. 1995 Jul;48(7):881-8.
54. Seeley DG, Kelsey J, Jergas M, Nevitt MC. Predictors of ankle and foot fractures in older women. The Study of Osteoporotic Fractures Research Group. J Bone Miner Res. 1996;11(9):1347-55.
55. Haentjens P, Magaziner J, Colon-Emeric CS, et al. Meta-analysis: Excess mortality after hip fracture among older women and men. Ann Intern Med. 2010;152(6):380-90.
56. Nguyen ND, Ahlborg HG, Center JR, et al. Residual lifetime risk of fractures in women and men. J Bone Miner. 2007;12:12.
57. Barrett JA, Baron JA, Beach ML. Mortality and pulmonary embolism after fracture in the elderly. Osteoporos Int. 2003;14(11):889-94.
58. Somersalo A, Paloneva J, Kautiainen H, et al. Increased mortality after lower extremity fractures in patients < 65 years of age. Acta Orthopaedica 2016;87(6):622-625.
59. Melton LJ 3rd, Achenbach SJ, Atkinson EJ, et. al. Long-term mortality following fractures at different skeletal sites: A population-based cohort study. Osteoporos Int. 2013;24(5):1689–96.
60. Deakin DE, Boulton C, Moran CG. Mortality and causes of death among patients with isolated limb and pelvic fractures. Injury. 2007;38(3):312-7.
Similar articles

Authors: Григор'єва Н.В.(1), Власенко Р.О.(2), Зубач О.Б.(3), Поворознюк В.В.(1)
(1) — ДУ «Інститут геронтології імені Д.Ф. Чеботарьова НАМН України», м. Київ, Україна
(2) — Вінницький національний медичний університет імені М.І. Пирогова МОЗ України, м. Вінниця, Україна
(3) — Комунальна міська клінічна лікарня швидкої медичної допомоги, м. Львів, Україна
"Тrauma" Том 18, №6, 2017
Date: 2018.02.09
Categories: Traumatology and orthopedics
Sections: Specialist manual


Authors:
Grygorieva N.V. - State Institution «Institute of Gerontology named after D.F. Chebotariov of National Academy of Medical Sciences of Ukraine», Kyiv, Ukraine; Zubach O.B. - Municipal City Clinical Emergency Hospital, Lviv, Ukraine


"Pain. Joints. Spine." 4 (20) 2015
Date: 2016.02.29
Categories: Rheumatology, Traumatology and orthopedics
Sections: Specialist manual


Authors:
Grygorieva N.V., Povoroznyuk V.V., Povoroznyuk Vas.V. - State Institution «Institute of Gerontology named after D.F. Chebotariov of the National Academy of Medical Sciences of Ukraine», Kyiv, Ukraine; Zubach O.B. - Municipal City Clinical Emergency Hospital, Lviv, Ukraine


"Pain. Joints. Spine." 1 (21) 2016
Date: 2016.05.30
Categories: Rheumatology, Traumatology and orthopedics
Sections: Specialist manual


Authors: Власенко Р.О.(1), Григор'єва Н.В.(2)
(1) — Вінницький національний медичний університет ім. М.І. Пирогова, м. Вінниця, Україна
(2) — ДУ «Інститут геронтології імені Д.Ф. Чеботарьова НАМН України», Український науково-медичний центр проблем остеопорозу НАМН України, м. Київ, Україна
"Pain. Joints. Spine." Том 8, №1, 2018
Date: 2018.06.04
Categories: Rheumatology, Traumatology and orthopedics
Sections: Specialist manual