Ukrainian journal of surgery 4 (35) 2017
Damage Control Surgery в хирургии ожогов при комбинированных огнестрельных повреждениях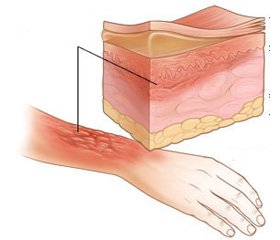 Authors:

Самойленко Г.Е., Кондратенко П.Г., Жариков С.О., Андреев О.В., Синепупов Д.Н.
Донецкий национальный медицинский университет, г. Лиман, Украина



Categories:

Surgery



Sections:

Clinical researches
Summary
Опікова травма відрізняється від інших видів травми очевидною недосконалістю невідкладного лікування. Для обмеження зони ушкодження і розвитку поліорганної недостатності лікування опікової рани має бути раннім і агресивним. Поєднання бойової травми з великою опіковою травмою значно погіршує частоту розвитку ускладнень і смертності, і хірургічне лікування таких пацієнтів потребує зміни тактики. Використання диференційованої хірургічної тактики привело до зниження розвитку ускладнень від 23,5 до 11,8 % (p = 0,453) порівняно з групою, де використовувалася традиційна одноетапна тактика усунення всіх ушкоджень.
Ожоговая травма отличается от других видов травмы очевидным несовершенством неотложного лечения. Для ограничения зоны повреждения и развития полиорганной недостаточности лечение ожоговой раны должно быть ранним и агрессивным. Сочетание боевой травмы с обширной ожоговой травмой значительно ухудшает частоту развития осложнений и смертности, и хирургическое лечение таких пациентов требует изменения тактики. Использование дифференцированной хирургической тактики привело к снижению развития осложнений от 23,5 до 11,8 % (p = 0,453) по сравнению с группой, где использовалась традиционная одноэтапная тактика устранения всех повреждений.
Burn injury differs from other types of trauma by the apparent lack of urgency for treatment. In order to limit physio­logical damage and multiple organ dysfunction syndrome, the management of the burn wound must be immediate and aggressive. When associated with other battle trauma, major burn injury has a detrimental effect on morbidity and mortality, and surgical management of both aspects of a patient's injuries are altered. The use of differentiated surgical approaches led to a reduction in complications from 23.5 to 11.8 % (p = 0.453) compared with the group, who only used the traditional tactics of one-stage elimination of all injuries.
Keywords
бойова травма; хірургія опіків; програмована багатоетапна тактика хірургічного лікування Damage Control Surgery
боевая травма; хирургия ожогов; программируемая многоэтапная тактика хирургического лечения Damage Control Surgery
battle injury; burn surgery; Damage Control Surgery
For the full article you need to subscribe to the magazine.
Bibliography
1. Козинець Г.П. Сучасне визначення сепсису та септичного шоку у хворих з глибокими поширеними опіками / Г.П. Козинець, О.Ю. Сорокіна, С.В. Слєсаренко, Ж.В. Філіп // Хірургія України. — 2017. — № 1. — С. 109-117.
2. Нагайчук В.І. Сучасні підходи до надання допомоги хворим з опіками / В.І. Нагайчук // Мистецтво лікування. — 2010. — № 5(71). — С. 24-27.
3. Palmieri T.L., Jackson W., Greenhalgh D.G. Benefits of early tracheostomy in severely burned children // Crit. Care Med. — 2002. — № 30(4). — Р. 922-4.
4. Slutsky A.S. Non-conventional methods of ventilation // Am. Rev. Respirat. Dis. — 1988. — № 138. — Р. 175-83.
5. Gomez M., Logsetty S., Fish J.S. Reduced blood loss during burn surgery // J. Burn. Care Rehabil. — 2001. — № 22(2). — Р. 111-7.
6. Sorensen B. Management of burns occurring as mass casualties after nuclear explosion // Burns. Includ. Thermal. Inj. — 1979. — № 6. — Р. 33-6.
7. Ivy M.E., Atweh N.A., Palmer J. et al. Intra-abdominal hypertension and abdominal compartment syndrome in burn patients // J. Trauma. — 2000. — № 49. — Р. 387-91.
8. Latenser B.A., Kowal-Vern A., Kimball D. et al. A pilot study comparing percutaneous decompression with decompressive laparotomy for acute abdominal compartment syndrome in thermal injury // J. Burn. Care Rehabil. — 2002. — № 23(3). — Р. 190-5.
9. Mlcak R.P., Buffalo M.C. Pre-hospital management, transportation, and emergency care / Ed. by Herndon D.N. // Total Burn Сare. — WB Saunders, 2002.
10. Лікування поранених з дефектами тканин кінцівок / О.В. Борзих, А.М. Лакша, В.Г. Шипунов [та ін.] // Проблеми травматології та остеосинтезу. — 2015. — № 1(1). — С. 10-13.
Similar articles

Authors:
Samoilenko H.Ye. - Donetsk National Medical University named after M. Horkyi, Krasnyi Lyman, Ukraine


Ukrainian journal of surgery 1-2 (28-29) 2015
Date: 2016.03.14
Categories: Surgery
Sections: Clinical researches


Authors:
Солошенко В.В., Носенко В.М. - Донецкий национальный медицинский университет им. М. Горького; ГУ «Институт неотложной и восстановительной хирургии им. В.К. Гусака НАМН Украины», г. Донецк


"Medical and social problems of family" 1 (том 19) 2014
Date: 2014.04.22
Categories: Obstetrics and gynecology
Sections: Clinical researches


Authors: Олейник Г.А.(1), Литовченко А.Н.(2), Литовченко Е.Ю.(2)
(1) — Харьковская медицинская академия последипломного образования, г. Харьков, Украина
(2) — Харьковский национальный университет имени В.Н. Каразина, г. Харьков, Украина
"Emergency medicine" №1(96), 2019
Date: 2019.03.20
Categories: Medicine of emergency
Sections: Specialist manual