Ukrainian journal of surgery 4 (35) 2017
Органосберегающие операции в лечении доброкачественных опухолей надпочечников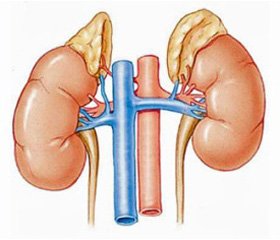 Authors:

Кутовой А.Б., Жмуренко Э.В.
ГУ «Днепропетровская медицинская академия МЗ Украины», г. Днепр, Украина



Categories:

Surgery



Sections:

Clinical researches
Summary
Актуальність. Сучасні методи візуалізації дозволяють у 98,4 % випадків виявити новоутворення надниркової залози. Найбільш поширеним методом лікування пухлин надниркових залоз є ендовідеохірургічна адреналектомія. Однак у випадках периферичної локалізації пухлини, гіпоплазії неураженої залози, наявності гормонактивного новоутворення з супресією кори контралатерального наднирника доцільним є органозберігаючий характер операцій, таких як субтотальна адреналектомія. Виконання останньої має низку переваг. Мета дослідження: оцінити результати виконання органозберігаючих операцій при односторонніх доброякісних пухлинах надниркових залоз. Матеріали та методи. З 2011 по 2016 р. в КЗ «Обласна клінічна лікарня ім. І.І. Мечникова» були обстежені і прооперовані 97 пацієнтів із доброякісними пухлинами надниркових залоз. Результати. Мануально-асистовані лапароскопічні втручання виконані у 80 хворих, які були розділені на 2 групи: основну (n = 42) — пацієнти після субтотальної резекції і контрольну (n = 38) — після тотальної адреналектомії. Отримані результати після субтотальних адреналектомій вигідно відрізнялися за більшістю показників від результатів тотальних адреналектомій, що характеризують не тільки хід операції, а й частоту розвитку післяопераційних ускладнень. Висновки. Мануально-асистована лапароскопічна субтотальна адреналектомія є ефективним методом хірургічного лікування однобічних периферично розташованих доброякісних пухлин надниркових залоз. Найбільш частим патоморфологічним варіантом новоутворень є аденома, частота виявлення якої становила 61,3 %. Рецидивів пухлин після субтотальних резекцій і тотальних адреналектомій при тривалості спостереження від 2 до 36 місяців нами не виявлено.
Актуальность. Современные методы визуализации позволяют в 98,4 % случаев выявить новообразование в надпочечнике. Наиболее распространенным методом лечения опухолей надпочечников является эндовидеохирургическая адреналэктомия. Однако в случаях периферической локализации опухоли, гипоплазии непораженной железы, наличия гормонактивного образования с подавлением коры контралатерального надпочечника целесообразным является органосберегающий характер операций, таких как субтотальная адреналэктомия. Выполнение последней имеет ряд преимуществ. Цель исследования: оценить результаты выполнения органосберегающих операций при односторонних доброкачественных опухолях надпочечников. Материалы и методы. С 2011 по 2016 г. в КУ «Областная клиническая больница им. И.И. Мечникова» были обследованы и прооперированы 97 пациентов с доброкачественными опухолями надпочечников. Результаты. Мануально-ассистированные лапароскопические вмешательства выполнены у 80 больных, которые были разделены на 2 группы: основную (n = 42) — пациенты после субтотальной резекции и контрольную (n = 38) — после тотальной адреналэктомии. Полученные результаты после субтотальных адреналэктомий выгодно отличались по большинству показателей от результатов тотальных адреналэктомий, характеризующих не только ход операции, но и частоту развития послеоперационных осложнений. Выводы. Мануально-ассистированная лапароскопическая субтотальная адреналэктомия является эффективным методом хирургического лечения односторонних периферически расположенных доброкачественных опухолей надпочечников. Наиболее частым патоморфологическим вариантом новообразований является аденома, частота выявления которой составила 61,3 %. Рецидивов опухолей после субтотальных резекций и тотальных адреналэктомий при длительности наблюдения от 2 до 36 месяцев нами не выявлено.
Modern methods of visualization make it possible to reveal the formations in the adrenal gland in 98.4 % of cases. The most common method of treatment of adrenal tumors is endovideosurgical adrenalectomy. However, in cases of peripheral localization of the tumor, hypoplasia of the unaffected gland, the presence of hormonal formation with suppression of the cortex of the contralateral adrenal gland, it is expedient to maintain the organ preserving surgeries, such as subtotal adrenalectomy. Implementation of the latter has a number of advantages. The purpose of the study was to evaluate the results of organ preserving operations with unilateral benign adrenocortical tumors. Materials and methods. From 2011 to 2016, in the MI "I.I. Mechnikov Regional Clinical Hospital", 97 patients with benign adrenal gland tumors were examined and operated. Of these, hand assisted laparoscopic interventions were performed in 80 patients, who were divided into 2 groups: main — 42 individuals after subtotal resection, control — 38 persons after total adrenalectomy. Results. The results obtained after subtotal adrenalectomy favorably differed on the majority of parameters as compared with the total ones, characterizing not only the course of the surgery, but also the incidence of postoperative complications. Conclusions. Hand assisted laparoscopic subtotal adrenalectomy is an effective method of surgical treatment of unilateral peripheral benign tumors of the adrenal glands. The most frequent pathomorphological type of neoplasms is an adenoma, the detection rate of which was 61.3 %. Recurrences of tumors after subtotal resections and total adrenalectomies with a follow-up period of 2 to 36 months were not revealed.
Keywords
субтотальна адреналектомія; пухлина надниркової залози; мануально-асистована адреналектомія
субтотальная адреналэктомия; опухоль надпочечника; мануально-ассистированная адреналэктомия
subtotal adrenalectomy; adrenal tumor; hand assisted adrenalectomy
For the full article you need to subscribe to the magazine.
Bibliography
1. Лапароскопическая резекция надпочечников / С.И. Емельянов, И.А. Курганов, Д.Ю. Богданов, Н.Л. Матвеев // Эндоскоп. хирургия. — 2010. — Т. 16, № 3. — С. 11-17.
2. Лапароскопическая резекция надпочечника / М.Е. Ничитайло, В.В. Черный, О.Н. Гулько [и др.] // Укр. журн. хирургии. — 2013. — № 4. — С. 48-51.
3. Отдаленные результаты хирургического лечения инциденталом надпочечников / М.Е. Белощицкий, А.П. Калинин, О.П. Богатырев [и др.] // Практическая медицина. — 2012. — № 9. — С. 21-25.
4. Семенов Д.Ю. Сравнительная оценка различных объемов операций при опухолевых заболеваниях надпочечников / Д.Ю. Семенов, П.А. Панкова, З.Х. Османов // Эндокрин. хирургия. — 2016. — Т. 10, № 2. — С. 52-59.
5. Чаусова В.Г. Оценка отдаленных результатов радикальных и органосохраняющих операций при опухолях надпочечников / В.Г. Чаусова, П.А. Панкова, Э.А. Рамазанова // Ученые записки СПбГМУ им. акад И.П. Павлова. — 2014. — Т. 21, № 2. — С. 36-39.
6. Laparoscopic resection is safe and feasible for large
(≥ 6 cm) pheochromocytomas without suspicion of malignancy / M. Yvette, M.D. Carter, M.D. Haggi Mazeh [et al.] // Endocrin. Pract. — 2012. — Vol. 18, № 5. — Р. 720-726.
7. Perioperative, functional, and oncologic outcomes of partial adrenalectomy for multiple ipsilateral pheochromocytomas / G.N. Gupta, J.S. Benson, M.J. Ross [et al.] // J. Endourol. — 2014. — Vol. 28, № 1. — Р. 112-116.
8. Retroperitoneal adrenalsparing surgery for the treatment of Cushing's syndrome caused by adrenocortical adenoma: 8 year experience with 87 patients / H.C. He [et al.] // World J. Surg. — 2012. — Vol. 36, № 5. — P. 182-188.
9. Toniato A. Minimally invasive surgery for malignant adrenal tumors / А. Toniato // Surgeon. — 2013, Feb 13 [Epub ahead of print].