"Child`s Health" Том 12, №8, 2017
World experience on the treatment of interstitial diseases of the lungs in children (up-date 2017)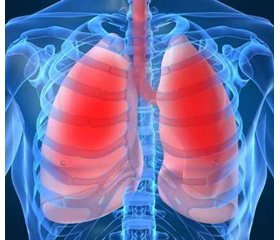 Authors:

Гончарь М.О.(1), Логвінова О.Л.(1, 2)
(1) — Харківський національний медичний університет, м. Харків, Україна
(2) — КЗОЗ «Харківська обласна дитяча клінічна лікарня», м. Харків, Україна



Categories:

Pediatrics/Neonatology



Sections:

Specialist manual
Summary
В статті наведені сучасні принципи класифікації, діагностики та лікування інтерстиціальних захворювань легень у дітей, що є необхідним у практиці педіатрів, сімейних лікарів, дитячих пульмонологів, торакальних хірургів, трансплантологів. Інтерстиціальні захворювання легень входять у структуру дифузних паренхіматозних захворювань легень, до якої на сьогодні включено понад 80 нозологічних форм. Автори звернули увагу на програму спостереження та лікування ChILD (засновану на доказовій базі), що включає активну імунопрофілактику, лікування респіраторної дисфункції (за наявності у хворого), оптимальну нутритивну підтримку, агресивне лікування інтеркурентної інфекції, виключення пасивного куріння та вдихання інших полютантів, освіту та підтримку, генетичне консультування сім'ї пацієнта, фармакотерапію та показання до трансплантації легень. У публікації поданий графік моніторингу пацієнтів протягом року та довготривале спостереження з визначенням прогнозу інтерстиціального захворювання легень у конкретної дитини.
В статье представлены современные принципы классификации, диагностики и лечения интерстициальных заболеваний легких у детей, что необходимо в практике педиатров, семейных врачей, детских пульмонологов, торакальных хирургов, трансплантологов. Интерстициальные заболевания легких входят в структуру диффузных паренхиматозных заболеваний легких, которая включает более 80 нозологических форм. Авторы обратили внимание на программу наблюдения и лечения ChILD (основанную на доказательной базе), которая в настоящее время включает активную иммунопрофилактику, лечение респираторной дисфункции (при наличии у больного), оптимальную нутритивную поддержку, агрессивное лечение интеркуррентной инфекции, исключение пассивного курения и вдыхания других поллютантов, образование и поддержку, генетическое консультирование семьи пациента, фармакотерапию и показания к трансплантации легких. В публикации представлен график мониторинга пациентов в течение года и длительное наблюдение с определением прогноза интерстициального заболевания легких у конкретного ребенка.
The article shows modern principles of classification, diagnosis and treatment of interstitial lung diseases in children for the practice of pediatricians, family doctors, pediatric pulmonologists, thoracic surgeons, transplantologists. Interstitial lung diseases are part of the structure of diffuse parenchymal diseases of the lungs, which today includes more than 80 nosological forms. The author presents a chILD (based on evidence base) patient monitoring program, which includes active immunization, treatment of respiratory dysfunction (in its presence), optimal nutrition support, aggressive treatment of intercurrent infection, exclusion of passive smoking and inhalation of other pollutants, education and support, genetic family counseling to the patient, pharmacotherapy and indications for lung transplantation. The publication presents a schedule for patient's monitoring during the year and a long-term follow-up with the definition of the prediction of a lung disease in a sick child.
Keywords
діти; легені; інтерстиціальне; паренхіматозне; діагностика; лікування
дети; легкие; интерстициальное; паренхиматозное; диагностика; лечение
children; lungs; interstitial; parenchymal; diagnosis; treatment
For the full article you need to subscribe to the magazine.
Bibliography
1. Avital A. Natural history of five children with surfactant protein C mutations and interstitial lung disease / A. Avital, A. Hevroni, S. Godfrey et al. // Pediatr. Pulmonol. — 2014. — № 49. — P. 1097-1105.
2. Brody A.S. Don't let radiation scare trump patient care: 10 ways you can harm your patients by fear of radiation-induced cancer from diagnostic imaging / A.S. Brody, R.P. Guillerman // Thorax. — 2014. — № 69. — P. 782-784.
3. Bush A. Research in progress: Put the orphanage out of business / A. Bush, G. Anthony, A. Barbato et al. // Thorax. — 2013. — № 68. — P. 971-973.
4. Bush A. European protocols for the diagnosis and initial treatment of interstitial lung disease in children / A. Bush, S. Cunningham, J. de Blic et al. // Thorax. — 2015. — № 70. — P. 1078-1084.
5. Camelo A. The epithelium in idiopathic pulmonary fibrosis: breaking the barrier / A. Camelo, R. Dunmore, M.A. Sleeman et al. // Front. Pharmacol. — 2014. — № 4. — P. 173.
6. Deutsch G.H. Diffuse lung disease in young children: application of a novel classification scheme / G.H. Deutsch, L.R. Young, R.R. Deterding et al. // Am. J. Respir. Crit. Care Med. — 2007. — № 176. — P. 1120-1128.
7. El-Saied M.M. Plasma levels of transforming growth factor-B1 connective tissue growth factor; soluble factor related apoptosis and urinary levels of desmosine in childhood interstitial lung diseases / M.M. El-Saied, K. Saad, E.A. Hamed. et al. // Assiut. Med. J. — 2016. — № 40. — P. 89-102.
8. Hime N.J. Childhood interstitial lung disease: A systematic review / N.J. Hime, Y. Zurynski, D. Fitzgerald et al. // Pediatr. Pul–monol. — 2015. — № 50. — P. 1383-1392.
9. Kropski J.A. Genetic studies provide clues on the pathogene–sis of idiopathic pulmonary fibrosis / J.A. Kropski, W.E. Lawson, L.R. Young et al. // Dis. Model. Mech. — 2013. — № 6. — P. 9-17.
10. Kuo C.S. Interstitial lung disease in children / C.S. Kuo, L.R. Young // Current. Opinion. — 2014. — № 26. — P. 320-327.
11. Kurland G. Classification, Evaluation, and Management of Childhood Interstitial Lung Disease in Infancy / G. Kurland, R.R. Deterding, J.S. Hagood et al. // Am. J. Respir. Crit. Care Med. — 2013. — № 188. — P. 376-394.
12. Steele M.P. Molecular mechanisms in progressive idiopa–thic pulmonary fibrosis / M.P. Steele, D.A. Schwartz // Annu. Rev. Med. — 2013. — № 64. — P. 265-276.
13. Wambach J.A. Genotype-phenotype correlations for infants and children with ABCA3 deficiency / J.A. Wambach, A.M. Casey, M.P. Fishman et al. // Am. J. Respir. Crit. Care Med. — 2014. — № 189. — P. 1538-1543.
14. Wuyts W.A. The clinical utility of bronchoalveolar lavage cellular analysis in interstitial lung disease / W.A. Wuyts, C. Dooms, G.M. Ver–leden // Am. J. Respir. Crit. Care Med. — 2013. — № 187. — P. 777.
15. Zimmermann G.S. Haemodynamic changes in pulmonary hypertension in patients with interstitial lung disease treated with –PDE-5 inhibitors / G.S. Zimmermann, W. von Wulffen, P. Huppmann et al. // Respirology. — 2014. — № 19. — P. 700-706.
Similar articles

Authors: Гончарь М.О.(1), Логвінова О.Л.(1, 2)
(1) — Харківський національний медичний університет, м. Харків, Україна
(2) — КЗОЗ «Харківська обласна дитяча клінічна лікарня», м. Харків, Україна
"Child`s Health" Том 12, №8, 2017
Date: 2018.01.29
Categories: Pediatrics/Neonatology
Sections: Specialist manual


Authors: Гончарь М.О.(1), Сенаторова Г.С.(1), Логвінова О.Л.(1, 2), Муратов Г.Р.(1, 2)
(1) — Харківський національний медичний університет, м. Харків, Україна
(2) — КЗОЗ «Харківська обласна дитяча клінічна лікарня», м. Харків, Україна
"Child`s Health" Том 12, №7, 2017
Date: 2017.12.22
Categories: Pediatrics/Neonatology
Sections: Specialist manual


Authors:
Пашковська Н.В. Вищий державний навчальний заклад України «Буковинський державний медичний університет», м. Чернівці, Україна


International journal of endocrinology 6 (78) 2016
Date: 2016.11.17
Categories: Endocrinology
Sections: Clinical researches


Authors:
Іванов Д.Д., Кафедра нефрології і нирково-замісної терапії Національної медичної академії післядипломної освіти імені П.Л. Шупика, м. Київ


"Kidneys" 1 (03) 2013
Date: 2013.03.14
Categories: Nephrology
Sections: Specialist manual