"Child`s Health" Том 12, №8, 2017
Hereditary and familial diseases and malformations of kidneys in childhood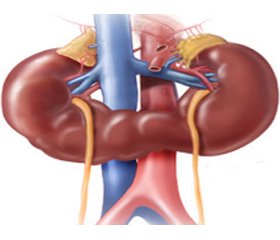 Authors:

Сорокман Т.В., Остапчук В.Г., Макарова О.В.
Вищий державний навчальний заклад України «Буковинський державний медичний університет», м. Чернівці, Україна



Categories:

Pediatrics/Neonatology



Sections:

Specialist manual
Summary
У статті наведений аналіз даних літератури щодо частоти та особливостей перебігу спадкових хвороб нирок. За даними Всесвітньої організації охорони здоров'я, частота спадкових хвороб і аномалій нирок становить 2,5–3 % у новонароджених, близько 1 % власного вкладу становлять генні хвороби, 0,5 % — хромосомні та в середньому 1,5–2 % припадає на частку вроджених вад розвитку, зумовлених дією несприятливих екзогенних і ендогенних факторів. У наш час відомо близько 50 генетично детермінованих хвороб нирок і сечових шляхів. Для деяких варіантів патології (дисплазія нирок, тубулопатії, нирковий амілоїдоз) характерне формування ниркової недостатності вже в дитячому віці. Описаний випадок хвороби тонких базальних мембран (генетично детермінована неімунна гломерулопатія, що залежить від мутації генів колагену IV типу COL4A4/COL4A3) у 9-річної дитини. Клінічний випадок являє інтерес з точки зору маніфестації та перебігу хвороби, оскільки на тлі хвороби тонких базальних мембран розвинувся імунний гломерулонефрит і, можливо, провокуючим чинником стали часті гострі респіраторні інфекції. Генетичні дослідження сімей із подібними клінічними фенотипами повинні бути пріоритетом для нефрологів.
В статье приведен анализ данных литературы о частоте и особенностях течения наследственных болезней почек. По данным Всемирной организации здравоохранения, частота наследственных болезней и аномалий почек составляет 2,5–3 % у новорожденных, около 1 % собственного вклада составляют генные болезни, 0,5 % — хромосомные и в среднем 1,5–2 % приходится на долю врожденных пороков развития, обусловленных действием неблагоприятных экзогенных и эндогенных факторов. В настоящее время известно около 50 генетически детерминированных болезней почек и мочевых путей. Для некоторых вариантов патологии (дисплазия почек, тубулопатии, почечный амилоидоз) характерно формирование почечной недостаточности уже в детском возрасте. Описан случай болезни тонких базальных мембран (генетически детерминированная неиммунная гломерулопатия, зависящая от мутации генов коллагена IV типа COL4A4/COL4A3) у 9-летнего ребенка. Клинический случай представляет интерес с точки зрения манифестации и течения болезни, поскольку на фоне болезни тонких базальных мембран развился иммунный гломерулонефрит, и, возможно, провоцирующим фактором стали частые острые респираторные инфекции. Генетические исследования семей с подобными клиническими фенотипами должны быть приоритетом для нефрологов.
The article presents the results of a review on the incidence and characteristics of the course of hereditary kidney diseases. According to the World Health Organization, the incidence of hereditary diseases and kidney anomalies is 2.5–3 % in newborns, about 1 % are gene diseases, 0.5 % — chromosomal and an average of 1.5–2 % falls on the congenital malformations caused by unfavorable exogenous and endogenous factors. Currently, about 50 genetically determined diseases of the kidneys and urinary tracts are known. For some variants of pathology (kidney dysplasia, tubulopathy, renal amyloidosis), the formation of renal failure is already characteristic for childhood. A clinical case is described of thin basement membrane disease (genetically determined non-immune glomerulopathy, which depends on the mutation of the collagen genes IV type COL4A4/COL4A3) in a 9-year-old child. This case is of interest from the point of view of the manifestation and course of the disease, as against the background of thin basement membrane disease, immune glomerulonephritis has developed and, possibly, frequent acute respiratory infections have become the predisposing factor. Genetic studies of families with similar clinical phenotypes should be a priority for nephrologists.
Keywords
діти; спадкові хвороби й аномалії розвитку нирок; клінічний випадок хвороби тонких базальних мембран
дети; наследственные болезни и аномалии развития почек; клинический случай болезни тонких базальных мембран
children; hereditary diseases and kidney abnorma­lities; clinical case of thin basement membrane disease
For the full article you need to subscribe to the magazine.
Bibliography
1. Крыганова Т.А., Длин В.В. Частота аномалий органов мочевой системы и функциональное состояние почек в зависимости от степени выраженности дисплазии соединительной ткани у детей // Российский вестник перинатологии и педиатрии. — 2016. — № 61(3). — С. 81-86. doi: 10.21508/1027-4065-2016-61-3-81-86.
2. Игнатова М.С. CAKUT-синдром у детей. Обзор литературы // Педиатрия. — 2012. — № 6. — С. 141-144.
3. De Rechter S., Kringen J., Janssens P. [et al.]. Clinicians' attitude towards family planning and timing of diagnosis in autosomal dominant polycystic kidney diseas // PLoS One. — 2017 Sep 29. — Vol. 12(9). — P. e0185779. doi: 10.1371/journal.pone.0185779. eCollection 2017.
4. Chebib F.T., Torres V.E. Autosomal Dominant Polycystic Kidney Disease: Core Curriculum 2016 // American journal of kidney diseases: the official journal of the National Kidney Foundation. — 2016. — Vol. 67(5). — P. 792-810. Epub 2015/11/05. doi: 10.1053/j.ajkd.2015.07.037.
5. Klingbeil K.D., Greenland C.M., Arslan S. [et al.]. Novel EYA1 variants causing Branchio-oto-renal syndrome // Int. J. Pediatr. Otorhinolaryngol. — 2017 Jul. — Vol. 98. — P. 59-63. doi: 10.1016/j.ijporl.2017.04.037.
6. Judge P.K., Harper C.H.S., Storey B.C.J. [et al.]. Biliary Tract and Liver Complications in Polycystic Kidney Disease // Am. Soc. Nephrol. — 2017 Sep. — Vol. 28(9). — P. 2738-2748. doi: 10.1681/ASN.2017010084.
7. Deltas C., Gale D., Cook T. [et al.]. C3 Glomerulonephritis/CFHR5 Nephropathy Is an Endemic Disease in Cyprus: Clinical and Molecular Findings in 21 Families // Adv. Exp. Med. Biol. — 2013. — Vol. 734. — P. 189-196. PMID: 23402027.
8. Li Y., Wang Y., He Q. [et al.]. Genetic mutational testing of Chinese children with familial hematuria with biopsy-proven FSGS // Mol. Med. Rep. — 2017 Nov 10. doi: 10.3892/mmr.2017.8023.
9. Bhattar R., Maheshwari A., Tomar V., Yadav S.S. Crossed Fused Ectopic Kidney: A Case Report // J. Clin. Diagn. Res. — 2017 Aug. — Vol. 11(8). — P. 11-12. doi: 10.7860/JCDR/2017/26944.10434.
10. Ristoska-Bojkovska N. Congenital Anomalies of the Kidney and Urinary Tract (CAKUT). Pril (Makedon. Akad. Nauk. Umet. Odd. Med. Nauki). — 2017 Mar 1. — Vol. 38(1). — P. 59-62. doi: 10.1515/prilozi-2017-0008.
11. Deltas C., Gale D., Cook T. The role of molecular genetics in diagnosing familial hematuria(s) // Pediat. Nephrol. — 2012. — Vol. 27, № 8. — P. 1221-1231. doi: 10.1007/s00467-011-1935-5.
12. Rheault M.N. Women and Alport syndrome // Pediatr. Nephrol. — 2012. — Vol. 27, № 1. — P. е41-46. doi: 10.1007/s00467-011-1836-7.
Similar articles


Authors:
Кушніренко С.В. - Кафедра нефрології та нирково­замісної терапії НМАПО імені П.Л. Шупика, м. Київ


"Kidneys" 3 (13) 2015
Date: 2015.09.25
Categories: Nephrology
Sections: Clinical researches


Authors:
Лук'яненко Н.С., Петріца Н.А. — ДУ «Інститут спадкової патології Національної академії медичних наук України», відділення епідеміології вродженої і спадкової патології, м. Львів; Кенс К.А. — Львівський національний медичний університет імені Данила Галицького, кафедра дитячої хірургії


"Child`s Health" 2 (61) 2015
Date: 2015.04.01
Categories: Pediatrics/Neonatology
Sections: Specialist manual


Authors: Мінакова В.А.(1, 2), Непомнящий В.М.(2), Багдасарова І.В.(2)
(1) — КЗ «Дніпропетровська дитяча міська клінічна лікарня № 2» ДОР», м. Дніпро, Україна
(2) — ДУ«Інститут нефрології НАМН України», м. Київ, Україна
"Child`s Health" Том 12, №3, 2017
Date: 2017.06.29
Categories: Pediatrics/Neonatology
Sections: Clinical researches