International journal of endocrinology Том 13, №8, 2017
Immune histochemical study of apoptosis marker expression and proliferation in tissues at follicular neoplasia of the thyroid gland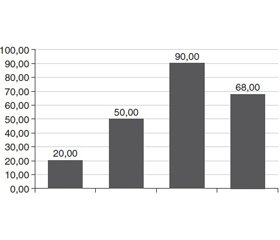 Authors:

Сазонов М.Є., Корчагін Є.П., Гойденко Н.І.
ДУ «Інститут проблем ендокринної патології імені В.Я. Данилевського НАМН України», м. Харків, Україна



Categories:

Endocrinology



Sections:

Specialist manual
Summary
Мета. Визначення експресії імуногістохімічних маркерів апоптозу р53 та bcl-2 і маркера проліферації Ki-67 у фолікулярних неоплазіях щитоподібної залози (ЩЗ). Матеріали та методи. Як критерії диференціальної діагностики фолікулярних неоплазій ЩЗ пропонуються численні імуногістохімічні маркери, серед яких найбільш корисними є маркери проліферації Ki-67 та апоптозу р53, bcl-2. Проведено імуногістохімічне дослідження операційного матеріалу 50 пацієнтів, оперованих у клініці ДУ «Інститут проблем ендокринної патології імені В.Я. Данилевського НАМН України» з приводу доброякісних (25 аденом) та злоякісних (25 карцином) фолікулярних новоутворень. Результати. Отримані дані показують, що фолікулярні аденоми солідної і фетально-ембріональної будови мають високий рівень спорідненості з фолікулярним раком ЩЗ за показниками проліферативної активності та порушень механізмів апоптозу, що, ймовірно, передбачає найбільший потенціал до малігнізації і подальшого метастазування. Висновки. Високий рівень експресії р53 та стабільно високий рівень експресії bcl-2 в клітинах фолікулярного раку ЩЗ і фолікулярної аденоми солідної та фетально-ембріональної будови вказує на глибокі порушення апоптотичних процесів при розвитку фолікулярних неоплазій ЩЗ.
Цель. Определение экспрессии иммуногистохимических маркеров апоптоза р53 и bcl-2 и маркера пролиферации Ki-67 в фолликулярных неоплазиях щитовидной железы (ЩЖ). Материалы и методы. В качестве критериев дифференциальной диагностики фолликулярных неоплазий ЩЖ предлагаются многочисленные иммуногистохимические маркеры, среди которых наиболее полезными являются маркеры пролиферации Ki-67 и апоптоза р53 и bcl-2. Проведено иммуногистохимическое исследование операционного материала 50 пациентов, оперированных в клинике ГУ «Институт проблем эндокринной патологии имени В.Я. Данилевского НАМН Украины» по поводу доброкачественных (25 аденом) и злокачественных (25 карцином) фолликулярных новообразований. Результаты. Полученные данные показывают, что фолликулярные аденомы солидного и фетально-эмбрионального строения имеют высокий уровень сродства с фолликулярными карциномами ЩЖ по показателям пролиферативной активности и нарушениям механизмов апоптоза, что, вероятно, предполагает наибольший потенцал к малигнизации и дальнейшему метастазированию. Выводы. Высокий уровень экспрессии р53 и стабильно высокий уровень экспрессии bcl-2 в клетках фолликулярного рака ЩЖ и фолликулярной аденомы солидного и фетально-эмбрионального строения указывает на глубокие нарушения апоптотических процессов при развитии фолликулярных неоплазий ЩЖ.
Background. The purpose was to determine the expression of immune histochemical markers of apoptosis, р53 and bcl-2, and proliferation marker Ki-67 in follicular thyroid neoplasia. Materials and methods. Numerous immune histochemical markers are proposed as criteria for the differential diagnosis of follicular thyroid neoplasia, the most useful of which are Ki-67 proliferation marker and p53 and bcl-2 apoptosis markers. We have conducted immune histochemical study of the surgical material of 50 patients operated in the clinic of State Institution "V. Danilevsky Institute of Endocrine Patho­logy Problems of the NAMS of Ukraine" for benign (25 adenoid tumors) and malignant (25 carcinoma) follicular neoplasms. Results. The obtained data shows that follicular adenomas with solid and fetal-embryonic structure have a high level of correlation with follicular thyroid carcinomas in terms of proliferative activity and dysfunction of apoptosis mechanisms, which, probably, presumes the greatest potential for malignancy and further metastasis. Conclusions. High level of р53 expression and stably high level of bcl-2 expression in the cells of follicle thyroid cancer specifies deep violations of apoptotic processes in development of follicular thyroid neoplasia.
Keywords
щитоподібна залоза; фолікулярна неоплазія; імуногістохімічні маркери; Ki 67; p53; bcl-2
щитовидная железа; фолликулярная неоплазия; иммуногистохимические маркеры; Ki 67; p53; bcl-2
thyroid gland; follicular neoplasia; immunohistochemical markers; Ki-67; p53; bcl-2
For the full article you need to subscribe to the magazine.
Bibliography
1. Longterm assessment of a multidisciplinary approach to thyroid nodulediagnostic evaluation [Text] / L. Yassa, E.S. Cibas, C.B. Benson [et al.] // Cancer. — 2007. — Vol. 111. — Р. 508-516.
2. Xing М. Progress in molecular-based management of differentiated thyroid cancer [Text] / М. Xing, B.R. Haugen, M. Schlumberger // Lancet. — 2013. — Vol. 381, № 9871. — P. 1058-1069.
3. Чернухина Д.Ю. Роль галектина-3, HBME-1 и цитокератина в иммуногистохимической диагностике папиллярного рака щитовидной железы / Д.Ю. Чернухина, А.С. Прилуцкий // Международный эндокринологический журнал. — 2012. — № 5(45). — С. 21-23.
4. Абросимов А.Ю. The diagnostic value of immuno-expression of galectin-3, HBME-1 and cytokeratin-19 in tumors of the thyroid gland of various malignant potentials [Текст] / А.Ю. Абросимов, Н.Ю. Двинских // Российский онкологический журнал. — 2010. — № 1. — С. 26-31.
5. Parameswaran R. Molecular pathogenesis of follicular cell derived thyroid cancers [Text] / R. Parameswaran, S. Brooks, G.P. Sadler // Int. J. Surg. — 2010. — Vol. 8(3). — P. 186-193
6. Role of Ki-67 as a proliferative marker in lesions of thyroid [Text] / M. Pujani, D. Arora, M. Rujani [et al.] // Indian. J. Cancer. — 2010. — Vol. 47, № 3. — Р. 304-307.
7. Improvement of the cytological diagnostic accuracy of follicular thyroid lesions by the use of the Ki-67 proliferative index in addition to cytokeratin-19 and HBME-1 immunomarkers: a study of 61 cases of liquid-based FNA cytology with histological controls [Text] / L. Lacoste-Collin, E. D'Aure, D. Bérard [et al.] // Cytopathology. — 2014. — Vol. 25, № 3. — P. 160-169.
8. Markers of apoptosis and proliferation in patients with oncological and autoimmune thyroid diseases [Текст] / В.Н. Цыган, С.П. Казаков, Т.Н. Заботина, Н.Е. Кушлинский // Вестник российской военно-медицинской академии. — 2010. — Т. 4, № 32. — С. 197-204.
9. Хазієв В.В. Експресія онкомаркерів Кі-67 та р53 у фолікулярних неоплазіях щитоподібної залози [Текст] / В.В. Хазієв, І.В. Сорокіна // Експериментальна і клінічна медицина. — 2013. — № 2(59). — С. 77-81.
10. The problem of diagnostic significance of molecular testing in differential diagnosis of thyroid nodules / [Текст] / И.С. Березкина, Т.В. Саприна, А.П. Зима [и др.] // Российский биотерапевтический журнал. — 2014. — Т. 3, № 13. — С. 83-94.
11. Lehmann, B.D. Targeting mutant p53 in human tumors [Text] / B.D. Lehmann, J.A. Pietenpol // J. Clin. Oncol. — 2012. — Vol. 30. — P. 3648-3650.
12. Мужичук О.В. Значення прогностичних маркерів пухлинної прогресії P53, P21WAF1/CIP1, P63 ТА KI-67 в пухлинах щитовидної залози [Текст] / О.В. Мужичук, Н.І. Афанасьєва, В.В. Мужичук // Вiсник Харкiвського нацiонального унiверситету iм. В.Н. Каразiна. Сер. Медицина.–2009. — № 879, вип. 18. — С. 4-9.
13. Bouillet, P. Bax and Bak: back-bone of T cell death [Text] / P. Bouillet, A. Strasser // Nat. Immunol. — 2002. — Vol. 3, № 10. — P. 893-894.
14. Автандилов Г.Г. Fundamentals of quantitative pathologi–cal anatomy: монография / Г.Г. Автандилов. — М.: Медицина, 2002. — 240 с.
15. Significance of AgNORs and ki-67 proliferative mark ers in differential diagnosis of thyroid lesions [Text] / H.A. Aiad, M.A. Bashandy, A.G. Abdou, A.A. Zahran // Pathol. Oncol. Res. — 2013. — Vol. 19, № 2. — P. 167-175.
16. Ito Y. Prognostic significance of ki-67 labeling index in papillary thyroid carcinoma [Text] / Y. Ito, A. Miyauchi // World J. Surg. — 2010. — Vol. 34, № 12. — P. 3015-3021.
17. Growth Activity in Hyperplastic and Neoplastic Human Thyroid Determined by an Immunohstochemical Staining Procedure Using Monoclonal Antibody MIB-1 [Text] / R. Katon, K. Suzuki, A. Hemmi [et al.] // Human Pathology. — 1995. — Vol. 26, № 2. — P. 139-146.
18. Koioтecki К. Evaluation of р53 аnd solubie Fas ligand (sFasL) serum level соnсеntгаtiоn as indicators of apoptosis iп serurn of patients with benign and mаlignаnt primary follicular thyroid tumors [Text] / К. Koiomecki [et al.] // Еndоkrуnоl. Pol. — 2006. — Vol. 57, № 4. — Р. 320-325.
19. Hasbek Z. P53 antibody: is it an indicator of dedifferentiated thyroid cancer? [Text] / Z. Hasbek, B. Turgut, T. Erselcan // Ann. Nucl. Med. — 2014.–Vol.28, № 1. — P. 42-46.
20. Letsas К.Р. Transcription factor-mediated рrolifеrаtiоn аnd apoptosis in benign and malignant thyroid lesions [Text] / К.Р. Letsas, М. Frаngоu-Lаzаridis, А. Skyrlas // Pathol. Int. — 2005. — Vol. 55, № 11. — Р. 694-702.
21. Thorlacius S. Somatic р53 mutations in humal1 breast carcinomas in аn lcelandic population: а prognostic factor [Text] / S. Thorlacius, A.L. Borresen, J.E. Eyfjord // Саnсеr. — 1993. — Vol. 53, № 7. — Р. 1637-1641.
Similar articles


Authors:
Янчій I.Р., Болгов М.Ю. - Державна установа «Інститут ендокринології та обміну речовин імені В.П. Комісаренка НАМН України», м. Київ


International journal of endocrinology 7 (55) 2013
Date: 2013.12.25
Categories: Endocrinology, Oncology
Sections: Specialist manual