International journal of endocrinology Том 13, №8, 2017
Autoimmune polyglandular syndrome type 2 (clinical case of Сarpenter syndrome)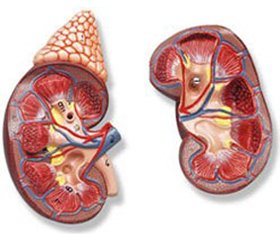 Authors:

V.V. Chernikova1, O.O. Soloviuk(2), O.A. Soloviuk(1)
(1) — Municipal Institution "Regional Clinical Endocrine Dispensary" of Zaporizhzhia Regional Council, Zaporizhzhia, Ukraine
(2) — Zaporizhzhia State Medical University, Zaporizhzhia, Ukraine



Categories:

Endocrinology



Sections:

Specialist manual
Summary
Синдром Карпентера — рідкісне автоімунне захворювання, що асоційоване з порушенням функції низки органів ендокринної системи (цукровий діабет, хронічна надниркова недостатність та/або автоімунний тиреоїдит). Описаний випадок атипового перебігу автоімунного полігландулярного синдрому типу 2 у пацієнта 47 років (дебют захворювання з розвитку цукрового діабету типу 1 із подальшим приєднанням хронічної надниркової недостатності) на тлі супутньої патології (виразкова хвороба, гіпертонічна хвороба, інсиденталома кори надниркових залоз).
Синдром Карпентера — редкое аутоиммунное заболевание, которое ассоциировано с нарушением функции ряда органов эндокринной системы (сахарный диабет, хроническая надпочечниковая недостаточность и/или аутоиммунный тиреоидит). Описан случай атипичного течения аутоиммунного полигландулярного синдрома типа 2 у пациента 47 лет (дебют заболевания с развития сахарного диабета типа 1 с последующим присоединением хронической надпочечниковой недостаточности) на фоне сопутствующей патологии (язвенная болезнь, гипертоническая болезнь, инсиденталома коры надпочечников).
Carpenter syndrome is a rare autoimmune disease that is associated with impaired function of several endocrine organs (diabetes mellitus, chronic adrenal insufficiency and/or autoimmune thyroiditis). A case of atypical course of autoimmune polyglandular syndrome type 2 in a patient aged 47 years is described (the onset of the disease with the development of type 1 diabetes mellitus and the subsequent chronic adrenal insufficiency) against the background of concomitant pathology (peptic ulcer, arterial hypertension, adrenal incidentaloma).
Keywords
синдром Карпентера; цукровий діабет; недостатність кори надниркових залоз
синдром Карпентера; сахарный диабет; недостаточность коры надпочечников
Carpenter syndrome; diabetes mellitus; adrenal insufficiency
For the full article you need to subscribe to the magazine.
Bibliography
1. Nieman L.K., Chanco Turner M.L. Addison's disease // Clinics in Dermatology. — 2006. — Vol. 24(4). — P. 276-280.
2. Bensing S., Hulting A., Husebye E.S., Kämpe O., Løvås K. Management of endocrine disease: epidemiology, quality of life and complications of primary adrenal insufficiency: a review // European Journal of Endocrinology. — 2016. — Vol. 175(3). — P. 107-116.
3. Charmandari E., Nicolaides N.C., Chrousos G.P. Adrenal insufficiency // The Lancet. — 2014. — Vol. 383. — P. 2152-2167.
4. Прилуцкий А.С., Прилуцкая О.А., Стрельченко Е.С. Аутоиммунные полиэндокринные синдромы: классификация, клиника, диагностика, лечение // Международный эндокринологический журнал. — 2014. — № 4(60). — С. 13-20.
5. Schmidt M.B. Eine biglandulare Erkrankung (Nobennieren und Shilddruse) bei Morbus Addisonii // Verh. Dtsch. Ges. Pathol. — 1926. — Vol. 21. — P. 212-221.
6. Carpenter C., Solomon S., Silverberg G. et al. Schmidt's syndrome (thyroid and adrenal insufficiency): a review of the li–terature and a report of fifteen new cases including ten instances of coexistent diabetes mellitus // Medicine. — 1964. — Vol. 43. — P. 153-180.
7. Neufeld M. Polyglandular autoimmune diseases // Pinche–ra A., Doniach D., Fenzi G.F., Baschieri L. Symposium on Autoimmune Aspects of Endocrine Disorders. — New York: Academic Press, 1980. — P. 357-365.
Similar articles

Authors:
Kyryliuk M.L., Atanova Ya.O., Tretiak O.E. - Ukrainian Scientific and Practical Centre for Endocrine Surgery, Transplantation of Endocrine Organs and Tissues of the Ministry of Healthcare of Ukraine, Kyiv, Ukraine


International journal of endocrinology 1 (73) 2016
Date: 2016.03.25
Categories: Endocrinology
Sections: Clinical researches



Authors: Синяченко О.В., Гмошинський М.В., Єрмолаєва М.В., Пилипенко В.В.
Донецький національний медичний університет, м. Лиман, Україна
International journal of endocrinology Том 14, №7, 2018
Date: 2018.12.27
Categories: Endocrinology
Sections: Clinical researches


Authors: P.O. Goldobin(1), D.V. Shorikova(2)
(1) — Private Сonsultant in Diabetes Mellitus, Kyiv, Ukraine
(2) — State Higher Education Institution of Ukraine "Bukovinian State Medical University", Chernivtsi, Ukraine
International journal of endocrinology Том 14, №1, 2018
Date: 2018.05.04
Categories: Endocrinology
Sections: Clinical researches