International journal of endocrinology Том 13, №8, 2017
Comparative characteristic of fibrinolytic activity in case of experimental peritonitis and underlying diabetes mellitus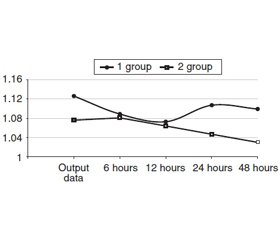 Authors:

F.V. Grynchuk, A.F. Grynchuk, V.V. Maksimiuk
Higher State Education Institution of Ukraine "Bukovinian State Medical University", Chernivtsi, Ukraine



Categories:

Endocrinology



Sections:

Specialist manual
Summary
Актуальність зумовлена недостатнім вивченням стану фібринолітичних реакцій при поєднанні цукрового діабету (ЦД) з гострим перитонітом (ГП), що дедалі частіше трапляється в практиці. Мета дослідження: вивчення особливостей фібринолітичної активності при ГП, що розвивається на тлі ЦД. Матеріали та методи. 100 білих нелінійних щурів. ГП моделювали черезстравохідною перфорацією шлунка. ЦД моделювали уведенням 1,6% розчину алоксану. Вивчали сумарну фібринолітичну активність (СФА), неферментаційну (НФА) та ферментаційну (ФФА) фібринолітичну активність плазми крові. Тварини були поділені на групи: 1-ша — інтактні тварини з моделями ГП, 2-га — тварини з моделями ГП на тлі ЦД. Результати. Активність фібринолізу в тварин із моделями ЦД переважала таку в інтактних. Через 6 год з часу моделювання ГП фібринолітична активність зростала. У 1-й групі приріст був меншим. Через 12 год СФА, НФА і ФФА у 2-й групі різко збільшилися і значно переважали. У 1-й групі значуще збільшилася ФФА. Співвідношення НФА/ФФА знижувалось у обох групах. Через 24 год СФА у 1-й групі незначно зросла. У 2-й групі всі показники істотно збільшилися. Співвідношення НФА/ФФА у 1-й групі зростало, а у 2-й групі знижувалось. Через 48 год СФА і співвідношення НФА/ФФА у 1-й групі практично не змінились. У 2-й групі параметри СФА, НФА і ФФА статистично значуще переважали, а ФФА продовжувала зростати. Висновки. При експериментальному ЦД виявлено зростання активності фібринолізу з перевагою ферментаційних механізмів. При експериментальному ГП спостерігається активація фібринолізу зі збереженням рівноваги між його ланками впродовж 24 годин. Розвиток ГП у тварин з моделями ЦД вже через 6 годин суттєво відрізняється кількісними характеристиками фібринолітичної активності плазми крові, що проявляється її надмірним зростанням, розвитком дисбалансу між ланками фібринолізу, неконтрольованим наростанням ФФА з ознаками виникнення синдрому дисемінованого внутрішньосудинного згортання крові через 24 години. Підґрунтям виявлених відмінностей є зміни функціональної активності фібринолітичної системи, зумовлені впливом ЦД, що, окрім змін у системі гемостазу, створює передумови для порушень механізмів активації, міграції та взаємодії ефекторних клітин, процесів проліферації тощо.
Актуальность обусловлена недостаточным изучением состояния фибринолитических реакций при сочетании сахарного диабета (СД) с острым перитонитом (ОП), которое все чаще случается в практике. Цель исследования: изучение особенностей фибринолитической активности при ОП, развивающемся на фоне СД. Материалы и методы. 100 белых нелинейных крыс. ОП моделировали чрезпищеводной перфорацией желудка. СД моделировали введением 1,6% раствора аллоксана. Изучали суммарную фибринолитическую активность (СФА), неферментационную (НФА) и ферментационную (ФФА) фибринолитическую активность плазмы крови. Животные были разделены на группы: 1-я — интактные животные с моделями ОП, 2 — животные с моделями ОП на фоне СД. Результаты. Активность фибринолиза у животных с моделями СД превышала таковую у интактных. Через 6 ч с момента моделирования ОП фибринолитическая активность возрастала. В 1-й группе прирост был меньше. Через 12 ч СФА, НФА и ФФА во 2-й группе резко увеличились и значительно преобладали. В 1-й группе значимо увеличилась ФФА. Соотношение НФА/ФФА снижалось в обеих группах. Через 24 ч СФА в 1-й группе незначительно выросла. Во 2-й группе все показатели существенно увеличились. Соотношение НФА/ФФА в 1-й группе возрастало, а во 2-й группе — снижалось. Через 48 ч СФА и соотношение НФА/ФФА в 1-й группе практически не изменились. Во 2-й группе параметры СФА, НФА и ФФА статистически значимо преобладали, а ФФА продолжала расти. Выводы. При экспериментальном СД выявлено повышение активности фибринолиза с преобладанием ферментационных механизмов. При экспериментальном ОП наблюдается активация фибринолиза с сохранением равновесия между его звеньями в течение 24 часов. Развитие ОП у животных с моделями СД уже через 6 часов существенно отличается по количественным характеристикам фибринолитической активности плазмы крови, что проявляется ее чрезмерным увеличением, развитием дисбаланса между звеньями фибринолиза, неконтролируемым нарастанием ФФА с признаками возникновения синдрома диссеминированного внутрисосудистого свертывания крови через 24 часа. Основой выявленных различий являются изменения функциональной активности фибринолитической системы, обусловленные влиянием СД, что, кроме изменений в системе гемостаза, создает предпосылки для нарушений механизмов активации, миграции и взаимодействия эффекторных клеток, процессов пролиферации и др.
Background. Actuality is determined by understudied fibrinolytic reactions in case of diabetes mellitus (DM) with acute peritonitis (AP) which is to be found in practice more frequent. Objective of the study was to investigate the features of fibrinolytic activity in AP developed on the background of DM. Materials and methods. 100 albino outbred rats. AP was simulated through the esophageal perforation of the stomach. DM was modeled by the 1.6% alloxan solution injection. During the study, total (TFA), non-enzymatic (NFA) and enzymatic fibrinolytic activi­ty (EFA) of the blood plasma was studied. The animals were divided into such groups: 1 — intact animals with AP models; 2 — animals with models of AP and underlying DM. Results. The activity of fibrinolysis in animals with DM models was higher than that of intact animals. Six hours after the AP have been induced, the fibrinolytic activity increased. There was a less augmentation in group 1. TFA, NFA and EFA in group 2 sharply increased and prevailed significantly in 12 hours. EFA significantly increased in group 1. NFA/EFA ratio was decreasing in both groups. TFA in group 1 slightly increased in 24 hours. All of the indicators in group 2 increased significantly. While the ratio of NFA/EFA in group 1 was increasing, in group 2 it was decreasing. TFA and NFA/EFA ratio in group 1 remained more or less constant in 48 hours. The parameters of TFA, NFA and EFA statistically significantly predominated in group 2, and EFA continued to grow. Conclusions. The increase in the fibrinolytic activity of the blood plasma with the fermentation mechanisms predomination have been found in experimental diabetes mellitus. The activation of fibrinolysis with balance maintenance between its links within 24 hours has been observed in case of experimental acute peritonitis. In 6 hours, the development of acute peritonitis in animals with simulated diabetes mellitus differs substantially in terms of its quantitative characteristics of the fibrinolytic activity of the blood plasma, which is shown by its excessive increase, development of imbalance between the links of fibrinolysis, uncontrolled increase in the activity of fermentation mechanisms with disseminated intravascular coagulation syndrome in 24 hours. The basis for the differences that have been detected are the changes in the functional activity of the fibrinolytic system caused by diabetes mellitus influence that, in addition to changes in the hemostasis system, provide the grounds for disorders of mechanisms of activation, migration and interaction of effector cells, processes of proliferation, etc.
Keywords
цукровий діабет; перитоніт; коморбідність; фібринолітична система
сахарный диабет; перитонит; коморбидность; фибринолитическая система
diabetes mellitus; peritonitis; comorbidity; fibrinolytic system
For the full article you need to subscribe to the magazine.
Bibliography
1. Сахарный диабет. Иммунитет. Цитокины / Зак К.П., Тронько М.Д., Попова В.В., Бутенко А.К. — К.: Книга-плюс, 2015. — 488 с.
2. Excess Mortality among Persons with Type 2 Diabetes / М. Tancredi, А. Rosengren, А.М. Svensson [et al.] // N. Engl. J. Med. — 2015. — Vol. 373, № 18. — Р. 1720-1732.
3. Гострий перитоніт на сучасному етапі — проблеми, здобутки і перспективи / І.Ю. Полянський, Ф.В. Гринчук, В.В. Білоокий [та ін.] // Клінічна анатомія і оперативна хірургія. — 2014. — Т. 13, № 1. — С. 83-87.
4. Comparison of recombinant human thrombomodulin and gabexate mesylate for treatment of disseminated intravascular coagulation (DIC) with sepsis following emergent gastrointe–stinal surgery: a retrospective study / T. Akahoshi, H. Sugimori, N. Kaku [et al.] // Eur. J. Trauma. Emerg. Surg. — 2015. — Vol. 41, № 5. — P. 531-538.
5. Effects of a TREM-like transcript 1-derived peptide du–ring hypodynamic septic shock in pigs / M. Derive, A. Boufenzer, Y. Bouazza [et al.] // Shock. — 2013. — Vol. 39, № 2. — P. 176-182.
6. Бочаров А.В. Тканинна фібринолітична активність в органах очеревинної порожнини при експериментальному жовчному перитоніті / А.В. Бочаров // Буковинський медичний вісник. — 2002. — № 1–2. — С. 46-49.
7. Wu R. Diverse coagulopathies in a rabbit model with diffe–rent abdominal injuries / R. Wu, L.G. Peng, H.M. Zhao // World. J. Emerg. Med. — 2017. — Vol. 8, № 2. — P. 141-147.
8. Behl T. Role of altered coagulation-fibrinolytic system in the pathophysiology of diabetic retinopathy / T. Behl, T. Velpandian, A. Kotwani // Vascul. Pharmacol. — 2017. — Vol. 92. — P. 1-5.
9. Пат. 4766 А Україна, МКИ А61В17/00, А61М27/00. Спосіб моделювання гострого перитоніту / Ф.В. Гринчук, І.Ю. Полянський; заявник і патентовласник Буковинський державний медичний університет. — № 2004031769; заявл. 11.03.04; опубл. 15.02.05, Бюл. № 2.
10. Shaw Dunn J. Experimental alloxan diabetes in the rat / J. Shaw Dunn, N.G.B. McLetchie // The Lancet. — 1943. — Vol. 242 (6265). — P. 384-387.
11. Кухарчук О.Л. Патогенетична роль та методи корекції інтегративних порушень гормонально-месенджерних систем регуляції гомеостазу натрію при патології нирок: автореф. дис. … д-ра мед. наук. — Одеса, 1996. — 36 с.
12. Aboonabi A. The effectiveness of antioxidant therapy in aspirin resistance, diabetes population for prevention of thrombosis / A. Aboonabi, I. Singh // Biomed. Pharmacother. — 2016. — Vol. 83. — P. 277-282.
13. Hypofibrinolysis in diabetes: a therapeutic target for the reduction of cardiovascular risk / K. Kearney, D. Tomlinson, K. Smith, R. Ajjan // Cardiovasc. Diabetol. — 2017. — Vol. 16, № 1. — P. 34. — Режим доступу до журн.: https://doi.org/10.1186/s12933-017-0515-9.
14. Is diabetes a hypercoagulable state? A critical appraisal / F. Pomero, M.N. Di Minno, L. Fenoglio, M. Gianni, W. Ageno, F. Dentali // Acta Diabetol. — 2015. — Vol. 52, № 6. — P. 1007-1016.
15. Грицюк А.И. Практическая гемостазиология / Грицюк А.И., Амосова Е.Н., Грицюк И.А. — К.: Здоров'я, 1994. — 256 с.
16. Монастирський В.А. Тромбін-плазмінова система — одна з основних регуляторних систем організму / Монастирський В.А.; Львів. нац. мед. ун-т ім. Д. Галицького, Наук. т-во ім. Т.Г. Шевченка. — Л.: Ліга-Прес, 2007. — 226 с.
17. Coagulation system changes associated with susceptibility to infection in trauma patients / E. Cole, R. Davenport, H. De'Ath, J. Manson, T. Brockamp, K. Brohi // J. Trauma. Acute. Care. Surg. — 2013. — Vol. 74, № 1. — P. 51-57.
18. Potential influences of complement factor H in autoimmune inflammatory and thrombotic disorders / J. Ferluga, L. Kouser, V. Murugaiah, R.B. Sim, U. Kishore // Mol. Immunol. — 2017. — Vol. 84. — P. 84-106.
19. Calibrated kallikrein generation in human plasma / D. Biltoft, J.J. Sidelmann, L.F. Olsen, Y. Palarasah, J. Gram // Clin. Biochem. — 2016. — Vol. 49, № 15. — P. 1188-1194.
20. Weiler H. Inflammation-associated activation of coagulation and immune regulation by the protein C pathway / H. Weiler // Thromb. Res. — 2014. — Vol. 133, Suppl. 1. — S. 32-34.
21. The Vascular Endothelium and Human Diseases / P. Rajendran, Th. Rengarajan, J. Thangavel [et al.] // Int. J. Biol. Sci. — 2013. — Vol. 9, № 10. — P. 1057-1069.
22. Effects of tissue plasminogen activator in experimentally induced peritonitis / B. Erginel, L. Oksuz, T. Erginel [et al.] // Ulus. Travma. Acil. Cerrahi. Derg. — 2014. — Vol. 20, № 1. — P. 7-11.
23. Platelets and neutrophil extracellular traps collaborate to promote intravascular coagulation during sepsis in mice / B. McDonald, R.P. Davis, S.J. Kim [et al.] // Blood. — 2017. — Vol. 129, № 10. — P. 1357-1367.
24. Bhattacharya S. Bacterial plasminogen receptors utilize host plasminogen system for effective invasion and dissemination / S. Bhattacharya, V.A. Ploplis, F.J. Castellino // J. Мed. Biotechnol. — 2012. — 482096. — Режим доступу: https://www.ncbi.nlm.nih.gov/pmc/articles/PMC3477821/.
25. Gebbink M.F. Tissue-type plasminogen activator-media–ted plasminogen activation and contact activation, implications in and beyond haemostasis / M.F. Gebbink // J. Thromb. Haemost. — 2011. — Vol. 9, Suppl. 1. — S. 174-181.
26. Longstaff C. Basic mechanisms and regulation of fibrinolysis / C. Longstaff, K. Kolev // J. Thromb. Haemost. — 2015. — Vol.13, Suppl. 1. — S. 98-105.
27. Li X.The role of heparin in sepsis: much more than just an anticoagulant / X. Li, X. Ma // Br. J. Haematol. — 2017. — Vol. 179, № 3. — P. 389-398.
28. Venugopal A. Disseminated intravascular coagulation / A. Venugopal // Indian J. Anaesth. — 2014. — Vol. 58, № 5. — P. 603-608.