International journal of endocrinology Том 13, №8, 2017
Modern aspects of medical education in Ukraine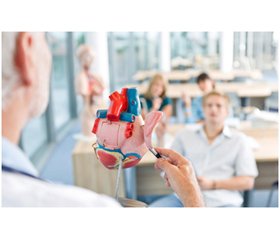 Authors:

R. Yatsyshyn, P. Gerych, О. Didushko
Higher State Education Institution "Ivano-Frankivsk National Medical University", Ivano-Frankivsk, Ukraine



Categories:

Endocrinology



Sections:

Medical education
Summary
У статті висвітлено питання сучасних аспектів вищої освіти в Україні, завдання вищої медичної освіти, важливі питання щодо підготовки студентів, необхідності впровадження біоетичних принципів у педагогічний процес, відродження в студентів духовності, виховання відповідальності і дотримання їх студентами та лікарями в щоденній діяльності та повсякденному житті.
В статье освещены вопросы современных аспектов высшего образования в Украине, задачи высшего медицинского образования, важные вопросы, касающиеся подготовки студентов, необходимости внедрения биоэтических принципов в педагогический процесс, возрождения у студентов духовности, воспитания ответственности и соблюдения их студентами и врачами в ежедневной деятельности и повседневной жизни.
The article deals with the questions of modern aspects of higher medical education in Ukraine, the importance of tasks of the higher medical education, prominent aspects of students' education, necessity for introduction of bioethical principles in the pedagogical process, spiritual revival in students, teaching responsibility in students and doctors in daily activities and in the everyday life.
Keywords
медична освіта; біоетика
медицинское образование; биоэтика
medical education; bioethics
For the full article you need to subscribe to the magazine.
Bibliography
1. Order of МoН of Ukraine: N 48 from 23.01.2004 "On performing of pedagogic experiment on introducing a credit-module system in the organizing of educational process".
2. New technologies of studies: scientific and methodical collection. — Kyiv, Vinnytsia, 2012. — 296 p.
3. Neyko Y.М. A place of bioethics is in the pedagogical process of the system of higher medical education / Y.М. Neyko, V.Y. Kaminskyi, О.H. Popadynets, V.L. Nesterenko // Архів клінічної медицини. — 2006. — № 1. — P. 80-81.
4. Fedchenko S.N. Use of modern technologies: checking and correction of knowledge of students system. Clinical and experimental pathology / S.N. Fedchenko. — К., 2006. — P. 25.
5. Khoruzhiy H.F. Academic culture: values and principles of high education. Textbook / H.F. Khoruzhiy. — Kyiv, 2012. — 320 p.
Similar articles

Authors:
Shlimkevych I.V. — SHEI "Ivano-Frankivsk National Medical University", Department of Pediatrics, Ukraine.


"Child`s Health" 2 (61) 2015
Date: 2015.04.01
Categories: Pediatrics/Neonatology
Sections: Clinical researches


Authors:
Veselyi S.V., Latyshov K.V., Klimanskyi R.P. - Donetsk National Medical University named after М. Gorkyi, Krasnyi Lyman, Ukraine


"Child`s Health" 6 (66) 2015
Date: 2016.01.27
Categories: Pediatrics/Neonatology
Sections: Specialist manual


Authors:
Rotar D.V., Deineka S.Ye., Humenna A.V., Yakovychuk N.D. - Higher State Educational Institution of Ukraine «Bukovinian State Medical University», Chernivtsi, Ukraine


"Child`s Health" 3 (71) 2016
Date: 2016.07.12
Categories: Pediatrics/Neonatology
Sections: Specialist manual


Authors:
Abaturov A.Ye., Agafonova Ye.A., Babich V.L., Krivusha Ye.L., Kaniuka G.S. - SI «Dnipropetrovsk Medical Academy of Health Ministry of Ukraine», Dnipropetrovsk, Ukraine


"Child`s Health" 6 (66) 2015
Date: 2016.01.27
Categories: Pediatrics/Neonatology
Sections: Specialist manual