"Pain. Joints. Spine." Том 7, №4, 2017
Diagnosis and prevention of sarcopenia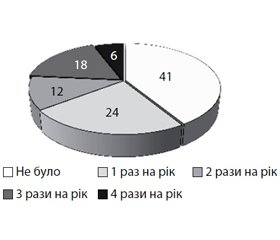 Authors:

Поворознюк В.В.(1), Дзерович Н.І.(1), Синєок Л.Л.(2), Романенко М.С.(2)
(1) — ДУ «Інститут геронтології імені Д.Ф. Чеботарьова НАМН України», м. Київ, Україна
(2) — Лабораторія геродієтетики ДУ «Інститут геронтології імені Д.Ф. Чеботарьова НАМН України», м. Київ, Україна



Categories:

Rheumatology, Traumatology and orthopedics



Sections:

Specialist manual
Summary
Наведені методичні рекомендації з діагностики та профілактики саркопенії. Приділено увагу корекції харчування, використанню лікувальної фізкультури, призначенню вітаміну D з метою профілактики цього захворювання.
Представлены методические рекомендации по диагностике и профилактике саркопении. Уделено внимание коррекции питания, использованию лечебной физкультуры, назначению витамина D с целью профилактики этого заболевания.
The article presents the guidelines on the diagnosis and prevention of sarcopenia. Attention was paid to nutrition correction, the use of exercise therapy, the administration of vitamin D in order to prevent this disease.
Keywords
саркопенія; діагностика; профілактика; лікувальна фізкультура; комплекс фізичних вправ Отаго; вітамін D
саркопения; диагностика; профилактика; лечебная физкультура; комплекс физических упражнений Отаго; витамин D
sarcopenia; diagnosis; prevention; exercise therapy; OTAGO Exercise Program; vitamin D
For the full article you need to subscribe to the magazine.
Bibliography
1. Dzerovych NI. Correlation between lean body mass and protein content in the diet of women of postmenopausal period: literature data and the results of own researches [Zvʺyazok mizh znezhyrenoyu masoyu tila ta vmistom bilka v ratsioni kharchuvannya v zhinok u postmenopauzalʹnomu periodi: dani literatury ta rezulʹtaty vlasnykh doslidzhenʹ]. Problems of osteology. 2014.17(4):30-36 (in Ukrainian).
2. Povoroznyuk VV, Binkley N, Dzerovycch NI, Povoroznyuk RV. Sarcopenia [Sarkopeniya]. K., 2016:180 p. (in Ukrainian).
3. Povoroznyuk VV., Pludovsky P, Balatska NI, et al. Deficiency and deficiency of vitamin D: epidemiology, diagnostics, prevention and treatment [Defitsyt ta nedostatnistʹ vitaminu D: epidemiolohiya, diahnostyka, profilaktyka ta likuvannya]. Donetsk: Publisher Zaslavsky O.Yu., 2014:262 p. (in Ukrainian).
4. Povoroznyuk VV, Dzerovich NI, Sineok LL, Musi–enko AS. Appendicular lean mass depending on the protein content in the daily diet in Ukrainian women in postmenopausal period [Apendykulyarna znezhyrena masa zalezhno vid vmistu bilka v dobovomu ratsioni kharchuvannya v ukrayinsʹkykh zhinok u pestmenopauzalʹnomu periodi]. Problems of aging and longevity. 2015.24(2):185-192 (in Ukrainian).
5. Polyakov OA, Prokopenko NO, Semesko TM, et al, Improvement of the lifestyle (nutrition, physical activity) of the elderly, employed in the production [Udoskonalennya sposobu zhyttya (kharchuvannya, fizychnoyi aktyvnosti) lyudey pokhyloho viku, zaynyatykh na vyrobnytstvi]. Guidelines. Kyiv: Ukrainian Center for Scientific Information and Patent and Licensing. 2013:32 p. (in Ukrainian).
6. Kharchenko NV, Anokhin AG, Dietetics. K..2012:526 p. (in Ukrainian).
7. Bischoff-Ferrari HA, Dawson-Hughes B, Stocklin E, et al. Oral supplementation with 25[OH]D3 versus vitamin D3: effects on 25[OH]D levels, lower extremity function, blood pressure, and markers of innate immunity. J Bone Miner Res.2012.27:160-169.
8. Povoroznyuk V, Dzerovych N. Sarcopenia in Ukrainian women: assessment and determination of lean body mass deficiency. Osteoporosis International (WCO-IOF-ESCEO World Congress on Osteoporosis, Osteoarthritis and Musculoskeletal Diseases, 26-29 March 2015, Milan, Italy). 2015.26(1):357.
9. Povoroznyuk V, Dzerovych N, Balatska N, Belinska A. The role of vitamin D and exercises in correction of age-related skeletal muscle changes in postmenopausal women. Annals of the Rheumatic Diseases. 2017.76(2):1469. doi: 10.1136/annrheumdis-2017-eular.5898.
10. Volpato S, Bianchi L, Cherubini A, et al. Prevalence and clinical correlates of sarcopenia in community-dwelling older people: application of the EWGSOP definition and diagnostic algorithm. J Gerontol A Biol Sci Med Sci. 2014.69:438-446.
11. Yanai H. Nutrition for sarcopenia. J Clin Med Res. 2015.7(12):926-931.
Similar articles

Authors: Поворознюк В.В. (1), Дзерович Н.І. (1), Іваник О.С. (1), Карасевська Т.А. (2)
1 - ДУ «Інститут геронтології імені Д.Ф. Чеботарьова НАМН України», м. Київ, Україна
2 - Національний медичний університет імені О.О. Богомольця, м. Київ, Україна
"Pain. Joints. Spine." Том 9, №2, 2019
Date: 2019.07.31
Categories: Rheumatology, Traumatology and orthopedics
Sections: Clinical researches




Authors:
Поворознюк В.В., Дзерович Н.І. — ДУ «Інститут геронтології імені Д.Ф. Чеботарьова НАМН України», м. Київ


"Тrauma" Том 15, №6, 2014
Date: 2015.03.06
Categories: Traumatology and orthopedics
Sections: Clinical researches