"Тrauma" Том 19, №1, 2018
Limited-contact multiplanar osteosynthesis of the periprosthetic femoral fractures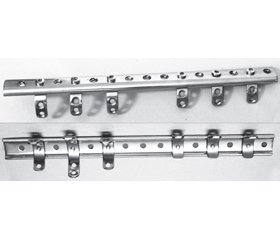 Authors:

Білінський П.І.(1), Андрейчин В.А.(2), Дроботун О.В.(3)
(1) — Національна медична академія післядипломної освіти ім. П.Л. Шупика, м. Київ, Україна
(2) — Івано-Франківський національний медичний університет, м. Івано-Франківськ, Україна
(3) — Національний медичний університет ім. О.О. Богомольця, м. Київ, Україна



Categories:

Traumatology and orthopedics



Sections:

Clinical researches
Summary
У статті наведено аналіз проблеми лікування ускладнених перипротезних переломів. Виявлено проблемні питання фіксації відламків стегнової кістки при цих переломах. Розроблений авторами пристрій для фіксації кісткових відламків може бути методом вибору при перипротезних переломах стегнової кістки. Фіксатор застосований із позитивним результатом у 140 пацієнтів. Наведені цікаві клінічні випадки.
В статье приведен анализ проблемы лечения осложненных перипротезных переломов. Выявлены проблемные вопросы фиксации отломков бедренной кости при этих переломах. Разработанное авторами устройство для фиксации костных отломков может быть методом выбора при перипротезных переломах бедренной кости. Фиксатор применен с положительным результатом у 140 пациентов. Приведены интересные клинические случаи.
Background. The number of hip joint endoprosthesis is constantly increasing, and accordingly, the growth of periprosthetic femoral fractures (PFF) is noted. The last ones occur during the arthroplasty (up to 11.2 %), in the postoperative period (3–5 %), and also in the revisional prosthesis (0.8–2.3 %). The purpose of the work was to analyze the existing methods of complicated PFF treatment, and also the means for their implementation, the development of biomechanically based fixator, the identification of its functional capabilities. Materials and methods. We had modified the design of the universal device for fixation of bone fragments (DFBF) developed by us (Patent of Ukraine No. 17502). This fixator with a positive result was applied in 140 cases of PFF. And in fractures of osteoporotic femur, the DFBF that we developed is a tool of choice. DFBF ensures the stable fixation of fragments, eliminates the pressure of the plate on the bone, provides certain micromotion of the fragments that optimizes the course of reparative regeneration. Osteosynthesis with our device allows you to carry out the full load of the postoperative limb in 3.5–4 months. Results. There are 7 interesting clinical observations of the successful use of DFBF in PFF complicated by osteoporosis with somatic pathology. In oblique femoral fractures, when it is possible, repositional osteosynthesis with screws is performed. Such osteosynthesis contributes to restoring the bearing capacity of the damaged segment. The management of patients with osteoporotic fractures in the postoperative period requires special attention. The load of the damaged limb should not be a criterion for the effectiveness of treatment. It is necessary to pay attention to joints, they mainly provide mobi-lity of patients with a sufficiently stable fixation of fragments. In the absence of cement in the bone marrow channel, surgical intervention may be much easier. For stable osteosynthesis at the level of the prosthetic leg, you need to place 4 semicircles. The final stabilization of the DFBF segment on 13–14 holes ­using 5–6 semicircles will ensure the stable fixation of the fragments. Practice has shown that a stable osteosynthesis of osteoporotic bone fragments with contact fixators is difficult enough. Pressing the plate to the bone when tightening the screws often leads to new fractures. The DFBF developed by us, due to the absence of plate pressure on the bone, conduction of screws in different planes can provide stable fixation of osteoporotic fragments, optimum course of reparative regeneration. Conclusions. So, for complicated femoral fractures, it is necessary to restore the stability of the prosthetic leg, to create conditions for the union of bone fragments. This can be provided by our DFBF. It allows choosing the most optimal design for a particular biomechanical situation. Successful use of the device in 140 cases of PFF makes it a method of choice, even with complicated fractures.
Keywords
малоконтактний багатоплощинний остеосинтез; ускладнені перипротезні переломи; стегнова кістка; хірургічне лікування
малоконтактный многоплоскостной остеосинтез; осложненные перипротезные переломы; бедренная кость; хирургическое лечение
limited-contact multiplanar osteosynthesis; complica-ted periprosthetic fractures; femoral bone; surgical treatment
For the full article you need to subscribe to the magazine.
Bibliography
1. Білінський П.І., Андрейчин В.А., Дроботун О.В. Сучасний стан лікування перипротезних переломів стегнової кістки // Травма. — 2017. — Т. 18, № 3. — С. 106-111.
2. Білінський П.І., Паламар Б.І., Дроботун О.В. Андрейчин В.А., Шишко Е.О., Вихров С.Л. Сучасні тенденції лікування перипротезних переломів стегнової кістки // Травма. — 2017. — Т. 18, № 2. — С. 88-94.
3. Патент № 17502 UA, МПК А 61 В 17/58, 17/62; Пристрій для фіксації кісткових відламків / П.І. Білінський (UA); № 96051961; Заявл. 20.05.96; Опубл. 31.10.97, Бюл. № 5. — 4 с.
4. Хоминец В.В., Метленко П.А., Богданов А.Н., Кудяшев А.Л., Мироевский Ф.В. Ближайшие результаты лечения больных с перипротезными переломами бедренной кости после эндопротезирования тазобедренного сустава// Травматология и ортопедия России. — 2015. — № 4(78). — С. 70-78. — Режим доступа: http://elibrary.ru/.
5. Hiroyuki Hatanaka, Goro Motomura, Satoshi Ikemura, Kazuhiko Sonoda, Yusuke Kubo, Takeshi Utsunomiya,Takuaki Yamamoto, Yasuharu Nakashima. Use of a long distally fixed intramedullary stem to treat a periprosthetic femoral fracture following total hip arthroplasty using a thrust plate hip prosthesis: A case report // Int. J. Surg. Case Rep. — 2017. — № 37. — Р. 65-68. — Available from: https://www.ncbi.nlm.nih.gov/pubmed.
6. Young-Kyun Lee, Jung Taek Kim, Ki-Choul Kim, Yong-Chan Ha, Kyung-Hoi Koo. Conservative Treatment for Minimally Displaced Type B Periprosthetic Femoral Fractures // The journal of arthroplasty. — Epub 2017 Jun 9 2017. — Vol. 32,
Is. 11. — P. 3529-3532. — Available from: https://www.ncbi.nlm.nih.gov/pubmed.
7. Michael S. Reich, Mindy Duong, Mary A. Breslin, Mai P. Nguyen, Heather A. Vallier. Perioperative Considerations When Treating Isolated Periprosthetic Distal Femur Fractures // Iowa Orthop. J. — 2017. — № 37. — Р. 41-45. — Available from: https://www.ncbi.nlm.nih.gov/pubmed.
8. Ricciardi B.F., Nodzo S.R., Oi K., Lee Y.Y., West-
rich G.H. Radiographic outcomes of cable-plate versus cable-grip fixation in periprosthetic fractures of the proximal femur // Hip. Int. — 2017 Nov 21. — № 27(6). — Р. 584-588. — doi: 10.5301/hipint.5000496. Epub 2017 May 23. — Available from: https://www.ncbi.nlm.nih.gov/pubmed.
9. Olga D. Savvidou, Vasileios I. Sakellariou, Panayiotis D. Megaloikonomos, Andreas F. Mavrogenis, Panayiotis J. Papagelopoulos. Periprosthetic Fractures in Megaprostheses: Algorithmic Approach to Treatment // Orthopedics. — Epub 2017 Jan 23. — № 40(3). — Р. 387-394. — Available from: https://www.ncbi.nlm.nih.gov/pubmed.
10. Gerard A. Sheridan, Adam Galbraith, Stephen R. Kearns, William Curtin, Colin G. Murphy. Extended trochanteric osteotomy (ETO) fixation for femoral stem revision in periprosthetic fractures: Dall-Miles plate versus cables // European Journal of Orthopaedic Surgery & Traumatology. — P. 1–6. Cite as First Online: 2017 Oct 20. — Available from: https://www.ncbi.nlm.nih.gov/pubmed.