"Child`s Health" Том 13, Додаток 1, 2018 Дитяча гастроентерологія та нутриціологія
Current views on functional constipations in infants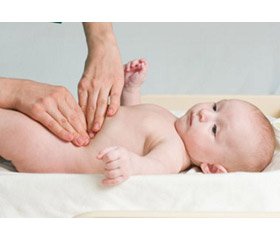 Summary
У даній статті йдеться про те, що запор є поширеною проблемою та спостерігається приблизно у 3–14 % немовлят, що звичайно турбує батьків і спонукає звертатись за медичною допомогою. Функціональний запор часто спостерігається у немовлят, особливо при переході з грудного молока на штучне вигодовування або на тверду їжу. При цьому чим молодша дитина, тим вище ймовірність анатомічних або органічних причин, хоча частота функціонального запору досягає 97 % усіх випадків запору в дітей. У статті обговорюється доцільність та ефективність дієтотерапії і медикаментозного лікування функціонального запору в немовлят.
В данной статье речь идет о том, что запоры являются распространенной проблемой и наблюдаются примерно у 3–14 % младенцев, что, естественно, беспокоит родителей и побуждает обращаться за медицинской помощью. Функциональный запор часто наблюдается у новорожденных, особенно при переходе с грудного молока на искусственное вскармливание или на твердую пищу. При этом чем младше ребенок, тем выше вероятность анатомических или органических причин, хотя частота функционального запора достигает 97 % всех случаев запора у детей. В статье обсуждаются целесообразность и эффективность диетотерапии и медикаментозного лечения функционального запора у младенцев.
This article states that about 3–13 % of infants display symptoms of functional constipation. These symptoms may cause parents to worry, and drive them to seek medical advice. Functional constipation is often observed in infants, especially when switching from breast milk to artificial feeding or to solid food. In this case, the younger the child, the higher the risk of anatomical or organic causes, although the incidence of functional constipation reaches 97 % of all cases of constipations in children. This article discusses the feasibility and effectiveness of diet therapy and medical treatment of functional constipation.
Keywords
немовлята; функціональні розлади травної системи; запори
младенцы; функциональные расстройства пищеварительной системы; запоры
infants; functional disorders of the digestive system; constipations
For the full article you need to subscribe to the magazine.
Bibliography
1. Drossman D.A. Rome IV — Functional GL Disorders: Disorders of Gut-Brain Interaction / D.A. Drossman, W.L. Hasler // Gastroenteology. — 2016. — Vol. 150(6). — Р. 1257-1261.
2. Childhood functional gastrointestinal disorders: Neonate/toddler / Hyman P.E., Milla P.J., Benninga M.A. [et al.] // Gastroenterol. — 2006. — Vol. 130. — Р. 1519-1526.
3. Loening-Baucke V. Prevalence, symptoms and outcome of constipation in infants and toddlers / V. Loening-Baucke // J. Pediatr. — 2005. — Vol. 146. — Р. 359-363.
4. Formula tolerance in postbreastfed and exclusively formula-fed infants / Lloyd B., Halter R.J., Kuchan M.J. [et al.] // Pediatrics. — 1999. — Vol. 103. — Р. 7.
5. Turco R. Early-life factor sassociated with pediatric functional constipation / R. Turco // J. Pediatr. Gastroenterol. Nutr. — 2014. — Vol. 58. — Р. 307-312.
6. Practical algorithms for managing common gastrointestinal symptoms in infants / Vandenplas Y., Gutierrez-Castrellon P., Velasco-Benitez C. [et al.] // Nutrition. — 2013. — Vol. 29. — Р. 184-194.
7. Особливості діагностики та підходи до лікувально-профілактичного харчування дітей раннього віку з функціональними розладами травної системи // Методичні рекомендації МОЗ України / О.Г. Шадрін, С.Л. Няньковський, Т.Р. Уманець та ін. — ТОВ «Люди в білому», 2016. — 28 с.
8. Constipation in Children and Young People: Diagnosis and Management of Idiopathic Childhood Constipation in Primaryand Secondary Care // NICE clinical guideline. — 2010. — P. 41.
Similar articles

Authors:
Няньковський С.Л., Івахненко О.С., Яцула М.С., Львівський національний медичний університет імені Данила Галицького


"Child`s Health" 4 (47) 2013
Date: 2013.07.10
Categories: Pediatrics/Neonatology
Sections: Specialist manual


Authors: Шадрін О.Г.(1), Марушко Т.Л.(1), Няньковська О.С.(2), Бондаренко Н.Ю.(1)
(1) — ДУ «Інститут педіатрії, акушерства та гінекології імені академіка О.М. Лук'янової НАМН України», м. Київ, Україна
(2) — Львівський національний медичний університет імені Данила Галицького, м. Львів, Україна
"Child`s Health" Том 14, №8, 2019
Date: 2020.01.14
Categories: Pediatrics/Neonatology
Sections: Specialist manual


Authors: Няньковська О.С.
Львівський національний медичний університет імені Данила Галицького, м. Львів, Україна
"Child`s Health" Том 12, №2.1, 2017
Date: 2017.06.02
Categories: Pediatrics/Neonatology
Sections: Specialist manual