"Gastroenterology" Том 52, №2, 2018
State of vascular endothelium in patients with chronic inflammatory bowel diseases and different nutritional status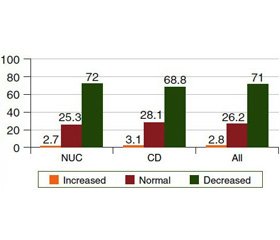 Authors:

I.S. Konenko, V.A. Karachinova, M.V. Stoykevich, I.A. Klenina
State Institution "Institute of Gastroenterology of the National Academy of Medical Sciences of Ukraine", Dnipro, Ukraine



Categories:

Gastroenterology



Sections:

Clinical researches
Summary
Актуальність. Визначення ендотеліальної функції за допомогою неінвазивних методів відіграє основну роль у прогнозуваннi перебігу різних захворювань, ризику розвитку ускладнень та оцінцi лікування. Мета: оцінка ендотеліальної функції в пацієнтів iз хронічними запальними захворюваннями кишечника (ХЗЗК) залежно від їхнього нутритивного статусу шляхом визначення стану судинного ендотелію в пробі з реактивною гіперемією та вмісту метаболітів оксиду азоту (МОА) в сироватці крові. Матеріали та методи. Сто двадцять пацієнтів iз ХЗЗК (81 — iз неспецифічним виразковим колітом (НВК) та 39 пацієнтів із хворобою Крона (ХК)) були розподілені на групи залежно від антропометричних характеристик: І — зі зниженим нутритивним статусом (n = 70); ІІ — iз нормальним (n = 20); ІІІ — iз підвищеним нутритивним статусом (n = 30). У сироватці крові пацієнтів вимірювали рівень МОА за В.А. Метельською. Для оцінки ендотеліальної функції визначали ендотелійзалежну вазодилатацію плечової артерії в пробі з реактивною гіперемією. Результати. На основі проведених досліджень встановлено вірогідне зниження вмісту МОА в сироватці крові: у пацієнтів iз НВК — у 1,7 раза (р < 0,01) та з ХК — в 1,9 раза (р < 0,001). Зниження вмісту МОА в сироватці крові не залежало від нутритивного статусу пацієнтів iз ХЗЗК. Порушення функції судинного ендотелію виявлено в 76,7 % випадків: зниження функції ендотелію — у 49,2 %, дисфункція — у 27,5 %. Зміни функції судинного ендотелію зареєстровано в 75,7 % пацієнтів І групи, 75 % — ІІ та у 83,4 % пацієнтів ІІІ групи, переважно внаслiдок зниження функції ендотелію. Висновки. Показано, що в 71 % пацієнтів iз ХЗЗК відбувається вірогідне зниження вмісту МОА в сироватці крові, що не залежить від їхнього нутритивного статусу. У хворих iз НВК спостерігалися більш виражені зміни у частотi виявлених порушень та більш значне зростання діаметра плечової артерії порівняно iз пацієнтами з ХК. Зниження нутритивного статусу супроводжувалося змінами функції судинного ендотелію в 75,4 % випадків.
Актуальность. Определение эндотелиальной функции с помощью неинвазивных методов играет основную роль в прогнозировании течения различных заболеваний, риска развития осложнений и оценке лечения. Цель: оценка эндотелиальной функции у пациентов с хроническими воспалительными заболеваниями кишечника (ХВЗК) в зависимости от их нутритивного статуса путем определения состояния сосудистого эндотелия в пробе с реактивной гиперемией и содержания метаболитов оксида азота (МОА). Материалы и методы. Сто двадцать пациентов с ХВЗК (81 — с неспецифическим язвенным колитом (НЯК) и 39 пациентов с болезнью Крона (БК)) были разделены на группы в зависимости от антропометрических характеристик: I — со сниженным нутритивным статусом (n = 70); II — с нормальным (n = 20); III — с повышенным нутритивным статусом (n = 30). В сыворотке крови пациентов измеряли уровень МОА по В.А. Метельской. Для оценки эндотелиальной функции определяли эндотелийзависимую вазодилатацию плечевой артерии в пробе с реактивной гиперемией. Результаты. На основе проведенных исследований установлено достоверное снижение содержания МОА в сыворотке крови: у пациентов с НЯК — в 1,7 раза (р < 0,01) и с ХК — в 1,9 раза (р < 0,001). Снижение содержания МОА в сыворотке крови не зависело от нутритивного статуса пациентов с ХВЗК. Нарушение функции сосудистого эндотелия обнаружено в 76,7 % случаев: снижение функции эндотелия — в 49,2 %, дисфункция — в 27,5 %. Изменения функции сосудистого эндотелия зарегистрированы у 75,7 % пациентов I группы, 75 % — II и у 83,4 % пациентов III группы, преимущественно вследствие снижения функции эндотелия. Выводы. Показано, что у 71 % пациентов с ХВЗК происходит достоверное уменьшение содержания МОА в сыворотке крови, что не зависит от их нутритивного статуса. У больных с НЯК наблюдались более выраженные изменения в частоте выявленных нарушений и более значительное увеличение диаметра плечевой артерии по сравнению с пациентами с БК. Снижение нутритивного статуса сопровождалось изменениями функции сосудистого эндотелия в 75,4 % случаев.
Background. Evaluation of endothelial function by non-invasive methods plays a major role in predicting the course of various diseases, the risk of complications and assessing the treatment. The purpose was to evaluate endothelial function in patients with chronic inflammatory bowel disease (IBD) according to their nutritional status by determining the state of vascular endothelium with reactive hyperemia test and the content of nitrogen oxide metabolites (NOx). Materials and methods. 120 chronic IBD patients (81 individuals with nonspecific ulce­rative colitis (NUC) and 39 — with Crohn's disease (CD)) were divided into groups depending on the anthropometric characteristics: I — reduced nutritional status (n = 70); II — normal nutritional status (n = 20); III — increased nutritional status (n = 30). In the blood serum of patients, the level of NOx was determined according to V.A. Metelskaya technique. To assess endothelial function, endothelium-dependent vasodilation of the brachial artery was determined by reactive hyperemia test. Results. Based on conducted studies, a significant decrease in the NOx serum content was observed: 1.7-fold (p < 0.01) — in NUC patients and 1.9-fold (p < 0.001) — in BD patients. Reduction of the NOx content in the blood serum did not depend on the nutritional status of individuals with chronic IBD. Violation of vascular endothelial function was found in 76.7 % of cases: decreased endothelial function — in 49.2 %, endothelial dysfunction — in 27.5 %. Changes in vascular endothelial function were found in 75.7 % of group I patients, 75 % of group II and 83.4 % of group III patients, mainly due to decreased endothelial function. Conclusions. It is shown that 71 % of chronic IBD patients have a significant decrease in serum NOx, which does not depend on their nutritional status. Patients with NUC have more significant changes in the incidence of detected disorders and more pronounced increase in the diameter of the brachial artery compared with CD patients. Reduced nutritional status was accompanied with the changes in vascular endothelial function in 75.4 % of cases.
Keywords
хронічні запальні захворювання кишечника; судинний ендотелій; оксид азоту
хронические воспалительные заболевания кишечника; сосудистый эндотелий; оксид азота
chronic inflammatory bowel diseases; vascular endothelium; nitric oxide
For the full article you need to subscribe to the magazine.
Bibliography
1. Alexakis C. Systematic review with meta-analysis: the impact of a depressive state on disease course in adult inflammatory bowel disease / C. Alexakis, S. Kumar, S. Saxena, R. Pollok // Aliment. Pharmacol. Ther. — 2017. — Vol. 46 (3). — P. 225-235. doi: 10.1111/apt.14171.
2. Степанов Ю.М. Застосування препаратів 5-аміносаліцилової кислоти в лікуванні запальних захворювань кишечника / Ю.М. Степанов, М.В. Стойкевич, О.В. Сорочан // Гастроентерологія. — 2016. — № 3 (51). — С. 80-87.
3. Степанов Ю.М. Хронічні запальні захворювання кишечника: особливості епідеміології в Україні / Ю.М. Степанов, І.Ю. Скирда, О.П. Петішко // Гастроентерологія. — 2017. — № 2 (51). — С. 11-19.
4. Русин В.І. Динаміка показників дисфункції ендотелію у хворих на хронічний панкреатит після холецистектомії під впливом L-аргініну L-глутамату / В.І. Русин, Є.С. Сірчак, Н.Ю. Курчак, О.М. Москаль // Здобутки клінічної і експериментальної медицини. — 2014. — № 1. — C. 101-103.
5. Калинкина Н.В. Особенности метаболизма оксида азота под влиянием различных кумулятивных доз антрациклиновых препаратов: Автореф. дис… канд. мед. наук: 14.01.11 / Н.В. Калинкина. — Донецк, 2010. — 6 с.
6. Никитина В.В. Влияние концентраций оксида азота и активности оксистата на развитие воспалительных изменений сосудистой стенки / В.В. Никитина, Н.Б. Захарова, Г.П. Гладилин, Г.В. Коршунов // Клиническая лабораторная диа–гностика. — 2014. — № 5. — С. 11-13.
7. Storch A.S. Methods of Endothelial Function Assessment: Description and Applications / A.S. Storch, J.D. Mattos, R. Alves [et al.] // International Journal of Cardiovascular Sciences. — 2017. — Vol. 30 (3). — P. 262-27. doi: 10.5935/2359-4802.20170034.
8. Vizzardi E. Noninvasive assessment of endothelial function: the classic methods and the new peripheral arterial tonometry / E. Vizzardi, M. Gavazzoni, P. Della Pina [et al.] // J. Investig. Med. — 2014. — Vol. 62(6). — P. 856-64. doi: 10.1097/JIM.0000000000000096.
9. Бойко Т.И. Состояние функции сосудистого эндотелия у больных с хроническими воспалительными заболеваниями кишечника / Т.И. Бойко, М.В. Стойкевич, Е.В. Колбасина, Е.В. Сорочан // Сучасна гастроентерологія. — 2010. — № 1 (51). — С. 5-10.
10. Flammer A.J. Three decades of endothelium research: from the detection of nitric oxide to the everyday implementation of endothelial function measurements in cardiovascular diseases / A.J. Flammer, T.F. Lüscher // Swiss Med. Wkly. — 2010. — 140:w13122. doi: 10.4414/smw.2010.13122.
11. Шабров А.В. Современные методы оценки эндотелиальной дисфункции и возможности их применения в практической медицине / А.В. Шабров, А.Г. Апресян, А.Л. Добкес [и др.] // Рациональная фармакотерапия в кардиологии. — 2016. — 12 (6). — С. 733-742.
12. Метельская В.А. Скрининг-метод определения уровня метаболитов оксида азота в сыворотке крови / В.А. Метельская, Н.Г. Гуманова // Лабораторная диагностика. — 2005. — № 6. — С. 15-18.
13. Лебедев П.А. Диагностика функции сосудистого эндотелия у больных с сердечно-сосудистыми заболеваниями / П.А. Лебедев, Л.И. Калакутский, С.П. Власова, А.П. Горлов: Метод. указания. — Самара, 2004. — 18 с.
14. Енюков И.С. Методы, алгоритмы, программы многомерного статистического анализа / И.С. Енюков. — М.: Финансы и статистика, 1986. — 232 с.
Similar articles



Authors:
Ovcharenko S.C., Mezhirov N.M., Kravtsov D., Danilov V.V. — Kharkiv national medical University, Department of pediatric surgery and pediatric anesthesiology


"Emergency medicine" 7 (62) 2014
Date: 2015.02.24
Categories: Medicine of emergency
Sections: Specialist manual


Authors:
Berezhnyi V., Marushko Ie., P.L. Shupik National Medical Academy of Postgraduate Education, Department of Pediatrics №2


"Child`s Health" 2 (45) 2013
Date: 2013.05.07
Categories: Rheumatology, Pediatrics/Neonatology
Sections: Clinical researches