International journal of endocrinology Том 14, №2, 2018
Features of clinical and diagnostic parameters of distal symmetrical polyneuropathy in patients with type 2 diabetes mellitus in the dynamics of treatment depending on the endothelial nitric oxide synthase gene G894T polymorphism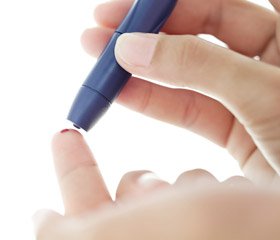 Authors:

Зорій І.А., Пашковська Н.В.
Вищий державний навчальний заклад України «Буковинський державний медичний університет», м. Чернівці, Україна



Categories:

Endocrinology



Sections:

Clinical researches
Summary
Мета. Встановлення динаміки клінічно-лабораторних характеристик і функціонального стану периферичних нервів у хворих на цукровий діабет типу 2 (ЦД-2), ускладнений дистальною симетричною полінейропатією (ДСПН) залежно від розподілу частот генотипів G894Т поліморфізму гена ендотеліальної NO-синтази на тлі рекомендованого лікування. Матеріали та методи. Обстежено 110 хворих із ДСПН на тлі ЦД-2, що становили основну групу, та 80 практично здорових осіб. Розподіл хворих здійснювався за ступенем тяжкості ДСПН: із початковими проявами полінейропатії — 32 (29,1 %), з помірним ступенем — 58 (52,7 %) та з вираженим ступенем — 20 (18,2 %) осіб. Пацієнти отримували препарат L-аргінін на тлі базисного лікування. Проводилося неврологічне обстеження за шкалами нейропатичного симптоматичного підрахунку, модифікованого нейропатичного дисфункціонального підрахунку, електронейроміографічне тестування периферичних нервів нижніх кінцівок, визначалися показники вуглеводного обміну, про- та антиоксидантного захисту, функціонального стану ендотелію. Результати. Гомозиготність за мінорною алеллю Т підвищує ймовірність розвитку ДСПН на тлі ЦД-2: відношення шансів становило 2,91 (95% довірчий інтервал 1,19–7,14; р < 0,05). У пацієнтів із генотипами GT і GG поліморфізму G894T гена ендотеліальної NO-синтази визначається найбільш висока ефективність рекомендованої терапії на противагу носіям ТТ-генотипу, у яких динаміка клінічно-лабораторних і функціональних параметрів була найнижчою. Висновки. Гомозиготність за мінорною алеллю Т поліморфізму G894Т гена ендотеліальної NO-синтази підвищує частоту розвитку, тяжкість перебігу ДСПН на тлі ЦД-2, а також пов'язана з менш стійким ефектом від лікування цього ускладнення.
Цель. Определение динамики клинико-лабораторных характеристик и функционального состояния периферических нервов у больных сахарным диабетом типа 2 (СД-2), осложненного дистальной симметричной полинейропатией (ДСПН), в зависимости от распределения частот генотипов G894Т полиморфизма гена эндотелиальной NO-синтазы на фоне рекомендуемой терапии. Материалы и методы. Обследованы 110 больных, которые были распределены на группы в зависимости от степени тяжести ДСПН: с начальными проявлениями — 32 (29,1 %), с умеренной степенью — 58 (52,7 %), с выраженной степенью — 20 (18,2 %). Пациенты получали препарат L-аргинин на фоне базисного лечения. Проводилось неврологическое обследование по шкалам нейропатического симптоматического счета, модифицированного нейропатического дисфункционального счета, электронейромиографическое тестирование периферических нервов нижних конечностей, определялись показатели углеводного обмена, про- и антиоксидантной защиты, функционального состояния эндотелия. Результаты. У больных с ДСПН на фоне СД-2 гомозиготность по минорной аллели Т полиморфизма G894T гена эндотелиальной NO-синтазы повышает вероятность развития диабетической полинейропатии: отношение шансов составило 2,91 (95% доверительный интервал 1,19–7,14; р < 0,05). У пациентов с генотипами GT и GG определяется наиболее высокая эффективность рекомендуемой терапии в противовес больным с гомозиготным ТТ-генотипом, у которых динамика клинико-лабораторных и функциональных значений была значительно ниже. Выводы. Гомозиготность по минорной аллели Т полиморфизма G894Т гена эндотелиальной NO-синтазы повышает частоту развития, тяжесть течения ДСПН на фоне СД-2, а также связана с менее устойчивым эффектом от лечения этого осложнения.
Background. The purpose of the study is to determine the dynamics of clinical and laboratory characteristics and functional state of peripheral nerves in patients with type 2 diabetes mellitus (DM) complicated by distal symmetrical polyneuropathy (DSPN) depending on the frequency distribution of the G894T genotypes of endothelial NO-synthase (eNOS) gene polymorphism during the recommended therapy. Mate­rials and methods. 110 patients were examined, they were divided into groups: with initial manifestations of DSPN — 32 (29.1 %), with moderate course — 58 (52.7 %) and with severe course — 20 (18.2 %). Patients received L-arginine preparation during basic treatment. All patients were neurologically examined using Neuropathic Symptomatic Score, Neuropathic Dysfunctional Score, electroneuromyographic testing of the peripheral nerves of the lower extremities; parameters of carbohydrate metabolism, pro- and antioxidant defense, functional state of the endothelium were evaluated. Results. In patients with DSPN and type 2 DM, homozygotes for the minor T allele of the eNOS gene G894T polymorphism, the likelihood of developing severe complications of diabetic polyneuropathy increases: the odds ratio was 2.91 (95 % confidence interval 1.19–7.14; p < 0.05). In patients with GT and GG genotypes, the highest efficacy of the recommended therapy is determined, in contrast to patients with homozygous TT genotype, whose dynamics of clinical, laboratory and functional indicators was significantly lower. Conclusions. Homozygotes for the minor T allele of the eNOS gene G894T polymorphism have an increase in the incidence and the severity of DSPN course on the background of type 2 DM, and also a less stable effect from the treatment of this complication.
Keywords
цукровий діабет типу 2; дистальна симетрична полінейропатія; поліморфізм G894T гена ендотеліальної NO-синтази; L-аргінін
сахарный диабет типа 2; дистальная симметричная полинейропатия; полиморфизм G894T гена эндотелиальной NO-синтазы; L-аргинин
type 2 diabetes mellitus; distal symmetrical polyneuropathy; endothelial nitric oxide synthase gene G894T polymorphism; L-arginine
For the full article you need to subscribe to the magazine.
Bibliography
1. Vinik A., Nevoret M.L., Casellini C. et al. Diabetic neuropathy // Endocrinol. Metab. Clin. North Am. — 2013. — Vol. 42(4). — P. 747-787. doi: 10.1016/j.ecl.2013.06.001.
2. Volmer-Thole M., Lobmann R. Neuropathy and Diabetic Foot Syndrome // Int. J. Mol. Sci. — 2016. — Vol. 17(6). doi. 10.3390/ijms17060917.
3. Alleman C.J., Westerhout K.Y., Hensen M. et аl. Huma–nistic and economic burden of painful diabetic peripheral neuropathy in Europe: A review of the literature // Diabetes Res. Clin. Pract. — 2015. — Vol. 109(2). — P. 215-225. doi: 10.1016/j.diabres.2015.04.031.
4. Vinik A.I. Diabetic sensory and motor neuropathy // N. Engl. J. Med. — 2016. — Vol. 374. — P. 1455-1464. doi: 10.1056/NEJMcp1503948.
5. Witzel I.I., Jelinek H.F., Khalaf K., Lee S., Khando–ker A.H., Alsafar H. Identifying Common Genetic Risk Factors of Diabetic Neuropathies // Front. Endocrinol. (Lausanne). — 2015. — Vol. 6. — P. 88. doi: 10.3389/fendo.2015.00088
6. Corapcioglu D., Sahin M., Emral R. et al. Association of the G894T Polymorphism of the Endothelial Nitric Oxide Synthase Gene with Diabetic Foot Syndrome Foot Ulcer, Diabetic Complications, and Comorbid Vascular Diseases: A Turkish Case-Control Study // Genet Test Mol. Biomarkers. — 2010. — Vol. 14(4). — P. 483-488.
7. Angeline T., Krithiga H.R., Isabel W. et al. Endothelial Nitric Oxide Synthase Gene Polymorphism (G894T) and Diabetes Mellitus (Type II) among South Indians // Oxidative Medicine and Cellular Longevity. — 2011. http://dx.doi.org/ 10.1155/2011/462607.
8. Forstermann U., Sessa W. Nitric oxide synthases: regulation and function // European Heart Journal. — 2012. — Vol. 33. — P. 829-837.
9. Asad A., Hameed M.A., Khan U.A., Ahmed N., Butt M.U. Reliability of the neurological scores for assessment of sensorimotor neuropathy in type 2 diabetics // J. Pak. Med. Assoc. — 2010. — Vol. 60(3). — P. 166-70.
10. Butugan M.K., Sartor C.D., Watari R., Martins M.C. Multichannel EMG-base destimation of fiber conduction velo–city during isometric contraction of patients with different stages of diabetic neuropathy // J. Electromyogr. Kinesiol. — 2014. — Vol. 24(4). — P. 465-72.
11. Мокрій В.Я. Особливості формування окисного стресу у хворих на цукровий діабет типу 2 залежно від тривалості захворювання та статі / В.Я. Мокрій, С.В. Зябліцев, М.В. Кришталь // Міжнародний ендокринологічний журнал. — 2016. — № 5(77). — С. 67-71. doi: 10.22141/2224-0721.5.77.2016.78757.
12. Mayo O. A century of Hardy-Weinberg equilibrium // Twin. Res. Hum. Genet. — 2008. — Vol. 11(3). — P. 249-256.
Similar articles

Authors: Зорій І.А., Пашковська Н.В.
Вищий державний навчальний заклад України «Буковинський державний медичний університет», м. Чернівці, Україна
International journal of endocrinology Том 14, №4, 2018
Date: 2018.08.27
Categories: Endocrinology
Sections: Specialist manual


Authors:
Prysiazhniuk I.V., Pashkovska N.V. - Department of Clinical Immunology, Allergology and Endocrinology, Higher State Educational Institution of Ukraine «Bukovinian State Medical University», Chernivtsi, Ukraine


International journal of endocrinology 2 (74) 2016
Date: 2016.05.11
Categories: Endocrinology
Sections: Clinical researches


Authors:
Зорій І.А., Пашковська Н.В. - Кафедра нервових хвороб, психіатрії та медичної психології ім. С.М. Савенка; Кафедра клінічної імунології, алергології та ендокринології, Буковинський державний медичний університет, м. Чернівці


International journal of endocrinology 6 (54) 2013
Date: 2013.10.22
Categories: Endocrinology
Sections: Medical forums


Authors:
Voronkov L.H., Mazur I.D., Horovenko N.H., Shkurat I.A. - "National Scientific Center" Institute of Cardiology named after M.D. Strazhesko" NAMS of of Ukraine", Kiev


"Hypertension" 6 (44) 2015
Date: 2016.01.26
Categories: Cardiology
Sections: Specialist manual