International journal of endocrinology Том 14, №2, 2018
Analysis of T wave morphology in the phase space on single-channel electrocardiogram in children with type 1 diabetes mellitus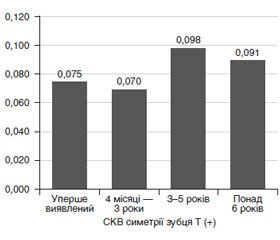 Summary
Актуальність. Кардіоваскулярні порушення, що виникають у дітей із цукровим діабетом 1-го типу (ЦД-1), стають основною причиною смертності дорослих пацієнтів і відіграють головну роль у розвитку раптової серцевої смерті. Мета. Вивчення додаткових маркерів дисфункції міокарда у дітей із ЦД-1 шляхом аналізу одноканальної електрокардіографії (ЕКГ) у фазовому просторі. Матеріали та методи. Основну групу становили 83 пацієнти віком 4–16 років із ЦД-1, контрольну групу — 95 школярів віком 12–16 років. За допомогою комплексу «Фазаграф®» (Україна) досліджувалися й автоматично обчислювались параметри ЕКГ першого стандартного відведення. Запис ЕКГ здійснювали у положенні сидячи в стані відносного спокою. Аналіз ЕКГ проводився у часовій і фазовій областях. Результати. У дітей із ЦД-1 на відміну від їх здорових однолітків формується типовий патерн традиційної ЕКГ з високим і широким зубцем Р, подовженим інтервалом QTc, сплощеним та вузьким зубцем Т. Збільшення показника середньоквадратичного відхилення симетрії зубця Т (СКВ βТ) виявлялось у 68,7 % відсотків дітей, хворих на ЦД-1, та лише у 30,5 % практично здорових школярів. Показник СКВ βТ вірогідно зростає зі збільшенням тривалості захворювання на ЦД-1 у дітей. Групу високого ризику з розвитку серцево-судинних ускладнень становлять діти з тривалістю ЦД 3–5 років. Субоптимальний контроль глікемії та контроль високого ризику значно посилюють нестабільність функціонування міокарда від кардіоциклу до кардіоциклу. Висновки. Збільшення показника СКВ βТ може використовуватися як маркер ураження серця у дітей із ЦД-1. Раннє та систематичне обстеження з подальшим аналізом ЕКГ у фазовому просторі та оптимальний контроль глікемії можуть знизити рівень хронічних ускладнень з боку серця у дітей, хворих на ЦД-1.
Актуальность. Кардиоваскулярные нарушения, возникающие у детей с сахарным диабетом 1-го типа (СД-1), становятся основной причиной смертности взрослых пациентов и играют главную роль в развитии внезапной сердечной смерти. Цель. Изучение дополнительных маркеров дисфункции миокарда у детей с СД-1 путем анализа одноканальной электрокардиографии (ЭКГ) в фазовом пространстве. Материалы и методы. Основную группу составили 83 пациента в возрасте 4–16 лет с СД-1, контрольную группу — 95 школьников в возрасте 12–16 лет. С помощью комплекса «Фазаграф®» (Украина) исследовались и автоматически исчислялись параметры ЭКГ первого стандартного отведения. Запись ЭКГ осуществляли в положении сидя в состоянии относительного покоя. Анализ ЭКГ проводили во временной и фазовой областях. Результаты. У детей с СД-1 в отличие от их здоровых сверстников формируется типичный паттерн традиционной ЭКГ с высоким и широким зубцом Р, удлиненным интервалом QTc, уплощенным и узким зубцом Т. Увеличение показателя среднеквадратического отклонения симметрии зубца Т (СКО βТ) выявлялось у 68,7 % процентов детей, больных СД-1, и только у 30,5 % практически здоровых школьников. Показатель СКО βТ достоверно возрастает с увеличением длительности СД-1 у детей. Группу высокого риска по развитию сердечно-сосудистых осложнений составляют дети с длительностью СД 3–5 лет. Субоптимальный контроль гликемии и контроль высокого риска значительно усиливают нестабильность функционирования миокарда от кардиоцикла к кардиоциклу. Выводы. Увеличение показателя СКО βТ может быть использовано как маркер поражения сердца у детей с СД-1. Раннее и систематическое обследование с дальнейшим анализом ЭКГ в фазовом пространстве и оптимальный контроль гликемии могут снизить уровень хронических осложнений со стороны сердца у детей с СД-1.
Background. Cardiovascular disorders in children with type 1 diabetes mellitus (DM 1) are the main cause of mortality in adult patients and play a major role in the deve­lopment of sudden cardiac death. The purpose of the research was to study additional markers of myocardial dysfunction in children with DM 1 by analyzing a single-channel electrocardiogram in the phase space. Materials and methods. The main group consisted of 83 patients aged 4–16 years with DM 1, control group — 95 healthy schoolchildren aged 12–16 years. The traditional and original electrocardiography (ECG) parameters of the first standard lead were studied and automatically calculated using the Fazagraf® system. ECG recording was carried out in a sitting position in a state of relative calm. Results. In children with DM 1, unlike their healthy peers, a typical pattern of traditional ECG is formed, with high and wide P wave, long QTc, flattened and narrow T wave. An increase in the para­meter of square deviation of T wave symmetry (SD βT) was found in 68.7 % of children with DM 1 and in only 30.5 % of healthy schoolchildren. SD βT significantly increases with the duration of DM 1 in children. The group at high risk for the development of cardiovascular complications consists of children with DM duration of 3–5 years. Suboptimal glycemic control and high-risk control greatly increase the instability of myocardial function. Conclusions. An increase in the SD βT parameter can be used as a marker of heart lesion in children with DM 1. Early and systematic examination with further analysis of ECG in the phase space and optimal glycemic control can reduce the level of chronic cardiac complications in children with DM 1.
Keywords
цукровий діабет; симетрія зубця Т; електрокардіографія; фазаграфія
сахарный диабет; симметрия зубца Т; электрокардиография; фазаграфия
diabetes mellitus; T wave symmetry; electrocardio­graphy; phase mapping
For the full article you need to subscribe to the magazine.
Bibliography
1. McVeigh G.E., Gibson W., Hamilton P.K. Cardiovascular risk in the young type 1 diabetes population with a low 10-year, but high lifetime risk of cardiovascular disease // Diabetes Obes. Metab. — 2013. — Vol. 15. — P. 198-203. doi: 10.1111/dom.12013.
2. Konduracka E., Cieslik G., Galicka-Latala D. et al. Myocardial dysfunction and chronic heart failure in patients with long-lasting type 1 diabetes: a 7-year prospective cohort study // Acta Diabetol. — 2013. — Vol. 50. — P. 597-606. doi: 10.1007/s00592-013-0455-0.
3. Зак К.П., Попова В.В. Предсказание развития сахарного диабета 1-го типа и диагностика его асимптомной фазы с помощью антител к островкам Лангерганса поджелудочной железы у человека задолго до возникновения у него заболевания // Международный эндокринологический журнал. — 2016. — № 7(9). — С. 11-21. doi: 10.22141/2224-0721.7.79.2016.86414.
4. Лаптев Д.Н, Кураева Т.Л., Рябыкина Г.В. и др. Диагностическая значимость бессимптомной депрессии сегмента ST при проведении нагрузочного тестирования у детей и подростков с сахарным диабетом 1 типа и автономной нейропатией // Сахарный диабет. — 2015. — № 2. — С. 54-60. doi: 10.14341/dm2015254-60.
5. Serhiyenko V.A, Serhiyenko A.A. Cardiac autonomic neuropathy: Risk factors, diagnosis and treatment // World J. Diabetes. — 2018. — Vol. 9. — P. 1-24. doi: 10.4239/wjd.v9.i1.1.
6. Hayat S.A., Patel B., Khattar R.S., Malik R.A. Diabetic cardiomyopathy: mechanisms, diagnosis and treatment // Clinical Science. — 2004. — Vol. 107. — P. 539–557. doi: 10.1042/CS20040057.
7. Файнзильберг Л.С. Основы фазаграфии. — К.: Освіта України, 2017. — 264 с.
8. Zhen Z., Chen Y., Liu J.H. et al. Increased T-wave alternans is associated with subclinical myocardial structural and functional abnormalities in patients with type 2 diabetes // J. Cardiol. — 2016. — Vol. 68. — P. 329-34. doi: 10.1016/j.jjcc.2015.10.010.
9. Okada J., Washio T., Maehara A. et al. Transmural and apicobasal gradients in repolarization contribute to T-wave genesis in human surface ECG // American Journal of Physiology — Heart and Circulatory Physiology. — 2011. — Vol. 301. — P. 1. doi: 10.1152/ajpheart.01241.2010.
10. Морозик А.А., Файнзильберг Л.С. Диагностическая значимость сочетанного анализа электрокардиосигнала на фазовой плоскости и вариабельности ритма сердца у детей с диабетической кардиомиопатей // Международный журнал педиатрии, акушерства и гинекологии. — 2015. — № 1. — С. 11-17.
11. Neylon O.M., White M., O'Connell M.A., Cameron F.J. Insulin-dose-adjusted HbA1c-defined partial remission phase in a paediatric population — when is the honeymoon over? // Diabet. Med. — 2013. — Vol.30. — P. 627-628. doi: 10.1111/dme.12097.
12. Falcão-Pires I., Leite-Moreira A.F. Diabetic cardiomyopathy: understanding the molecular and cellular basis to progress in diagnosis and treatment // Heart Fail Rev. — 2012. — Vol. 17. — P. 325. doi: 10.1007/s10741-011-9257-z.
13. Maisch B., Alter P., Pankuweit S. Diabetic cardiomyopathy — fact or fiction? // Herz. — 2011. — Vol. 36. — P. 102-15. doi: 10.1007/s00059-011-3429-4.
14. Jaiswal M., Divers J., Urbina E.M. et al. SEARCH for Diabetes in Youth Study Group. Cardiovascular autonomic neuropathy in adolescents and young adults with type 1 and type 2 diabetes: The SEARCH for Diabetes in Youth Cohort Study // Pediatr Diabetes. — 2018. doi: 10.1111/pedi.12633.
15. Hashim Z., Zarina S. Osmotic stress induced oxidative damage: possible mechanism of cataract formation in diabetes // J. Diabetes Complications. — 2012. — Vol. 26. — P. 275-9. doi: 10.1016/j.jdiacomp.2012.04.005.
16. Somaratne J.B., Whalley G.A., Poppe K.K. et al. Screening for left ventricular hypertrophy in patients with type 2 diabetes mellitus in the community // Cardiovascular Diabe–tology. — 2011. — Vol. 10. — P. 29. doi: 10.1186/1475-2840-10-29.
17. Children and young people with diabetes: recognition and management / H. Hamilton, G. Knudsen et al. // Br. J. Nurs. — 2017. — Vol. 26, № 6. — P. 340-347.
18. Файнзильберг Л.С. Фазаграф® — эффективная информационная технология обработки ЭКГ в задаче скрининга ишемической болезни сердца // Клиническая информатика и телемедицина. — 2010. — Т. 6, № 7. — С. 22-30.
Similar articles

Authors:
Черній В.І., Куриленко Я.В., Тополов П.О., Черній Т.В. Державна наукова установа «Науково-практичний центр профілактичної та клінічної медицини» Державного управління справами, м. Київ, Україна


"Emergency medicine" Том 16, №4, 2020
Date: 2020.08.03
Categories: Medicine of emergency
Sections: Clinical researches

Authors:
Статинова Е.А., Кривошей А.А., Прокопенко Е.Б., Кафедра неврологии и медицинской генетики Донецкого национального медицинского университета им. М. Горького, Ткачева Е.Л., Донецкое областное клиническое территориальное медицинское объединение


International neurological journal 6 (36) 2010
Date: 2010.11.24
Categories: Neurology