International journal of endocrinology Том 14, №2, 2018
Effective variant of type 2 diabetes mellitus treatment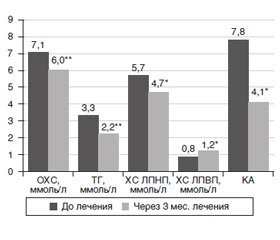 Authors:

Чернявская И.В., Земляницына О.В., Романова И.П., Кравчун Н.А.
Государственное учреждение «Институт проблем эндокринной патологии имени В.Я. Данилевского НАМН Украины», г. Харьков, Украина



Categories:

Endocrinology



Sections:

Specialist manual
Summary
Мета дослідження: оцінити ефективність і переносимість застосування фітоекстракту фермент С6 у складі комплексної терапії у пацієнтів, хворих на цукровий діабет (ЦД) 2-го типу. Матеріали та методи. У дослідженні брали участь 30 пацієнтів із ЦД 2-го типу та дисліпідемією. Тривалість захворювання на ЦД 2-го типу становила від 8 до 25 років, середній вік — 39,5 ± 6,7 року. Усім пацієнтам до комплексної терапії було додано прийом фітоекстракту фермент С6 по одній капсулі після сніданку. Тривалість спостереження за пацієнтами становила 3 місяці. Пацієнти були обстежені лабораторно і за допомогою інструментальних методів дослідження. Результати. В результаті додавання до комплексної терапії фітоекстракту фермент С6 відзначено позитивну динаміку в сфері соматичних проявів. Спостерігалось поліпшення вуглеводного і ліпідного обмінів, а також показників функціонального стану печінки. Переносимість та клінічну безпеку препарату визначали на підставі суб'єктивних симптомів, що повідом­ляються пацієнтами (у процесі спостереження — 2 візити протягом трьох місяців), об'єктивних даних і лабораторних показників у динаміці (при включенні в дослідження і на заключному візиті). Аналіз переносимості препарату в комбінованій терапії показав, що в 100 % випадків вона була доброю. Висновки. Під впливом лікування з включенням фітоекстракту фермент С6 відзначено зменшення суб'єктивної вираженості астенічних і соматовегетативних проявів у вигляді зниження ступеня виразності головного болю, шуму в голові, дратівливості, загальної слабкості, поліпшення якості життя. Найбільш значущими були зміни в підвищенні працездатності і толерантності до фізичних навантажень, що сприяло підвищенню прихильності пацієнтів дотриманню способу життя при ЦД 2-го типу. Фітоекстракт фермент С6 добре переноситься пацієнтами і не викликає побічних ефектів при тривалому застосуванні.
Цель исследования: оценить эффективность и переносимость применения фитоэкстракта фермент С6 в составе комплексной терапии у пациентов с сахарным диабетом (СД) 2-го типа. Материалы и методы. В исследовании принимали участие 30 пациентов с СД 2-го типа и дислипидемией. Длительность заболевания СД 2-го типа составила от 8 до 25 лет, средний возраст больных — 39,5 ± 6,7 года. Всем пациентам к комплексной терапии был добавлен прием фитоэкстракта фермент С6 по одной капсуле после завтрака. Длительность наблюдения за пациентами составила 3 месяца. Пациенты были обследованы лабораторно и с помощью инструментальных методов исследования. Результаты. В результате добавления к комплексной терапии фитоэкстракта фермент С6 отмечена положительная динамика в сфере соматических проявлений. Наблюдалось улучшение углеводного и липидного обмена, а также показателей функционального состояния печени. Переносимость и клиническую безопасность препарата определяли на основании субъективных симптомов, сообщаемых пациентами (в процессе наблюдения — 2 визита в течение трех месяцев), объективных данных и лабораторных показателей в динамике (при включении в исследование и на заключительном визите). Анализ переносимости препарата в комбинированной терапии показал, что в 100 % случаев она была хорошей. Выводы. Под влиянием лечения с включением фитоэкстракта фермент С6 отмечено уменьшение субъективной выраженности астенических и соматовегетативных проявлений в виде снижения степени выраженности головных болей, шума в голове, раздражительности, общей слабости, улучшение качества жизни. Наиболее значимыми были изменения в повышении работоспособности и толерантности к физическим нагрузкам, что способствовало повышению приверженности пациентов к соблюдению образа жизни при СД 2-го типа. Фитоэкстракт фермент С6 хорошо переносится пациентами и не вызывает побочных эффектов при длительном применении.
Background. The purpose was to evaluate the efficiency of phytoextract Ferment S6 as a part of comprehensive therapy in patients with type 2 diabetes mellitus (DM). Mate­rials and methods. Thirty patients with type 2 DM and dyslipi­demia were under observation. Duration of type 2 DM was from 8 to 25 years, average age of patients — 39.5 ± 6.7 years. All patients received Ferment S6 phytoextract (one capsule after breakfast) in addition to combination treatment. Duration of follow-up was 3 months. Patients underwent laboratory and instrumental examination. Results. As a result of Ferment S6 phytoextract addition to the comprehensive DM therapy, there was a positive dynamics of somatic signs. The improvement of carbohydrate and lipid exchanges is marked, and also indexes of the functional state of the liver. The clinical safety of preparation was determined on the basis of subjective symptoms reported by patients (in the process of supervision — 2 visits during three months), objective data, and laboratory indexes in dynamics (at the beginning of research and on a final visit). The analysis of tolerability of the drug during comprehensive therapy showed that in 100 % of cases it was good. Conclusions. After treatment with inclusion of phytoextract Ferment S6, there was marked a decrease in subjective asthenic, somatic and vegetative disorders as a reduction in the degree of severity of heada­che, irritability, general weakness, improvement of quality of life. The most significant changes were: an increase in working capacity and tolerance to physical activity, which increased the adherence of patients to the observance of a lifestyle with type 2 DM. Phytoextract Ferment S6 is well tolerated by patients and does not cause side effects with prolonged use.
Keywords
цукровий діабет 2-го типу; дисліпідемія; фермент С6
сахарный диабет 2-го типа; дислипидемия; фермент С6
type 2 diabetes mellitus; dyslipidemia; Ferment S6
For the full article you need to subscribe to the magazine.
Bibliography
1. International Diabetes Federation. Global guideline for type 2 diabetes. — Brussels: International Diabetes Federation, 2012. — http://www.idf.org/webdata/docs/IDF.
2. American Diabetes Association. Standards of medical care in diabetes — 2017. — https://professional.diabetes.org/sites/professional.diabetes.org.
3. Consensus statement by the American Association of Clinical Endocrinologists and American College of Endocrinology on the comprehensive type 2 diabetes management algorithm — 2017 executive summary // Endocrine Practice. — 2017. — Vol. 23(2).
4. Diabetes Atlas. 8th Edition. International Diabetes Federation, Brussels. — http://www.diabetesatlas.org/resources/2017-atlas.html.
5. Bergmark B.A., Bhatt D.L., Braunwald E. et al. Risk Assessment in Patients With Diabetes With the TIMI Risk Score for Atherothrombotic Disease // Diabetes Care. — 2018. — Vol. 41(3). — P. 577-585. — doi: 10.2337/dc17-1736.
6. Basu S., Raghavan S., Deborah J., Wexler D.J. et al. Characteristics Associated With Decreased or Increased Mortality Risk From Glycemic Therapy Among Patients With Type 2 Diabetes and High Cardiovascular Risk: Machine Learning Analysis of the ACCORD Trial // Diabetes Care. — 2018. — Vol. 41(3). — P. 604-612. — doi: 10.2337/dc17-2252.
7. Nielsen J., Hulman A., Witte D.R. Spousal cardiometabolic risk factors and incidence of type 2 diabetes: a prospective analysis from the English Longitudinal Study of Ageing // Diabetologia. — 2018. — doi: 10.1007/s00125-018-4587-1.
8. Huo L., Magliano D.J., Rancière F. et al. Impact of age at diagnosis and duration of type 2 diabetes on mortality in Australia 1997–2011 // Diabetologia. — 2018. — doi: 10.1007/s00125-018-4544-z.
9. Wilmot E.G., Edwardson C.L., Achana F.A. et al. Sedentary time in adults and the association with diabetes, cardiovascular disease and death: systematic review and meta-analysis. // Diabetologia. — 2012. — Vol. 55(9). — P. 2379-2384.
10. Raman R., Gupta A., Krishna S. et al. Prevalence and risk factors for diabetic microvascular complications in newly diagnosed type II diabetes mellitus. Sankara Nethralaya Diabetic Retinopathy Epidemiology and Molecular Genetic Study (SN-DREAMS, report 27) // J. Diabetes Complications. — 2012. — Vol. 26(2). — P. 123-128.
11. Волошин О.І., Глубоченко О.В. Сучасні аспекти фітотерапії цукрового діабету // Міжнародний ендокринологічний журнал. — 2010. — № 5(29). — С. 47-54.
Similar articles


Authors:
Чернавский С.В., ФБУ «Главный военный клинический госпиталь имени академика Н.Н. Бурденко Минобороны России», г. Москва


International journal of endocrinology 1 (41) 2012
Date: 2013.02.05
Categories: Endocrinology
Sections: Clinical researches


Authors: Корж А.Н., Лаврова Е.В., Лобортас О.М., Панкова Е.А.
Харьковская медицинская академия последипломного образования, г. Харьков, Украина
"News of medicine and pharmacy" №1 (639), 2018
Date: 2018.02.28
Sections: Specialist manual