International journal of endocrinology Том 14, №2, 2018
The biological role of iodine and iodine deficiency as pathogenetic factor of thyroid pathology in pregnant women and its prevention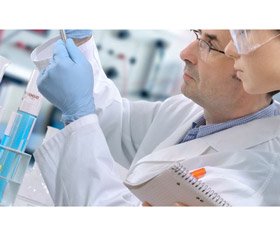 Authors:

Кравченко В.І., Медведєв Б.К.
ДУ «Інститут ендокринології та обміну речовин ім. В.П. Комісаренка НАМН України», м. Київ, Україна



Categories:

Endocrinology



Sections:

Specialist manual
Summary
У статті знайшли відображення найбільш важливі наукові відомості про значення йоду в біологічній природі, його участь у різноманітних біологічних процесах, в утворенні тиреоїдних гормонів та реалізації їх ефектів на рівні різних органів і клітин, що пояснюють виникнення йодозалежних захворювань. Значна увага в статті приділяється ролі йоду в синтезі тиреоїдних гормонів при вагітності та з'ясуванню причин підвищеної потреби в цьому елементі при даному стані. Проведений аналіз результатів багаторічних епідеміологічних досліджень, спрямованих на вивчення йодного забезпечення вагітних у різних регіонах України, співробітниками відділу епідеміології ендокринних захворювань ДУ «Інститут ендокринології та обміну речовин ім. В.П. Комісаренка НАМН України». Значна кількість цих досліджень виконана за підтримки МОЗ України, Дитячого фонду ЮНІСЕФ в Україні, а також центру СDC в Атланті (США), який протягом понад 15 років здійснював контроль за якістю досліджень одного з найважливіших показників йодного статусу населення України — йодурії. Стаття підготовлена як науковий інформаційний матеріал для ендокринологів, акушерів-гінекологів, гігієністів, сімейних лікарів, громадськості, МОЗ України у зв'язку з необхідністю законодавчого вирішення проблеми профілактики йодозалежних захворювань в Україні.
В статье нашли отображение наиболее важные научные cведения о роли йода в биологической природе, его участии в различных биологических процессах, в образовании тиреоидных гормонов и реализации их эффектов на уровне различных органов и клеток, которые объясняют возникновение йодозависимых заболеваний. Значительное внимание уделяется роли йода в синтезе тиреоидных гормонов при беременности и выяснению причин повышенной потребности в этом элементе при данном состоянии. Проведен анализ результатов многолетних эпидемиологических исследований, направленных на изучение йодного обеспечения беременных в различных регионах Украины, сотрудниками отдела эпидемиологии эндокринных заболеваний ГУ «Институт эндокринологии и обмена веществ им. В.П. Комиссаренко НАМН Украины». Значительное количество этих исследований выполнено при поддержке МЗ Украины, Детского фонда ЮНИСЕФ в Украине, а также центра CDC (Атланта, США), который на протяжении более 15 лет осуществлял контроль за качеством исследований одного из самых важных показателей йодного статуса населения Украины — йодурии. Статья подготовлена как научный информационный материал для эндокринологов, акушеров-гинекологов, гигиенистов, семейных врачей, общественности, МЗ Украины в связи с необходимостью законодательного решения проблемы профилактики йодозависимых заболеваний в Украине.
The article presents the most important information about the role of iodine in biological nature, its participation in different biological processes, formation of thyroid hormones and their effects on different organs and cells. Much attention is given to the role of iodine in thyroid hormones synthesis and to declaring the causes of increased need of iodine in pregnant women. The results of long-term epidemiological studies on the iodine deficiency in pregnant women in different regions of Ukraine were analyzed. These researches were carried out by the officials of endocrine epidemiology department of the SI "V.P. Komisarenko Institute of Endocrinology and Metabolism of the NAMS of Ukraine". A great number of these researches were provided by the Ministry of Health of Ukraine, UNICEF, CDC (Atlanta, USA). The CDC realized quality control of iodine excretion — one of the most important markers of iodine status in population. The article presents scientific information for endocrinologists, gynaecologists, hygienists, family doctors, the public, the Ministry of Health of Ukraine because of necessity to implement legislative solution to the problem of iodine diseases prevention.
Keywords
йодна недостатність; йодозалежні захворювання; вагітність; профілактика
йодная недостаточность; йодозависимые заболевания; беременность; профилактика
iodine deficiency; iodine deficiency disorders; pregnancy; prevention
For the full article you need to subscribe to the magazine.
Bibliography
1.
Aceves C, Anguiano B, Delgado G. The extrathyronine actions of iodine as antioxidant, apoptotic, and differentiation factor in various tissues. Thyroid. 2013 Aug;23(8):938-46. doi: 10.1089/thy.2012.0579.
2.
Agbor GA, Taga I, Nguindex DR, Zaidi MA, Lehman LG, Altosaar I, Ngogang JY. Effect of iodine supplementation on antioxidant status of normal and alloxan monohydrate in toxicated rats. International Journal of Pharmacology. 2011,7(6):726-731. doi: 10.3923/ijp.2011.726.731.
3.
Rohner F, Zimmermann M, Jooste P, et al. Biomarkers of nutrition for development--iodine review. J Nutr. 2014 Aug;144(8):1322S-1342S. doi: 10.3945/jn.113.181974.
4.
Delange F. The role of iodine in brain development. Proc Nutr Soc. 2000 Feb;59(1):75-9. PMID: 10828176.
5.
Anyetei-Anum CS, Roggero VR, Allison LA. Thyroid hormone receptor localization in target tissues. J Endocrinol. 2018 Apr;237(1):R19-R34. doi: 10.1530/JOE-17-0708.
6.
Zhang J, Roggero VR, Allison LA. Nuclear Import and Export of the Thyroid Hormone Receptor. Vitam Horm. 2018;106:45-66. doi: 10.1016/bs.vh.2017.04.002.
7.
Grimaldi A, Buisine N, Miller T, Shi YB, Sachs LM. Mechanisms of thyroid hormone receptor action during development: Lessons from amphibian studies. Biochim Biophys Acta. 2013 Jul;1830(7):3882-92. doi: 10.1016/j.bbagen.2012.04.020.
8.
Cheng SY, Leonard JL, Davis PJ. Molecular aspects of thyroid hormone actions. Endocr Rev. 2010 Apr;31(2):139-70. doi: 10.1210/er.2009-0007.
9.
Liu YY, Brent GA. Thyroid hormone crosstalk with nuclear receptor signaling in metabolic regulation. Trends Endocrinol Metab. 2010 Mar;21(3):166-73. doi: 10.1016/j.tem.2009.11.004.
10.
Visser WE, Friesema EC, Visser TJ. Minireview: thyroid hormone transporters: the knowns and the unknowns. Mol Endocrinol. 2011 Jan;25(1):1-14. doi: 10.1210/me.2010-0095.
11.
Waung JA, Bassett JH, Williams GR. Thyroid hormone metabolism in skeletal development and adult bone maintenance. Trends Endocrinol Metab. 2012 Apr;23(4):155-62. doi: 10.1016/j.tem.2011.11.002.
12.
Brent GA. Mechanisms of thyroid hormone action. J Clin Invest. 2012 Sep;122(9):3035-43. doi: 10.1172/JCI60047.
13.
Astapova I, Hollenberg AN. The in vivo role of nuclear receptor corepressors in thyroid hormone action. Biochim Biophys Acta. 2013 Jul; 1830(7):3876-3881. doi:10.1016/j.bbagen.2012.07.001.
14.
World Health Organization. Assessment of the iodine deficiency disorders and monitoring their elimination: a guide for programme managers. 3d ed. Geneva: WHO Press; 2007. 98p.
15.
Moleti M, Lo Presti VP, Mattina F, et al. Gestational thyroid function abnormalities in conditions of mild iodine deficiency: early screening versus continuous monitoring of maternal thyroid status. Eur J Endocrinol. 2009 Apr;160(4):611-7. doi: 10.1530/EJE-08-0709.
16.
Glinoer D. The importance of iodine nutrition during pregnancy. Public Health Nutr. 2007 Dec;10(12A):1542-6. doi: 10.1017/S1368980007360886.
17.
Oral E, Aydogan Mathyk B, Aydogan BI, et al. Iodine status of pregnant women in a metropolitan city which proved to be an iodine-sufficient area. Is mandatory salt iodisation enough for pregnant women? Gynecol Endocrinol. 2016;32(3):188-92. doi: 10.3109/09513590.2015.1101443.
18.
Zimmermann M, Delange F. Iodine supplementation of pregnant women in Europe: a review and recommendations. Eur J Clin Nutr. 2004 Jul;58(7):979-84. doi: 10.1038/sj.ejcn.1601933.
19.
Luzanchuk IA, Kravchenko VI, Medvedev BK, Postol SV. Iodine status and state of iodine prophylaxis among pregnant women. Endokrynologia. 2016;21(1):38-44. (in Ukrainian).
20.
Pankiv VI. Iodine deficiency prevention in pregnant women. Mìžnarodnij endokrinologìčnij žurnal. 2008;(14):92-99. (in Ukrainian).
21.
Tuccilli C, Baldini E, Truppa E, et al. Iodine deficiency in pregnancy: Still a health issue for the women of Cassino city, Italy. Nutrition. 2017 Nov 27;50:60-65. doi: 10.1016/j.nut.2017.11.007.
22.
Anaforoğlu İ, Algün E, İnceçayır Ö, Topbaş M, Erdoğan MF. Iodine status among pregnant women after mandatory salt iodisation. Br J Nutr. 2016 Feb 14;115(3):405-10. doi: 10.1017/S0007114515004559.
23.
Jaiswal N, Melse-Boonstra A, Sharma SK, Srinivasan K, Zimmermann MB. The iodized salt programme in Bangalore, India provides adequate iodine intakes in pregnant women and more-than-adequate iodine intakes in their children. Public Health Nutr. 2015 Feb;18(3):403-13. doi: 10.1017/S136898001400055X.
24.
Bouhouch RR, Bouhouch S, Cherkaoui M, et al. Direct iodine supplementation of infants versus supplementation of their breastfeeding mothers: a double-blind, randomised, placebo-controlled trial. Lancet Diabetes Endocrinol. 2014 Mar;2(3):197-209. doi: 10.1016/S2213-8587(13)70155-4.
25.
Zimmermann MB, Boelaert K. Iodine deficiency and thyroid disorders. Lancet Diabetes Endocrinol. 2015 Apr;3(4):286-95. doi: 10.1016/S2213-8587(14)70225-6.
26.
Kravchenko VI, Myronjuk NI, Turchyn VI, Luzanchuk IA, Tkachuk LA. Dynamics of iodine status in the northern regions of Ukraine affected by the Chernobyl accident. Endokrynologia. 2006;11(1):124-133. (in Ukrainian).
27.
Kravchenko VI. Iodine deficiency and health of the population of Ukraine. Mìžnarodnij endokrinologìčnij žurnal. 2008;(18):9-18. (in Ukrainian).
28.
Myronjuk NI, Kravchenko VI, Turchyn VI, Kalacheva IV, Hobta SI. Assessment of the level of iodine sufficiency in population and consumption of iodine-containing products in the western region of Ukraine according to national research. Problemy endokrynnoi patologii. 2005;(1):42-50. (in Ukrainian).
29.
Tananakina NV, Kravchenko VI, Luzanchuk IA, Lubjanova IP, Karakash'jan AN, Kalachova IV. The frequency of cases of goiter and iodine sufficiency in the south-eastern regions of Ukraine at the beginning of National Programme of Iodine Prevention. Mìžnarodnij endokrinologìčnij žurnal. 2005;(1):34-38. (in Ukrainian).
30.
Kravchenko VI. Iodine deficiency as a cause of high prevalence of thyroid pathology in the population of regions affected by the Chernobyl accident. Zhurnal Nacional''noi' Akademii' Medychnyh Nauk Ukrai'ny. 2016;22(2):222-229. (in Ukraine).
31.
Pashkovs'ka NV. Thyroid pathology and pregnancy. Mìžnarodnij endokrinologìčnij žurnal. 2012;(48):53-61. (in Ukrainian).
32.
Lazarus JH, Bestwick JP, Channon S, et al. Antenatal thyroid screening and childhood cognitive function. N Engl J Med. 2012 Feb 9;366(6):493-501. doi: 10.1056/NEJMoa1106104.
33.
Pearce EN, Andersson M, Zimmermann MB. Global iodine nutrition: where do we stand in 2013? Thyroid. 2013 May;23(5):523-8. doi: 10.1089/thy.2013.0128.
34.
Gerasimov GA, Zimmermann MV. Prevention of iodine deficiency diseases: solved and unsolved problems. Problemi Endokrinologii. 2007;53(6):31-33. (in Russian).
35.
Katagiri R, Yuan X, Kobayashi S, Sasaki S. Effect of excess iodine intake on thyroid diseases in different populations: a systematic review and meta-analyses including observational studies. PLoS One. 2017 Mar 10;12(3):e0173722. doi: 10.1371/journal.pone.0173722.
36.
Flechas J. Autoimmune thyroiditis and iodine therapy. Journal of Restorative Medicine. 2013 Oct; 2(1):54-59(6). doi: 10.14200/jrm.2013.2.0106.
Similar articles

Authors: Камінський О.В.(1), Татарчук Т.Ф.(2)
(1) — ДУ «Національний науковий центр радіаційної медицини НАМН України», м. Київ, Україна
(2) — ДУ «Інститут педіатрії, акушерства і гінекології НАМН України», м. Київ, Україна
International journal of endocrinology Том 13, №2, 2017
Date: 2017.05.18
Categories: Endocrinology
Sections: Clinical researches