Ukrainian journal of surgery 1 (36) 2018
Bile leakage after liver resection: risk factors, prognosis and treatment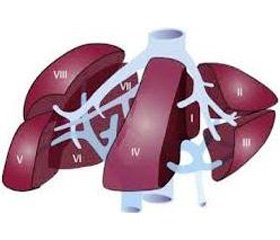 Authors:

Бойко В.В., Тищенко О.М., Малоштан О.В., Малоштан А.О., Брицька Н.М., Кльосова М.О., Волченко І.В., Смачило Р.М.
ДУ «Інститут загальної та невідкладної хірургії ім. В.Т. Зайцева НАМН України», м. Харків, Україна



Categories:

Surgery



Sections:

Clinical researches
Summary
За досвідом лікування 165 хворих на об'ємні утворення печінки, які потребували резекційних оперативних втручань, подано аналіз причин післяопераційних жовчовитікань. Проаналізовано предиктори цього ускладнення і фактори ризику, доведено, що найбільш небезпечним фактором їх виникнення є правобічна гемігепатектомія. Запропоновано методи профілактики та лікування післяопераційного жовчовитікання.
По опыту лечения 165 больных с объемными образованиями печени, которые потребовали резекционных операций, представлен анализ причин, предикторов и факторов риска возникновения послеоперационных желче­истечений. Доказано, что наиболее значимым фактором их возникновения является правосторонняя гемигепатэктомия. Предложены методы профилактики и лечения послеоперационных желчеистечений.
According to the experience of treating 165 patients with space-occupying lesions of the liver who underwent liver resections, an analysis of the causes, predictors and risk factors for postoperative bile leakage were presented. It is proved that the most significant factor of their occurrence is right hemihepatectomy. Methods for prevention and treatment of postoperative bile leakage were suggested.
Keywords
резекція печінки; післяопераційні жовчовитікання
резекция печени; послеоперационные желчеистечения
liver resection; postoperative bile leakage
For the full article you need to subscribe to the magazine.
Bibliography
1. Патютко Ю.И., Сагайдак И.В., Котельников А.Г., Поляков А.Н., Чучуев Е.С., ПылевA.JL, Чистякова О.В., Шишкина H.A. Резекция печени: современные технологии при опухолевом поражении // Анналы хирургической гепатологии. — 2010. — № 2. — С. 9-17.
2. Скипенко О.Г., Чардаров Н.К., Багмет Н.Н. Билиарные осложнения после резекции печени // Хирургия. Журнал им. Н.И. Пирогова. — 2010. — № 8. — С. 61-68.
3. Aloia T.A., Fahy B.N., Fischer C.P. et al. Predic–ting poor outcome following hepatectomy: analysis of 2313 hepatectomies in the NSQIP database // HPB (Oxford). — 2009. — № 11. — P. 510-515.
4. Bruns H., Kratschmer K., Hinz U. et al. Quality of life after curative liver resection: a single center analysis // World J. Gastroenterol. — 2010. — № 16. — P. 2388-2395.
5. Dinant S., Gerhards M.F., Rauws E.A. et al. Improved outcome of resection of hilarcholangiocarcinoma (Klatskin tumor) // Ann. Surg. Oncol. — 2006. — № 13. — P. 872-880.
6. Erdogan D., Busch O.R., Gouma D.J., van Gulik T.M. Morbidity and mortality after liver resection for benign and malignant hepatobiliary lesions // Liver Int. — 2009. — № 29. — P. 175-180.
7. Kondo K., Chijiiwa K., Funagayama M. et al. Hepa–tic resection is justified for elderly patients with hepatocellular carcinoma // World J. Surg. — 2008. — № 32. — P. 2223-2229.
8. Nagano Y., Togo S., Tanaka K. et al. Risk factors and management ofbile leakage after hepatic resection // World J. Surg. — 2003. — № 27. — P. 695-698.
9. Tanaka S., Hirohashi К., Tanaka H. et al. Incidence and management of bile leakage after hepatic resection for malignant hepatic tumors // J. Am. Coll. Surg. — 2002. — № 195. — P. 484-489.