Ukrainian journal of surgery 1 (36) 2018
Immunohistochemical examination of soft tissues in the area of the foreign body of gunshot origin in different time after injury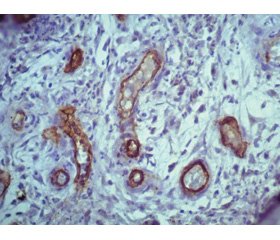 Authors:

Подолян Ю.В.(1), Яковцова И.И.(2), Данилюк С.В.(2), Беленький В.А.(1), Негодуйко В.В.(1)
(1) — Военно-медицинский клинический центр Северного региона МО Украины, г. Харьков, Украина
(2) — Харьковская медицинская академия последипломного образования, г. Харьков, Украина



Categories:

Surgery



Sections:

Clinical researches
Summary
У статті проаналізовані дані імуногістохімічного дослідження м'яких тканин у ділянці стороннього тіла після вогнепального поранення в різні терміни. Деталізовані гістологічні зміни в капсулі стороннього тіла за допомогою маркерів хронізації запального процесу, утворення патологічного типу колагену і ендотеліальних клітин. Показані особливості регенерації у сполучнотканинних структурах капсули стороннього тіла.
В статье проанализированы данные иммуногистохимического исследования мягких тканей в области инородного тела после огнестрельного ранения в разные сроки. Детализированы гистологические изменения в капсуле инородного тела с помощью маркеров хронизации воспалительного процесса, образования патологического типа коллагена и эндотелиальных клеток. Показаны особенности регенерации в соединительнотканных структурах капсулы инородного тела.
The article analyzes the data of immunohistochemical examination of soft tissues in the area of the foreign body after gunshot wounds at different time. Histological changes in the capsule of the foreign body were detailed with the help of chronic inflammation markers, the formation of pathological type of collagen and endothelial cells. The features of regeneration in connective tissue structures of the capsule of the foreign body are shown.
Keywords
імуногістохімічне дослідження; м'які тканини; вогнепальне поранення; стороннє тіло
иммуногистохимическое исследование; мягкие ткани; огнестрельное ранение; инородное тело
immunohistochemical examination; soft tissues; gunshot wound; foreign body
For the full article you need to subscribe to the magazine.
Bibliography
1. Вказівки з воєнно-польової хірургії / За ред. Я.Л. Заруцького, А.А. Шудрака. — К.: СПД Чалчинська Н.В., 2014. — 396 с.
2. Военно-полевая хирургия: учебник. — 2-е изд., доп. / Под ред Е.К. Гуманенко. — М.: ГЭОТАР-Медиа, 2016. — 768 с.
3. Патологическая анатомия боевых поражений и их осложнений / Под ред. С.А. Повзуна, Н.Д. Клочкова, М.В. Рогачева. — СПб.: ВМедА, 2002. — 179 с.
4. Туманский В.А. Тяжелый фиброз поджелудочной железы при хроническом панкреатите: основные патоморфологические составляющие, иммунофенотип фиброгенных клеток и коллагена / В.А. Туманский, И.С. Коваленко // Патология. — 2013. — № 1 (27). — С. 27-30.
5. Abreu-Velez A.M. et al. Collagen IV in Normal Skin and in Pathological Processes // N. Am. J. Med. Sci. — 2012. — 4. — 1-8.
6. Feru J., Delobbe E., Ramont L., Brassart B., Terryn C., Dupont-Deshorgue A., Garbar C., Monboisse J.-C., Maquart F.-X., Brassart-Pasco S. Aging decreases collagen IV expression in vivo in the dermo-epidermal junction and in vitro in dermal fibroblasts: possible involvement of TGF-β1 // European Journal of Dermatology. — 2016. — 26 (4). — 350-360.
7. Han G., Li F., Singh T.P., Wolf P., Wang X.J. The Pro-inflammatory Role of TGFβ1: A Paradox? // Int. J. Biol. Sci. — 2012. — 8 (2). — 228-235.
8. Hvingel B., Lieng M., Roald B., Оrbo A. Vascular markers CD31, CD34, actin, VEGFB, and VEGFR2, are prognostic markers for malignant development in benign endometrial polyps // Open Journal of Obstetrics and Gyneco–logy. — 2012. — 2. — 18-26.
9. Klingberg F., Chow M. ., Koehler A., Boo S., Buscemi L., M.Quinn T., Costell M., Alman B.A., Genot E., Hinz B. Prestress in the extracellular matrix sensitizes latent TGF-β1 for activation // JCB Archive. — 2014. — 207 (2). — 283-297.
10. Liu L., Shi G.-P. CD31: beyond a marker for endothelial cells // Cardiovasc. Res. — 2012. — 94 (1). — 30-37.
11. Tepekoylu C., Wang F.-Sh., Kozaryn R., Albrecht-Schgoer K., Theurl M., Schaden W., Ke H.-J., Yang Y., Kirchmair R., Grimm M., Wang Ch.-J., Holfeld J. Shock wave treatment induces angiogenesis and mobilizes endo–genous CD31/CD34-positive endothelial cells in a hindlimb ischemia model: Implications for angiogenesis and vasculogenesis // The Journal of Thoracic and Cardiovascular Surgery. — 2013. — 146 (4). — 971-978.
12. Wai Yin Leung, Matthew B. Jensen Histological Quantification of Angiogenesis after Focal Cerebral Infarction: A Systematic Review Neurology Volume 2013 (2013), Article ID 853737, 5 pages http://dx.doi.org/10.1155/2013/853737.