Ukrainian journal of surgery 1 (36) 2018
Features of using ureteral stents after retroperitoneoscopic ureterolithotomy in the treatment of ureteral stones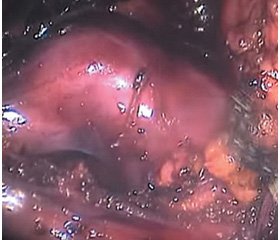 Authors:

Рощин Ю.В., Серняк Ю.П., Фуксзон А.С., Комисаренко И.М., Форостина С.П.
Донецкий национальный медицинский университет, г. Краматорск, Украина



Categories:

Surgery



Sections:

Clinical researches
Summary
Проведено аналіз результатів лікування 53 пацієнтів, яким з приводу каменя сечоводу була виконана лапароскопічна уретролітотомія. При цьому у 18 (34 %) пацієнтів стент після операції не встановлювали (група 1), а у 35 (66 %) хворих було встановлено стент (група 2). Дренування сечоводу шляхом установки стента є абсолютно виправданою процедурою за наявності виражених змін в стінці сечоводу, які проявляються набряком усіх шарів, наявністю виразок слизової оболонки, а також явищами перифокального запального процесу в навколишніх тканинах із формуванням запального коржа. З іншого боку, стентування сечоводу після виконання ретроперитонеоскопічної уретролітотомії не є рутинною процедурою, і за відсутності вищеописаних змін від неї можна відмовитися без виникнення будь-яких ускладнень.
Проведен анализ результатов лечения 53 пациентов, которым по поводу камня мочеточника была выполнена лапароскопическая уретролитотомия. При этом у 18 (34 %) пациентов стент после операции не устанавливали (группа 1), а у 35 (66 %) больных был установлен стент (группа 2). Дренирование мочеточника путем установки стента является совершенно оправданной процедурой при наличии выраженных изменений в стенке мочеточника, проявляющихся отеком всех слоев, наличием изъязвлений слизистой оболочки, а также явлениями перифокального воспалительного процесса в окружающих мочеточник тканях с формированием воспалительного коржа. С другой стороны, стентирование мочеточника после выполнения ретроперитонеоскопической уретролитотомии не является рутинной процедурой, и при отсутствии вышеописанных изменений от него можно отказаться без возникновения каких-либо ­осложнений.
We analyzed the results of treatment of 53 patients who underwent laparoscopic ureterolithotomy for ureteral stones. In 18 (34 %) cases, the stent was not used after the surgery (group 1), and in 35 (66.0 %) patients, the stent (group 2) was placed. Drainage of the ureter by stent placement is absolutely justified procedure in the presence of significant changes in the ureteral wall. In our opinion, the following changes are important: swelling of all layers, the presence of ulcers of the mucous membrane, perifocal inflammation in the tissues surrounding the ureter, with the formation of an inflammatory cortex. On the other hand, stenting of the ureter after retroperitoneoscopic ureterolithotomy is not a routine procedure, and in the absence of the above-mentioned changes, it can be refused without any complications.
Keywords
камінь сечоводу; лапароскопічна уретролітотомія; стентування
камень мочеточника; лапароскопическая уретролитотомия; стентирование
ureteral stone; laparoscopic ureterolithotomy; stenting
For the full article you need to subscribe to the magazine.
Bibliography
1. Возіанов С.О. Сучасний підхід до діагностики ниркової коліки та уретеролітіазу / С.О. Возіанов, М.В. Зеляк // Урологія. — 2006. — Т. 10, № 2. — С. 62-68.
2. Лесовой В.Н. Состояние окислительно-восстановительных процессов у больных уросепсисом при использовании метода озонотерапии / В.Н. Лесовой, В.И. Савенков // Експериментальна і клінічна медицина. — 2000. — № 4. — С. 100-103.
3. Серняк Ю.П. Современные методологические подходы к лечению камней мочеточника / Ю.П. Серняк, Ю.В. Рощин // Архив клинической и экспериментальной медицины. — 2013. — Т. 14, № 1. — С. 51-54.
4. Avital S., Hermon H., Greenberg R., Karin E., Skornick Y. Learning curve in laparoscopic colorectal surgery: our first 100 patients // Isr. Med. Assoc. J. — 2006. — 8. — Р. 683-686.
5. Chong G.O., Park N.Y., Hong D.G., Cho Y.L., Park I.S., Lee Y.S. Learning curve of laparoscopic radical hysterectomy with pelvic and/or para-aortic lymphadenectomy in the early and locally advanced cervical cancer: comparison of the first 50 and sec- ond 50 cases // Int. J. Gynecol. Cancer. — 2009. — 19. — Р. 1459-1464.
6. El-Moula M.G., Abdallah A., El-Anany F. et al. Laparoscopic ure- terolithotomy: our experience with 74 cases // Int. J. Urol. — 2008. — 15. — Р. 593-597.
7. Hatipoglu N.K., Penbegul N., Soylemez H. et al. Urological laparoscopic surgery: our experience of first 100 cases in Dicle University // J. Clin. Exp. Invest. — 2012. — 3. — Р. 44-48.
Similar articles

Authors:
Баринов Э.Ф., Кравченко А.Н., Твердохлеб Т.А., Балыкина А.О. - Донецкий национальный медицинский университет им. М. Горького, г. Донецк, Украина


Ukrainian journal of surgery 1 (24) 2014
Date: 2014.03.14
Categories: Surgery, Urology
Sections: Specialist manual


Authors: Стецишин Р.В.(1), Рощин Ю.В.(2)
(1) — Харьковская медицинская академия последипломного образования, КУЗ «Областной клинический центр урологии и нефрологии им. В.И. Шаповала», г. Харьков, Украина
(2) — Донецкий национальный медицинский университет МЗ Украины, г. Лиман, Украина
Ukrainian journal of surgery 1 (32) 2017
Date: 2017.05.12
Categories: Surgery
Sections: Clinical researches


Authors: Рощин Ю.В., Серняк Ю.П., Фуксзон А.С., Мех В.А., Ткаченко С.В., Слободянюк Е.Н.
Донецкий национальный медицинский университет, г. Лиман, Украина
Ukrainian journal of surgery 3 (34) 2017
Date: 2017.12.07
Categories: Surgery
Sections: Clinical researches