"Child`s Health" Том 13, №3, 2018
Clinical case of recurrent parotitis in a child. Discussion of causes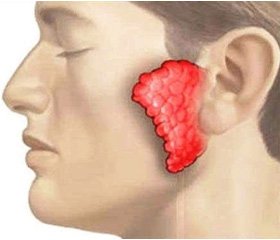 Authors:

V.V. Mavrutenkov(1), Z.O. Chykarenko(1), N.V. Zhukova(2)
(1) — State Institution "Dnipropetrovsk Medical Academy of the Ministry of Health of Ukraine", Dnipro, Ukraine
(2) — Municipal Institution "Professor Ye.H. Popkova City Clinical Hospital 21" of Dnipropetrovsk Regional Council, Dnipro, Ukraine



Categories:

Pediatrics/Neonatology



Sections:

Specialist manual
Summary
У статті детально описаний клінічний випадок рецидивуючого паротиту в 6-річної дитини, наведено результати лабораторного й інструментального обстеження, методи та ефективність терапевтичного підходу. Проведено аналіз і класифікацію можливих інфекційних та неінфекційних причин ураження слинних залоз у дітей, включаючи запальні захворювання, автоімунні та гіпертрофічні ураження, обструктивні та травматичні стани, дефекти розвитку, пухлини. Як приклад наведено діагностичні критерії синдрому Шегрена, саркоїдозу, хвороби кошачих подряпин, кон'юнктивіту Паріно. У результаті диференціального підходу в цьому клiнiчному випадку було встановлено діагноз виключення — ювенільний рецидивуючий паротит. У статті наведено епідеміологічні особливості цієї патології, діагностичні критерії, обговорено можливi причини, рекомендації щодо лікування. Акцент зроблено на необхідності та безпецi вакцинації проти епідемічного паротиту, на важливості уникнення призначення ліків, що не є необхідними. Лікування має бути лише симптоматичним. Підкреслено необхідність подальшого спостереження за пацієнтами після перших епізодів рецидивуючого паротиту.
В статье подробно описан клинический случай рецидивирующего паротита у 6-летнего ребенка, представлены результаты лабораторного и инструментального обследования, методы и эффективность терапевтического подхода. Проведены анализ и классификация возможных инфекционных и неинфекционных причин поражения слюнных желез у детей, включая воспалительные заболевания, аутоиммунные и гипертрофические поражения, обструктивные и травматические состояния, дефекты развития, опухоли. В качестве примера приведены диагностические критерии синдрома Шегрена, саркоидоза, болезни кошачьей царапины, конъюнктивита Парино. В результате дифференциального подхода в данном клиническом случае был поставлен диагноз исключения — ювенильный рецидивирующий паротит. В статье представлены эпидемиологические особенности этой патологии, диагностические критерии, обсуждены возможные причины, рекомендации по лечению. Акцент сделан на необходимости и безопасности вакцинации против эпидемического паротита, на важности избегания назначения ненужных лекарственных средств. Лечение должно быть лишь симптоматическим. Подчеркивается необходимость последующего наблюдения за пациентами после первых эпизодов рецидивирующего паротита.
Currently, with introduction of vaccination against epidemic parotitis, differential diagnosis of salivary gland involvement in children should include other viruses, such as cytomegalovirus, Coxsackie virus, herpes virus type 6, human T-lymphotropic virus, human immunodeficiency virus, etc., as well as autoimmune and oncologic diseases. Comprehensive differential diagnosis is required before establishing the diagnosis of exclusion, such as juvenile recurrent parotitis. It will ensure more effective therapeutic approach and avoiding the prescription of unnecessary medicines and manipulations. The article presents detailed clinical case of recurrent parotitis in a fully vaccinated (according to national vaccination schedule) 6-year-old boy, who experienced several episodes of painless swelling of the left parotid area without fever or with low-grade fever accompanied by redness in the left eye during observation. Performed laboratory survey and instrumental examination are given. Methods and efficacy of therapeutic approach are described. The article presents etiological classification of salivary gland involvement, which includes inflammatory diseases, autoimmune and hypertrophic lesions, obstructive and traumatic conditions, developmental defects, tumors. Epidemiologic and etiologic features of parotitis in pediatric population are considered. Differential diagnosis also includes, for example, Sjogren's syndrome, sarcoidosis, cat-scratch disease, Parinaud conjunctivitis, with description of diagnostic criteria of the mentioned conditions. According to clinicians, juvenile recurrent parotitis was diagnosed in the presented case. The article presents epidemiological features of this patho­logy, diagnostic criteria, discussion of possible etiology, recommendations for the management. Necessity and safety of vaccination against epidemic parotitis were accentuated, as well as importance of avoiding the prescription of unnecessary medicines. Vaccination against epidemic parotitis is a prerequisite for the prevention of viral lesions of the salivary glands. It also helps to narrow the differential diagnosis of parotitis causes. If diagnosis of epidemic parotitis is excluded in a child, comprehensive clinical, laboratory and instrumental examination is recommended. It is very important to provide follow-up after the first episode of parotitis in order to exclude recurrent course of the disease. In the presence of recurrent parotitis and exclusion of other causes of damage to the parotid salivary gland, it should be suggested that the child has juvenile recurrent parotitis, which is a diagnosis of exclusion, and can be made after at least 12 months of follow-up. The drug management of juvenile recurrent parotitis should exclude unreasonable prescription of medicines, such as antibiotics, antiviral drugs and especially immunomodulators. Only symptomatic therapy is indicated, providing relief of symptoms. Systematic follow-up of patients with this pathology is required.
Keywords
паротитна інфекція; діти; диференціальна діагностика; ювенільний рецидивуючий паротит
паротитная инфекция; дети; дифференциальная диагностика; ювенильный рецидивирующий паротит
parotitis infection; children; differential diagnosis; juvenile recurrent parotitis
For the full article you need to subscribe to the magazine.
Bibliography
1. Маврутенков В.В. Вакцинопрофілактика: досягнення, проблеми і перспективи розвитку / Маврутенков В.В., Ревенко Г.О. // Медичні перспективи. — 2016. — Т. ХХІ, № 3. — C. 56-60.
2. Juvenile parotitis. Riitta Saarinen / University of Helsinki Faculty of Medicine Helsinki 2012 academic dissertation. Available from: https://helda.helsinki.fi/bitstream/handle/10138/36427/juvenile.pdf?sequence=1
3. Sunday Olusegun Ajike, Kokila Lakhoo. Ch. 39. Salivary gland diseases in children and adolescents // Paediatric Surgery: A Comprehensive Text for Africa. Available from: https://storage.googleapis.com/global-help-publications/books/help_pedsurgeryafrica39.pdf
4. Wilson K.F. Salivary gland disorders / Wilson K.F., Meier J.D., Ward P.D. // Am. Fam. Physician. — 2014 Jun. — 89(11). — 882-8.
5. Means C. Pediatric primary Sjögren syndrome presenting with bilateral ranulas: A case report and systematic review of the literature / Means C., Aldape M.A., King E. // Int. J. Pediatr. Otorhinolaryngol. — 2017 Oct. — 101. — 11-19; doi: 10.1016/j.ijporl.2017.07.019. Epub 2017 Jul 19.
6. Civilibal M. A child with primary Sjogren syndrome and a review of the literature / Civilibal M., Canpolat N., Yurt A. et al. // Clin. Pediatr. (Phila). — 2007 Oct. — 46(8). — 738-42.
7. Cimaz R. Primary Sjogren syndrome in the pediatric age: a multicenter survey / Cimaz R., Casadei A., Rose C. et al. // Eur. J. Paediatr. — 2003. — 162(10). — 661-5.
8. Vitali C. et al. Classification criteria for Sjogren's syndrome: a revised version of the European criteria proposed by the American-European Consensus Group // Ann. Rheum. Dis. — 2002. — 61. — 554-558.
9. Recurrent parotitis as a presentation of primary pediatric Sjögren Syndrome // Pediatrics. — 2012. — 129. — e179; naturally published online December 19, 2011; doi: 10.1542/peds.2011-0716.
10. Stenner M. Current update on established and novel biomarkers in salivary gland carcinoma pathology and the molecular pathways involved / Stenner M., Klussmann J.P. // Eur. Arch. Otorhinolaryngol. — 2009 Mar. 266(3). — 333-41.
11. Robert A. Ord. Pediatric salivary gland malignancies / Ro–bert A. Ord, Eric R. Carlson // Oral Maxillofacial Surg. Clin. N. Am. — 2016. — 28. — 83-89.
12. Tomar R.P.S. Juvenile recurrent parotitis / Tomar R.P.S., Vasudevan R., Manoj K., Gupta D.K. // Med. J. Armed Forces India. — 2014 Jan. — 70(1). — 83-84; doi: 10.1016/j.mjafi.2012.08.013.
13. Hädicke J. Recurrent swelling of parotid gland in children [German] / Hädicke J., Pethe W., Drüg-Skamel S., Begall K. // HNO. — 2015 Jul. — 63(7). — 520-2; doi: 10.1007/s00106-015-0026-5.
14. Heerfordt C. Uber eine Febris uveo-parotidea subchronica // Von Graefe's Archiv fur Opthalmologie — 1909. — 70. — 254-73.
15. Tiia Tamme. Sarcoidosis (Heerfordt syndrome): A case report / Tiia Tamme, Edvitar Leibur, Andres Kulla // Stomatologija. Baltic Dental and Maxillofacial Journal. — 2007. — 9(2). — 61-64.
16. Schorr B. Diagnosing juvenile recurrent parotitis. Case reports / Schorr B., Mandel L. // N.Y. State Dent. J. — 2016 Jan. — 82(1). — 36-9.
17. Saarinen R. The clinical picture of juvenile parotitis in a prospective setup / Saarinen R., Kolho K.L., Davidkin I., Pitkäranta A. // Acta Paediatr. — 2013 Feb. — 102(2). — 177-81; doi: 10.1111/apa.12004. Epub 2012 Sep 17.
18. Sujatha S. Case report: Report of a rare case of juvenile recurrent parotitis and review of literature / Sujatha S., Rakesh N., Raghav N., Devaraju D., Shridevi G. // Eur. Arch. Paediatr. Dent. — 2009 Nov. — 10, Suppl. 1. — 31-4.
19. Clinical practice guideline for salivary gland disorders. Develo–ped for the Aerospace Medical Association by their constituent organization American Society of Aerospace Medicine Specia–lists. Available from: http://www.asams.org/guidelines/Completed/NEW%20Salivary%20Gland%20Disorders.htm
Similar articles

Authors:
K.V.Vilchevska, S. A. Kolomenska, K. M. Marchenko - Donetsk national medical University. M. Gorky


"Child`s Health" 6 (57) 2014
Date: 2014.12.24
Categories: Pediatrics/Neonatology
Sections: Specialist manual


Authors:
Rymarenko N.V. - State Institution «Crimean State Medical University named after S.I. Georgiyevsky», Simferopol, Ukraine


"Child`s Health" 8 (51) 2013
Date: 2014.01.14
Categories: Pediatrics/Neonatology
Sections: Specialist manual


Authors:
Chernyshova L.I. 1, Volokha A.P. 1, Bondarenko A.V. 1, Gilfanova A.M. 1, Chernyshov V.P. 2, 1 National Medical Academy of Postgraduate Education named P.L.Shupyk, 2 SI "Institute of Gynecology, Obstetrics and Pediatrics NAMS Ukraine"


"Child`s Health" 4 (47) 2013
Date: 2013.07.11
Categories: Pediatrics/Neonatology
Sections: Specialist manual


Authors: Головач И.Ю. (1), Егудина Е.Д. (2)
1 - Клиническая больница «Феофания» Государственного управления делами, г. Киев, Украина
2 - Образовательный центр Клиники современной ревматологии, г. Киев, Украина
«Practical Oncology» Том 2, №3, 2019
Date: 2020.01.08
Categories: Oncology
Sections: Specialist manual