"Child`s Health" Том 13, №3, 2018
Factors of immunodeficiency in children with trisomy 21 (Down syndrome): a modern paradigm of immune and non-immune mechanisms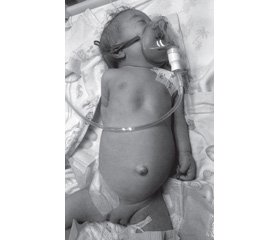 Authors:

Логвінова О.Л.
Харківський національний медичний університет, м. Харків, Україна
КЗОЗ «Обласна дитяча клінічна лікарня», м. Харків, Україна



Categories:

Pediatrics/Neonatology



Sections:

Specialist manual
Summary
Синдром Дауна — найчастіше генетичне захворювання. Діти з трисомією за 21-ю хромосомою часто хворіють на тяжкі, тривалі респіраторні інфекції, що є ознакою дефекту імунної системи. Анатомічні та функціональні дефекти респіраторної, серцево-судинної, травної системи у дітей із синдромом Дауна можуть порушувати природні бар'єри та сприяти розвитку інфекційного захворювання, що необхідно враховувати при лікуванні пацієнтів. Природжені аномалії імунної системи, що асоціюються з трисомією за 21-ю хромосомою, включають легку або середньотяжку Т- та В-клітинну лімфопенію зі значним зниженням нативних лімфоцитів, мітогеніндукованої Т-клітинної проліферації, специфічної відповіді антитіл на імунізацію та дефект хемотаксису нейтрофілів. На сьогодні доведена роль підвищеної експресії генів, зокрема SOD1 та RCAN1, у розвитку первинного імунодефіциту, дефіциту цинку та метаболічних факторів, що роблять різний внесок в імунологічні аномалії, підвищуючи ризик інфекції, та потребують подальших досліджень при синдромі Дауна.
Синдром Дауна — частое генетическое заболевание. Дети с трисомией по 21-й хромосоме часто болеют тяжелыми длительными респираторными инфекциями, что является признаком дефекта иммунной системы. Анатомические и функциональные дефекты респираторной, сердечно-сосудистой, пищеварительной системы у детей с синдромом Дауна могут нарушать естественные барьеры и способствовать развитию инфекционного заболевания, что необходимо учитывать при лечении пациентов. Врожденные аномалии иммунной системы, которые ассоциируются с трисомией по 21-й хромосоме, включают легкую или среднетяжелую Т- и В-клеточную лимфопению со значительным снижением нативных лимфоцитов, митогениндуцированной Т-клеточной пролиферации, специфического ответа антител на иммунизацию и дефект хемотаксиса нейтрофилов. На сегодняшний день доказана роль повышенной экспрессии генов, в частности SOD1 и RCAN1, в развитии первичного иммунодефицита, дефицита цинка и метаболических факторов, которые вносят разный вклад в иммунологические аномалии, повышая риск инфекции, и требуют дальнейших исследований при синдроме Дауна.
Down syndrome is the most common genetic disorder. Children with trisomy 21 often suffer from severe, prolonged respiratory infections, which is an immune system defect. Anatomical and functional defects of the respiratory, cardiovascular, and digestive systems in children with Down syndrome may violate natural barriers and promote the development of infectious disease that should be taken into account when treating these patients. Congenital abnormalities of the immune system associated with trisomy 21 include: mild or moderate T and B cell lymphopenia with a significant decrease in native lymphocytes, mitogen-induced T cell proliferation, specific antibody response to immunization, and neutrophil chemotaxis defect. Today, the role of genes SOD1 and RCAN1 increased expression is proved in the development of primary immunodeficiency, deficiency of zinc and metabolic factors, which contribute to the immune disorders, increasing the risk of infection, and require further researches in Down syndrome.
Keywords
синдром Дауна; трисомія за 21-ю хромосомою; імунодефіцит; діти
синдром Дауна; трисомия по 21-й хромосоме; иммунодефицит; дети
Down syndrome; trisomy 21; immunodeficiency; children
For the full article you need to subscribe to the magazine.
Bibliography
1. Canfield M.A. National estimates and race/ethnic-specific variation of selected birth defects in the United States, 1990–2001 / M.A. Canfield, M.A. Honein, N. Yuskiv et al. // Birth Defects. Res. A. Clin. Mol. Teratol. — 2006. — № 76. — P. 747-756.
2. Selikowitz M. Health problems and health checks in school-aged children with Down syndrome / M. Selikowitz // J. Pediatr. Child Health. — 1992. — № 28. — P. 383-386.
3. Hilton J.M. Respiratory morbidity of hospitalized children with trisomy 21 / J.M. Hilton, D.A. Fitzgerald, D.M. Cooper // J. Pediatr. Child Health. — 1999. — № 35. — P. 383-386.
4. Jovanovic S.V. Biomarkers of oxidative stress are significantly elevated in Down syndrome / S.V. Jovanovic, D. Clements, K. MacLeod Free // Radic. Biol. Med. — 1998. — № 25. — P. 1044-1048.
5. Jovanka R.K. Screening for Primary Immunodeficiency Disea–ses: History, Current and Future / R.K. Jovanka, L.Hammarström // Practice J. Clin. Immunol. — 2018. — № 38. — P. 56-66.
6. Dorsey M. Newborn Screening for Severe Combined Immunodeficiency in the US: Current Status and Approach to Management / M. Dorsey, J. Puck // Int. J. Neonatal Screen. — 2017. — № 3. — P. 15.
7. Contestabile A. The GABAergic Hypothesis for Cognitive Disabilities in Down Syndrome / A. Contestabile, S. Magara, L. Cancedda // Front. Cell. Neurosci. — 2017. — № 11. — P. 54.
8. Kusters M.A. Both normal memory counts and decreased naïve cells favor intrinsic defect over early senescence of Down syndrome lymphocytes / M.A. Kusters, E.F. Gemen, R.H. Vestergen et al. // Pediatr. Res. — 2010. — № 67. — P. 557-562.
9. Crow Y.J. Primary immunodeficiency associated with chromosomal aberration — an ESID survey / Y.J. Crow // Orphanet Journal of Rare Diseases. — 2016. — № 11. — P. 110.
10. Alexander M. Morbidity and medication in a large population of individuals with Down syndrome compared to the general population / M. Alexander // Dev. Med. Child Neurol. — 2016. — № 58. — P. 246-254.
11. Walus M. Widespread cerebellar transcriptome changes in Ts65Dn down syndrome mouse model after lifelong running / M. Walus, E. Kida, A. Rabe et al. // Brain Res. — 2015. — № 296. — P. 35-46.
12. Bloemers B.L. High incidence of recurrent wheeze in children with Down syndrome with and without previous respiratory syncytial virus lower respiratory tract infection / B.L. Bloemers, A.M. van Furth, M.E. Weijerman et al. // Pedatric. Inf. Dis. J. — 2010. — № 29. — P. 39-42.
13. Van Horn G.S.R. Interferon at the crossroads of allergy and viral infections / G.S.R. van Horn, J.D.J. Farrar // Leukoc. Biol. — 2015. — № 98. — P. 185-194.
14. Tripathi S. Meta- and Orthogonal Integration of Influenza 'OMICs' Data Defines a Role for UBR4 in Virus Budding / Tripathi S. et al. // Cell Host Microbe. — 2015. — № 18. — P. 723-735.
15. Szklarczyk D. STRINGv10: protein-protein interaction networks, integrated over the tree of life / D. Szklarczyk et al. // Nucleic Acids Res. — 2015. — № 43. — P. 447-452.
16. Li L. The Implication and Significance of β2-microglobulin: A Conservative Multifunctional Regulator / Li L., M. Dong, X.G. Wang // Chin. Med. J. (Engl.). — 2016. — № 129. — P. 448.
17. Hirayasu K. Functional and genetic diversity of leukocyte immunoglobulin-like receptor and implication for disease associations / K. Hirayasu, H. Arase // J. Hum. Genet. — 2015. — № 60. — P. 703-708.
18. Wang X. Significant Association Between Fc Receptor-Like 3 Polymorphisms (−1901A> G and −658C>T) and Neuromyelitis Optica (NMO) Susceptibility in the Chinese Population / X. Wang et al. // Mol. Neurobiol. — 2016. — № 53. — P. 686-694.
19. Sjolin-Goodfellow H. The catalytic activity of the kinase ZAP-70 mediates basal signaling and negative feedback of the T cell receptor pathway / H. Sjolin-Goodfellow et al. // Sci. Signal. — 2015. — № 8. — P. 49.
20. Cuvelier G.D.E. Long-Term Outcomes of Hematopoietic Stem Cell Transplantation for ZAP70 Deficiency / G.D.E. Cuvelier, T.S. Rubin, D.A. Wall et al. // J. Clin. Immunol. — 2016. — № 36. — P. 713-724.
21. Chan A.Y. A novel human autoimmune syndrome caused by combined hypomorphic and activating mutations in ZAP-70 / A.Y. Chan et al. // J. Exp. Med. — 2016. — № 213. — P. 155-165.
22. Ferreira G.A. Atorvastatin reduced soluble receptors of TNF-alpha in systemic lupus erythematosus / G.A. Ferreira, A.L. Teixeira, D.C. Calderaro et al. // Clin. Exp. Rheumatol. — 2016. — № 34. — P. 42-48.
23. Sheikh S. Chronic aspiration without gastroesophageal reflux as a cause of chronic respiratory symptoms in neurologically normal infants / S. Sheikh, E. Allen, R. Shell et al. // Chest. — 2001. — № 120. — P. 1190-1195.
24. Weir K. Oropharyngeal aspiration and pneumonia in children / K. Weir, S. McMahon, L. Barry // Pediatr. Pulmonol. — 2007. — № 42. — P. 1024-1031.
25. Thurman J.M. Targeting the complement cascade: novel treatments coming down the pike / J.M. Thurman, M. Le Quintrec // Kidney Int. — 2016. — № 90. — P. 746-752.
26. Infectious Diseases Society of America (IDSA)/American Thoracic Society (ATS). 2016. Supplemental material for the management of adults with hospital-acquired and ventilator-associated pneumonia: 2016 clinical practice guidelines by the Infectious Diseases Society of America and the American Thoracic Society [Электронный ресурс] Organ_System. — 2017. Режим доступа: http://www.idsociety.org/Organ System/#Hospital AcquiredVentilatorAssociatedPneumoniaHAPVAP.
Similar articles

Authors: Крамарьов С.О.(1), Євтушенко В.В.(1), Євтушенко О.М.(2)
(1) — Національний медичний університет імені О.О. Богомольця, м. Київ, Україна
(2) — Київська міська дитяча клінічна лікарня № 2, м. Київ, Україна
"Actual Infectology" Том 8, №1, 2020
Date: 2020.02.28
Categories: Infectious diseases
Sections: Specialist manual


Authors:
Авраменко І.Ю., Львівський національний медичний університет імені Данила Галицького, Ковальський Р.Я., Гусак В.Ф., КЗ «Львівська обласна дитяча клінічна лікарня «ОХМАТДИТ»


"Child`s Health" 7 (42) 2012
Date: 2013.03.01
Categories: Pediatrics/Neonatology
Sections: Clinical researches