"Child`s Health" Том 13, №4, 2018
Screening for bronchial asthma as an effective method of its timely detection in school-age children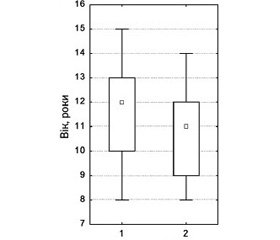 Authors:

Федорців О.Є.(1), Волянська Л.А.(1), Бурбела Е.І.(1), Поспіх Н.Ю.(2)
(1) — ДВНЗ «Тернопільський державний медичний університет імені Івана Горбачевського МОЗ України», м. Тернопіль, Україна
(2) — Тернопільська обласна дитяча лікарня, м. Тернопіль, Україна



Categories:

Pediatrics/Neonatology



Sections:

Clinical researches
Summary
Проведене епідеміологічне дослідження бронхіальної астми шляхом анкетування батьків і дітей міської та сільської місцевості Тернопільської області з метою вивчення поширеності, визначення та репрезентації основних маркерів захворюваності серед дітей старшого та середнього шкільного віку. Дітям проводилися детальний збір анамнезу, анкетне опитування, розроблене згідно з методологією ISAAC, та об'єктивне клінічне обстеження. Даний фрагмент епідеміологічних досліджень засвідчив, що показники поширення бронхообструктивних захворювань у регіоні (5,62 %) суттєво відрізняються від показників офіційної статистики (1,7 %).
Проведено эпидемиологическое исследование бронхиальной астмы путем анкетирования родителей и детей городской и сельской местности Тернопольской области с целью изучения распространенности, определения и репрезентации основных маркеров заболеваемости среди детей старшего и среднего школьного возраста. Детям проводились детальный сбор анамнеза, анкетный опрос, разработанный согласно методологии ISAAC, и объективное клиническое обследование. Данный фрагмент эпидемиологических исследований засвидетельствовал, что показатели распространения бронхообструктивных заболеваний в регионе (5,62 %) существенно отличаются от показателей официальной статистики (1,7 %).
An epidemiological study of bronchial asthma was carried out by questioning parents and children of urban and rural areas of the Ternopil region in order to evaluate the prevalence, determination and representation of the main markers of the disease among children of senior and secon­dary school age. Children underwent detailed history collection, survey developed according to the International Study of Asthma and Allergies in Childhood and objective clinical examination. This fragment of epidemiological studies has shown that the prevalence of bronchoobstructive diseases in the region (5.62 %) differs significantly from official statistics (1.7 %).
Keywords
бронхіальна астма; бронхообструктивні захворювання; діти
бронхиальная астма; бронхообструктивные заболевания; дети
bronchial asthma; bronchoobstructive diseases; children
For the full article you need to subscribe to the magazine.
Bibliography
1. Алергічний риніт та бронхіальна астма пилкової етіології у дітей: ретроспективне дослідження клінічного перебігу / С.М. Недельська, Д.О. Ярцева, В.І. Мазур та ін. // Современная педиатрия. — 2013. — № 1(49). — С. 24-30.
2. Global Initiative for asthma (GINA). Global strategy for Asthma. Management and Prevention. Revised 2009 update. — 2012. — Режим доступу: www.ginasthma.com/Guidelineitem.asp
3. Ущерб от бронхиальной астмы // Глобальная стратегия лечения и профилактики бронхиальной астмы. Пересмотр 2011 г.: пер. с англ. / Под ред. A.С. Белевского. — М.: Российское респираторное общество, 2012. — С. 18-19.
4. Федорцив О.Е. Эпидемиологическое исследование аллергопатологии среди украинских детей / О.Е. Федорцив, Н.Ю. Лучишин, Л.А. Волянская // Ребенок и общество: проблемы здоровья, развития и питания: Материалы IV Конгресса педиатров стран СНГ, 25–26 апреля 2012 г., г. Львов. — Львов, 2012. — С. 345-345.
5. Чернышева О.Е. Современные представления о патогенезе бронхиальной астмы у детей / О.Е. Чернышева // Здоровье ребенка. — 2014. — № 5. — С. 84-90.
6. Fedortsiv O.Y. Association of Familial and Environmental Factors with Asthma and Allergic Diseases in Ukrainian Children Population / O.Y. Fedortsiv, J.E. Zejda, N.Y. Luchyshyn, G.M. Brozek // International Journal of Medicine and Medical Research. — 2015. — Vol. 1, № 1. — Р. 12-16.