"Pain. Joints. Spine." Том 8, №2, 2018
Radiofrequency neuroablation in the treatment of pain syndrome of the sacroiliac joint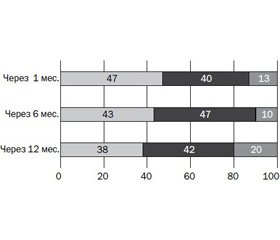 Summary
Актуальність. У формуванні больових синдромів попереково-крижової локалізації провідну роль відіграє дисфункція крижово-клубового зчленування. Радіочастотна нейроабляція крижово-клубового суглоба (ККС) може бути альтернативним методом лікування больового синдрому при неефективності внутрішньосуглобових ін'єкцій гормональних препаратів. Множинні дослідження підтверджують дані про значну ефективність радіочастотної нейроабляції нервів, що іннервують ККС, терміном на 6–12 міс. Мета дослідження: провести аналіз ефективності застосування радіочастотної нейроабляції крижово-клубових суглобів. Матеріали та методи. Проаналізовані дані 48 пацієнтів (12 чоловіків і 36 жінок) віком від 53 до 90 років, які пройшли амбулаторне лікування у відділенні реабілітації ДУ «Інститут травматології та ортопедії НАМН України». Результати. Було встановлено зниження больового синдрому за візуально-аналоговою шкалою (регресування болю на 3–10 балів) через 12 міс. у 83 % пацієнтів. За результатами оцінки якості життя (анкетування з використанням анкети Роланда-Морріса) через 12 міс. вірогідне поліпшення спостерігалося у 77,16 % пацієнтів. Аналізуючи результати лікування (за індексом одужання) через 12 міс. встановлено: відмінний результат — у 38 %, добрий — у 42 % пацієнтів, задовільний — у 20 % (серед них погіршення порівняно з вихідним станом відзначали 8,3 % пацієнтів). Висновки. Радіочастотна нейроабляція — ефективний метод лікування больового синдрому крижово-клубового суглоба. Ефект від процедури довготривалий (більше 12 міс.), при рецидиві больового синдрому можливе проведення повторних процедур.
Актуальность. В формировании болевых синдромов пояснично-крестцовой локализации большую роль играет дисфункция крестцово-подвздошных сочленений. Радиочастотная нейроабляция крестцово-подвздошного сустава (КПС) может быть альтернативным методом лечения болевого синдрома при неэффективности внутрисуставных инъекций гормональных препаратов. Множественные исследования подтверждают данные о значительной эффективности радиочастотной нейроабляции нервов, иннервирующих КПС, сроком на 6–12 мес. Цель исследования: провести анализ эффективности применения радиочастотной нейроабляции крестцово-подвздошных суставов. Материал и методы. Проанализированы данные 48 пациентов (12 мужчин и 36 женщин) в возрасте от 53 до 90 лет, которые прошли амбулаторное лечение в ГУ «Институт травматологии и ортопедии НАМН Украины». Результаты. Установлено снижение болевого синдрома по визуально-аналоговой шкале (регрессирование боли на 3–10 баллов) через 12 мес. у 83 % пациентов. По результатам оценки качества жизни (анкетирование с использованием анкеты Роланда — Морриса) через 12 мес. достоверное улучшение наблюдалось у 77,16 % пациентов. Анализируя результаты лечения (по индексу выздоровления) через 12 мес. установлено: отличный результат — у 38 %, хороший — у 42 % пациентов, удовлетворительный — у 20 % (среди них ухудшение по сравнению с исходным состоянием отмечали 8,3 % пациентов). Выводы. Радиочастотная нейроабляция — эффективный метод лечения болевого синдрома крестцово-подвздошного сустава. Эффект от процедуры долговременный (более 12 мес.), а при рецидиве болевого синдрома возможно проведение повторных процедур.
Background. Dysfunction of the sacroiliac joint (SJ) plays an important role in the formation of pain syndrome of lumbosacral localization. Radiofrequency neuroablation of SJ can be an alternative treatment in pain syndrome if intraarticular injections of hormonal drugs are ineffective. Multiple studies confirm data about the significant effectiveness of radiofrequency ablation of nerves innervating SJ for a period of 6–12 months. Purpose of the research: to analyze the effectiveness of radiofrequency neuroablation of SJ. Materials and methods. We conducted a prospective study of data in 48 patients (12 men and 36 women) aged 53 to 90 years, who were treated in the outpatient department of State Institution "Institute of Traumato­logy and Orthopaedics of the NAMS of Ukraine". Results. A decrease in pain syndrome according to the Visual Analogue Scale (regression of pain by 3–10 points) was established 12 months after in 83 % of patients. Significant improvement was observed in 77 % of persons according to the results of quality of life assessment (Roland-Morris questionnaire) in 12 months. Analysis of treatment outcomes (by the index of recovery) 12 months after revealed: excellent results in 38 %, good — in 42 % of patients, satisfactory — in 20 % (among them — deterioration compared with baseline was noted in 8.3 % of cases). Conclusions. Radiofrequency neuroablation is an effective method for treating pain in the sacroiliac joint. The effect of the procedure is long-term (more than 12 months), and when relapse of the pain syndrome occurs, it is possible to repeat procedures.
Keywords
радіочастотна нейроабляція; синдром крижово-клубового суглоба
радиочастотная нейроабляция; синдром крестцово-подвздошного сустава
radiofrequency neuroablation; sacroiliac joint syndrome
For the full article you need to subscribe to the magazine.
Bibliography
Chernenko OA. Treatment of pain musculoskeletal lumbar syndromes. RMJ. 2000;(10):408-10 (in Russian).
Liliang PC, Lu K, Weng HC, Liang CL, Tsai YD, Chen HJ. The therapeutic efficacy of sacroiliac joint blocks with triamcinol one acetonide in the treatment of sacroiliac joint dysfunction without spondyloarthropathy. Spine (Phila Pa 1976). 2009 Apr 20;34(9):896-900. doi: 10.1097/BRS.0b013e31819e2c78.
Cohen SP, Strassels SA, Kurihara C, et al. Outcome predictors for sacroiliac joint (lateral branch) radiofrequency denervation. Reg Anesth Pain Med. 2009 May-Jun;34(3):206-14. doi: 10.1097/AAP.0b013e3181958f4b.
Hirabayashi К, Miyakawa J, Satomi K. Operative results and postoperative progression of ossification among patients with ossification of cervical posterior longitudinal ligament. Spine (Phila Pa 1976). 1981 Jul-Aug;6(4):354-64. doi: 10.1097/00007632-198107000-00005.
Benzon H, Rathmell J, Wu C, Turk D, Argoff C, Hurley R. Practical Management of Pain, 5th ed. Mosby; 2014. 1144 p.
Gevargez A, Groenemeyer D, Schirp S, Braun M. CT-guided percutaneous radiofrequency denervation of the sacroiliac joint. Eur Radiol. 2002 Jun;12(6):1360-5. doi: 10.1007/s00330-001-1257-2.
Cohen SP, Abdi S. Lateral branch blocks as a treatment for sacroiliac joint pain: a pilot study. Reg Anesth Pain Med. 2003 Mar-Apr;28(2):113-9. doi: 10.1053/rapm.2003.50029.
Yin W, Willard F, Carreiro J, Dreyfuss P. Sensory stimulation guided sacroiliac join radiofrequency neurotomy: technique based on neuroanatomy of the dorsal sacral plexus. Spine (Phila Pa 1976). 2003 Oct 15;28(20):2419-25. doi: 10.1097/01.BRS.0000085360.03758.C3.
Karaman H, Kavak GO, Tufek A. Cooled radiofrequency application for treatment of sacroiliac joint pain. Acta Neurochir (Wien). 2011 Jul;153(7):1461-8. doi: 10.1007/s00701-011-1003-8.
Patel N, Gross A, Brown L, Gekht G. A randomi–zed, placebo-controlled study to assess the efficacy of late–ral branch neurotomy for chronic sacroiliac joint pain. Pain Med. 2012 Mar;13(3):383-98. doi: 10.1111/j.1526-4637.2012.01328.x.
Cohen SP, Hurley RW, Buckenmaier CC 3rd, Kurihara C, Morlando B, Dragovich A. Randomized placebo-controlled study evaluating lateral branch radiofrequency denervation for sacroiliac joint pain. Ane–sthesiology. 2008 Aug;109(2):279-88. doi: 10.1097/ALN.0b013e31817f4c7c.
Maas ET, OsteloRW, Niemisto L, et al. Radiofrequency denervation for chronic low back pain. Cochrane Database Syst Rev. 2015 Oct 23;(10):CD008572. doi: 10.1002/14651858.CD008572.pub2.