"Pain. Joints. Spine." Том 8, №3, 2018
Use of somatosensory memory correction for the prevention of phantom pain after lower limb amputation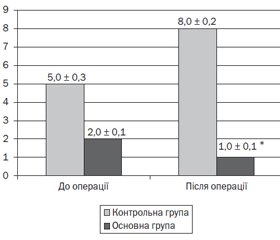 Summary
Актуальність. Одним із провідних синдромів, що ускладнює післяопераційний період після ампутації кінцівок, є наявність фантомно-больового синдрому (ФБС). За даними літературних джерел, його частота становить 30–35 % від загального числа пацієнтів з ампутацією, причини розвитку на сьогодні точно не встановлені. Важливим фактором, що сприяє розвитку ФСБ, є постійні больові імпульси в до- та інтраопераційному періодах, які, в свою чергу, призводять, за концепцією соматосенсорної пам'яті, до формування стійкого больового ефекту в післяопераційному періоді. Мета дослідження: визначити ефективність використання епідуральної катетерної анестезії з метою профілактики розвитку фантомного болю після ампутації нижніх кінцівок. Матеріали та методи. Проведений аналіз лікування 38 хворих, які перебували на стаціонарному лікуванні в Луганській обласній клінічній лікарні в період 2009–2014 рр. та яким виконували ампутацію нижньої кінцівки на різних рівнях. Усі хворі були поділені на 2 групи (по 19 осіб) залежно від типу анестезіологічного забезпечення. Контрольну групу становили хворі, які отримували загальну анестезію. Пацієнти основної групи отримували лікування відповідно до концепції соматосенсорної пам'яті. Результати. Проведене дослідження доводить, що лікувальна стратегія, що має в своєму складі концепцію соматосенсорної пам'яті, дозволяє суттєво зменшити частоту розвитку, інтенсивність та тривалість ФБС у пацієнтів після ампутації нижніх кінцівок. Висновки. Метод використання епідуральної катетерної анестезії в до- та інтраопераційному періодах може бути рекомендований як основний у профілактиці ФБС після ампутації кінцівок та потребує більш широкого використання в Україні.
Актуальность. Одним из ведущих синдромов, который осложняет послеоперационный период после ампутации конечностей, является наличие фантомно-болевого синдрома (ФБС). По данным литературных источников, его частота составляет 30–35 % от общего числа пациентов с ампутацией, а причины в настоящее время точно не установлены. Важным фактором, способствующим развитию ФСБ, являются постоянные болевые импульсы в до- и интраоперационном периодах, что, в свою очередь, приводит, согласно концепции соматосенсорной памяти, к формированию стойкого болевого эффекта в послеоперационном периоде. Цель исследования: определить эффективность использования эпидуральной катетерной анестезии с целью профилактики развития фантомной боли после ампутации нижних конечностей. Материалы и методы. Проведен анализ лечения 38 больных, находившихся на стационарном лечении в Луганской областной клинической больнице в период 2009–2014 гг., которым выполнялась ампутация нижней конечности на разных уровнях. Все больные были разделены на 2 группы (по 19 человек) в зависимости от типа анестезиологического обеспечения. Контрольную группу составили больные, получавшие общую анестезию. Основная группа пациентов получала лечение в соответствии с концепцией соматосенсорной памяти. Результаты. Проведенное исследование доказывает, что лечебная стратегия, имеющая в своем составе концепцию соматосенсорной памяти, позволяет существенно уменьшить частоту развития, интенсивность и продолжительность ФБС у пациентов с прооперированными конечностями. Выводы. Метод использования эпидуральной катетерной анестезии в до- и интраоперационном периодах может быть рекомендован как основной в профилактике фантомно-болевого синдрома после ампутации конечностей и требует более широкого использования в Украине.
Background. Phantom pain syndrome (PPS) is one of the leading syndromes that complicates the postoperative period after limb amputation. Literature data indicate that it occurs in 30–35 % of the total number of patients with amputation; however, the causes are not exactly established. An important factor for PPS development is the constant pain impulses in the pre- and intraoperative period which, in turn, lead to the formation of a persistent pain in the postoperative period according to the concept of somatosensory memory. Aim: to determine the effectiveness of epidural catheter anesthesia for the prevention of phantom pain after lower extremity amputation. Materials and methods. An analysis was performed of the data in 38 patients who were on in-patient treatment at the Luhansk Regional Clinical Hospital in 2009–2014 and underwent lower limb amputation at different levels. All patients were divided into 2 groups (19 patients each), depending on the type of anesthesia. The control group consisted of patients who received general anesthesia. The main group of patients received treatment in accordance with the concept of somatosensory memory. Results. The results of this study prove that the treatment strategy which includes the concept of somatosensory memory allows reducing significantly the incidence, severity and duration of PPS in patients after lower limb amputation. Conclusions. The method of epidural catheter anesthesia in pre- and intraoperative periods can be recommended for the prevention of phantom pain syndrome after lower limb amputation and requires wider use in Ukraine.
Keywords
ампутація; фантомно-больовий синдром; профілактика, соматосенсорна пам'ять, епідуральна катетерна анестезія
ампутация; фантомно-болевой синдром; профилактика; соматосенсорная память; эпидуральная катетерная анестезия
amputation; phantom pain syndrome; prevention; somatosensory memory; epidural catheter anesthesia
For the full article you need to subscribe to the magazine.
Bibliography
Pinchuk OI, Konovalenko SO. Phantom pain is one of the major problems of postponed amputation. Nursing. 2017;4:42-44 (In Ukrainian).
Ershova IB, Ivanov AS, Shalimov SA, Parish DV, Ustichenko EP. Phantom-pain syndrome — a real problem facing a person with an amputated limb. Tavrichesky medico-biological bulletin. 2012;3(15):97-99 (In Russian).
Ivanov AS, Shalimov SA, Prichod DV, Skida IA, Ankudinov SS, Galuzinsky DE. The pathogenesis of phantom pain is the first step towards understanding the problem. The pathology is pathological. 2011;4(6):18-23 (In Russian).
Ivanov AS. Prevention of phantom pain using the concept of somato-sensory memory. "Ability", All-Ukrainian Journal of Young Scientists. 2012;14:251 (In Ukrainian).
Ovechkin AM, Gnezdilov AV, Reshetnyak VK. Features of pharmacotherapy of various forms of flow of phantom-pain syndrome. Anaesthesiology and Reanimatology. 1995;2:56-59 (In Russian).
Fieldsen D, Wood S. Dealing with phantom limb pain after amputation. Nurs Times. 2011;1(107):21-23. PMID:21313939.
Shabanov VA, Isagulyan ED. Neuromodulation — modern methods of pain surgery. Pacific Medical Journal. 2008;1:16-21 (In Russian).
Cherkes-Zade DI, Kamenev YuF [Foot Surgery]. Moskow: Medicine; 2002.328 p. (In Russian).
Rasulich L, Ivanovich S, Bascarerevich V, Rasulich L. Phantom pain and posttravmatic pain condition. Acta Chir. Jugosl. 2004;4(51):71-80.
Manchikanti L, Singh V. Managing phantom pain. Pain Physician. 2004;3(7):365-375.
Bosmans JC, Geertzen JH, Post WJ. Factors associated wich phantom limb pain: a 31/2 year prospective study. Clin Rheabil. 2010;5(24):444-453. DOI: 10.1177/ 026921550930645.
Osipova HA, Abramov YuB, Efimova NV, Rybakova LV, Sergienko SI. An objective assessment of the analgesic effect of fentanyl and some factors affecting the effectiveness of analgesic. Anaesthesiology and Reanimatology. 1984;2:44-48 (In Russian).
Duplenko YuK. [Aging. Essays on the development of the problem]. Leningrad: The Science; 1985.192 р. (In Russian).
Hawker GA, Mian S, Kendzerska T, French M. Measures of adult pain. Arthritis Care Res. (Hoboken). 2011;11:240-252. PMID: 22588748, DOI: 10.1002/acr.20543.
Melzack R. The McGill Pain Questionnaire: major properties and scoring methods. Pain. 1975;1:277-299.
Similar articles


Authors:
Дзюба Д.О., Недашківський С.М. - ДУ «Національна медична академія післядипломної освіти ім. П.Л. Шупика», м. Київ, Україна; Злочевський О.М. - КЗ КОР «Київська обласна клінічна лікарня», м. Київ, Україна


"Emergency medicine" 3 (74) 2016
Date: 2016.06.16
Categories: Medicine of emergency
Sections: Clinical researches


Authors:
Синицин М.М. Клінічна лікарня «Феофанія» Державного управління справами, м. Київ, Україна Національна медична академія післядипломної освіти ім. П.Л. Шупика, м. Київ, Україна


"Emergency medicine" 2 (81) 2017
Date: 2017.05.15
Categories: Medicine of emergency
Sections: Clinical researches


Authors: Гур'єв С.О.(1), Лисун Д.М.(1), Кушнір В.А.(1), Сацик С.П.(1), Кураченко І.П.(2)
1 - ДЗ «Український науково-практичний центр екстреної медичної допомоги та медицини катастроф МОЗ України», м. Київ, Україна
2 - Дніпровський військовий госпіталь, м. Дніпро, Україна
"Тrauma" Том 19, №4, 2018
Date: 2018.09.25
Categories: Traumatology and orthopedics
Sections: Clinical researches