International journal of endocrinology Том 14, №6, 2018
Do we need a diagnosis of metabolic syndrome?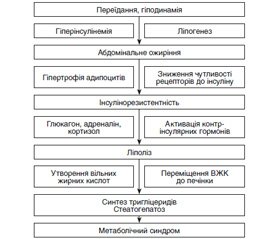 Authors:

Боцюрко В.І., Дідушко О.М., Костіцька І.О.
Івано-Франківський національний медичний університет, м. Івано-Франківськ, Україна



Categories:

Endocrinology



Sections:

Specialist manual
Summary
У статті розглядаються різні підходи щодо суті метаболічного синдрому з точки зору експертів Державної програми з контролю холестерину (США) і Всесвітньої організації охорони здоров'я та верифікації цього діагнозу згідно з їх критеріями. Як компроміс наводяться критерії Міжнародної діабетичної федерації 2005 року, які на сьогодні є загальноприйнятими. Розглядаються сучасні погляди на патогенез метаболічного синдрому, акцентується увага на його наслідках. Ставиться питання про ключову роль сімейного лікаря в діагностиці і лікуванні цього захворювання у світлі проведення реформи охорони здоров'я в Україні. Особлива увага звертається на кодування захворювання для статистичної звітності відповідно до нового 11-го перегляду Міжнародної класифікації хвороб 2018 року.
В статье рассматриваются различные подходы относительно сути метаболического синдрома с точки зрения экспертов Государственной программы по контролю холестерина (США) и Всемирной организации здравоохранения, а также верификации этого диагноза согласно их критериям. В качестве компромисса приводятся критерии Международной диабетической федерации 2005 года, которые на сегодняшний день являются общепринятыми. Рассматриваются современные взгляды на патогенез метаболического синдрома, акцентируется внимание на его последствиях. Ставится вопрос о ключевой роли семейного врача в диагностике и лечении данного заболевания в свете проведения реформы здравоохранения в Украине. Особое внимание обращается на кодирование заболевания для статистической отчетности в соответствии с новым 11-м пересмотром Международной классификации болезней 2018 года.
The article presents different approaches to defining the metabolic syndrome from viewpoint of the experts of the National Cholesterol Education Program (USA), the World Health Organization and verifying this diagnosis according to their criteria. As a compromise, the 2005 International Diabetes Federation criteria being widely accepted nowadays are presented. Modern views on the pathogenesis of the metabolic syndrome are considered and its effects are emphasized. The article addresses the question of the leading role of family physicians in the diagnosis and treatment of this disease in light of healthcare reform in Ukraine. Particular attention is paid to the disease coding for statistical reporting in accordance with the 11th Revision of the International Classification of Diseases (2018).
Keywords
метаболічний синдром; патогенез; критерії діагностики; кодування хвороби
метаболический синдром; патогенез; критерии диагностики; кодирование заболевания
metabolic syndrome; pathogenesis; diagnostic criteria; disease coding
For the full article you need to subscribe to the magazine.
Bibliography
1. Reaven G. The metabolic syndrome or the insulin resistance syndrome? Different names, different concepts, and different goals // Endocrinol Metab. Clin. North Am. — 2004. — Vol. 33. — P. 283-303.
2. Reaven G. Insulin resistance and coronary heart disease in nondiabetic individuals // Arterioscler. Thromb. Vasc. Biol. — 2012. — Vol. 32. — P. 1754-1759.
3. Weiss R., Bremer A.A., Lustig R.H. What is metabolic syndrome, and why are children getting it? // Ann. N.Y. Acad. Sci. — 2013. — Vol. 1281. — P. 123-140.
4. Tchernof A., Després J.P. Pathophysiology of human visceral obesity: an update // Physiol. Rev. — 2013. — Vol. 93. — P. 359-404.
5. Roberts C.K., Hevener A.L., Barnard R.J. Metabolic Syndrome and Insulin Resistance: Underlying Causes and Modification by Exercise Training // Compr. Physiol. — 2013. — Vol. 3(1). — P. 1-58.
6. Ishii S., Karlamangla A.S., Bote M. et al. Gender, obesity and repeated elevation of C-reactive protein: data from the CARDIA cohort // PLoS One. — 2012. https://doi.org/10.1371/journal.pone.0036062.
7. Kaur J. A comprehensive review on metabolic syndrome // Cardiol. Res. Pract. — 2014. https://doi.org/10.1155/2014/ 943162.
8. Mentoor I., Kruger M., Nell T. Metabolic syndrome and body shape predict differences in health parameters in farm working women // BMC Public Health. — 2018. — Vol. 18. — P. 453. https://doi.org/10.1186/s12889-018-5378-9.
9. Marmot M. Social justice, epidemiology and health inequalities // European Journal of Epidemiology. — 2017. — Vol. 32(7). — P. 537-546.
10. Prasad D.S., Kabir Z., Dash A.K., Das B.C. Prevalence and risk factors for metabolic syndrome in Asian Indians: a community study from urban eastern India // J. Cardiovasc. Dis. Res. — 2012. — Vol. 3. — P. 2014-11.
11. Simo R., Saez-Lopez C., Barbosa-Desongles A. et al. Novel insights in SHBG regulation and clinical implications // Trends Endocrinol. Metab. — 2015. — Vol. 26. — P. 376-83.
12. Vancampfort D., Correll C.U., Wampers M. et al. Me–tabolic syndrome and metabolic abnormalities in patients with major depressive disorder: A meta-analysis of prevalence's and moderating variables // Psychol. Med. — 2014. — Vol.44. — P. 2017-2028.
Similar articles

Authors: Сіренко Ю.М., Рековець О.Л., Свіщенко Є.П., Єна Л.М., Торбас О.О., Кушнір С.М., Гулкевич О.В., Мудрук І.В.
ДУ «ННЦ «Інститут кардіології імені академіка М.Д. Стражеска» НАМН України», м. Київ, Україна
ДУ «Інститут геронтології імені Д.Ф. Чеботарьова» НАМН України, м. Київ, Україна
"Hypertension" 2 (52) 2017
Date: 2017.05.16
Categories: Cardiology
Sections: Clinical researches


Authors: Рековець О.Л., Сіренко Ю.М., Савицький С.Ю., Tорбас O.O., Кушнір С.М., Пономарева Г.В., Примак Г.Ф.
ДУ «ННЦ «Інститут кардіології імені академіка М.Д. Стражеска» НАМН України», м. Київ, Україна
"Hypertension" 6 (56) 2017
Date: 2018.01.23
Categories: Cardiology
Sections: Clinical researches

Authors:
Ю.М. Сіренко, О.Л. Рековець, Є.А. Павлюк, С.Ю. Савицький, Г.Ф. Примак, А.С. Ващилко, Г.В Пономарьова, ННЦ «Інститут кардіології імені академіка М.Д. Стражеска» АМН України, м. Київ


"Hypertension" 2(2) 2008
Date: 2008.12.10
Categories: Family medicine/Therapy, Cardiology, Endocrinology, Therapy
Sections: Specialist manual