Ukrainian journal of surgery 2 (37) 2018
Diagnosis of esophageal damage with the development of acute purulent mediastinitis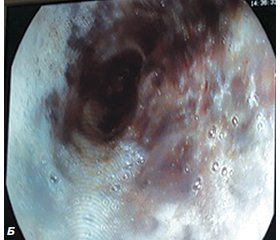 Authors:

Сніжко С.С.
Івано-Франківський національний медичний університет, м. Івано-Франківськ, Україна



Categories:

Surgery



Sections:

Clinical researches
Summary
Мета дослідження: підвищити якість діагностики перфорацій стравоходу (ПС) та гострого гнійного медіастиніту (ГГМ) із застосуванням інструментальних методів діагностики. Матеріали та методи. У 2000–2018 рр. на лікуванні у відділенні торакальної хірургії Івано-Франківської обласної лікарні перебували 92 хворі із ПС, із них ГГМ діагностований у 33 (35,8 %). Результати. Для вирішення поставлених завдань були проаналізовані результати діагностики із застосуванням рентгенографії органів грудної клітки, спіральної комп'ютерної томографії, рентгенконтрастного обстеження стравоходу, езофагогастродуоденоскопії, фібробронхоскопії, ультразвукової діагностики клітковини шиї, верхнього середостіння, плевральних синусів, серця та перикарду. Висновки. Використання комплексу інструментальних досліджень є вирішальним фактором у вірній діагностиці гострого гнійного медіастиніту. Найбільш інформативним методом для діагностики гострого гнійного медіастиніту є спіральна комп'ютерна томографія, діагностична цінність якої становить 100 %. Застосування додаткових методів дослідження, а саме ренгенконтрастного обстеження стравоходу, ультразвукового дослідження, фібробронхоскопії, дозволяє підтвердити діагноз гострого гнійного медіастиніту та визначити характер ускладнень, що є визначальним у виборі подальшої хірургічної тактики лікування.
Цель исследования: повысить качество диагностики перфораций пищевода (ПП) и острого гнойного медиастинита (ОГМ) с применением инструментальных методов диагностики. Материалы и методы. В 2000–2018 гг. на лечении в отделении торакальной хирургии Ивано-Франковской областной больницы находились 92 больных с ПП, из них ОГМ диагностирован у 33 (35,8 %). Результаты. Для решения поставленных задач были проанализированы результаты диагностики с применением рентгенографии органов грудной клетки, спиральной компьютерной томографии, рентгенконтрастного обследования пищевода, эзофагогастродуоденоскопии, фибробронхоскопии, ультразвуковой диагностики клетчатки шеи, верхнего средостения, плевральных синусов, сердца и перикарда. Выводы. Использование комплекса инструментальных исследований является решающим фактором в верной диагностике острого гнойного медиастинита. Наиболее информативным методом для диагностики острого гнойного медиастинита является спиральная компьютерная томография, диагностическая ценность которой составляет 100 %. Применение дополнительных методов исследования, а именно ренгенконтрастного обследования пищевода, ультразвукового исследования, фибробронхоскопии, позволяет подтвердить диагноз острого гнойного медиастинита и определить характер осложнений, является определяющим в выборе дальнейшей хирургической тактики лечения.
The purpose of the study: to improve the quality of diagnosis of esophageal perforations and acute purulent mediastinitis using instrumental diagnostic methods. Materials and methods. In 2000–2018, 92 patients with esophageal perforations were treated at the department of thoracic surgery of Ivano-Frankivsk Regional Hospital, 33 (35.8 %) of them were diagnosed with acute purulent mediastinitis. Results. To solve the taska, the results of the diagnosis were analyzed using chest X-ray, spiral computed tomography, esophagogram, esophagogastroduodenoscopy, fiber-optic bronchoscopy, ultrasound of the neck, upper mediastinum, pleural sinuses, heart and pericardium. Conclusions. The use of a set of instrumental researches is a decisive factor in the correct diagnosis of acute purulent mediastinitis. The most informative method for the diagnosis of acute purulent mediastinitis is spiral computed tomography with a diagnostic value of 100 %. The use of additional research methods, namely esophagogram, ultrasound, fiber-optic bronchoscopy, can confirm the diagnosis of acute purulent mediastinitis and determine the nature of complications, which is decisive in choosing further surgical treatment.
Keywords
перфорація стравоходу; медіастиніт; діагностика перфорацій стравоходу
перфорация пищевода; медиастинит; диагностика перфорации пищевода
esophageal perforation; mediastinitis; diagnosis of esophageal perforations
For the full article you need to subscribe to the magazine.
Bibliography
1. Canbay G., Bertrand X. Mediastinitis on oesphagal perforation // Rev. Med. Liege. — 2017 Mar. — 72(3). — Р. 121-125.
2. Karagyozov P., Minchev T., Tishkov I., Plachkov I. Hybrid therapy of late diagnosed esophageal perforation, complicated by mediastinitis and bilateral empyema // Endoscopy. — 2017 Feb. — 49(S 01). — E127-E128. doi: 10.1055/s-0043-103947. Epub 2017 Mar 22.
3. Park I.H., Lim H.K., Song S.W., Lee K.H. Perforation of esophagus and subsequent mediastinitis following mussel shell ingestion // J. Thorac. Dis. — 2016 Aug. — 8(8). — E693-7. doi: 10.21037/jtd.2016.07.88.
4. Дробязгин E.A., Чикинев Ю.В., Аникина М.С. Диагностика и лечение пациентов с инструментальной перфорацией пищевода // Вестник хирургии. — 2016. — № 4. — С. 64-67.
5. Toru Nakano, Ko Onodera, Hirofumi Ichikawa, Takashi Kamei. Thoracoscopic primary repair with mediastinal drainage is a viable option for patients with Boerhaave's syndrome // J. Thorac. Dis. — 2018 Feb. — 10(2). — Р. 784-789.
6. Шевчук І.М., Сніжко С.С. Аналіз ускладнень гострого гнійного медіастиніту // Клін. хірургія. — 2017. — № 1. — С. 36-38.
7. Soppimath S.S., Chiniwalar S., Hartimath B., Padasali P. Endoscopic mediastinal debridement for mediastinitis resulting from upper esophageal perforation // Endoscopy. — 2016. — 48(Suppl. 1). — E168-9. doi: 10.1055/s-0042-105562. Epub 2016 Apr 29.
8. Krüger M., Decker S., Schneider J.P., Haverich A., Schega O. Surgical treatment of acute mediastinitis // Chirurg. — 2016 Jun. — 87(6). — Р. 478-85.
9. Nirula R. Esophageal perforation // Surg. Clin. North Am. — 2014 Feb. — 94(1). — Р. 35-41. doi: 10.1016/j.suc.2013.10.003. Epub 2013 Nov 5.
10. Markar S.R., Mackenzie H., Wiggins T., Askari A., Faiz O., Zaninotto G., Hanna G.B. Management and Outcomes of Esophageal Perforation: A National Study of 2,564 Patients in England // Am. J. Gastroenterol. — 2015 Nov. — 110(11). — Р. 1559-66. doi: 10.1038/ajg.2015.304. Epub 2015 Oct 6.
11. Kim J.E., Ryoo S.M., Kim Y.J., Lee J.S., Ahn S., Seo D.W., Sohn C.H., Ryu J.M., Kim W.Y. Incidence and Clinical Features of Esophageal Perforation Caused by Ingested Foreign Body // Korean J. Gastroenterol. — 2015 Nov. — 66(5). — Р. 255-60. doi: 10.4166/kjg.2015.66.5.255.
Similar articles

Authors: Шапринський В.О., Кривецький В.Ф., Сулейманова В.Г., Мітюк Б.О., Hаср Закі Наджіб
Вінницький національний медичний університет ім. М.І. Пирогова, м. Вінниця, Україна
Ukrainian journal of surgery 1 (32) 2017
Date: 2017.05.12
Categories: Surgery
Sections: Clinical researches


Authors: Шевчук І.М., Сніжко С.С., Шевчук М.Г.
Івано-Франківський національний медичний університет, м. Івано-Франківськ, Україна
Ukrainian journal of surgery 4 (35) 2017
Date: 2018.01.12
Categories: Surgery
Sections: Clinical researches


Authors: Шапринський В.О.(1), Кривецький В.Ф.(1), Сулейманова В.Г.(1), Мітюк Б.О.(1), Хусcейн М.Б.(1), Кедик О.А.(2)
(1) — Вінницький національний медичний університет ім. М.І. Пирогова, м. Вінниця, Україна
(2) — Вінницька обласна клінічна лікарня ім. М.І. Пирогова, м. Вінниця, Україна
Ukrainian journal of surgery 2 (37) 2018
Date: 2018.12.05
Categories: Surgery
Sections: Clinical researches


Authors:
Няньковський С.Л.(1), Городиловська М.І.(1), Іванців В.А.(1), Бойко О.І.(2) (1) — Львівський національний медичний університет імені Данила Галицького, м. Львів, Україна (2) — Львівське обласне патологоанатомічне бюро, м. Львів, Україна


"Child`s Health" 8 (76) 2016
Date: 2017.02.02
Categories: Pediatrics/Neonatology
Sections: Clinical researches