Ukrainian journal of surgery 2 (37) 2018
Studying the results of CT myelography application in patients with lumbar spinal stenosis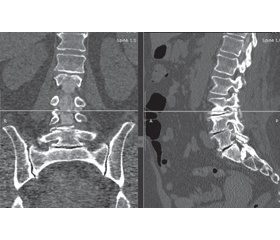 Authors:

Петренко Д.Є., Куц М.К., Воробьов В.В.
Навчально-науковий медичний комплекс «Університетська клініка» ХНМУ, м. Харків, Україна



Categories:

Surgery



Sections:

Clinical researches
Summary
Актуальність. З метою діагностики та визначення рівнів компресії нервових структур, що знаходяться в хребтовому каналі, протягом багатьох років застосовували КТ-мієлографію, але із значним впровадженням у клінічну практику магнітно-резонансної томографії частота застосування комп'ютерної томографії значно знизилась. Існує необхідність у проведенні клінічного дослідження, що верифікує ефектівність застосування КТ-мієлографії в клінічній практиці. Мета дослідження: визначити можливість застосування КТ-мієлографії шляхом дослідження клінічних результатів хірургічної декомпресії у хворих на стеноз поперекового відділу хребтового каналу. Матеріали та методи. Було відібрано 19 хворих зі стенозом поперекового відділу хребтового каналу, яким ділянки хірургічної декомпресії хребта визначали за допомогою КТ-мієлографії. Оцінювали скарги, показники візуально-аналогової шкали (ВАШ) та ODI до хірургічного втручання, через 3 доби та рік після лікування. Результати. Середній доопераційний показник інтенсивності больового синдрому у хворих становив 70,5 бала, на 3-тю добу після хірургічного втручання показник ВАШ становив 46,6 бала, а через рік — 26,8 бала. Показники ODI становили: до хірургічного втручання — 51,9 бала, на 3-тю добу після лікування — 36,3 бала, а через рік — 38,9 бала. Висновки. На підставі проведеного дослідження нами встановлено, що застосування КТ-мієлографії у хворих на стеноз поперекового відділу хребтового каналу з метою визначення рівнів хірургічної декомпресії призводить до задовільних результатів лікування.
С целью диагностики и определения уровней компрессии нервных структур, находящихся в позвоночном канале, на протяжении многих лет применяли КТ-миелографию, но с широким внедрением в клиническую практику магнитно-резонансной томографии частота применения компьютерной томографии значительно снизилась. Существует необходимость в проведении клинического исследования, определяющего эффективность применения КТ-миелографии в клинической практике. Цель исследования: определить возможность применения КТ-миелографии путем исследования клинических результатов хирургической декомпрессии у больных со стенозом поясничного отдела позвоночного канала. Материалы и методы. Были отобраны 19 больных со стенозом поясничного отдела позвоночного канала, которым участки хирургической декомпрессии позвоночника определяли с помощью КТ-миелографии. Оценивали жалобы, показатели визуально-аналоговой шкалы (ВАШ) и ODI до хирургического вмешательства, через 3 суток и один год после лечения. Средний дооперационный показатель интенсивности болевого синдрома у больных составил 70,5 балла, на 3-и сутки после хирургического вмешательства показатель ВАШ составлял 46,6 балла, а через год — 26,8 балла. Показатели ODI составили: до хирургического вмешательства — 51,9 балла, на третьи сутки после лечения — 36,3 балла, а через год — 38,9 балла. Выводы. На основании проведенного исследования нами установлено, что применение КТ-миелографии у больных со стенозом поясничного отдела позвоночного канала с целью определения уровней хирургической декомпрессии приводит к удовлетворительным результатам лечения.
To detect and identify the levels of spinal compression, computed tomographic (CT) myelography has been used for many years, but with the widespread introduction of magnetic resonance imaging into clinical practice, the frequency of CT use has significantly decreased. There is a need for a clinical trial that determines the effectiveness of CT myelography in clinical practice. Objective: to determine the reliability of CT myelography by examining the clinical results of surgical decompression in patients with lumbar spinal stenosis. Materials and methods. Nineteen patients with lumbar spinal stenosis were included in the study, and the areas of surgical decompression of the spine were determined by CT myelography. Visual analogue scale and Oswestry disability index were assessed preoperatively, 3 days and one year after the treatment. Results. The average preoperative rate of pain syndrome in patients was 70.5 points, on the third day after surgery, visual analogue scale was 46.6, and a year later — 26.8 points. The study of Oswestry disability index showed the following: before surgery — 51.9, on the third day after intervention — 36.3, and in a year — 38.9 points. Conclusions. The study demonstrated that the use of CT myelography in patients with lumbar spinal stenosis in order to determine the levels of surgical decompression leads to satisfactory results of the treatment.
Keywords
КТ-мієлографія; стеноз поперекового відділу хребтового каналу; хірургічна декомпресія
КТ-миелография; стеноз поясничного отдела позвоночного канала; хирургическая декомпрессия
computed tomographic myelography; lumbar spine stenosis; surgical decompression
For the full article you need to subscribe to the magazine.
Bibliography
1. Verbiest H. A radicular syndrome from developmental narrowing of the lumbar vertebral canal / Verbiest H. // J. Bone Joint Surg Br. — 1954. — Vol. 36. — P. 230-237.
2. Epstein J.A. Lumbar nerve root compression at the intervertebral foramina caused by arthritis of the posterior facet / Epstein J.A., Epstein B.S., Lavine L.S. // Neurosurg. — 1973. — Vol. 39. — P. 362-369.
3. Kalichman C. Spinal stenosis prevalence and association with symptoms: the framingham study / Kalichman C., Cole R., Kim D.H. // Spine. — 2009. — Vol. 9. — P. 545-550.
4. Продан А.И. Стеноз поясничного отдела позвоночного канала: Автореф. дис… д-ра мед. наук. — Х., 1994. — 40 с.
5. ACR Guidelines and Standards Committee and ASNR Guidelines Committee: Practice Guideline for the Performance of Myelography and Cisternography (amended 2009) // http://www.acr.org/SecondaryMainMenuCategories/quality_safety/guidelines/dx/head-neck/myelography.aspx
6. Продан А.И. Дегенеративные заболевания позвоночника. Семиотика. Классификация. Диагностика / А.И. Продан, В.А. Радченко, Н.А. Корж. — Х.: Контраст, 2007. — Т. 1. — 272 с.
7. Chiro G. Computed tomography of spinal cord after lumbar intrathecal introduction of metrizamide (computer assisted myelography) / Chiro G., Schellinger D. // Radiology. — 1976. — Vol. 120. — P. 101-104.
8. Naganawa T. Comparison of magnetic resonance imaging and computed tomogram-myelography for evaluation of cross sections of cervical spinal morphology / Naganawa T., Miyamoto K., Ogura H., Suzuki N. // Spine. — 2011. — Vol. 36. — P. 50-56.
9. Bartynski W.S. Lumbar root compression in the lateral recess: MR imaging, conventional myelography, and CT myelography comparison with surgical confirmation / Bartynski W.S., Lin L. // American Journal of Neuroradiology. — 2003. — Vol. 24. — P. 348-360.
10. Grams A.E. Comparison of spinal anatomy between 3-Tesla MRI and CT-myelography under healthy and pathological conditions / Grams A.E., Gempt J., Förschler A. // Surgical and Radiologic Anatomy. — 2010. — Vol. 32. — P. 581-585.
Similar articles

Authors: Радченко В.О., Попсуйшапка К.О.
ДУ «Інститут патології хребта та суглобів ім. проф. М.І. Ситенка НАМН України», м. Харків, Україна
"Тrauma" Том 19, №6, 2018
Date: 2019.01.14
Categories: Traumatology and orthopedics
Sections: Clinical researches


Authors: Піонтковський В.К. (1), Фіщенко Я.В. (2)
1 - КЗ «Рівненська обласна клінічна лікарня», м. Рівне, Україна
2 - ДУ «Інститут травматології та ортопедії НАМН України», м. Київ, Україна
"Pain. Joints. Spine." Том 9, №3, 2019
Date: 2019.10.21
Categories: Rheumatology, Traumatology and orthopedics
Sections: Specialist manual


Authors:
Науменко Л.Ю. - ДЗ «Дніпропетровська медична академія МОЗ України»; Тарасенко О.М., Мирончук Л.В. - ДУ «Український державний НДІ медико-соціальних проблем інвалідності МОЗ України», м. Дніпропетровськ


"Тrauma" Том 15, №4, 2014
Date: 2014.12.03
Categories: Traumatology and orthopedics
Sections: Clinical researches


Authors: Радченко В.О., Попсуйшапка К.О., Тесленко С.О.
ДУ «Інститут патології хребта та суглобів ім. проф. М.І. Ситенка НАМН України», м. Харків, Україна
"Тrauma" Том 18, №6, 2017
Date: 2018.02.12
Categories: Traumatology and orthopedics
Sections: Specialist manual