"Тrauma" Том 19, №6, 2018
Analysis of disability causes in road users who became disabled due to road traffic accidents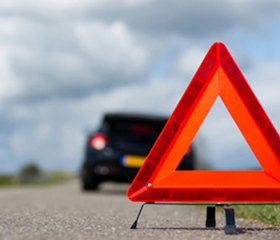 Authors:

Гур'єв С.О., Яровий Д.М., Кушнір В.А.
ДЗ «Український науково-практичний центр екстреної медичної допомоги та медицини катастроф МОЗ України», м. Київ, Україна



Categories:

Traumatology and orthopedics



Sections:

Clinical researches
Summary
Статтю присвячено проблемі інвалідизації постраждалих унаслідок дорожньо-транспортних пригод, проаналізована структура інвалідності в аспекті безпосередніх причин інвалідизації. Проаналізовано 219 випадків первинної інвалідності, яку постраждалі отримали внаслідок травм при дорожньо-транспортних пригодах.
Статья посвящена проблеме инвалидизации пострадавших в результате дорожно-транспортных происшествий, проанализирована структура инвалидности в аспекте непосредственных причин инвалидизации. Проанализированы 219 случаев первичной инвалидности, которую пострадавшие получили вследствие травм при дорожно-транспортных происшествиях.
The article deals with the problem of disability as a result of road traffic accident. The structure of disability causes in the aspect of participation in road traffic is analysed. Two hundred nineteen cases of primary disability were analysed, which were a result of road traffic accidents. Determination and evaluation of the immediate causes and factors that led to the disability as a result of car accident are very important in the characterization of disability process. Analysis of the data shown that the direct causative factors of disability were as follows: impaired support function of the lower extremity (59.82 %), central nervous system (CNS) disorders (21.46 %), delayed union (11.87 %), dysfunction of the upper limb (5.02 %), infectious complication in the form of osteomyelitis (1.83 %). Thus, the main cause of disability among victims of road accidents is impaired movements due to a dysfunction of the limbs directly or a disturbed gait regulation by the CNS. Various causes of disability arise depending on the participation in road traffic. Thus, the data indicate that impaired support function of the lower extremity is more likely to cause disability among pedestrians (66.4 %) and drivers of four-wheeled vehicles (19.8 %). Dysfunction of the upper extremity is most common in pedestrians (81.8 %), and CNS disorders — in drivers of four-wheeled vehicles (63.6 %). Oddly enough, the share of drivers and passengers of two-wheeled transport is 4.3 % of the total array. Osteomyelitis as a cause of disability occurs in 100 % of cases in pedestrians. Characterization ofthe causes of disability among those who became disabled due to car accident is an important risk factor affecting the medical and social consequences of road traffic injuries.
Keywords
інвалідність; травма; полісистемні пошкодження; дорожньо-транспортні пригоди
инвалидность; травма; полисистемные повреждения; дорожно-транспортные происшествия
disability; trauma; multiple injuries; traffic accident
For the full article you need to subscribe to the magazine.
Bibliography
1. Дорожно-транспортный травматизм. Алгоритмы и стандарты оказания скорой медицинской помощи пострадавшим вследствие ДТП (догоспитальный этап) / Под ред. С.Ф. Багненко, В.В. Стожарова, А.Г. Мирошниченко. — СПб.: Невский Диалект, 2006. — 319 с.
2. Road traffic injuries: an example of public health // K. Pérez, P. Lardelli, R. Ramírez, J.C. González-Luque // Gac. Sanit. — 2015. — Vol. 29, suppl. 1. — P. 2-3.
3. Mohan D. Road traffic injuries: a stocktaking / D. Mohan // Best Pract. Res. Clin. Rheumatol. — 2008. — Vol. 22, № 4. — P. 725-739.
4. Aguilera S.L. Road safety measures and their effects on traffic injuries: a systematic review / S.L. Aguilera, S.T. Moysés, S J. Moysés // Rev. Panam. Salud. Publica. — 2014. — Vol. 36, № 4. — P. 257-265.
5. Миралиев М.Р. Травматизм — основной фактор инвалидности / М.Р. Миралиев, А. Ахмедов, К.Х. Сироджов // Здравоохранение Таджикистана. — 2014. — № 1. — С. 11-15.
6. Анализ показателей инвалидности взрослого населения вследствие травм, полученных в результате дорожно-транспортных происшествий / И.Г. Петрова, А.А. Закарян, В.В. Стожаров [и др.] // Скорая мед. помощь. — 2007. — № 1. — С. 26-28.
7. Некоторые показатели освидетельствования детей после дорожно-транспортных происшествий для установления им инвалидности в Санкт-Петербурге в системе общего освидетельствования детей от травм / А.Н. Вишняков, В.П. Шестаков, А.А. Свинцов [и др.] // Вест. Всерос. об-ва специалистов по мед.-соц. экспертизе, реабилитации и реабилитац. индустрии. — 2016. — № 2. — С. 79-84.
8. Walker C. Road trauma among young Australians: Implementing policy to reduce road deaths and serious injury / C. Walker, J. Thompson, M. Stevenson // Traffic Inj. Prev. — 2017. — Vol. 18, № 4. — P. 363-368.
9. Injury characteristics and outcome of road traffic accident among victims at Adult Emergency Department of Tikur Anbessa specialized hospital, Addis Ababa, Ethiopia: a prospective hospital based study / M. Seid, A. Azazh, F. Enquselassie, E. Yisma // BMC Emerg. Med. — 2015. — Vol. 15. — Art. 10.
10. Predictive factors of poor outcome in road traffic injures; a retrospective cohort study / H.P. Hatamabadi, M. Shojaee, P. Kashani [et al.] // Emerg. — 2017. — Vol. 5, № 1. — Art. e21.