"Gastroenterology" Том 52, №4, 2018
Immunological reactivity in patients with chronic diffuse liver diseases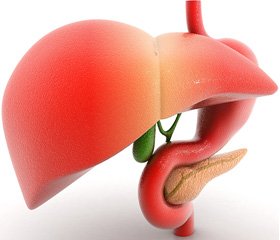 Authors:

Татарчук О.М.(1), Діденко В.І.(1), Меланіч С.Л.(1), Кудрявцева В.Є.(2)
(1) — ДУ «Інститут гастроентерології НАМН України», м. Дніпро, Україна
(2) — Придніпровська державна академія фізичної культури і спорту, м. Дніпро, Україна



Categories:

Gastroenterology



Sections:

Clinical researches
Summary
Мета: оцінити стан основних показників клітинного імунітету й рівень цитокінів у хворих на хронічні дифузні захворювання печінки (ХДЗП). Матеріали та методи. Обстежено 68 пацієнтів із ХДЗП, які були розподілені на 4 групи залежно від етіологічних факторів формування й прогресування стеатозу й фіброзу печінки: І група — 36 хворих на неалкогольну жирову хворобу печінки; ІІ група — 13 хворих на хронічний вірусний гепатит, асоційований із вірусом С, ІІІ група — 14 пацієнтів з алкогольною хворобою печінки, ІV група — 5 пацієнтів із токсичним гепатитом. Проводили вивчення основних показників клітинного імунітету й рівня інтерлейкіну (ІЛ) 6, ІЛ-10 і фактора некрозу пухлини альфа. Результати. У 83,3 % хворих І групи, 76,9 % хворих ІІ групи і половини хворих ІІІ групи спостерігали значне зниження Т-хелперної субпопуляції. Недостатність клітинного імунітету у хворих на ХДЗП сприяє формуванню стеатозу. У 69,2 % хворих ІІ групи встановлені порушення імунорегуляції вказують на персистенцію вірусу гепатиту C і, як наслідок, розвиток фіброзу. Згідно з отриманими результатами, у хворих І, ІІ і ІV груп концентрація фактора некрозу пухлини альфа вірогідно перевищує контрольні значення в 6,9; 7,9 та 11,0 раза відповідно (р < 0,05). Рівень ІЛ-6 вірогідно вищий у 3,9 раза (р < 0,05) у хворих І групи порівняно з ІV групою хворих. Це вказує на прогресування імунопатологічного процесу і є патогенетичною ознакою неадекватності функціонування імунної системи при ХДЗП. Висновки. Прогресування стеатозу печінки супроводжується недостатністю клітинної ланки імунітету й підвищенням рівня прозапальних цитокінів.
Цель: оценить состояние основных показателей клеточного иммунитета и уровень цитокинов у больных хроническими диффузными заболеваниями печени (ХДЗП). Материалы и методы. Обследовано 68 пациентов с ХДЗП, которые были распределены на 4 группы в зависимости от этиологических факторов формирования и прогрессирования стеатоза и фиброза печени: І группа — 36 больных неалкогольной жировой болезнью печени; ІІ группа — 13 больных хроническим вирусным гепатитом, ассоциированным с вирусом С; ІІІ группа — 14 больных алкогольной болезнью печени, ІV группа — 5 больных токсическим гепатитом. Проводили изучение основных показателей клеточного иммунитета и уровня интерлейкина (ИЛ) 6, ИЛ-10 и фактора некроза опухоли альфа. Результаты. У 83,3 % больных I группы, 76,9 % больных II группы и половины больных III группы наблюдали значительное снижение Т-хелперной субпопуляции. Недостаточность клеточного иммунитета у больных с ХДЗП способствует формированию стеатоза. У 69,2 % больных II группы установленные нарушения иммунорегуляции указывают на персистенцию вируса гепатита С и, как следствие, развитие фиброза. Согласно полученным результатам, у больных I, II и IV групп концентрация фактора некроза опухоли альфа достоверно превышает контрольные значения в 6,9, 7,9 и 11,0 раза соответственно (р < 0,05). Уровень ИЛ-6 достоверно выше в 3,9 раза (р < 0,05) у больных I группы по сравнению с IV группой больных. Это указывает на прогрессирование иммунопатологического процесса и является патогенетическим признаком неадекватности функционирования иммунной системы при ХДЗП. Выводы. Установлено, что прогрессирование стеатоза печени сопровождается недостаточностью клеточного звена иммунитета и повышением уровня провоспалительных цитокинов.
Background. The aim of the study was to assess the state of the main indicators of cellular immunity and the level of cytokines in patients with chronic diffuse liver diseases (CDLD). Materials and methods. Sixty eight patients with CDLD were examined, they were divided into 4 groups depending on the etiological factors of the formation and progression of steatosis and liver fibrosis: group I — 36 patients with non-alcoholic fatty liver disease; group II — 13 persons with chronic viral hepatitis C, group III — 14 patients with alcoholic liver disease, IV group — 5 individuals with toxic hepatitis. We studied the main indicators of cellular immunity and the level of interleukin (IL) 6, IL-10 and tumor necrosis factor (TNF) α. Results. In 83.3 % of patients in group I, 76.9 % — in group II and in a half of patients in group III, there was a significant decrease in the T helper cell subpopulation. Cellular immunodeficiency in patients with CDLD leads to the formation of steatosis. In 69.2 % of patients in group II, immunoregulatory disorders indicate the persistence of hepatitis C virus and, as a consequence, the development of fibrosis. According to the results obtained, the concentration of TNF-α in patients of groups I, II and IV significantly exceeds the control values — by 6.9, 7.9 and 11.0 times, respectively (p < 0.05). The level of IL-6 is significantly higher (by 3.9 times; p < 0.05) in patients of group I compared with group IV. This indicates the progression of the immunopathological process and is a pathogenetic sign of the inadequacy of the immune system functioning in CDLD. Conclusions. The study shows that the progression of liver steatosis is accompanied by a decrease in cellular immune system and an increase in proinflammatory cytokine levels.
Keywords
хронічні дифузні захворювання печінки; імунітет; цитокіни
хронические диффузные заболевания печени; иммунитет; цитокины
chronic diffuse liver diseases; immunity; cytokines
For the full article you need to subscribe to the magazine.
Bibliography
1. Оцінка ефективності застосування есенціальних фосфоліпідів у хворих на хронічний вірусний гепатит С / Ю.М. Степанов, С.Л. Меланіч, В.Б. Ягмур та ін. // Гастроентерологія. — 2016. — № 1(59). — С. 71-76. doi: 10.22141/2308-2097.1.59.2016.74531.
2. Мультиплексный анализ 26 цитокинов, секретируемых клетками крови больных циррозом печени / А.А. Останин, Н.М. Старостина, И.В. Меледина и др. // Медицинская иммунология. — 2015. — Т. 17, № 6. — С. 539-552.
3. Tumor necrosis factor-α inhibitors and chronic hepatitis C: A comprehensive literature review / M. Pompili, M. Biolato, L. Miele, A. Grieco // World J. Gastroenterol. — 2013, Nov 28. — Vol. 19 (44). — Р. 7867-7873. doi:10.3748/wjg.v19.i44.7867.
4. Сляднев С.А. Медиаторы межклеточных взаимодействий при неалкогольной жировой болезни печени / Сляднев С.А. // Вестник молодого ученого. — 2015. — № 3. — С. 3-8.
5. Hammerich L. Interleukins in chronic liver disease: lessons learned from experimental mouse models / Hammerich L., Tacke F. // Clin. Exp Gastroenterol. — 2014. — Vol. 7. — P. 297-306. doi: 10.2147/ceg.s43737.
6. Современные возможности метаболической терапии в комплексном лечении пациентов / Н.В. Харченко, Г.А. Анохина, И.А. Коруля, И.Н. Червак // Сучасна гастроентерологія. — 2015. — № 4(84). — С. 43-50.
7. Сlinical evaluation of proinflammatory cytokine inhibitors (sTNFR I, sTNFR II, IL-1 ra), anti-inflammatory cytokines (IL-10, IL-13) and activation of neutrophils after burn-induced inflammation / J.P. Sikora, D. Chlebna-Sok, E. Andrzejewska [et al.] // Scand. J. Immunol. — 2008. — Vol. 2(68). — С. 145-152. doi: 10.1111/j.1365-3083.2008.02126.x.
8. Влияние фукоидана из fucus evanescens на показатели цитокинового статуса у пациентов с хроническим гепатитом С / Н.В. Филонова, Т.С. Запорожец, С.А. Ермолицкая [и др.] // Цитокины и воспаление. — 2011. — № 4. — С. 105-110.
9. Dietary fat sources differentially modulate intestinal barrier and hepatic inflammation in alcohol-induced liver injury in rats / W. Zhong, Q. Li, G. Xie [et al.] // Am. J. Physiol. Gastrointest. Liver Physiol. — 2013. — Vol. 305(12). — Р. 919-932. doi: 10.1152/ajpgi.00226.2013.
10. Lewis J.R. Non-alcoholic Fatty Liver Disease: A Review and Update / Lewis J.R., Mohanty S.R. // Digestive Diseases and Sciences. — 2010. — Vol. 55. — Р. 560-578. doi:10.1007/s10620-009-1081-0.