International journal of endocrinology Том 14, №8, 2018
The psychological state of children with syndrome of biologically inactive growth hormone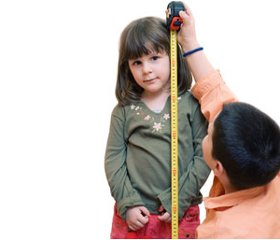 Authors:

Спринчук Н.А.
ДУ «Інститут ендокринології та обміну речовин ім. В.П. Комісаренка НАМН України», м. Київ, Україна
Національна медична академія післядипломної освіти ім. П.Л. Шупика, м. Київ, Україна



Categories:

Endocrinology



Sections:

Clinical researches
Summary
Мета дослідження: вивчити психологічний стан дітей із синдромом біологічно неактивного гормона росту (СБНГР) та оцінити вплив специфічної рістстимулюючої терапії на поліпшення психосоціальної адаптації хворих у суспільстві. Матеріали та методи. У дослідженні брали участь 46 дітей із СБНГР у період статевого дозрівання, серед них — 30 хлопців і 16 дівчат. Для дослідження психологічного стану дітей із СБНГР проводили анкетування за шкалою самооцінки депресії до початку застосування специфічної гормональної рістстимулюючої терапії та через 6 місяців після безперервного лікування. Контрольну групу становили 25 здорових дітей. Результати. Проведене нами тестування показало, що 72 % серед опитуваних пацієнтів із СБНГР мали схильність до депресивних станів, тоді як серед здорових дітей схильність до депресивних станів мали тільки 24 %. За умов початку лікування дітей із низькорослістю рекомбінантним гормоном росту (рГР) та аналогами гонадотропін-рилізинг-гормона протягом шести місяців і при досягненні більшої швидкості росту в них схильність до депресії залишилася тільки у 27,6 % хворих. Висновки. Низькорослість серед дітей із СБНГР призводить до заниженої самооцінки та проявів схильності до депресивного стану. Лікування дітей рГР із мотивацією на позитивний ростовий ефект значно покращує їх психологічний стан та адаптацію в суспільстві. Рекомендовано проводити анкетування пацієнтів із СБНГР за шкалою самооцінки депресії, за наявності проявів схильності до депресивного стану бажано консультуватися в медичного психолога або фахівця із психосоматичної медицини.
Цель исследования: изучить психологическое состояние детей с синдромом биологически неактивного гормона роста и оценить влияние специфической ростстимулирующей терапии на улучшение психосоциальной адаптации больных в обществе. Материалы и методы. В исследовании приняли участие 46 детей с синдромом биологически неактивного гормона роста (СБНГР) в период полового созревания, среди них — 30 мальчиков и 16 девочек. Для исследования психологического состояния детей с СБНГР проводили анкетирование по шкале самооценки депрессии до начала применения специфической гормональной ростстимулирующей терапии и через 6 месяцев после непрерывного лечения. Контрольную группу составили 25 здоровых детей. Результаты. Проведенное нами тестирование показало, что 72 % среди опрошенных пациентов с СБНГР имели склонность к депрессивным состояниям, в то время как среди здоровых детей склонность к депрессивным состояниям имели только 24 %. В условиях начала лечения детей с низкорослостью рекомбинантным гормоном роста (рГР) и аналогами гонадотропин-рилизинг-гормона в течение 6 месяцев подряд и при достижении большей скорости роста у них склонность к депрессии осталась только у 27,6 % больных. Выводы. Низкорослость среди детей с СБНГР приводит к заниженной самооценке и проявлениям склонности к депрессивному состоянию. Лечение детей рГР с мотивацией на положительный ростовой эффект значительно улучшает их психологическое состояние и адаптацию в обществе. Рекомендуется проводить анкетирование пациентов с СБНГР по шкале само­оценки депрессии, при наличии проявлений склонности к депрессивному состоянию желательно консультироваться у медицинского психолога или специалиста по психосоматической медицине.
Background. The purpose was to study the psychological state of children with syndrome of biologically inactive growth hormone (SBIGH) and to evaluate the effect of speci­fic growth-stimulating therapy on improving the psychosocial adaptation of patients in society. Materials and methods. The study involved 46 children with SBIGH during puberty, including 30 boys and 16 girls. To investigate the psychological state of children with SBIGH, the patients were examined on the scale of depression self-esteem prior to the application of specific hormonal growth-stimulating therapy and 6 months after continuous treatment. The control group consisted of 25 healthy children. Results. Our testing showed that 72 % of the respondents with SBIGH had a predisposition to depression, while among healthy children, this index was only 24 %. When the treatment was initiated using recombinant growth hormone and gonadotropin-releasing hormone analogues for 6 consecutive months in children with short stature, and when a higher rate of growth in them was reached, the susceptibi­lity to depression remained only in 27.6 % of patients. Conclusions. Short stature among children with SBIGH results in a lower self-esteem and manifestations of depression. The treatment of children using recombinant growth hormone with motivation for a positive growth effect significantly improves their psychological state and adaptation in society. It is recommended to conduct a questionnaire survey of patients with SBIGH on the scale of depression self-esteem, and in the presence of manifestations of a tendency to depressive state, it is advisable to consult with a medical psychologist or specialist in psychosomatic medicine.
Keywords
синдром біологічно неактивного гормона росту; діти; психологічний стан; депресія; рекомбінантний гормон росту
cиндром биологически неактивного гормона роста; дети; психологическое состояние; депрессия; рекомбинантный гормон роста
syndrome of biologically inactive growth hormone; children; psychological state; depression; recombinant growth hormone
For the full article you need to subscribe to the magazine.
Bibliography
Coste J, Pouchot J, Carel JC. Height and health-related quality of life: a nationwide population study. J Clin Endocrinol Metab. 2012 Sep;97(9):3231-9. doi: 10.1210/jc.2012-1543.
Sultanova LM, Pecheritsa OG, Krinitskaya NV. Results of a 20-year follow-up of children with growth hormone deficiency in the republic of Tatarstan. Meditsinskiy Sovet. 2017;(3):84-88. (in Russian).
Salinero-Fort MÁ, Gómez-Campelo P, Bragado-Alvárez C, et al. Health-related quality of life of latin-american immigrants and spanish-born attended in spanish primary health care: socio-demographic and psychosocial factors. PLoS One. 2015 Apr 2;10(4):e0122318. doi: 10.1371/journal.pone.0122318.
Tickner N, Keady S. Growth hormone deficiency in the young. Pharmaceutical J. 2011 Jun;287(7660):19-22.
Geisler A, Lass N, Reinsch N, et al. Quality of life in children and adolescents with growth hormone deficiency: association with growth hormone treatment. Horm Res Paediatr. 2012;78(2):94-9. doi: 10.1159/000341151.
Soltakhanov EM, Kostrova IB, Arslanbekova ACh. Diagnosis and treatment of growth hormone deficiency in the early childhood. Vestnik Dagestanskoj gosudarstvennoj medicinskoj akademii. 2018;(26):67-70. (in Russian).
Deodati A, Cianfarani S. The Rationale for Growth Hormone Therapy in Children with Short Stature. J Clin Res Pediatr Endocrinol. 2017 Dec 30;9(Suppl 2):23-32. doi: 10.4274/jcrpe.2017.S003.
Richmond E, Rogol AD. Treatment of growth hormone deficiency in children, adolescents and at the transitional age. Best Pract Res Clin Endocrinol Metab. 2016 Dec;30(6):749-755. doi: 10.1016/j.beem.2016.11.005.
Smuel K, Kauli R, Lilos P, Laron Z. Growth, development, puberty and adult height before and during treatment in children with congenital isolated growth hormone deficiency. Growth Horm IGF Res. 2015 Aug;25(4):182-8. doi: 10.1016/j.ghir.2015.05.001.
Chaban OS. Patient with depression in the practice of a family doctor. Biblioteka simejnogo likarja ta simejnoi' medsestry. 2011;(28):59-65. (in Ukrainian).
Ministry of Нealth of Ukraine. Order on February 2, 2009 № 55. On Adoption of Treatment Protocols for Children with Endocrine Diseases. Available from: http://zakon.rada.gov.ua/rada/show/v0055282-09?lang=en. Accessed: February 2, 2009. (in Ukrainian).
Blunck W. Pädiatrische Endokrinologie. München: Urban & Schwarzenberg; 1977. 250 p. (in German).
Similar articles

Authors: Спринчук Н.А., Пахомова В.Г., Большова О.В.
ДУ «Інститут ендокринології та обміну речовин ім. В.П. Комісаренка НАМН України», м. Київ, Україна
International journal of endocrinology Том 14, №6, 2018
Date: 2018.11.20
Categories: Endocrinology
Sections: Clinical researches


Authors: Спринчук Н.А., Большова О.В.
ДУ «Інститут ендокринології та обміну речовин ім. В.П. Комісаренка НАМН України», м. Київ, Україна
International journal of endocrinology Том 14, №5, 2018
Date: 2018.10.24
Categories: Endocrinology
Sections: Clinical researches



Authors:
Большова О.В., Вишневська О.А., Музь В.А., Ткачова Т.О., Малиновська Т.М., Самсон О.Я. - ДУ «Інститут ендокринології та обміну речовин ім. В.П. Комісаренка НАМН України», м. Київ


International journal of endocrinology 4 (68) 2015
Date: 2015.07.22
Categories: Endocrinology
Sections: Specialist manual