International journal of endocrinology Том 14, №8, 2018
Influence of hypothyroidism in men on androgenic function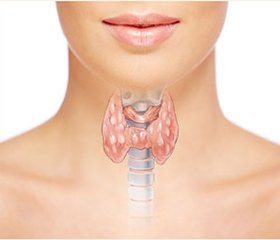 Authors:

Крицький Т.І.
Тернопільський державний медичний університет імені І.Я. Горбачевського, м. Тернопіль, Україна



Categories:

Endocrinology



Sections:

Clinical researches
Summary
Актуальність. Результати сучасних досліджень вказують на роль тиреоїдних гормонів, метаболічного дисбалансу, психічного стресу в підтриманні загального й гормонального гомеостазу організму. У той же час взаємодія тиреоїдних і статевих гормонів при гіпотиреозі в чоловіків залишається предметом дискусій. Мета: вивчити частоту клінічних і лабораторних ознак андрогенного дефіциту, а також вплив недостатнього рівня тиреоїдних гормонів на андрогенну функцію в чоловіків із гіпотиреозом. Матеріали та методи. Під спостереженням перебувало 55 чоловіків із первинним гіпотиреозом віком від 36 до 60 років, а також 25 практично здорових чоловіків. Результати. У хворих на гіпотиреоз спостерігалося вірогідне зниження вмісту глобуліну, що зв'язує статеві гормони (ГЗСГ), загального тестостерону, а також вільного й біодоступного тестостерону порівняно зі здоровими чоловіками. У хворих на гіпотиреоз сироваткова концентрація вільного тироксину позитивно корелює із ГЗСГ. Виявлені негативні кореляції середнього ступеня вираженості між ГЗСГ і вільним і біодоступним тестостероном. Висновки. У чоловіків середнього віку з гіпотиреозом рекомендується визначення вмісту андрогенів в крові для виявлення синдрому андрогенного дефіциту.
Актуальность. Результаты современных исследований указывают на роль тиреоидных гормонов, метаболического дисбаланса, психического стресса в поддержании общего и гормонального гомеостаза организма. В то же время взаимодействие тиреоидных и половых гормонов при гипотиреозе у мужчин остается предметом дискуссий. Цель: изучить частоту клинических и лабораторных признаков андрогенного дефицита, а также влияние недостаточного уровня тиреоидных гормонов на андрогенную функцию у мужчин с гипотиреозом. Материалы и методы. Под наблюдением находилось 55 мужчин с первичным гипотиреозом в возрасте от 36 до 60 лет, а также 25 практически здоровых мужчин. Результаты. У больных гипотиреозом наблюдалось достоверное снижение концентрации глобулина, связывающего половые гормоны (ГСПГ), общего тестостерона, а также свободного и биодоступного тестостерона по сравнению со здоровыми мужчинами. У больных гипотиреозом сывороточная концентрация свободного тироксина положительно коррелирует с ГСПГ. Выявлены отрицательные корреляции средней степени выраженности между ГСПГ и свободным и биодоступным тестостероном. Выводы. У мужчин среднего возраста с гипотиреозом рекомендуется определение содержания андрогенов в крови для выявления синдрома андрогенного дефицита.
Background. The results of modern researches specify the role of thyroid hormones, metabolic imbalance, psychological stress involved in the maintenance of general and hormonal homoeostasis. At the same time, correlation between thyroid and sexual hormones in men with hypothyroidism remains controversial issue. Research purpose was to study the frequency of clinical and laboratory signs of androgenic deficiency, as well as the influence of insufficient level of thyroid hormones on the androgenic function in men with primary hypothyroidism. Materials and methods. Under a supervision, there were 55 men with primary hypothyroidism aged 36 to 60 years, and also 25 apparently healthy men. Results. Patients with hypothyroidism had a significant decrease in the concentration of sex hormone-binding globulin (SHBG), total testosterone, and also free and bioavailable testosterone compared to healthy men. In patients with hypothyroidism, the serum concentration of free thyroxine positively correlates with SHBG. Negative moderate correlations were detected between SHBG and free and bioavailable testosterone. Conclusions. For the middle-aged men with hypothyroidism, determination of androgen content is recommended to detect the syndrome of androgenic deficiency.
Keywords
гіпотиреоз; андрогенний дефіцит; тестостерон; глобулін, що зв'язує статеві гормони
гипотиреоз; андрогенный дефицит; тестостерон; глобулин, связывающий половые гормоны
hypothyroidism; androgen deficiency; testoste­rone; sex hormone-binding globulin
For the full article you need to subscribe to the magazine.
Bibliography
Vanderpump MP, Tunbridge WM. Epidemiology and prevention of clinical and subclinical hypothyroidism. Thyroid. 2002 Oct;12(10):839-47. doi: 10.1089/105072502761016458.
Birukova EV, Shinkin MV. Hypothyroidism: clinical picture, diagnostics, approaches to therapy. Therapy. 2017;(7):110-115. (in Russian).
Garber JR, Cobin RH, Gharib H, et al. Clinical practice guidelines for hypothyroidism in adults: cosponsored by the American Association of Clinical Endocrinologists and the American Thyroid Association. Endocr Pract. 2012 Nov-Dec;18(6):988-1028. doi: 10.4158/EP12280.GL.
Stagnaro-Green A, Abalovich M, Alexander E, et al. Guidelines of the American Thyroid Association for the diagnosis and management of thyroid disease during pregnancy and postpartum. Thyroid. 2011 Oct;21(10):1081-125. doi: 10.1089/thy.2011.0087.
Kubota S, Fujiwara M, Hagiwara H, et al. Multiple thyroid cysts may be a cause of hypothyroidism in patients with relatively high iodine intake. Thyroid. 2010 Feb;20(2):205-8. doi: 10.1089/thy.2009.0264.
Brand J, Rovers M, Yeap B, et al. Testosterone, sex hormone-binding globulin and the metabolic syndrome in men: an individual participant data meta-analysis of observational studies. PLoS One. 2014 Jul 14;9(7):e100409. doi: 10.1371/journal.pone.0100409.
Aversa A, Bruzziches R, Francomano D, et al. Effects of long-acting testosterone undecanoate on bone mineral density in middle-aged men with late-onset hypogonadism and metabolic syndrome: results from a 36 months controlled study. Aging Male. 2012 Jun;15(2):96-102. doi: 10.3109/13685538.2011.631230.
Carson C, 3rd, Rosano G. Exogenous testosterone, cardiovascular events, and cardiovascular risk factors in elderly men: a review of trial data. J Sex Med. 2012 Jan;9(1):54-67. doi: 10.1111/j.1743-6109.2011.02337.x.
Goodman N, Guay A, Dandona P, et al. American Association of Clinical Endocrinologist and American College of Endocrinology Position Statement on the Association of Teststerone and Cardiovascular Risk. Endocr Pract. 2015 Sep;21(9):1066-73. doi: 10.4158/EP14434.PS.
Wang C, Nieschlag E, Swerdloff R, et al. ISA, ISSAM, EAU, EAA and ASA recommendations: investigation, treatment and monitoring of late-onset hypogonadism in males. Aging Male. 2009 Mar;12(1):5-12. doi: 10.1080/13685530802389628.
Kapoor D, Aldred H, Clark S, Channer KS, Jones TH. Clinical and biochemical assessment of hypogonadism in men with type 2 diabetes: Correlations with bioavailable testosterone and visceral adiposity. Diabetes Care. 2007 Apr;30(4):911-7. doi: 10.2337/dc06-1426.
Wiersinga WM. Hypothyroidism and myxedema coma. In: Jameson JL, DeGroot LJ, eds. Endocrinology: Adult and Pediatric. 6th edition. Philadelphia, PA: Saunders Elsevier; 2010. 1607-1622 pp.
Iverson JF, Mariash CN. Optimal free thyroxine levels for thyroid hormone replacement in hypothyroidism. Endocr Pract. 2008 Jul-Aug;14(5):550-5. doi: 10.4158/EP.14.5.550.
Jones T, Arver S, Behre H, et al. Testosterone replacement in hypogonadal men with type 2 diabetes and/or metabolic syndrome (the TIMES2 study). Diabetes Care. 2011 Apr;34(4):828-37. doi: 10.2337/dc10-1233.
Morgentaler A, Feibus A, Baum N. Testosterone and cardiovascular disease – the controversy and the facts. Postgrad Med. 2015 Mar;127(2):159-65. doi: 10.1080/00325481.2015.996111.
Schooling C, Au Yeung S, Freeman G, Cowling B. The effect of statins on testosterone in men and women, a systematic review and meta-analysis of randomized controlled trials. BMC Med. 2013 Feb 28;11:57. doi: 10.1186/1741-7015-11-57.
Similar articles