International journal of endocrinology Том 14, №8, 2018
Peculiarities of changes in the coagulation and fibrinolytic activity in patients with coronary heart disease and concomitant type 2 diabetes mellitus, depending on the presence of diabetic vascular complications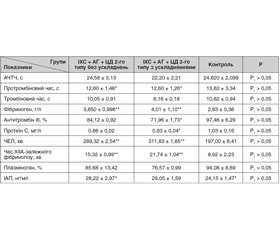 Summary
Мета. Вивчення маркерів ендогенної коагуляції/фібринолізу у пацієнтів з ішемічною хворобою серця (ІХС) із супутнім цукровим діабетом (ЦД) 2-го типу та порівняння цих показників стосовно мікросудинних ускладнень. Матеріали та методи. Обстежено 54 пацієнти з ІХС і супутнім ЦД 2-го типу (розподілено на дві групи: з ускладненнями та без них), яких було госпіталізовано в кардіологічне та ендокринологічне відділення Київської клінічної лікарні на залізничному транспорті. Результати. При оцінюванні показників у двох групах (ІХС + ЦД 2-го типу та ІХС + ЦД 2-го типу + діабетичні ускладнення) у згортальній системі було виявлено подовжений протромбіновий час (на 7,64 % у пацієнтів без мікросудинних ускладнень і на 7,49 % — з ускладненнями) та значне підвищення вмісту фібриногену (на 36 та 42 % відповідно), але вірогідних змін між групами не було. Під час дослідження показників антикоагулянтної системи крові встановлено, що активність антитромбіну ІІІ і протеїну С у групі пацієнтів з ІХС і супутнім ЦД 2-го типу та діабетичними ускладненнями була нижчою (на 26 та 19,4 % відповідно) від значень контрольної групи. З боку фібринолітичної системи було виявлено значне пригнічення фібринолітичної активності плазми крові. Висновки. Отримані дані вказують на пригнічення фібринолітичної та антикоагулянтної активності плазми крові, що найбільше проявлялося у пацієнтів з ІХС і супутнім ЦД 2-го типу та мікросудинними ускладненнями. Зв'язок між фібринолізом і судинними захворюваннями залежить від стану судинного русла, що є значним збільшенням ризику розвитку макро- та мікросудинних уражень у пацієнтів з ІХС і супутнім ЦД 2-го типу.
Цель. Изучение маркеров эндогенной коагуляции/фибринолиза у пациентов с ишемической болезнью сердца (ИБС) и сопутствующим сахарным диабетом (СД) 2-го типа и сопоставление этих показателей относительно микрососудистых осложнений. Материалы и методы. Обследованы 54 пациента с ИБС и сопутствующим СД 2-го типа (распределены на две группы: с сосудистыми осложнениями и без них), которые были госпитализированы в кардиологическое и эндокринологическое отделения Киевской клинической больницы на железнодорожном транспорте. Результаты. При оценивании показателей в двух группах больных (ИБС + СД 2-го типа и ИБС + СД 2-го типа + диабетические осложнения) в свертывающей системе обнаружено удлиненное протромбиновое время (на 7,64 % у пациентов без микрососудистых осложнений и на 7,49 % — с осложнениями) и значительное повышение содержания фибриногена (на 36 и 42 % соответственно), однако достоверных изменений между группами не выявлено. Исследование показателей антикоагулянтной системы крови позволило установить, что активность антитромбина ІІІ и протеина С в группе больных с диабетическими осложнениями была ниже (на 26 и 19,4 % соответственно) значений контрольной группы. Со стороны фибринолитической системы выявлено значительное угнетение фибринолитической активности плазмы крови. Выводы. Полученные данные указывают на подавление фибринолитической и антикоагулянтной активности плазмы крови, что наиболее проявлялось у пациентов с ИБС и сопутствующим СД 2-го типа и микрососудистыми осложнениями. Связь между фибринолизом и сосудистыми заболеваниями зависит от состояния сосудистого русла, что является значительным увеличением риска развития макро- и микрососудистых повреждений у пациентов с ИБС и сопутствующим СД 2-го типа.
ackground. The purpose of this work was to study endogenous coagulation/fibrinolysis markers in patients with coronary heart disease (CHD) and concomitant type 2 diabetes mellitus (DM) and to compare these indices with respect to microvascular complications. Materials and methods. We have examined fifty four patients with CHD and concomitant type 2 DM (divided into 2 groups, with and without complications), who were hospitalized in the cardio­logy and endocrinology unit of the Kyiv Clinical Railway Hospital. Results. Prolonged prothrombin time in the coagulation system was detected in two groups (CHD + type 2 DM and CHD + type 2 DM + diabetic complications): by 7.64 % — in patients without microvascular complications and by 7.49 % — with complications, as well as and a significant increase in fibrinogen (by 36 and 42 %, respectively), but no significant changes were observed between the groups. The study of the anticoagulant blood system indexes revealed that the activity of antithrombin III and protein C in patients with CHD and concomitant type 2 DM with diabetic complications was lower (by 26 and 19.4 %, respectively) compared to the control group. A significant inhibition of the fibrinolytic activity of the blood plasma was detected. Conclusions. The obtained data indicate an inhibition of fibrinolytic and anticoagulant plasma activity, which was most pronounced in patients with CHD and concomitant type 2 DM with microvascular complications. The correlation between fibrinolysis and vascular diseases may depend on the condition of the vascular bed, which significantly increases with the development of macro- and microvascular lesions in patients with CHD and concomitant type 2 DM.
Keywords
тромбоз; гемостаз; ішемічна хвороба серця; фібринолітична система; цукровий діабет 2-го типу
тромбоз; гемостаз; ишемическая болезнь сердца; фибринолитическая система; сахарный диа­бет 2-го типа
thrombosis; hemostasis; coronary heart disease; fibrinolytic system; type 2 diabetes mellitus
For the full article you need to subscribe to the magazine.
Bibliography
Tousoulis D, Kampoli AM, Stefanadis C. Diabetes mellitus and vascular endothelial dysfunction: current perspectives. Curr Vasc Pharmacol. 2012 Jan;10(1):19-32.
Erem C, Hacihasanoğlu A, Celik S, et al. Coagulation and fibrinolysis parameters in type 2 diabetic patients with and without diabetic vascular complications. Med Princ Pract. 2005 Jan-Feb;14(1):22-30. doi:10.1159/000081919.
Fox CS, Golden SH, Anderson C, et al. Update on Prevention of Cardiovascular Disease in Adults With Type 2 Diabetes Mellitus in Light of Recent Evidence: A Scientific Statement From the American Heart Association and the American Diabetes Association. Diabetes Care. 2015 Sep;38(9):1777-803. doi: 10.2337/dci15-0012.
Kampoli AM, Tousoulis D, Briasoulis A, Latsios G, Papageorgiou N, Stefanadis C. Potential pathogenic inflammatory mechanisms of endothelial dysfunction induced by type 2 diabetes mellitus. Curr Pharm Des. 2011;17(37):4147-4158.
Derosa G, D'Angelo A, Salvadeo SA, et al. Modification of vascular and inflammation biomarkers after OGTT in overweight healthy and diabetic subjects. Microvasc Res. 2010 Mar;79(2):144-9. doi: 10.1016/j.mvr.2010.01.002.
Derosa G, D'Angelo A, Salvadeo SA, et al. Oral glucose tolerance test effects on endothelial inflammation markers in healthy subjects and diabetic patients. Horm Metab Res. 2010 Jan;42(1):8-13. doi: 10.1055/s-0029-1237728.
Stehouwer CD, Smulders YM. Microalbuminuria and risk for cardiovascular disease: analysis of potential mechanisms. J Am Soc Nephrol. 2006;17(8):2106-2111. doi: 10.1681/ASN.2005121288.
Grant PJ. Diabetes mellitus as a prothrombotic condition. J Intern Med. 2007;262(2):157-172. doi:10.1111/j.1365-2796.2007.01824.x.
Kearney K, Tomlinson D, Smith K, Ajjan R. Hypofibrinolysis in diabetes: a therapeutic target for the reduction of cardiovascular risk. Cardiovasc Diabetol. 2017;16(1):34. doi:10.1186/s12933-017-0515-9.
Hameed I, Masoodi SR, Mir SA, Nabi M, Ghazanfar K, Ganai BA. Type 2 diabetes mellitus: from a metabolic disorder to an inflammatory condition. World J Diabetes. 2015 May 15;6(4):598-612. doi: 10.4239/wjd.v6.i4.598.
Asakawa H, Tokunaga K, Kawakami F. Elevation of fibrinogen and thrombin-antithrombin III complex levels of type 2 diabetes mellitus patients with retinopathy and nephropathy. J Diabetes Complications. 2018;14(3):121-126.
Donath MY, Dalmas É, Sauter NS, Böni-Schnetzler M. Inflammation in obesity and diabetes: islet dysfunction and therapeutic opportunity. Cell Metab. 2013 Jun 4;17(6):860-72. doi: 10.1016/j.cmet.2013.05.001.
Navarro-González JF, Mora-Fernández C. The role of inflammatory cytokines in diabetic nephropathy. J Am Soc Nephrol. 2008 Mar;19(3):433-42. doi: 10.1681/ASN.2007091048.
McBane RD, Hardison RM, Sobel BE; BARI 2D Study Group. Comparison of plasminogen activator inhibitor-1, tissue type plasminogen activator antigen, fibrinogen, and D-dimer levels in various age decades in patients with type 2 diabetes mellitus and stable coronary artery disease (from the BARI 2D trial). Am J Cardiol. 2010 Jan 1;105(1):17-24. doi: 10.1016/j.amjcard.2009.08.643.
Hafer-Macko CE, Ivey FM, Gyure KA, Sorkin JD, Macko RF. Thrombomodulin deficiency in human diabetic nerve microvasculature. Diabetes. 2002 Jun;51(6):1957-63. doi: 10.2337/DIABETES.51.6.1957.
Similar articles

Authors:
Юзвенко Т.Ю. - Український науково-практичний центр ендокринної хірургії, трансплантації ендокринних органів і тканин МОЗ України, м. Київ


International journal of endocrinology 3 (67) 2015
Date: 2015.07.09
Categories: Endocrinology
Sections: Clinical researches


Authors:
Cherniavska І.V. - State Higher Educational Establishment «Ivano-Frankivsk National Medical University», Ivano-Frankivsk, Ukraine


International journal of endocrinology 8 (72) 2015
Date: 2016.02.12
Categories: Endocrinology
Sections: Clinical researches