International journal of endocrinology Том 14, №8, 2018
Perspectives for the use of resveratrol for the treatment of diabetes mellitus and its complications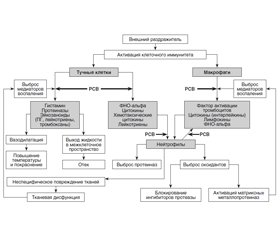 Authors:

Соколова Л.К., Пушкарев В.М.
ГУ «Институт эндокринологии и обмена веществ имени В.П. Комиссаренко НАМН Украины», г. Киев, Украина



Categories:

Endocrinology



Sections:

Specialist manual
Summary
Ресвератрол характеризується широким спектром фармакологічних ефектів і має множинну біологічну активність щодо хронічних захворювань, як протизапальний, протипухлинний, антидіабетичний, нейро- і кардіопротекторний засіб. Ресвератрол здійснює позитивний ефект при цукровому діабеті (ЦД) та діабетичних ускладненнях судин, що обумовлено його здатністю посилювати опосередковану оксидом азоту вазодилатацію. Продукти, багаті на ресвератрол, надають захисний ефект при таких вікових захворюваннях, як ЦД 2-го типу, атеросклероз, рак, артрит, катаракта, остеопороз, артеріальна гіпертензія і хвороба Альцгеймера. Ефекти ресвератролу свідчать про його перспективність як дієтичної добавки, що дозволяє поліпшити стан хворих на тяжкі хронічні захворювання, а також для профілактики цих захворювань у здорових людей і уповільнення процесів старіння.
Ресвератрол характеризуется широким спектром фармакологических эффектов и обладает множественной биологической активностью в отношении хронических заболеваний, как противовоспалительное, противоопухолевое, антидиабетическое, нейро- и кардиопротекторное средство. Ресвератрол оказывает положительный эффект при сахарном диабете (СД) и диабетических осложнениях сосудов, что обусловлено его способностью усиливать опосредованную оксидом азота вазодилатацию. Продукты, богатые ресвератролом, оказывают защитный эффект при таких возрастных заболеваниях, как СД 2-го типа, атеросклероз, рак, артрит, катаракта, остеопороз, артериальная гипертензия и болезнь Альцгеймера. Эффекты ресвератрола свидетельствуют о его перспективности в качестве диетической добавки, позволяющей улучшить состояние больных тяжелыми хроническими заболеваниями, а также для профилактики этих заболеваний у здоровых людей и замедления процессов старения.
Resveratrol is characterized by a wide range of pharmacological effects and has multiple biological activity against chronic diseases, as an anti-inflammatory, antitumor, antidiabetic, neuro- and cardioprotective agent. Resveratrol has a positive effect in diabetes mellitus and diabetic vascular complications, due to its ability to enhance nitrogen oxide-mediated vasodilation. Resveratrol-rich foods have a protective effect on age-related diseases such as type 2 diabetes mellitus, atherosclerosis, cancer, arthritis, cataract, osteoporosis, hypertension, and Alzheimer's disease. The effects of resveratrol indicate its potential as a dietary supplement, allowing improve the condition of patients with severe chronic diseases, as well as for the prevention of these diseases in healthy people and slowing down the aging process.
Keywords
ресвератрол; цукровий діабет; атеросклероз; рак; старіння; артеріальна гіпертензія; хвороба Альцгеймера
ресвератрол; сахарный диабет; атеросклероз; рак; старение; артериальная гипертензия; болезнь Альцгеймера
resveratrol; diabetes mellitus; atherosclerosis; cancer; aging; hypertension; Alzheimer's disease
For the full article you need to subscribe to the magazine.
Bibliography
Poulose SM, Thangthaeng N, Miller MG, Shukitt-Hale B. Effects of pterostilbene and resveratrol on brain and behavior. Neurochem Int. 2015 Oct;89:227-33. doi: 10.1016/j.neuint.2015.07.017.
Oyenihi OR, Oyenihi AB, Adeyanju AA, Oguntibeju OO. Antidiabetic effects of resveratrol: The way forward in its clinical utility. J Diabetes Res. 2016;2016:9737483. doi: 10.1155/2016/9737483.
Tsai HY, Ho CT, Chen YK. Biological actions and molecular effects оf resveratrol, pterostilbene, and 3'-hydroxypterostilbene. J Food Drug Anal. 2017 Jan;25(1):134-147. doi: 10.1016/j.jfda.2016.07.004.
Truong VL, Jun M, Jeong WS. Role of resveratrol in regulation of cellular defense systems against oxidative stress. Biofactors. 2018 Jan;44(1):36-49. doi: 10.1002/biof.1399.
Latruffe N, Lançon A, Frazzi R, et al. Exploring new ways of regulation by resveratrol involving miRNAs, with emphasis on inflammation. Ann N Y Acad Sci. 2015 Aug;1348(1):97-106. doi: 10.1111/nyas.12819.
Zhu X, Wu C, Qiu S, Yuan X, Li L. Effects of resveratrol on glucose control and insulin sensitivity in subjects with type 2 diabetes: systematic review and meta-analysis. Nutr Metab (Lond). 2017 Sep 22;14:60. doi: 10.1186/s12986-017-0217-z.
Dvorakova M, Landa P. Anti-inflammatory activity of natural stilbenoids: A review. Pharmacol Res. 2017 Oct;124:126-145. doi: 10.1016/j.phrs.2017.08.002.
León D, Uribe E, Zambrano A, Salas M. Implications of resveratrol on glucose uptake and metabolism. Molecules. 2017 Mar 7;22(3). pii: E398. doi: 10.3390/molecules22030398.
Bonnefont-Rousselot D. Resveratrol and cardiovascular diseases. Nutrients. 2016 May 2;8(5). pii: E250. doi: 10.3390/nu8050250.
Sokolova LK, Pushkarev VM, Pushkarev VV, Kovzun OI, Tronko MD. Diabetes mellitus and atherosclerosis: the role of inflammatory processes in pathogenesis (literature review). Mìžnarodnij endokrinologìčnij žurnal. 2017;13(7):486-498. doi: 10.22141/2224-0721.13.7.2017.115747. (in Ukrainian).
Sokolova LK, Pushkarev VM, Pushkarev VV, Tronko MD. Mechanisms of pathogenesis of atherosclerosis in patients with diabetes: the role of NF-кB. Problemy endokrynnoyi patologii. 2017;(60):64-76. doi: 10.21856/j-PEP. 2017.2.10. (in Russian).
Berrougui H, Grenier G, Loued S, Drouin G, Khalil A. A new insight into resveratrol as an atheroprotective compound: Inhibition of lipid peroxidation and enhancement of cholesterol efflux. Atherosclerosis. 2009 Dec;207(2):420-7. doi: 10.1016/j.atherosclerosis.2009.05.017.
Ramprasath VR, Jones PJ. Anti-atherogenic effects of resveratrol. Eur J Clin Nutr. 2010 Jul;64(7):660-8. doi: 10.1038/ejcn.2010.77.
Lin YC, Chen LH, Varadharajan T, et al. Resveratrol inhibits glucose-induced migration of vascular smooth muscle cells mediated by focal adhesion kinase. Mol Nutr Food Res. 2014 Jul;58(7):1389-401. doi: 10.1002/mnfr.201300698.
Mukhopadhyay P, Pacher P, Das DK. MicroRNA signatures of resveratrol in the ischemic heart. Ann N Y Acad Sci. 2011 Jan;1215:109-16. doi: 10.1111/j.1749-6632.2010.05866.x.
Deng YH, Alex D, Huang HQ, et al. Inhibition of TNF-α-mediated endothelial cell-monocyte cell adhesion and adhesion molecules expression by the resveratrol derivative, trans-3,5,4 1 –trimethoxystilbene. Phytother Res. 2011 Mar;25(3):451-7. doi: 10.1002/ptr.3279.
Park DW, Baek K, Kim JR, et al. Resveratrol inhibits foam cell formation via NADPH oxidase 1- mediated reactive oxygen species and monocyte chemotactic protein-1. Exp Mol Med. 2009 Mar 31;41(3):171-9. doi: 10.3858/emm.2009.41.3.020.
Smulyan H, Mookherjee S, Safar ME. The two faces of hypertension: Role of aortic stiffness. J Am Soc Hypertens. 2016 Feb;10(2):175-83. doi: 10.1016/j.jash.2015.11.012.
Rivera L, Morón R, Zarzuelo A, Galisteo M. Long-term resveratrol administration reduces metabolic disturbances and lowers blood pressure in obese Zucker rats. Biochem Pharmacol. 2009 Mar 15;77(6):1053-63. doi: 10.1016/j.bcp.2008.11.027.
Dolinsky VW, Chakrabarti S, Pereira TJ, et al. Resveratrol prevents hypertension and cardiac hypertrophy in hypertensive rats and mice. Biochim Biophys Acta. 2013 Oct;1832(10):1723-33. doi: 10.1016/j.bbadis.2013.05.018.
Gordish KL, Beierwaltes WH. Resveratrol induces acute endothelium-dependent renal vasodilation mediated through nitric oxide and reactive oxygen species scavenging. Am J Physiol Renal Physiol. 2014 Mar 1;306(5):F542-50. doi: 10.1152/ajprenal.00437.2013.
Chang CC, Lin KY, Peng KY, Day YJ, Hung LM. Resveratrol exerts anti-obesity effects in high-fat diet obese mice and displays differential dosage effects on cytotoxicity, differentiation, and lipolysis in 3T3-L1 cells. Endocr J. 2016;63(2):169-78. doi: 10.1507/endocrj.EJ15-0545.
Kim S, Jin Y, Choi Y, Park T. Resveratrol exerts anti-obesity effects via mechanisms involving down-regulation of adipogenic and inflammatory processes in mice. Biochem Pharmacol. 2011 Jun 1;81(11):1343-51. doi: 10.1016/j.bcp.2011.03.012.
De Ligt M, Timmers S, Schrauwen P. Resveratrol and obesity: Can resveratrol relieve metabolic disturbances? Biochim Biophys Acta. 2015 Jun;1852(6):1137-44. doi: 10.1016/j.bbadis.2014.11.012.
Vingtdeux V, Giliberto L, Zhao H, et al. AMP-activated protein kinase signaling activation by resveratrol modulates amyloid-beta peptide metabolism. J Biol Chem. 2010 Mar 19;285(12):9100-13. doi: 10.1074/jbc.M109.060061.
Liu T, Bitan G. Modulating self-assembly of amyloidogenic proteins as a therapeutic approach for neurodegenerative diseases: strategies and mechanisms. ChemMedChem. 2012 Mar 5;7(3):359-74. doi: 10.1002/cmdc.201100585.
Granzotto A, Zatta P. Resveratrol and Alzheimer's disease: message in a bottle on red wine and cognition. Front Aging Neurosci. 2014 May 14;6:95. doi: 10.3389/fnagi.2014.00095.
Weinstein G, Beiser AS, Choi SH, et al. Serum brain-derived neurotrophic factor and the risk for dementia: the Framingham Heart Study. JAMA Neurol. 2014 Jan;71(1):55-61. doi: 10.1001/jamaneurol.2013.4781.
López-Otín C, Blasco MA, Partridge L, Serrano M, Kroemer G. The hallmarks of aging. Cell. 2013 Jun 6;153(6):1194-217. doi: 10.1016/j.cell.2013.05.039.
Ye J, Liu Z, Wei J, et al. Protective effect of SIRT1 on toxicity of microglial-derived factors induced by LPS to PC12 cells via the p53-caspase-3-dependent apoptotic pathway. Neurosci Lett. 2013 Oct 11;553:72-7. doi: 10.1016/j.neulet.2013.08.020.
Wong RH, Nealon RS, Scholey A, Howe PR. Low dose resveratrol improves cerebrovascular function in type 2 diabetes mellitus. Nutr Metab Cardiovasc Dis. 2016 May;26(5):393-9. doi: 10.1016/j.numecd.2016.03.003.
He Q, Li Z, Wang Y, Hou Y, Li L, Zhao J. Resveratrol alleviates cerebral ischemia/reperfusion injury in rats by inhibiting NLRP3 inflammasome activation through Sirt1-dependent autophagy induction. Int Immunopharmacol. 2017 Sep;50:208-215. doi: 10.1016/j.intimp.2017.06.029.
Abdel-Aleem GA, Khaleel EF, Mostafa DG, Elberier LK. Neuroprotective effect of resveratrol against brain ischemia reperfusion injury in rats entails reduction of DJ-1 protein expression and activation of PI3K/Akt/GSK3b survival pathway. Arch Physiol Biochem. 2016 Oct;122(4):200-213. doi: 10.1080/13813455.2016.1182190.
Li Z, Fang F, Wang Y, Wang L. Resveratrol protects CA1 neurons against focal cerebral ischemic reperfusion-induced damage via the ERK-CREB signaling pathway in rats. Pharmacol Biochem Behav. 2016 Jul-Aug;146-147:21-7. doi: 10.1016/j.pbb.2016.04.007.
Singh N, Agrawal M, Dore S. Neuroprotective properties and mechanisms of resveratrol in in vitro and in vivo experimental cerebral stroke models. ACS Chem. ACS Chem Neurosci. 2013 Aug 21;4(8):1151-62. doi: 10.1021/cn400094w.
Witte AV, Kerti L, Margulies DS, Floel A. Effects of resveratrol on memory performance, hippocampal functional connectivity, and glucose metabolism in healthy older adults. J Neurosci. 2014 Jun 4;34(23):7862-70. doi: 10.1523/JNEUROSCI.0385-14.2014.
Li YR, Li S, Lin CC. Effect of resveratrol and pterostilbene on aging and longevity. Biofactors. 2018 Jan;44(1):69-82. doi: 10.1002/biof.1400.
Smita S, Lange F, Wolkenhauer O, Kohling R. Deciphering hallmark processes of aging from interaction networks. Biochim Biophys Acta. 2016 Nov;1860(11 Pt B):2706-15. doi: 10.1016/j.bbagen.2016.07.017.
Wahab A, Gao K, Jia C, et al. Significance of resveratrol in clinical management of chronic diseases. Molecules. 2017 Aug 18;22(8). pii: E1329. doi: 10.3390/molecules22081329.
Jayasena T, Poljak A, Smythe G, Braidy N, Münch G, Sachdev P. The role of polyphenols in the modulation of sirtuins and other pathways involved in Alzheimer's disease. Ageing Res Rev. 2013 Sep;12(4):867-83. doi: 10.1016/j.arr.2013.06.003.
Scarlatti F, Maffei R, Beau I, Codogno P, Ghidoni R. Role of non-canonical Beclin 1-independent autophagy in cell death induced by resveratrol in human breast cancer cells. Cell Death Differ. 2008 Aug;15(8):1318-29. doi: 10.1038/cdd.2008.51.
He X, Wang Y, Zhu J, Orloff M, Eng C. Resveratrol enhances the anti-tumor activity of the mTOR inhibitor rapamycin in multiple breast cancer cell lines mainly by suppressing rapamycin-induced AKT signaling. Cancer Lett. 2011 Feb 28;301(2):168-76. doi: 10.1016/j.canlet.2010.11.012.
Selvaraj S, Sun Y, Sukumaran P, Singh BB. Resveratrol activates autophagic cell death in prostate cancer cells via downregulation of STIM1 and the mTOR pathway. Mol Carcinog. 2016 May;55(5):818-31. doi: 10.1002/mc.22324.
Sheth S, Jajoo S, Kaur T, et al. Resveratrol reduces prostate cancer growth and metastasis by inhibiting the Akt/MicroRNA-21 pathway. PLoS One. 2012;7(12):e51655. doi: 10.1371/journal.pone.0051655.
Miki H, Uehara N, Kimura A, et al. Resveratrol induces apoptosis via ROS-triggered autophagy in human colon cancer cells. Int J Oncol. 2012 Apr;40(4):1020-8. doi: 10.3892/ijo.2012.1325.