"Child`s Health" Том 14, №1, 2019
Vitamin D status and bone mineral density in patients with juvenile rheumatoid arthritis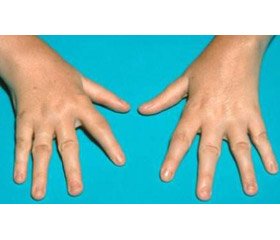 Summary
Актуальність. Моніторування мінеральної щільності кісткової тканини (МЩКТ) у хворих на ювенільний ревматоїдний артрит (ЮРА), доповнене визначенням сироваткового рівня кальцидіолу (25(ОН)D), є індикатором системності процесів катаболізму й успішності терапії, що проводиться. Мета. Оцінка показників денситометрії, рівня кальцидіолу у хворих на ЮРА для визначення остеопенічного синдрому, доцільності призначення додаткових доз вітаміну D. Матеріали та методи. Оцінено значення 25(ОН)D та МЩКТ у 65 хворих на ЮРА. Дані оброблені із застосуванням хі-квадрата Пірсона та рангового кореляційного аналізу за Спірменом. Результати. У 92 % хворих на ЮРА визначається порушення забезпеченості вітаміном D. При проведенні двохенергетичної рентгенівської абсорбціометрії (DXA) виявлено, що 60 % хворих мають вторинний остеопенічний синдром (Z-score ≤ –2 SD). У пацієнтів, які в комплексному лікуванні отримують імунобіологічні препарати, спостерігаються вірогідно вищі показники МЩКТ (р < 0,01). Показник МЩКТ має сильну негативну кореляційну залежність від ступеня активності хвороби (коефіцієнт кореляції (r Spearman's) дорівнює –0,72), помірну залежність від рівня 25(ОН)D (r Spearman's рівний 0,39). Висновки. В процесі спостереження та моніторингу лікування хворих на ЮРА необхідно контролювати рівень 25(ОН)D та МЩКТ. 68 % хворих на ЮРА, які як базисну терапію отримують планове лікування імунобіологічними препаратами, мають нормальну МЩКТ.
Актуальность. Мониторирование минеральной плотности костной ткани (МПКТ) у больных ювенильным ревматоидным артритом (ЮРА), дополненное определением сывороточного уровня кальцидиола (25(ОН)D) является индикатором системности процессов катаболизма и критерием успешности терапии. Цель. Оценка показателей денситометрии, уровня кальцидиола у больных ЮРА для определения остеопенического синдрома, целесообразности назначения дополнительных доз витамина D. Материалы и методы. Оценено значение 25(ОН)D и МПКТ у 65 больных ЮРА. Данные обработаны с применением xи-квадрата Пирсона и рангового корреляционного анализа по Спирмену. Результаты. У 92 % больных ЮРА определяется нарушение обеспеченности витамином D. При проведении двухэнергетической рентгеновской абсорбциометрии (DXA) выявлено, что 60 % больных имеют вторичный остеопенический синдром (Z-score ≤ –2 SD). У пациентов, которые получали иммунобиологические препараты в комплексном лечении, наблюдаются достоверно более высокие показатели МПКТ (р < 0,01). Показатель МПКТ имеет сильную негативную корреляционную зависимость от степени активности болезни (коэффициент корреляции (r Spearman's) равен –0,72), умеренную зависимость от уровня 25(ОН)D (r Spearman's равный 0,39). Выводы. В процессе наблюдения и мониторинга лечения больных ЮРА необходимо контролировать уровень 25(ОН)D и МПКТ. 68 % больных ЮРА, которые в качестве базисной терапии получают плановое лечение иммунобиологическими препаратами, имеют нормальную МПКТ.
Background. Monitoring bone mineral density (BMD) in patients with juvenile rheumatoid arthritis (JRA) with additional assessment of calcidiol (25(OH)D) serum level is an indicator of catabolism status and a criterion of successful therapy. Our objective was to evaluate the bone densitometry data and calcidiol level in patients with JRA in order to determine the osteopenic syndrome and the advisability of prescribing additional doses of vitamin D. Materials and methods. The calcidiol level and BMD were assessed in 65 patients with JRA. The data were processed using Pearson's chi-squared test and Spearman's rank correlation coefficient. Results. There was a violation of vitamin D level in 92 % of patients with JRA. 60 % of patients were diagnosed with secondary osteopenic syndrome (Z-score ≤ –2 SD) using the dual-energy X-ray absorptiometry. It was revealed that persons, who receive biological disease-modifying antirheumatic drugs as a part of integrated treatment, demonstrate significantly better results (р < 0.01) according to BMD assessment data. The strong negative association (Spearman's coefficient was –0.72) was observed between BMD and the level of disease activity. A direct moderate correlation was found between BMD and calcidiol level (Spearman's correlation coefficient is 0.39). Conclusions. We assume that it would be appropriate to evaluate the calcidiol level and BMD score in the management of JRA patients. 68 % of persons with JRA, who receive biological disease-modifying antirheumatic drugs as a part of standard therapy, have normal BMD.
Keywords
ювенільний ревматоїдний артрит; мінеральна щільність кісткової тканини; кальцидіол
ювенильный ревматоидный артрит; минеральная плотность костной ткани; кальцидиол
juvenile rheumatoid arthritis; bone mineral density; calcidiol
For the full article you need to subscribe to the magazine.
Bibliography
1. Manners P.J. Worldwide prevalence of juvenile arthritis — why does it vary so much? / P.J. Manners, C. Bower // J. Rheumatol. — 2002. — Vol. 29. — Р. 1520-30.
2. Janicka-Szczepaniak M. Is it possible to predict a risk of osteoporosis in patients with juvenile idiopathic arthritis? A study of serum levels of bone turnover markers / M. Janicka-Szczepaniak, K. Orczyk, K. Szymbor, E. Smolevska // J. ABP Biochimica Polonica. — 2018. — Vol. 65(2). — Р. 297-302.
3. Lurati A. Skeletal mineralization in a prepubertal female population affected by juvenile idiopathic arthritis / A. Lurati, R. Cimaz, M. Gattinara, V. Gerloni, B. Teruzzi, A. Salmas [et al.] // Reumatismo. — 2008. — Vol. 60(3). — P. 224-9.
4. Weinstein R.S. Inhibition of osteoblastogenesis and promotion of apoptosis of osteoblasts and osteocytes by glucocorticoids. Potential mechanisms of their deleterious effects on bone / R.S. Weinstein, R.L. Jilka, K. Takahashi, A.M. Parfitt // J. Clin. Invest. 1998. — Vol. 102. — Р. 274-282.
5. Binkovitz L.A. Pediatric DXA: technique and interpretation / L.A. Binkovitz, M.J. Henwood // Pediatric Radiology. — 2007. — Vol. 37(1). — P. 21-31.
6. Gordon C.M. 2013 Pediatric Position Development Conference: executive summary and reflections / C.M. Gordon, M.B. Leonard, B.S. Zemel // J. Clin. Densitom. — 2014. — 17. — Р. 219-224.
7. Agmon-Levin N. Vitamin D in systemic and organ-specific autoimmune diseases / N. Agmon-Levin, E. Theodor, R.M. Segal, Y. Shoenfeld // Clin. Rev. Allergy Immunol. — 2013. — 45. — P. 256-66.
8. Holick M.F. Evaluation, treatment, and prevention of vitamin D deficiency: an Endocrine Society clinical practice guideline / M.F. Holick, N.C. Binkley, H.A. Bischoff-Ferrari, C.M. Gordon, D.A. Hanley, R.P. Heaney [et al.] // J. Clin. Endocrinol. Metab. — 2011. — Vol. 96(7). — P. 1911-30.
9. Sabbagh Z. Vitamin D status is associated with di–sease acti–vity among rheumatology outpatients / Z. Sabbagh, J. Markland, H. Vatanparast // Nutrients. — 2013. — Vol. 5. — P. 2268-75.
10. Finch S.L. Vitamin D and juvenile idiopathic arthritis / S.L. Finch, A.M. Rosenberg, H. Vatanparast // Pediatric Rheumato–logy. — 2018. — 16. — P. 16-34.
11. Bouaddi I. Vitamin D concentrations and disease activity in Moroccan children with juvenile idiopathic arthritis / I. Bouaddi, S. Rostom, E.L. Badri, A. Hassani, B. Chkirate, R. Abouqal [et al.] // BMC Musculoskeletal. Disord. — 2014. — Vol. 1, № 15. — P. 115. — doi: 10.1186/1471-2474-15-115.
12. Stagi S. Determinants of vitamin D levels in children, adolescents, and young adults with juvenile idiopathic arthritis / S. Stagi, F. Bertini, L. Cavalli, M. Matucci-Cerinic, M.L. Brand, F. Falcini // J. Rheumatol. — 2014. — Vol. 41(9). — P. 1884-1892.
13. Studart de Sousa S.A. Vitamin D levels in juvenile idiopathic arthritis from an equatorial region / S.A. de Sousa Studart, A.C. Leite, A.L. Marinho, A.C. Matias Dinelly Pinto, C. Nobre Rabelo Junior, R. de Melo Nunes [et al.] // Rheumatol. Int. — 2015. — Vol. 35, № 10. — P. 1717-1723.
14. Patel S. Association between serum vitamin D metabolite levels and disease activity in patients with early inflammatory polyarthritis / S. Patel, T. Farragher, J. Berry, D. Bunn, A. Silman, D. Symmons // Arthritis Rheum. — 2007. — Vol. 56(7). — P. 2143-2149.
15. Fuleihan G. El-Hajj. Effect of vitamin D replacement on musculoskeletal parameters in school children: a randomized controlled trial / G. El-Hajj Fuleihan, M. Nabulsi, H. Tamim, J. Maalouf, M. Salamoun, H. Khalife [et al.] // J. Clin. Endocrinol. Metab. — 2006. — Vol. 91(2). — P. 405-12.
16. Viljakainen H.T. A positive dose-response effect of vitamin D supplementation on site-specific bone mineral augmentation in adolescent girls: a double-blinded randomized placebo-controlled 1-year intervention / H.T. Viljakainen, A.M. Natri, M. Karkkainen, M.M. Huttunen, A. Palssa, J. Jakobsen [et al.] // J. Bone Miner. Res. — 2006. — Vol. 21(6). — P. 836-44.
17. Gomez-Vaquero C. Influence of the Bsml polymorphism of the vitamin D receptor gene on rheumatoid arthritis clinical activity / С. Gomez-Vaquero, J. Fiter, A. Enjuanes, X. Nogues, A. Diez-Perez, J.M. Nolla // J. Rheumatol. — 2007. — Р. 1823-1826.
18. Поворознюк В.В. Вплив дефіциту вітамiну D на перебіг ревматоїдного артриту / В.В. Поворознюк, О.В. Синенький // Біль. Суглоби. Хребет. — 2016. — № 3. — С. 15-21.
19. Institute of Medicine. Food and nutrition board, dietary refe–rence intakes for calcium and vitamin D. Washington: National Aca–demy Press; 2010.
20. Heaney R.P. Human serum 25-hydroxycholecalciferol response to extended oral dosing with cholecalciferol / R.P. Heaney, K.M. Davies, T.C. Chen, M.F. Holick, M.J. Barger-Lux // Am. J. Clin. Nutr. — 2003. — Vol. 77(1). — P. 204-10.
Similar articles

Authors: Марушко Т.В., Голубовська Ю.Є.
Національна медична академія післядипломної освіти імені П.Л. Шупика, м. Київ, Україна
"Child`s Health" Том 14, №7, 2019
Date: 2019.12.10
Categories: Pediatrics/Neonatology
Sections: Clinical researches


Authors: Хаджинова Ю.В.
ДУ «Інститут охорони здоров'я дітей та підлітків НАМН України», м. Харків, Україна
Харківський національний університет ім. В.Н. Каразіна, м. Харків, Україна
"Child`s Health" Том 14, №4, 2019
Date: 2019.08.05
Categories: Pediatrics/Neonatology
Sections: Specialist manual


Authors: Поворознюк В.В.(1), Джус М.Б.(2)
(1) - Інститут геронтології ім. Д.Ф. Чеботарьова НАМН України, Український науково-медичний центр проблем остеопорозу, м. Київ, Україна
(2) - Національний медичний університет ім. О.О. Богомольця, м. Київ, Україна
"Pain. Joints. Spine." Том 7, №2, 2017
Date: 2017.08.30
Categories: Rheumatology, Traumatology and orthopedics
Sections: Clinical researches


Authors:
Марушко Т.В., Голубовська Ю.Є. Національна медична академія післядипломної освіти імені П.Л. Шупика, м. Київ, Україна


"Child`s Health" Том 15, №3, 2020
Date: 2020.06.07
Categories: Pediatrics/Neonatology
Sections: Clinical researches