"Child`s Health" Том 14, №1, 2019
Stevens-Johnson syndrome in an adolescent: diagnosis and treatment (clinical case)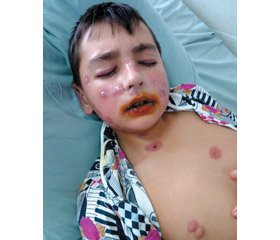 Authors:

Никитюк С.О.(1), Демборинська Н.М.(2), Кміта І.В.(2)
(1) — ДВНЗ «Тернопільський державний медичний університет імені І.Я. Горбачевського МОЗ України, м. Тернопіль, Україна
(2) — Тернопільська обласна дитяча клінічна лікарня, м. Тернопіль, Україна



Categories:

Pediatrics/Neonatology



Sections:

Specialist manual
Summary
Авторами наведено клінічний випадок синдрому Стівенса — Джонсона в підлітка, жителя Тернопільської області, який був госпіталізований у реанімаційне відділення Тернопільської обласної дитячої клінічної лікарні. Особливістю даного клінічного випадку є те, що в пацієнта була тяжка форма токсичного епідермального некролізу, що супроводжувався гарячкою, ураженням шкіри, симптомом Нікольського. У хлопчика розвинувся характерний шкірний синдром, що супроводжувався формуванням пухирів на шкірі, ерозії на слизових. Парентеральне введення преднізолону з розрахунку 10 мг/кг на фоні підтримки водного, електролітного і білкового балансу привело до вираженого позитивного ефекту і знизило ризик погіршення стану хворого.
Авторами представлен клинический случай синдрома Стивенса — Джонсона у подростка, жителя Тернопольской области, который был госпитализирован в реанимационное отделение Тернопольской областной детской клинической больницы. Особенностью данного клинического случая является то, что у пациента была тяжелая форма токсического эпидермального некролиза, который сопровождался лихорадкой, поражением кожи, симптомом Никольского. У мальчика развился характерный кожный синдром, сопровождающийся формированием пузырей на коже, эрозий на слизистых. Парентеральное введение преднизолона из расчета 10 мг/кг на фоне поддержания водного, электролитного и белкового баланса привело к выраженному положительному эффекту и снизило риск ухудшения состояния больного.
The authors present a clinical case of Stevens-Johnson syndrome in an adolescent, a resident of Ternopil region, who was hospitalized in the intensive care unit of Ternopil Regional Children's Clinical Hospital. The feature of this clinical case is that the patient had a severe form of toxic epidermal necrolysis, which was accompanied by a fever, skin lesions, Nikolsky sign. The boy developed a characteristic skin syndrome, which was associated with the formation of skin blisters, mucosal erosions. Parenteral administration of prednisolone at the rate of 10 mg/kg against the background of maintaining the water, electrolyte and protein balance had a pronounced positive effect and reduced the risk of patient deterioration.
Keywords
синдром Стівена — Джонсона; токсичний епідермальний некроліз; преднізолон
синдром Стивенса — Джонсона; токсический эпидермальный некролиз; преднизолон
Stevens-Johnson syndrome; toxic epidermal necrolysis; prednisolone
For the full article you need to subscribe to the magazine.
Bibliography
1. Lam N.S. Clinical characteristics of childhood erythema multiforme, Stevens Johnson syndrome and toxic epidermal necrolysis in Taiwanese children / N.S. Lam et al. // J. Microbiol. Immunol. Infect. — 2004. — Vol. 37. — P. 366-370.
2. Lamoreux M.R. Erythema multiforme / M.R. Lamoreux, M.R. Sternbach, W.T. Hsu // Am. Fam. Physician. — 2006. — Vol. 74, № 11. — P. 1883-1888.
3. Léauté-Labrèze C. Diagnosis, classification, and management of erythema multiforme and Stevens Johnson syndrome / C. Léauté-Labrèze // Arch. Dis. Child. — 2000. — Vol. 83. — P. 347-352.
4. Oakley A. Erythema multiforme / A. Oakley, updated by D. Dyall-Smith in 2009 // DermNet NZ [Электронный ресурс]. — 2010, last updated Juli, 5. — Режим доступа: http://www.dermnetnz.org/ reactions/erythema-multiforme.html (дата доступа: 06.02.2011).
5. Schofield J.K. Reccurent erythema multiforme: clinical features and treatment in a large series of patients / J.K. Schofield, F.M. Tatnall, I.M. Leigh // Br. J. Dermatol. — 1993. — Vol. 128. — P. 542-545.
6. Tatnall F.M. A double-blind, placebo-controlled trial of continuous acyclovir therapy in recurrent erythema multiforme / F.M. Tatnall, J.K. Schofield, I.M. Leigh // Br. J. Dermatol. — 1995. — Vol. 132. — P. 267-270.
7. Лазарева Г. Диагностический справочник аллерголога. — М.: АСТ, Астрель, 2017. — P. 497.
8. Заболевания кожи. Полный справочник / Под ред. Ю.Ю. Елисеева. — М.: Эксмо, 2017. — P. 527-528.
9. Goswami Meeta, Thorpy Michael J., Pandi-Perumal S.R. Narcolepsy: A Clinical Guide. — Springer, 2016. — P. 293.
10. Stevens-Johnson syndrome/toxic epidermal necrolysis (англ.). Genetics Home Reference (2015).
11. Research Directions in Genetically-Mediated Stevens-Johnson Syndrome/Toxic Epidermal Necrolysis // www.genome.gov
12. Патофізіологія: Підручник / Ю.В. Биць, Г.М. Бутенко, А.І. Гоженко та ін.; за ред. М.Н. Зайка, Ю.В. Биця, М.В. Кришталя. — 5-те вид., виправл. — К.: ВСВ «Медицина», 2015. — 752 с.