"Child`s Health" Том 14, №1, 2019
Inhibition of bacterial quorum sensing (general concept)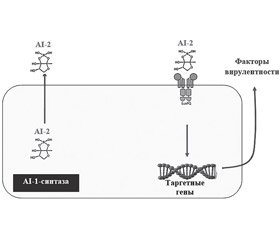 Authors:

Абатуров А.Е.(1), Крючко Т.А.(2)
(1) — ГУ «Днепропетровская медицинская академия МЗ Украины», г. Днепр, Украина
(2) — Украинская медицинская стоматологическая академия, г. Полтава, Украина



Categories:

Pediatrics/Neonatology



Sections:

Specialist manual
Summary
У науковому огляді викладені сучасні дані, що характеризують основні положення про функціонування механізму кворум сенсингу в системі міжбактеріальних комунікацій. Подано загальну характеристику різних поєднань, що мають переважний вплив на кворум сенсинг. Підкреслено, що за механізмом інгібітори кворум сенсингу являють три функціональні групи: група речовин, що пригнічують активність автоіндукторних синтаз; група речовин, що блокують автоіндукторні рецептори; група речовин, що порушують взаємодію автоіндукторів з їх специфічним рецептором.
В научном обзоре изложены современные данные, характеризующие основные положения о функционировании механизма кворум сенсинга в системе межбактериальных коммуникаций. Представлена общая характеристика различных соединений, обладающих подавляющим влиянием на кворум сенсинг. Подчеркнуто, что по механизму ингибиторы кворум сенсинга представляют три функциональные группы: 1) группа веществ, подавляющих активность аутоиндукторных синтаз; 2) группа веществ, блокирующих аутоиндукторные рецепторы; 3) группа веществ, нарушающих взаимодействие аутоиндукторов с их специфическим рецептором.
The scientific review outlines current data characteri­zing the main provisions on the functioning of the mechanism of the sensory quorum in the system of interbacterial communications. A general characteristic of various compounds possessing an overwhelming influence on quorum sensory is presented. It is emphasized that the mechanism of sensory quorum inhibition is represented by three functional groups: a group of substances that suppress the activity of autoinducer synthases; a group of substances that block the autoinducer receptors; a group of substances that interfere with autoinducers interaction with their specific receptor.
Keywords
кворум сенсинг; інгібітори кворум сенсингу; огляд
кворум сенсинг; ингибиторы кворум сенсинга; обзор
quorum sensing; quorum sensing inhibitors; review
For the full article you need to subscribe to the magazine.
Bibliography
1. Абатуров А.Е., Волосовец А.П., Юлиш Е.И. Роль Toll-подобных рецепторов в рекогниции патоген-ассоциированных молекулярных структур инфекционных патогенных агентов в развитии воспаления. Ч. 1. Семейство TLR // Здоровье ребенка. — 2012. — № 5(40). — С. 116-121.
2. Abisado R.G. Bacterial Quorum Sensing and Microbial Community Interactions / R.G. Abisado, S. Benomar, J.R. Klaus et al. // MBio. 2018 May 22; 9(3). pii: e02331-17. doi: 10.1128/mBio.02331-17.
3. Banerjee G., Ray A.K. Quorum-sensing network-associated gene regulation in Gram-positive bacteria // Acta Microbiol. Immunol. Hung. 2017 Dec 1; 64(4): 439-453. doi: 10.1556/030.64.2017.040.
4. Brango-Vanegas J. Glycosylflavonoids from Cecropia pachystachya Trécul are quorum sensing inhibitors / J. Brango-Vanegas, G.M. Costa, C.F. Ortmann et al. // Phytomedicine. 2014 Apr 15; 21(5): 670-5. doi: 10.1016/j.phymed.2014.01.001.
5. Castillo-Juárez I. Role of quorum sensing in bacterial infections / I. Castillo-Juárez, T. Maeda, E.A. Mandujano-Tinoco et al. // World J. Clin. Cases. 2015 Jul 16; 3(7): 575-98. doi: 10.12998/wjcc.v3.i7.575.
6. Chen F. Quorum quenching enzymes and their application in degrading signal molecules to block quorum sensing-dependent infection / F. Chen, Y. Gao, X. Chen et al. // Int. J. Mol. Sci. 2013 Aug 26; 14(9): 17477-500. doi: 10.3390/ijms140917477.
7. Cirkovic I. Antibiofilm effects of topical corticosteroids and intranasal saline in patients with chronic rhinosinusitis with nasal po–lyps depend on bacterial species and their biofilm-forming capacity / I. Cirkovic, B. Pavlovic, D.D. Bozic et al. // Eur. Arch. Otorhinolaryngol. 2017 Apr; 274(4): 1897-1903. doi: 10.1007/s00405-017-4454-6.
8. de Nys R. Furanones / R. de Nys, M. Givskov, N. Kumar et al. // Prog. Mol. Subcell. Biol. 2006; 42: 55-86. PMID: 16805438.
9. Defoirdt T. Quorum-Sensing Systems as Targets for Antivirulence Therapy // Trends Microbiol. 2018 Apr; 26(4): 313-328. doi: 10.1016/j.tim.2017.10.005.
10. Du Y. Signal molecule-dependent quorum-sensing and quorum-quenching enzymes in bacteria / Y. Du, T. Li, Y. Wan et al. // Crit. Rev. Eukaryot. Gene Expr. 2014; 24(2): 117-32. doi: 10.1615/CritRevEukaryotGeneExpr.2014008034.
11. Galkin M. Characteristics of the Pseudomonas aeruginosa PA01 Intercellular Signaling Pathway (Quorum Sensing) Functioning in Presence of Porphyrins Bismuth Complexes / M. Galkin, V. Ivani–tsia, Y. Ishkov et al. // Pol. J. Microbiol. 2015; 64(2): 101-6. PMID: 26373168.
12. Giaouris E. Intra- and inter-species interactions within biofilms of important foodborne bacterial pathogens / E. Giaouris, E. Heir, M. Desvaux et al. // Front Microbiol. 2015 Aug 20; 6: 841. doi: 10.3389/fmicb.2015.00841.
13. Hurley A., Bassler B.L. Asymmetric regulation of quorum-sensing receptors drives autoinducer-specific gene expression programs in Vibrio cholera // PLoS Genet. 2017 May 26; 13(5): e1006826. doi: 10.1371/journal.pgen.1006826.
14. Kalia V.C., Raju S.C., Purohit H.J. Genomic analysis reveals versatile organisms for quorum quenching enzymes: acyl-homoserine lactone-acylase and -lactonase // Open Microbiol. J. 2011; 5: 1-13. doi: 10.2174/1874285801105010001.
15. Kusada H. A novel quorum-quenching enzyme mediates antibiotic resistance / H. Kusada, H. Tamaki, Y. Kamagata et al. // Appl. Environ. Microbiol. 2017 Apr 28. pii: AEM.00080-17. doi: 10.1128/AEM.00080-17.
16. Lade H., Paul D., Kweon J.H. Quorum quenching mediated approaches for control of membrane biofouling // Int. J. Biol. Sci. 2014 May 14; 10(5): 550-65. doi: 10.7150/ijbs.9028.
17. Lord D.M. BdcA, a protein important for Escherichia coli biofilm dispersal, is a short-chain dehydrogenase/reductase that binds specifically to NADPH / D.M. Lord, A.U. Baran, T.K. Wood et al. // PLoS One. 2014 Sep 22; 9(9): e105751. doi: 10.1371/journal.pone.0105751.
18. Mukherji R., Prabhune A. A new class of bacterial quorum sensing antagonists: glycomonoterpenols synthesized using linalool and alpha terpineol // World J. Microbiol. Biotechnol. 2015 Jun; 31(6): 841-9. doi: 10.1007/s11274-015-1822-5.
19. Papenfort K., Bassler B.L. Quorum sensing signal-response systems in Gram-negative bacteria // Nat. Rev. Microbiol. 2016 Aug 11; 14(9): 576-88. doi: 10.1038/nrmicro.2016.89.
20. Park J.S. New bicyclic brominated furanones as potent autoinducer-2 quorum-sensing inhibitors against bacterial biofilm formation / J.S. Park, E.J. Ryu, L. Li et al. // Eur. J. Med. Chem. 2017 Sep 8; 137: 76-87. doi: 10.1016/j.ejmech.2017.05.037.
21. Parveen N., Cornell K.A. Methylthioadenosine/S-adenosylhomocysteine nucleosidase, a critical enzyme for bacterial metabolism // Mol. Microbiol. 2011 Jan; 79(1): 7-20. doi: 10.1111/j.1365-2958.2010.07455.x.
22. Passos da Silva D. An Update on the Sociomicrobiology of Quorum Sensing in Gram-Negative Biofilm Development / D. Passos da Silva, M.C. Schofield, M.R. Parsek, B.S. Tseng // Pathogens. 2017 Oct 21; 6(4). pii: E51. doi: 10.3390/pathogens6040051.
23. Singh R.P. Attenuation of quorum sensing-mediated virulence in Gram-negative pathogenic bacteria: implications for the post-antibiotic era // Med. Chem. Commun. 2015; 6: 259–272. doi: 10.1039/C4MD00363B.
24. Vega L.M. Nickel and cadmium ions inhibit quorum sen–sing and biofilm formation without affecting viability in Burkholderia multivorans / L.M. Vega, J. Mathieu, Y. Yang et al. // Int. Biodeter. Biodegr. 2014; 91: 82-87. doi: 10.1016/j.ibiod.2014.03.013.
25. Weiland-Bräuer N. Highly Effective Inhibition of Biofilm Formation by the First Metagenome-Derived AI-2 Quenching Enzyme / N. Weiland-Bräuer, M.J. Kisch, N. Pinnow et al. // Front Microbiol. 2016 Jul 13; 7: 1098. doi: 10.3389/fmicb.2016.01098.
26. Welsh M.A., Blackwell H.E. Chemical probes of quorum sen–sing: from compound development to biological discovery // FEMS Microbiol Rev. 2016 Sep; 40(5): 774-94. doi: 10.1093/femsre/fuw009.
27. Whiteley M. Progress in and promise of bacterial quorum sen–sing research / M. Whiteley, S.P. Diggle, E.P. Greenberg et al. // Nature. 2017 Nov 15; 551(7680): 313-320. doi: 10.1038/nature24624.
28. Zhao J. Mechanisms of quorum sensing and strategies for quorum sensing disruption in aquaculture pathogens / J. Zhao, M. Chen, C.S. Quan, S.D. Fan // J. Fish. Dis. 2015 Sep; 38(9): 771-86. doi: 10.1111/jfd.12299.
Similar articles

Authors: Абатуров А.Е.(1), Крючко Т.А.(2)
(1) — ГУ «Днепропетровская медицинская академия МЗ Украины», г. Днепр, Украина
(2) — ВГУЗУ «Украинская медицинская стоматологическая академия», г. Полтава, Украина
"Child`s Health" Том 14, №4, 2019
Date: 2019.08.05
Categories: Pediatrics/Neonatology
Sections: Specialist manual


Authors: Абатуров А.Е.(1), Крючко Т.А.(2)
(1) — ГУ «Днепропетровская медицинская академия МЗ Украины», г. Днепр, Украина
(2) — ВГНУЗ «Украинская медицинская стоматологическая академия», г. Полтава, Украина
"Child`s Health" Том 14, №3, 2019
Date: 2019.06.07
Categories: Pediatrics/Neonatology
Sections: Specialist manual


Authors: Абатуров А.Е.(1), Крючко Т.А.(2)
(1) — ГУ «Днепропетровская медицинская академия МЗ Украины», г. Днепр, Украина
(2) — ВГУЗУ «Украинская медицинская стоматологическая академия», г. Полтава, Украина
"Child`s Health" Том 14, №5, 2019
Date: 2019.09.18
Categories: Pediatrics/Neonatology
Sections: Specialist manual


Authors: Абатуров А.Е.(1), Крючко Т.А.(2)
(1) — ГУ «Днепропетровская медицинская академия МЗ Украины», г. Днепр, Украина
(2) — Украинская медицинская стоматологическая академия, г. Полтава, Украина
"Child`s Health" Том 14, №2, 2019
Date: 2019.05.21
Categories: Pediatrics/Neonatology
Sections: Specialist manual