"Тrauma" Том 20, №1, 2019
Analysis of the results of surgical treatment for distal humerus fractures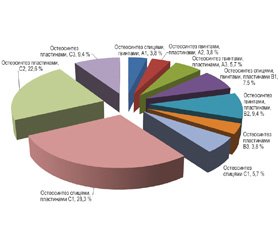 Authors:

Лоскутов О.Є.(1), Доманський А.М.(1), Жердєв І.І.(2), Лушня С.Л.(1)
1 - ДЗ «Дніпропетровська медична академія МОЗ України», м. Дніпро, Україна
2 - КЗ «Дніпропетровська обласна клінічна лікарня ім. І.І. Мечникова, м. Дніпро, Україна



Categories:

Traumatology and orthopedics



Sections:

Clinical researches
Summary
Внутрішньосуглобові переломи дистального відділу плечової кістки, незважаючи на значну кількість різноманітних сучасних методів лікування, залишають високу питому вагу незадовільних результатів — 15–40 %, і хворі визнаються інвалідами у 18–20 % випадків. Консервативні методи лікування не дають можливості розпочати ранню функціональну активність у зв'язку з виникаючою нестабільністю уламків та сприяють розвитку контрактур у ліктьовому суглобі. Проведений ретроспективний аналіз результатів лікування хворих із переломами дистального відділу плечової кістки показав незадовільні результати, пов'язані з діагностичним, тактичними і технічними помилками, у 22 % хворих. Стабільно-функціональний остеосинтез переломів дистального відділу плечової кістки з можливістю активного раннього відновлення функції ліктьового суглоба сприяють зниженню термінів непрацездатності та дають позитивні результати в 78 % хворих.
Внутрисуставные переломы дистального отдела плечевой кости, несмотря на значительное количество разнообразных современных методов лечения, оставляют высокий удельный вес неудовлетворительных результатов — 15–40 %, и больные признаются инвалидами в 18–20 % случаев. Консервативные методы лечения не дают возможности начать раннюю функциональную активность в связи с возникающей нестабильностью отломков и способствуют развитию контрактур в локтевом суставе. Проведенный ретроспективный анализ результатов лечения больных с переломами дистального отдела плечевой кости показал неудовлетворительные результаты, связанные с диагностическим, тактическими и техническими ошибками, у 22 % больных. Стабильно-функциональный остеосинтез переломов дистального отдела плечевой кости с возможностью активного раннего восстановления функции локтевого сустава способствует снижению сроков нетрудоспособности и дает положительные результаты у 78 % больных.
Intra-articular distal humerus fractures, despite a significant number of diverse modern treatments, lead to a high proportion of unsatisfactory results — 15–40 %, and patients are recognized as invalids in 18–20 % of cases. Conservative methods of treatment do not allow early functional activity in connection with the emerging instability of the debris and contribute to the development of elbow contractures. The retrospective analysis of treatment outcomes in patients with distal humerus fractures revealed unsatisfactory results associated with diagnostic, tactical and technical errors in 22 % of patients. The stable functional osteosynthesis of distal humerus fractures with the possibility of active early recovery of the elbow function contributes to a reduction in the incapacity period and yields positive results in 78 % of patients.
Keywords
ліктьовий суглоб; контрактури; стабільно-функціональний остеосинтез; ускладнення; відновлення функції ліктьового суглоба
локтевой сустав; контрактуры; стабильно-функциональный остеосинтез; осложнения; восстановление функции локтевого сустава
elbow joint; contractures; stable functional osteosynthesis; complications; restoration of the elbow joint function
For the full article you need to subscribe to the magazine.
Bibliography
1. Артемьев А.А. Малоинвазивные методики в лечении сложных внутрисуставных переломов дистального отдела плечевой кости / А.А. Артемьев, Н.И. Нелин, В.В. Нахаев, М.С. Бесараб // Материалы науч.-практ. конф. с международным участием «Актуальные вопросы хирургии верхней конечности». — Курган, 2009. — С.16-17.
2. Голка Г.Г. Опыт применения пластин с угловой стабильностью в лечении внутрисуставных переломов / Г.Г. Голка, В.В. Паламарчук, К.А. Булавин, А.И. Белостоцкий, В.В. Суховицкий // Травма. — 2010. — Т. 11, № 4. — С. 421-425.
3. Морозов Д.С. Лечение внутрисуставных переломов дистального отдела плечевой кости: Автореф. дис… канд. мед. наук / Д.С. Морозов. М., 2009. 22 с.
4. Носивец Д.С. Анализ ошибок и осложнений при лечении переломов дистального метаэпифиза плечевой кости / Д.С. Носивец, Л.Ю. Науменко // Матеріали Всеукраїнської наук.-практ. конф. «Сучасні теоретичні та практичні аспекти травматології та ортопедії». — Донецьк, 2013. — С. 41-45.
5. Сравнительный анализ напряжений при различных вариантах системы «кость-шарнирный одноплоскостной аппарат внешней фиксации» в области локтевого сустава / Л.Ю. Науменко [и др.] // Ортопедия, травматология и протезирование. — 2007. — № 1. — С. 39-43.
6. Zlotolow D.A., Catalano L.W.I., Barron O.A., Glickel S.Z. Surgical exposures of the humerus // J. Am. Acad. Orthop. Surg. — 2006. — № 2. — Р. 754-765.
7. Gregory J. Galano, Christopher S. Ahmad, William N. Levine. Current Treatment Strategies for Bicolumnar Distal Humerus Fractures // J. Am. Acad. Orthop. Surg. — 2010. — № 18. — Р. 20-30.
8. Theuse of hinged external fixation to provide additional stabilization for fractures of the dista lhumerus / C.R. Deuel [et al.] // J. Orthop. Trauma. — 2007. — Vol. 21, № 5. — P. 323-329.
Similar articles

Authors:
Курінний І.М., Страфун О.С. ДУ «Інститут травматології та ортопедії НАМН України», м. Київ, Україна


"Тrauma" Том 20, №3, 2019
Date: 2019.07.14
Categories: Traumatology and orthopedics
Sections: Specialist manual


Authors: Курінний І.М., Страфун О.С., Тимошенко С.В.
ДУ «Інститут травматології та ортопедії НАМН України», клініка мікрохірургії та реконструктивної хірургії верхньої кінцівки, м. Київ, Україна
"Тrauma" Том 18, №1, 2017
Date: 2017.04.05
Categories: Traumatology and orthopedics
Sections: Clinical researches


Authors: Бець І.Г.
ДУ «Інститут патології хребта та суглобів ім. проф. М.І. Ситенка НАМН України», м. Харків, Україна
"Тrauma" Том 19, №5, 2018
Date: 2018.11.27
Categories: Traumatology and orthopedics
Sections: Specialist manual


Authors: Страфун С.С., Курінний І.М., Страфун О.С.
ДУ «Інститут травматології та ортопедії НАМН України», м. Київ, Україна
"Тrauma" Том 19, №3, 2018
Date: 2018.07.18
Categories: Traumatology and orthopedics
Sections: Specialist manual