"Тrauma" Том 20, №1, 2019
Regenerative reactions during the filling bone defects with bioglass in combination with autologous platelet-rich plasma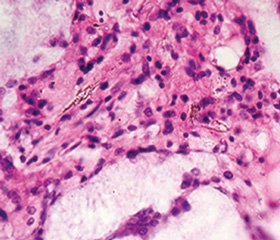 Authors:

Бурьянов А.А.(1), Чорний В.С.(1), Дедух Н.В.(2), Дубок В.А.(2), Проценко В.В.(2), Омельченко Т.Н.(1), Вакулич М.В.(1), Лянскорунский В.Н.(1), Шаповалов В.С.(1), Абудейх Удей(1)
1 - Национальный медицинский университет им. А.А. Богомольца, г. Киев, Украина
2 - ГУ «Институт травматологии и ортопедии НАМН Украины», г. Киев, Украина



Categories:

Traumatology and orthopedics



Sections:

Clinical researches
Summary
Проведено порівняльний морфометричний аналіз між показниками фіброретикулярної та кісткової тканини, що сформувалася в дефекті кістки після імплантації біоскла, а також біоскла з уведенням автоплазми, збагаченої тромбоцитами. В серії досліджень із додатковим уведенням автогенної плазми, збагаченої тромбоцитами, виявлено підвищення в дефекті кісткової тканини на 9 % (P < 0,001). Біоскло характеризується остеокондуктивністю й остеоінтеграцією, матеріал біологічно активний, що проявляється формуванням на його поверхні активних остеобластів і кісткової тканини, часткової резорбції остеокластами. Навколо частинок біоскла були відсутні запальні прояви та алергічна реакція, матеріал був сумісний із кістковою тканиною та кістковим мозком. Деструктивних порушень кісткового мозку навколо частинок біоактивного скла не зафіксовано. Локальне введення плазми, збагаченої тромбоцитами, сприяло підвищенню остеоіндуктивних властивостей біоскла в ділянці травматичного пошкодження.
Проведен сравнительный морфометрический анализ между показателями фиброретикулярной и костной ткани, сформировавшейся в дефекте кости после имплантации биостекла, а также биостекла с введением аутоплазмы, обогащенной тромбоцитами. В серии исследований с дополнительным введением аутогенной плазмы, обогащенной тромбоцитами, выявлено повышение в дефекте костной ткани на 9 % (P < 0,001). Биостекло характеризуется остеокондуктивностью и остеоинтеграцией, материал биоактивен, что проявляется формированием на его поверхности активных остеобластов и костной ткани, частичной резорбции остеокластами. Вокруг частиц биостекла отсутствовали воспалительные проявления и аллергическая реакция, материал был совместим с костной тканью и костным мозгом. Деструктивных нарушений костного мозга вокруг частиц биоактивного стекла не зафиксировано. Локальное введение плазмы, обогащенной тромбоцитами, способствовало повышению остеоиндуктивных свойств биостекла в области травматического повреждения.
A comparative morphometric analysis was performed between the parameters of fibro-reticular and bone tissue formed in the bone defect after implantation of bioactive glass, as well as bioactive glass with the introduction of autoplasma enriched with platelets. In a series of studies with add-on introduction of autogenic plasma enriched with platelets the bone defect increased by 9 % (P < 0.001). The bioactive glass is characterized by osteoconductivity and osteointegration, the material is biologically active, that manifests in formation of active osteoblasts and bone tissue on its surface, partial osteoclast resorption. Around the bioactive glass particles there were no inflammatory sings and allergic reaction; the material was compatible with bone tissue and bone marrow. Destructive bone marrow violations around bioactive glass particles were not recorded. Local administration of plasma enriched with platelets contributed to the improvement of osteoinductive properties of bioactive glass in the area of traumatic injury.
Keywords
біоактивне скло; репаративний остеогенез; плазма, збагачена тромбоцитами
биоактивное стекло; репаративный остеогенез; плазма, обогащенная тромбоцитами
bioactive glass; reparative osteogenesis; autologous platelet-rich plasma
For the full article you need to subscribe to the magazine.
Bibliography
1. Попков А.В. Биосовместимые имплантаты в травматологии и ортопедии (обзор литературы) // Гений ортопедии. — 2014. — 3. — С. 94-99.
2. Beckham C.A. Bone Formation at a Ceramic Implant Interface / C.A. Beckham, T.K. Greenlee, A.R. Crebo // Calcified. Tissue Research. — 1971. — Vol. 8, № 1. — Р. 165-171.
3. Hench L.L. Chronology of Bioactive Glass Development and Clinical Applications // New Journal of Glass and Cera–mics. — 2013. — 3. — С. 67-73.
4. Xynos I.D., Edgar A.J., Buttery L.D.K. Gene Expression Profiling of Human Osteoblasts Following Treatment with the Ionic Dissolu-tion Products of Bioglass® 45S5 Dissolution Journal of Biomedical. Materials Research // Journal of Biomedical. Materials Research. — 2001. — 55(2). — Р. 151-157.
5. Panda S., Doraiswam J., Malaiappan S., Varghese S.S. Additive effect of autologous platelet concentrates in treatment of intrabony defects: a systematic review and meta-analysis // J. Investig. Clin. Dent. — 2016. — 7(1). — Р. 13.
6. Meschi N., Castro A.B., Vandamme K. The impact of autologous platelet concentrates on endodontic healing: a systematic review // Platelets. — 2016. — 27(7). — Р. 613-633.
7. Берченко Г.Н., Кесян Г.А., Микелаишвили Д.С. Применение биокомпозиционного наноструктурированного препарата коллапан и обогащенной тромбоцитами аутоплазмы в инжиниринге костной ткани // Травма. — 2010. — 11(1). — Р. 7-14.
8. Barradas А.М., Yuan Н., van Blitterswijk С.А. Оsteoinductive biomaterials: current knowledge of properties, experimental models and biological mechanisms // European Cells and Materials. — 2011. — 21. — Р. 407-429.
9. Кирилова И.А., Садовой М.А., Подорожная В.Т. Сравнительная характеристика материалов для костной пластики: состав и свойства // Хирургия позвоночника. — 2012 May. — Р. 72-83.
10. Дубок В.А., Лашнева В.В., Шинкарук О.В., Дубок О.В. Сучасний ринок біоактивних керамічних матеріалів і перспективи його розвитку // Вісник Українського матеріалознавчого товариства ім. І.М. Францевича. — 2017. — С. 65-78.
11. Кравченко С.В., Запорощенко А.Ю., Савицкая И.М. Замещение биоактивного керамического материала «Синтекость» новообразованной костью в эксперименте // Клінічна хірургія. —2014. — С. 62-64.
12. Бур'янов О.А., Чорний В.С., Проценко В.В., Шаповалов В.С., Кусяк В.А. Аналіз заміщення кісткових дефектів кальцій-фосфатними біоматеріалами при захворюваннях кісткової тканини // Літопис травматопогії та ортопедії. — 2018. — 37–38(1–2). — С. 111-116.
Similar articles

Authors:
Климовицкий В.Г., Соловьев И.А. - НИИ травматологии и ортопедии Донецкого национального медицинского университета им. М. Горького


"Тrauma" Том 16, №6, 2015
Date: 2016.01.12
Categories: Traumatology and orthopedics
Sections: Specialist manual


Authors:
Поворознюк В.В. - ГУ «Институт геронтологии им. Д.Ф. Чеботарева НАМН Украины», г. Киев; Дедух Н.В. - ГУ «Институт патологии позвоночника и суставов им. проф. М.И. Ситенко НАМН Украины», г. Харьков; Макогончук А.В. - Винницкий национальный медицинский университет им. Н.И. Пирогова


"Тrauma" Том 15, №4, 2014
Date: 2014.12.02
Categories: Traumatology and orthopedics
Sections: Clinical researches


Authors: Радченко В.А., Палкин А.В., Колесниченко В.А., Морозенко Д.В.
ГУ «Институт патологии позвоночника и суставов имени профессора М.И. Ситенко Национальной академии медицинских наук Украины», г. Харьков, Украина
"Тrauma" Том 19, №3, 2018
Date: 2018.07.17
Categories: Traumatology and orthopedics
Sections: Clinical researches


Authors:
Г.Н. Берченко, Г.А. Кесян, Д.С. Микелаишвили - ФГУ «ЦИТО им. Н.Н. Приорова Росмедтехнологии», Москва, Россия


"Тrauma" Том 11, №1, 2010
Date: 2011.08.26
Categories: Traumatology and orthopedics
Sections: Clinical researches