"Тrauma" Том 20, №1, 2019
Structural disturbances of the knee joint while modeling osteoarthritis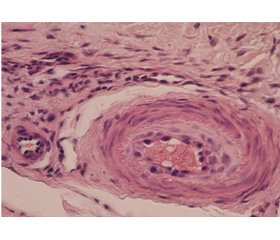 Authors:

Ткачук П.В., Страфун С.С., Савосько С.І., Макаренко О.М.
ДУ «Інститут травматології та ортопедії НАМН України», м. Київ, Україна
Національний медичний університет імені О.О. Богомольця, м. Київ, Україна



Categories:

Traumatology and orthopedics



Sections:

Clinical researches
Summary
У статті досліджено структурні зміни капсули колінного суглоба, меніска й суглобової поверхні на моделі остеоартрозу. Встановлено кровонаповнення й стаз судин капсули й ворсинок синовіальної оболонки, загибель клітин ворсинок, дистрофічні зміни хондроцитів меніска й епіфіза кісток суглоба. Дефект суглобової поверхні й перетин хрестоподібної зв'язки позначилися на товщині хряща, редукції клітинного складу й резорбції субхондральної кістки. Зроблено висновок про участь судинного чинника в розвитку дистрофічних і деформаційних змін структурних утворень колінного суглоба при остеоартрозі.
В статье исследованы структурные изменения капсулы коленного сустава, мениска и суставной поверхности на модели остеоартроза. Установлены кровенаполнение и стаз сосудов капсулы и ворсинок синовиальной оболочки, гибель клеток ворсинок, дистрофические изменения хондроцитов мениска и эпифиза костей сустава. Дефект суставной поверхности и пересечение крестообразной связки сказались на толщине хряща, редукции клеточного состава и резорбции субхондральной кости. Сделан вывод об участии сосудистого фактора в развитии дистрофических и деформационных изменений структурных образований коленного сустава при остеоартрозе.
The article deals with the structural changes in the capsule of the knee joint, meniscus and articular surface on the model of osteoarthritis. Blood filling, stasis of the capsule vessels and synovial villi, villi cell death, dystrophic changes in the meniscal chondrocytes and the epiphysis of joint bones were established. Defect of the articular surface and cruciate ligament transection affected the thickness of the cartilage, reduction of the cellular composition and resorption of the subchondral bone. It was concluded that the vascular factor is involved in the development of dystrophic and deformational changes in the structural formations of the knee joint in osteoarthritis.
Keywords
остеоартроз; судини; капсула; меніск; суглобовий хрящ
остеоартроз; сосуды; капсула; мениск; суставной хрящ
osteoarthritis; vessels; capsule; meniscus; articular cartilage
For the full article you need to subscribe to the magazine.
Bibliography
1. Hayami T., Pickarski M., Zhuo Y., Wesolowski G.A., Rodan G.A., Duong le T. Characterization of articular cartilage and subchondral bone changes in the rat anterior cruciate ligament transection and meniscectomized models of osteoarthritis // Bone. — 2006. — 38. — 234-43.
2. Chunyi Wen, Weijia William Lu, Kwong Yuen Chiu. Importance of subchondral bone in the pathogenesis and management of osteoarthritis from bench to bed // Journal of Orthopaedic Translation. — 2014. — Vol. 2, Issue 1. — P. 16-25.
3. Zhang C., Li Y., Cornelia R., Swisher S., Kim H. Re-gulation of VEGF expression by HIF-1α in the femoral head cartilage following ischemia osteonecrosis // Scientific Reports. — 2012. — 2. — 650. — http://doi.org/10.1038/srep00650.
4. Carlson C.S., Meuten D.J., Richardson D.C. Ischemic necrosis of cartilage in spontaneous and experimental lesions of osteochondrosis // J. Orthop. Res. — 1991 May. — 9(3). — 317-29.
5. Lykissas M.G., Gelalis I.D., Kostas-Agnantis I.P., Vozo-nelos G., Korompilias A.V. The role of hypercoagulability in the development of osteonecrosis of the femoral head // Orthopedic Reviews. — 2012. — 4(2). — e17. — http://doi.org/10.4081/or.2012.e17
6. Тлеубаева Н.В. Патогенетические аспекты послеоперационных тромбических осложнений при деформирующем остеоартрозе: Дис... канд. мед. наук: 14.00.16 / Тлеубаева Надежда Викторовна; [Место защиты: ГОУВПО «Кемеровская государственная медицинская академія»]. — Кемерово, 2009. — 113 с.
7. Seung'Ah Y., Bo'Hyoung P., Hyung'Ju Y. et al. Calcineurin Modulates the Catabolic and Anabolic Activity of Chondrocytes and Participates in the Progression of Experimental Osteoarthritis // Arth. Rheum. — 2007. — Vol. 56, № 7. — P. 2299-2311.
8. Baragi V.M., Becher G., Bendele A. M. et al. A newclass of potent matrix metalloproteinase 13 inhibitors for potential treatment of osteoarthritis: Evidence of histologic and clinical efficacy without musculoskeletal toxicity in rat mo–dels // Arth. Rheum. — 2009. — Vol. 60, № 7. — P. 2008-2018.
9. Вишневский В.А., Малышкина С.В. Моделирование артроза путем введения дексаметазона в коленный сустав крысы // Ортоп. травмат. протезир. — 2004. — № 4. — С. 76-80.
10. Пат. 79206, Україна, МПК8 G 09 В 23/28. Спосіб моделювання остеоартрозу з синовіїтом / Коваленко В.М., Вікторов О.П., Корж М.О., Дедух Н.В., Лисенко І.В., заявник і патентовласник Інститут кардіології ім. акад. М.Д. Стражеска АМН України. — № 200510418; Заявл. 4.11.2005; Опубл. 25.05.2007; Бюл. № 7.
11. Smith G. Jr, Myers S.L., Brandt K.D. et al. Effect of intraarticular hyaluronan injection on vertical ground reaction force and progression of osteoarthritis after anterior cruciate ligament transaction // J. Rheumatol. — 2005. — Vol. 32, № 2. — P. 325-334.
12. Ozkan F.U., Ozkan K., Ramadan S., Guven Z. Chondroprotective effect of N-acetylglucosamine and hyaluronate in early stages ofosteoarthritis — an experimental study in rabbits // Bull. NYU Hosp. Jt. Dis. — 2009. — Vol. 67, № 4. — P. 352-357.
13. Batiste D.L., Kirkley A., Laverty S. et al. Exvivo characterization of articular cartilage and bone lesions in a rabbit ACL transection model of osteoarthritis using MRI and micro-CT // Osteoarth. Cartil. — 2002. — Vol. 10, № 2. — P. 145-155.
14. Tiraloche G., Girard C., Chouinard L. et al. Effect of oral glucosamine on cartilage degradation in a rabbit model of osteoarthritis // Arth. Rheum. — 2005. — Vol. 52, № 4. — P. 1118-1128.
15. Jean Y.H., Wen Z.H., Chang Y.C. et al. Intraarticular injection of the cyclooxygenase-2 inhibitor pareco-xib attenuates osteoarthritis progression in anterior cruciate ligamenttransected knee in rats: role of excitatory amino acids // Osteoarth. Cartil. — 2007. — Vol. 15, № 6. — P. 638-645.
16. Arnoldi C.C. Vascular aspects of degenerative joint disorders. A synthesis // Acta Orthop. Scand. Suppl. — 1994. — 261. — 1-82.
17. Noble B.S., Peet N., Stevens H.Y., Brabbs A., Mosley J.R., Reilly G.C., Reeve J., Skerry T.M., Lanyon L.E. Mechanical loading: biphasic osteocyte survival and targeting of osteoclasts for bone destruction in rat cortical bone // Am. J. Physiol. Cell Physiol. — 2003. — 284. — C934-43.
18. Cardoso L., Herman B.C., Verborgt O., Laudier D., Majeska R.J., Schaffler M.B. Osteocyte apoptosis controls activation of intracortical resorption in response to bone fatigue // J. Bone Miner. Res. — 2009. — 24. — 597-605.
Similar articles

Authors: Ткачук П.В., Страфун С.С.
ДУ «Інститут травматології та ортопедії НАМН України», м. Київ, Україна
"Тrauma" Том 20, №5, 2019
Date: 2019.12.20
Categories: Traumatology and orthopedics
Sections: Clinical researches


Authors: Ткачук П.В., Страфун С.С., Савосько С.І., Макаренко О.М.
ДУ «Інститут травматології та ортопедії НАМН України», м. Київ, Україна
Національний медичний університет імені О.О. Богомольця, м. Київ, Україна
"Тrauma" Том 19, №6, 2018
Date: 2019.01.15
Categories: Traumatology and orthopedics
Sections: Clinical researches


Authors: Зазірний І.М.(1), Шмігельски Р.Я.(2)
(1) — Центр ортопедії, травматології та спортивної медицини клінічної лікарні «Феофанія» ДУС, м. Київ, Україна
(2) — Клініка «Кароліна», м. Варшава, Польща
"Тrauma" Том 18, №6, 2017
Date: 2018.02.12
Categories: Traumatology and orthopedics
Sections: Specialist manual


Authors:
Ткачук П.В.(1), Страфун С.С.(1), Кумченко О.Б.(4), Савосько С.І.(2), Гайович І.В.(1), Макаренко О.М.(2), Мхітарян Л.С.(3), Дроботько Т.Ф.(3) (1) — ДУ «Інститут травматології та ортопедії НАМН України», м. Київ, Україна (2) — Національний медичний університет імені О.О. Богомольця, м. Київ, Україна (3) — ДУ «ННЦ «Інститут кардіології ім. М.Д. Стражеска» НАМН України», м. Київ, Україна (4) — Ніжинський державний університет імені Миколи Гоголя, м. Ніжин, Україна


"Тrauma" Том 20, №4, 2019
Date: 2019.10.07
Categories: Traumatology and orthopedics
Sections: Clinical researches