"Тrauma" Том 20, №2, 2019
Biomechanical modeling in determining the fixation strength of various implants in the treatment of type C3 intra-articular distal radius fracture (biomechanical study)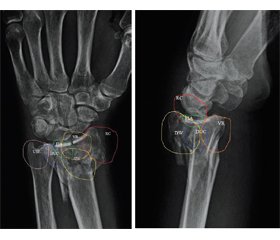 Authors:

Зазірний І.М.(1), Василенко А.В.(2) (1) — Центр ортопедії, травматології та спортивної медицини Клінічної лікарні «Феофанія» ДУС, м. Київ, Україна (2) — Київська міська клінічна лікарня швидкої медичної допомоги, м. Київ, Україна



Categories:

Traumatology and orthopedics



Sections:

Clinical researches
Summary
У статті наведено результати біомеханічного моделювання осьових навантажень на систему «імплантат — кістка» в умовах перелому дистального метаепіфіза (ДМЕ) променевої кістки (ПК) за типом С3. Проведено аналіз напруження та деформацій, які виникають при утворенні уламків ДМЕ променевої кістки та імплантату, під час реабілітації. Мета дослідження — покращення результатів лікування хворих із нестабільними, тяжкими, внутрішньосуглобовими переломами ДМЕ ПК за типом 23-С3. Завданням дослідження було визначення: залежності величини зміщення уламків від величини прикладеного навантаження при фіксації різними фіксуючими системами; стабілізуючих властивостей різних видів фіксації (спиці 2,0 мм, пластини без кутової стабільності, пластини з кутовою стабільністю та фіксованим кутом, пластини з поліаксіальною кутовою стабільністю) при моделюванні перелому ДМЕ ПК за типом С3; оптимального варіанта фіксації перелому ДМЕ ПК за типом С3.
В статье представлены результаты биомеханического моделирования осевых нагрузок на систему «имплантат — кость» в условиях перелома дистального метаэпифиза (ДМЭ) лучевой кости (ЛК) по типу С3. Проведен анализ напряжения и деформаций, возникающих при образовании обломков ДМЭ ЛК и имплантата, во время реабилитации. Цель исследования — улучшение результатов лечения больных с нестабильными, тяжелыми, внутрисуставными переломами ДМЭ ЛК по типу 23-С3. Задачей исследования является определение: зависимости величины смещения осколков от величины приложенной нагрузки при фиксации различными фиксирующими системами; стабилизирующих свойств различных видов фиксации (спицы 2,0 мм, пластины без угловой стабильности, пластины с угловой стабильностью и фиксированным углом, пластины с полиаксиальной угловой стабильностью) при моделировании перелома ДМЭ ЛК по типу С3; оптимального варианта фиксации перелома ДМЭ ЛК по типу С3.
The article presents the results of the biomechanical modeling of axial loads on the "implant-bone" system in type C3 distal radius fracture. The analysis of stress and strains arising during the formation of fragments of the distal radius and implant at the time of rehabilitation has been carried out. The aim of the study was to improve the treatment outcomes in patients with unstable, severe, intra-articular type 23-C3 distal radius fractures. The task of the study was to determine the dependence of the value of fragment displacement on the magnitude of the applied load when fixing with different fixing systems; to evaluate the stabilization properties of different types of fixation (wires 2.0 mm, plates without angular stability, plates with angular stability and fixed angles and plates with polyaxial angular stability) when modeling type C3 distal radius fracture, to determine the optimal type of fixation for type C3 distal radius fracture.
Keywords
внутрішньосуглобовий перелом; променева кістка; фіксація перелому
внутрисуставной перелом; лучевая кость; фиксация перелома
intra-articular fracture; radius; fracture fixation
For the full article you need to subscribe to the magazine.
Bibliography
1. Страфун С.С., Тимошенко С.В. Переломы дистального метаэпифиза лучевой кости. — К.: Феникс. — 2015. — 307 с.
2. Лапач С.Н., Бабич П.Н., Чубенко А.В. Статистические методы в медико-биологических исследованиях с использованием Excel. — 2-е изд., перераб. и доп. — К.: МОРИОН, 2001. — 408 с.
3. Phadnis J., Trompeter A., Gallaher K. et al. Mid-term functional outcome after the internal fixation of distal radius fractures // J. Orthop. Surg. Res. — 2012. — 7. — 4.
4. Hoffmann M., Schroeder M., Kossow K. et al. Radiological Dorsal Tilt Analysis of AО Type A, B, and C Fractures of the Distal Radius Treated Conservatively or with Extra-Focal K-Wire Plus External Fixateur // Skeletal. Radiol. — 2012. — 41(9). — 1133-1139.
5. Kennedy S.A., Hanel D.P. Complex distal radius fractures // Orthop. Clin. North Am. — 2013. — 44(1). — 81-92.
6. Moor A.M., Dennison D.G. Distal radius fractures and the volar lunate facet fragment: Kirshner wire fixation in addition to volar-locked plating // Hand (NY). — 2014. — 9(2). —230-236.
7. Fernandez D., Jupiter J., Nelson D.J. Indications for Reduction in Distal Radius Fractures. — New York: Springer. — 2nd еd. — 2002.