"Тrauma" Том 20, №2, 2019
Quality of life in patients after anterior subaxial cervical fusion in the late postoperative period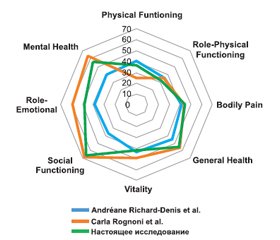 Summary
Актуальність. Травма шийного відділу хребта є одним із найбільш тяжких ушкоджень опорно-рухового апарату людини. Незважаючи на значні досягнення сучасної вертебрології, питання щодо оптимальних методів хірургічного лікування залишаються досить суперечливими. Якість життя пацієнтів поряд зі ступенем регресу неврологічних розладів у постраждалих із травмою шийного відділу є базовими критеріями, що визначають ефективність проведеної терапії. Мета. Оцінка якості життя пацієнтів у віддаленому післяопераційному періоді, після вентрального декомпресивно-стабілізуючого хірургічного втручання на субаксіальному рівні шийного відділу хребта у зв'язку з травматичним ушкодженням із застосуванням різних методів фіксації. Матеріали та методи. Проведено ретроспективний аналіз результатів тестування 53 пацієнтів із застосуванням опитувальника SF-36. Всі пацієнти перебували на стаціонарному лікуванні у відділенні патології спинного мозку ДУ «ІНХ НАМНУ» з 2013 по 2017 рік через травматичне ушкодження шийного відділу хребта. Неврологічний статус на момент госпіталізації відповідав ASIA D або ASIA E. Тестування проведено при контрольному огляді в терміні 12 місяців післяопераційного періоду. Як системи стабілізації були застосовані комбінація «Mesh + вентральна пластина» або телескопічний тілозамінний імплантат. Аналізовано трансформовані значення, не нормовані за популяційними показниками. Результати. При порівнянні груп пацієнтів з імплантованими системами для субаксіального спондилодезу відзначається переконлива перевага застосування моноконструкції за шкалами SF-36 «Фізичне функціонування», «Рольове функціонування, обумовлене фізичним станом», «Інтенсивність болю» та «Рольове функціонування, обумовлене емоційним станом». За шкалами «Загальний стан здоров'я», «Життєва активність», «Соціальне функціонування», «Психічне здоров'я» різниця показників була статистично невірогідна. Висновки. Отримані результати демонструють перевагу використання моноконструкції як тілозамінно-стабілізуючої системи, що забезпечує найкращі показники якості життя в терміні 12 місяців після проведеного хірургічного лікування.
Актуальность. Травма шейного отдела позвоночника является одним из наиболее тяжелых видов повреждения опорно-двигательного аппарата человека. Несмотря на значительные достижения современной вертебрологии, в настоящее время ряд вопросов, касающихся оптимизации технологии хирургического вмешательства, остается достаточно спорным. Качество жизни пациентов наряду со степенью регресса неврологических расстройств у пациентов с травмой шейного отдела являются базовыми критериями, определяющими эффективность проведенной терапии. Цель. Оценка качества жизни пациентов в отдаленном послеоперационном периоде, перенесших вентральные декомпрессивно-стабилизирующие хирургические вмешательства на субаксиальном уровне шейного отдела позвоночника ввиду травматического повреждения с применением различных методов фиксации. Материалы и методы. Проведен ретроспективный анализ результатов тестирования 53 пациентов с применением опросника SF-36. Все пациенты находились на стационарном лечении в отделении патологии спинного мозга ГУ «ИНХ НАМНУ» с 2013 по 2017 год в связи с травматическим повреждением шейного отдела позвоночника. Неврологический статус на момент госпитализации соответствовал ASIA D либо ASIA E. Тестирование проведено при контрольном осмотре в сроке 12 месяцев послеоперационного периода. В качестве систем стабилизации были использованы комбинация «Mesh + вентральная пластина» и телескопический телозамещающий имплантат. Анализировались трансформированные значения, не нормированные по популяционным показателям. Результаты. При сравнении групп пациентов с различными имплантированными системами для субаксиального спондилодеза отмечается убедительное преимущество применения моноконструкции по шкалам SF-36 «Физическое функционирование», «Ролевое функционирование, обусловленное физическим состоянием», «Интенсивность боли» и «Ролевое функционирование, обусловленное эмоциональным состоянием». По шкалам «Общее состояние здоровья», «Жизненная активность», «Социальное функционирование», «Психическое здоровье» разница показателей была статистически недостоверна. Выводы. Полученные результаты демонстрируют преимущество использования моноконструкции в качестве телозамещающе-стабилизирующей системы, обеспечивающей лучшие показатели качества жизни в сроке 12 месяцев после проведенного хирургического лечения.
Background. Cervical spine traumatic injury is one of the most severe types of human musculoskeletal system lesion. Despite the significant achievements of modern vertebrology, a number of questions concerning the optimal methods of surgical intervention remain quite controversial. The quality of life, along with patients' neurological disorders regression level after cervical spine trauma, are the basic criteria to determine the effectiveness of the therapy. The purpose was assessment the quality of life of patients in the late postoperative period after anterior decompression-fusion surgery at the subaxial level of the cervical spine due to traumatic injury using various methods of fixation. Materials and methods. A retrospective analysis of the test results of 53 patients using the SF-36 questionnaire was conducted. All patients were hospitalized in the Spinal Cord Pathology Department of the State Institution "Romodanov Neurosurgery Institute of the National Academy of Medical Sciences of Ukraine" in the period from 2013 to 2017 due to traumatic injury to the cervical spine. Neurological status at the time of hospitalization corresponded to ASIA D or ASIA E. The testing was carried out at the control examination in the period of 12 months of the postoperative period. A combination of "Mesh + ventral plate" and a telescopic vertebral body replacing implant were used as stabilization systems. We analyzed transformed values that were not normalized to population data. Results. When comparing groups of patients with various systems for subaxial fusion, convincing advantage of usage of single construction was determined on SF-36 scales: "Physical functioning", "Role-Physical Functioning", "Bodily pain" and "Role-Emotional Functioning". The scales "General health", "Vitality", "Social functioning", "Mental health" did not show statistically significant difference. Conclusions. The obtained results demonstrate the advantage of mono-construction as a vertebral body replacing and fusion system, providing the better level of quality of life in the time of 12 months after surgical treatment.
Keywords
якість життя; SF-36; вентральний спондилодез; шийний відділ; травматичне ушкодження; система стабілізації
качество жизни; SF-36, вентральный спондилодез; шейный отдел; травматическое повреждение; система стабилизации
quality of life; SF-36; anterior cervical fusion; cervical spine; traumatic injury; stabilization system

For the full article you need to subscribe to the magazine.
Bibliography
1. Hu R. Epidemiology of incident spinal fracture in a complete population [Text] / R. Hu, C.A. Mustard, C. Burns // Spine (Phila Pa, 1976). — 1996. — Vol. 21, № 4. — P. 492-499.
2. Epidemiology of Traumatic Spinal Cord Injury in Developing Countries: A Systematic Review [Text] / V. Rahimi-Movaghar, M.K. Sayyah, H. Akbari [et al.] // Neuroepidemiology. — 2013. — Vol. 41, № 2. — P. 65-85.
3. Torretti J.A. Cervical spine trauma [Text] / J.A. Torretti, D.K. Sengupta // Indian J. Orthop. — 2007. — Vol. 41, № 4. — P. 255-267.
4. Joaquim,. A.F. Subaxial cervical spine trauma: evaluation and surgical decision-making [Text] / A.F. Joaquim, A.A. Patel // Glob Spine J. — 2014. — Vol. 4, № 1. — P. 63-70.
5. Sekhon L.H. Epidemiology, demographics, and pathophysiology of acute spinal cord injury [Text] / L.H. Sekhon, M.G. Fehlings // Spine (Phila Pa, 1976). — 2001. — Vol. 26, Suppl. 24. — P. S2-S12.
6. Herkowitz H.N. The cervical spine surgery atlas [Text] / H.N. Herkowitz. — Philadelphia: Lippincott Williams & Wilkins, 2004. — 424 p.
7. Atlas of Craniocervical Junction and Cervical Spine Surgery [Text] / [eds. S. Boriani, L. Presutti, A. Gasbarrini, F. Mattioli]. — Cham: Springer International Publishing, 2017. — 227 p.
8. Normative data and discriminative properties of short form 36 (SF-36) in Turkish urban population [Electronic resource] / Y. Demiral, G. Ergor, B. Unal [et al.] // BMC Public Health. — 2006. — Vol. 6, № 1. — P. 247. — Access mode: https://bmcpublichealth.biomedcentral.com/articles/10.1186/1471-2458-6-247, free.
9. Burholt V. Short Form 36 (SF-36) Health Survey Questionnaire: normative data for Wales [Text] / V. Burholt, P. Nash // J. Public. Health (Bangkok). — 2011. — Vol. 33, № 4. — P. 587-603.
10. SF-36 Health Survey: Manual and Interpretation Guide / J.E. Ware, K. Snoww, M. Kosinski, B. Gandek. — Boston: The Health Institute, New England Medical Center, 1993. — 264 p.
11. Популяционные показатели качества жизни по опроснику SF-36 (результаты многоцентрового исследования качества жизни «МИРАЖ») [Текст] / В.Н. Амирджанова, Д.В. Горячев, Н.И. Коршунов [и др.] // Научно-практическая ревматология. — 2008. — № 1. — С. 36-48.
12. Quality of life of patients with spinal cord injury in Italy: preliminary evaluation [Electronic resource] / C. Rognoni, G. Fizzotti, C. Pistarini, S. Quaglini // Stud. Health Technol. Inform. — 2014. — Vol. 205. — P. 935-939. — Access mode: http://ebooks.iospress.nl/volumearticle/37627.
13. Richard-Denis A. Quality of life in the subacute period following a cervical traumatic spinal cord injury based on the initial severity of the injury: a prospective cohort study [Text] / A. Richard-Denis, C. Thompson, J.-M. Mac-Thiong // Spinal. Cord. — 2018. — Vol. 56, № 11. — P. 1042-1050.
14. Boakye M. Quality of life in persons with spinal cord injury: comparisons with other populations [Text] / M. Boakye, B.C. Leigh, A.C. Skelly // J. Neurosurg. Spine. — 2012. — Vol. 17, Suppl. 1. — P. 29-37.
15. Слынько Е.И. Сравнение динамики послеоперационного регресса неврологических расстройств у пациентов, перенесших травму шейного отдела позвоночника на суб-аксиальном уровне, в зависимости от типа фиксирующей конструкции [Текст] / Е.И. Слынько, А.С. Нехлопочин // Украинский нейрохирургический журнал. — 2018. — № 1. — С. 84-91.