"Тrauma" Том 20, №2, 2019
Fixator and bone plastics in femoral neck fractures treatment and pseudoarthrosis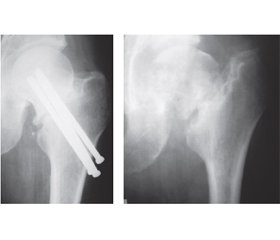 Authors:

Білінський П.І.(1), Андрейчин В.А.(2), Волянін В.І.(3), Войтичук І.А.(3), Дорожовець І.С.(4) (1) — Національна медична академія післядипломної освіти ім. П.Л. Шупика, м. Київ, Україна (2) — Івано-Франківський національний медичний університет, м. Івано-Франківськ, Україна (3) — Спеціальна медико-санітарна частина № 3 МОЗ України, м. Вараш, Україна (4) — Володимир-Волинське територіальне медичне об'єднання, м. Володимир-Волинський, Україна



Categories:

Traumatology and orthopedics



Sections:

Specialist manual
Summary
Здійснений аналіз 46 випадків незадовільного остеосинтезу різними фіксаторами при переломах шийки стегнової кістки. Аналізувався вплив гвинтів, традиційних і блокуючих фіксаторів на зрощення фрагментів. Запропонований пристрій для остеосинтезу переломів проксимального відділу стегна
(пат. України № 22283). Фіксатор має деротаційний ефект, мінімально травмує відламки. В несприятливих випадках при псевдоартрозах у 19 пацієнтів проведена кісткова автопластика.
Проведен анализ 46 случаев неудовлетворительного остеосинтеза различными фиксаторами при переломах шейки бедренной кости. Анализировалось влияние винтов, традиционных и блокирующих фиксаторов на сращение фрагментов. Предложено устройство для остеосинтеза переломов проксимального отдела бедра (пат. Украины № 22283). Фиксатор имеет деротационный эффект, минимально травмирует отломки. В неблагоприятных случаях при псевдоартрозах у 19 пациентов проведена костная аутопластика.
Background. Recently, the number of elderly people has been growing, and consequently, the number of femoral neck fractures (FNF) has increased. Despite the fundamental development of science and medicine, in particular, the use of high-tech techniques, good results in treating these fractures are observed only in 50 % cases, when the pseudoarthrosis occurs in 33 % of cases. In this regard, endoprosthetics are widely used in patients with FNF. The purpose was to optimize the results of treatment of patients with FNF by developing a biomechanically based method of osteosynthesis and fixator for implementation of these methods. Materials and methods. Forty-six cases of unsatisfactory use of traditional fixators in patients with FNF were analyzed. In particular, the results of osteosynthesis with compression screws, L-shaped 130° plate and DHS-fixators were studied. In addition, X-rays of patients who were operated on with PFN and G-rod and structures with blocking screws were analyzed. We studied the dependence of the results of treatment on the quality of fragments reposition, the morbidity of surgical intervention. And also, time of beginning and dosed of full load, their effect on the accretion of fragments were studied. The state of fragment edges, the amount of resorption in the contact zone depending on the dose and time of the load, the fixator design, the correctness of placement of a cervical component, the length of its threaded part and its relation to the fracture line were analyzed. It is noted that biomechanically incorrect holding of screws and plates in the femoral neck, premature load, undone autoplasty if necessary lead to unsatisfactory results. The analysis revealed the flaws of the existing designs for osteosynthesis of FNF. It served as the basis for the development of a device for osteosynthesis of fractures of the proximal femur (DOPFF patent of Ukraine No. 22283). The working core of the device has a figured T-shaped cut, which is fixed in a short plate with a through groove. Such rod with width of 9 millimeters minimally injures the femoral neck; it has a vertical shelf, which gives a derotation effect with a minimum volume. The design provides self-compression of fragments under the action of muscle strength. The small size of the rod increases the possibilities of its placement in the femoral neck, which greatly facilitates the surgical intervention. Our fixator was used in 19 patients with complicated fractures and pseudoarthrosis of femoral neck. Results. A detailed analysis of the factors leading to the development of dysregeneration indicate the importance of preoperative planning, the selection of the most optimal fixative and the application methods in every case. The developed fixator for FNF osteosynthesis and the minimally invasive technique of its use allow operate patients aged 90 years and older. It can be used in the presence of compensated somatic pathology. This simultaneously prevents the deterioration of a patient's condition after minimally invasive intervention. Hip endoprosthetics, which is traditionally performed in elderly, is much more life-threatening intervention. Analysis of unfavorable factors of FNF and processes at the junction of fragments indicate that our fixator, the method of its application are the most biomechanically grounded. They provide fusion of fragments even in difficult situations. Due to subjective and objective factors, very few authors in modern conditions use bone plastics, which optimizes the course of reparative regeneration that significantly improves the clinical outcome. In case of unsuccessful reposition, inveterate fractures, pseudoarthrosis of the femoral neck, open reposition of fragments, osteosynthesis with DOPFF, bone autoplasty is indicated. Currently, DOPFF with a positive result was used in 182 cases with FNF. In 19 cases open reposition of fragments with bone autoplasty was used with a positive result in patients with pseudoarthrosis and complicated FNF. Conclusions. Designed DOPFF has derotation effect, minimally injuring fragments. It provides functional self-compression, optimal conditions for their fusion. The fixator in combination with cortical autoplasty is indicated in case of complicated fractures and pseudoarthrosis of the femoral neck. This technique provides the fusion of fragments, makes the patient mobile, improves the quality of his life. Osteosynthesis with DOPFF is a less life-threatening, traumatic intervention compared to endoprosthetics and can be recommended for widespread use.
Keywords
шийка стегнової кістки, перелом, псевдоартроз, остеосинтез
шейка бедренной кости, перелом, псевдоартроз, остеосинтез
femoral neck; fracture; pseudoarthrosis; osteosynthesis
For the full article you need to subscribe to the magazine.
Bibliography
1. А.с. 1706602 SU, МПК А 61 В 17/60. Динамическая имплантируемая спицевая система В. Коптюха / В.В. Коптюх (SU) и Ю.О. Грубар (SU). — Заявл. 03.05.89; Опубл. 23.01.92, Бюл. № 3.
2. Герцен Г.І. Переломи шийки стегнової кістки у людей літнього і старечого віку / Г.І. Герцен, А.І. Процик, М.П. Остапчук, Малкаві Амір. — К., 2003. — 170 с.
3. Гильфанов С.И. Лечение переломов проксимального отдела бедра: Автореф. дис… д-ра мед. наук: спец. 14.00.22 «травматология и ортопедия». — М.: ЯГМА, 2010. — 32 с.
4. Корнилов Н.В. Травматология и ортопедия: Руководство для врачей / Под ред. Н.В. Корнилова: В 4 т. — СПб.: Гиппократ, 2004. — Т. 3: Травмы и заболевания нижней конечности / Под ред. Н.В. Корнилова и Э.Г. Грязнухина. — СПб.: Гиппократ, 2006. — 896 с.
5. Патент № 22283 UA, МПК6 А61 В 17/68, А61 В 17/74. Пристрій для остеосинтезу переломів проксимального відділу стегна / П.І. Білінський (UA); патентовласник П.І. Білінський (UA). — № 97031346; Заявл. 24.03.97; Опубл. 30.06.98, Бюл. № 3. — 4 с.
6. Пирогов Е.Н. Хирургическое лечение пациентов с медиальными переломами шейки бедренной кости путем малоинвазивного остеосинтеза: Автореф. дис… канд. мед. наук: спец. 14.01.21 «травматология и ортопедия» — Х., 2016. — 18 с.
7. Плиев Д.Г. Прогнозирование результатов остеосинтеза при переломах шейки бедренной кости: Дис… канд. мед. наук: 14.00.22 «травматология и ортопедия» / Д.Г. Плиев. — СПб.: ФГУ РНИИТО им. Р.Р. Вредена Росздрава, 2009. — 143 с.
8. Ролік О.В. Хірургічне лікування внутрішньосуглобових переломів шийки стегнової кістки: Автореф. дис... д-ра мед. наук: спец. 14.01.21 «травматологія та ортопедія». — Х., 1997. — 40 с.
9. Худайбергенов М.А. Эндопротезирование при переломах шейки бедренной кости: Автореф. дис… канд. мед. наук: Спец. 14.00.22 «травматология и ортопедия». — Ярославль: ЯГМА, 2011. — 24 с.
10. Шуголь Г.Б. Остеосинтез переломов шейки бедренной кости, основанный на использовании принципа активной фиксации стягиванием / Г.Б. Шуголь, С.Л. Демаков, И.Г. Шуголь. — Екатеринбург: УГМУ, 2014. — 141 с.
11. Pat. US 6887243 (В2), МПК А61В 17/68. Method and apparatus for bone fixation with secondary compression / Brad S. Culbert (US) // Triage Medical, Inc. (US). — 3. № 10/195832; Заявл. 12.07.2002; Опубл. 03.05.2005. (Пат.-аналог з. US 7556629 (В2)).
Similar articles

Authors: Білінський П.І., Коновал А.М., Андрейчин В.А., Дроботун О.В.
Національна медична академія післядипломної освіти ім. П.Л. Шупика, м. Київ, Україна
Торчинська районна лікарня, смт Торчин, Україна
Івано-Франківський національний медичний університет, м. Івано-Франківськ, Україна
Національний медичний університет ім. О.О. Богомольця, м. Київ, Україна
"Тrauma" Том 19, №2, 2018
Date: 2018.06.06
Categories: Traumatology and orthopedics
Sections: Clinical researches


Authors:
Білінський П.І., Андрейчин В.А., Чужак В.І. – Національна медична академія післядипломної освіти ім. П.Л. Шупика, м. Київ; Івано-Франківський національний медичний університет, клінічна лікарня № 1


"Тrauma" Том 15, №1, 2014
Date: 2014.04.10
Categories: Traumatology and orthopedics
Sections: Clinical researches


Authors:
Bilinskyi P.I., Andreichyn V.A. - National Medical Academy of Postgraduate Education named after P.L. Shupyk, Kyiv, Ukraine; Ivano-Frankivsk National Medical University, Ivano-Frankivsk, Ukraine


"Тrauma" Том 17, №2, 2016
Date: 2016.05.24
Categories: Traumatology and orthopedics
Sections: Clinical researches